Hot in Harbin: World's most spectacular winter festival opens
January 23, 2014 -- Updated 0632 GMT (1432 HKT)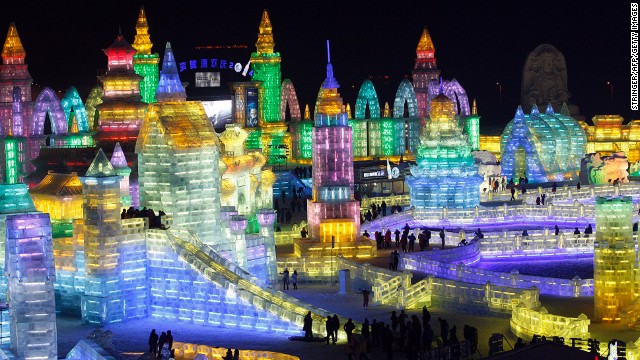 Cue jaw drops. Amazing ice sculptures and replicas highlight the annual Harbin Ice and Snow Festival in the northern Chinese city of Harbin.
No wonder Harbin is one of China's top winter destinations.
This year's festival features a replica of Iceland's Hallgrimskirkja church with a 240 meter slide that visitors can slide down.
According to officials, the Hallgrimskirkja Church replica is China's largest ice structure, standing 46 meters tall.
When in Harbin, do as the Romans do?
Known as China's Ice City, Harbin's sub-zero temperatures keep teeth chattering through the winter.
Yep, that ice palace is made entirely of ice blocks from the frozen Songhua River.
You can ride a horse-drawn carriage through the 600,000-square-meter display park.
If you can't make it to Rio, you can pose with 2014 Brazilian World Cup mascot sculptures in Harbin.
Icelandic church? Check. Great Wall of China? Check. Roman Colosseum? Check. Who said you can't be in three places at once?
Ice fest kicks off January 5, 2014
City of ice. And lights
Ice Iceland
Biggest ice
Replica Colosseum
Pretty, but cold
River resource
Night riders
Winter ball
World travel
STORY HIGHLIGHTS
Harbin Ice and Snow Festival kicks off January 5
Festival gets more extravagant each year
Replica of Iceland's Hallgrimskirkja church made with 12,000 meters of ice
Fest attendance 28.5 million visitors over past two years
(CNN) -- Planning on building an igloo or snowman this winter?
Sorry, we're not impressed.
The neighborhood kids might not be, either, after they see what ice sculptors have planned for the 2014 Harbin Ice and Snow Festival.
Kicking off on January 5, this frosty wonderland in northern China features crazy sculptures made from massive ice blocks and illuminated with colorful LED lights.
Sculptors have been carving away with ice picks, chisels and lasers for the last two weeks in preparation.
The result is an exhibition of extravagant castles, a Colosseum and Empire State Building, all made with ice blocks from the frozen Songhua River.
Is anything in China not getting bigger?
Celebrating its 30th anniversary in 2014, the winter festival gets more impressive and more extravagant each year.
The highlight is a towering replica of the Hallgrimskirkja church in Reykjavik, Iceland. According to organizers, the structure is the tallest ice sculpture in China (46 meters) and was made with 12,000 meters of ice.
The replica features a 240-meter-long slide for visitors.
Apart from replicas, the North Korea Pyongyang National Acrobatic Troupe will perform.
Visitors can skate on ice rinks and snowboard.
As China's most famous and popular winter attraction, the festival has drawn a combined 28.5 million visitors in the past two years.
To combat Harbin's sub-zero temperatures, organizers have set up 13 hot beverage stations around the park and offer complementary ginger tea at its concierge hall.
Depending on weather, the festival is open until March 2014.
Harbin Ice and Snow Festival, Songbei, Harbin, Heilongjiang, China; +86 451 8488 4363; RMB 300 ($50) for adult entrance

Today's five most popular stories
Part of complete coverage on
September 26, 2014 -- Updated 1317 GMT (2117 HKT)

An Italian spa complex adds new depths to the hotel swimming pool concept with a 42-meter plunge chamber.
September 25, 2014 -- Updated 0036 GMT (0836 HKT)

Whether spiraling up mountains or sky-scraping attractions, these stairs give new meaning to the phrase "watch your step".
September 22, 2014 -- Updated 1429 GMT (2229 HKT)

Even during the harshest periods of the communist era, being Shanghainese had a special cachet in China.
September 24, 2014 -- Updated 1252 GMT (2052 HKT)

Up the Inside Passage on a heritage tugboat, sport fishermen chase British Columbia's monster salmon.
September 24, 2014 -- Updated 0741 GMT (1541 HKT)

New York to London in three hours? The European aviation giant is joining the race to make it happen.
September 23, 2014 -- Updated 1007 GMT (1807 HKT)

Which cities provide the most memorable party times? A self-proclaimed "nightlife connoisseur" names his top 10.
September 22, 2014 -- Updated 0344 GMT (1144 HKT)

Whether you're looking for a post-meeting pint or a wild night out, creativity is on the menu at these hot Hong Kong venues.
September 23, 2014 -- Updated 1028 GMT (1828 HKT)

Artists and migrants are moving out as a once-crumbling neighborhood goes upscale.
September 20, 2014 -- Updated 0502 GMT (1302 HKT)

They irrigate our farms, are an important means of transport and a source of eco-friendly power.