Hot in Harbin: World's most spectacular winter festival opens
January 23, 2014 -- Updated 0632 GMT (1432 HKT)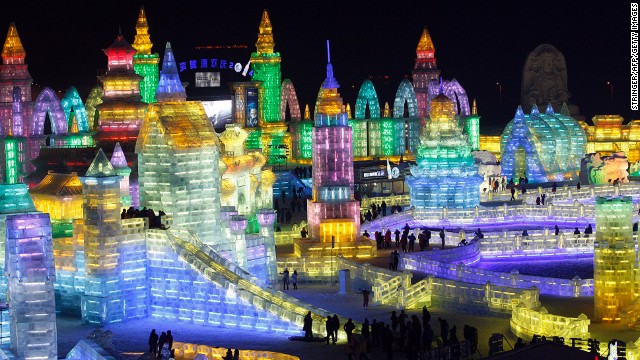 Cue jaw drops. Amazing ice sculptures and replicas highlight the annual Harbin Ice and Snow Festival in the northern Chinese city of Harbin.
No wonder Harbin is one of China's top winter destinations.
This year's festival features a replica of Iceland's Hallgrimskirkja church with a 240 meter slide that visitors can slide down.
According to officials, the Hallgrimskirkja Church replica is China's largest ice structure, standing 46 meters tall.
When in Harbin, do as the Romans do?
Known as China's Ice City, Harbin's sub-zero temperatures keep teeth chattering through the winter.
Yep, that ice palace is made entirely of ice blocks from the frozen Songhua River.
You can ride a horse-drawn carriage through the 600,000-square-meter display park.
If you can't make it to Rio, you can pose with 2014 Brazilian World Cup mascot sculptures in Harbin.
Icelandic church? Check. Great Wall of China? Check. Roman Colosseum? Check. Who said you can't be in three places at once?
Ice fest kicks off January 5, 2014
City of ice. And lights
Ice Iceland
Biggest ice
Replica Colosseum
Pretty, but cold
River resource
Night riders
Winter ball
World travel
STORY HIGHLIGHTS
Harbin Ice and Snow Festival kicks off January 5
Festival gets more extravagant each year
Replica of Iceland's Hallgrimskirkja church made with 12,000 meters of ice
Fest attendance 28.5 million visitors over past two years
(CNN) -- Planning on building an igloo or snowman this winter?
Sorry, we're not impressed.
The neighborhood kids might not be, either, after they see what ice sculptors have planned for the 2014 Harbin Ice and Snow Festival.
Kicking off on January 5, this frosty wonderland in northern China features crazy sculptures made from massive ice blocks and illuminated with colorful LED lights.
Sculptors have been carving away with ice picks, chisels and lasers for the last two weeks in preparation.
The result is an exhibition of extravagant castles, a Colosseum and Empire State Building, all made with ice blocks from the frozen Songhua River.
Is anything in China not getting bigger?
Celebrating its 30th anniversary in 2014, the winter festival gets more impressive and more extravagant each year.
The highlight is a towering replica of the Hallgrimskirkja church in Reykjavik, Iceland. According to organizers, the structure is the tallest ice sculpture in China (46 meters) and was made with 12,000 meters of ice.
The replica features a 240-meter-long slide for visitors.
Apart from replicas, the North Korea Pyongyang National Acrobatic Troupe will perform.
Visitors can skate on ice rinks and snowboard.
As China's most famous and popular winter attraction, the festival has drawn a combined 28.5 million visitors in the past two years.
To combat Harbin's sub-zero temperatures, organizers have set up 13 hot beverage stations around the park and offer complementary ginger tea at its concierge hall.
Depending on weather, the festival is open until March 2014.
Harbin Ice and Snow Festival, Songbei, Harbin, Heilongjiang, China; +86 451 8488 4363; RMB 300 ($50) for adult entrance

Today's five most popular stories
Part of complete coverage on
October 20, 2014 -- Updated 1808 GMT (0208 HKT)

The guidebook asked staff, contributors and authors for well-known and lesser-known recommendations.
October 20, 2014 -- Updated 1607 GMT (0007 HKT)

An airport in Asia has stolen the crown from Manila's Ninoy Aquino, voted 'world's worst' three years in a row.
October 21, 2014 -- Updated 1620 GMT (0020 HKT)

It's time for a beef break, veal vacation, hog holiday or sinew sabbatical in a T-bone a-fide U.S. meatopolis.
October 20, 2014 -- Updated 1319 GMT (2119 HKT)

With so many awesome new attractions on the way, the next few years are going to be a roller coaster ride.
October 17, 2014 -- Updated 0107 GMT (0907 HKT)

Scientists are busy surveying Southeast Asia's Coral Triangle, home to 75 percent of all known coral species.
October 16, 2014 -- Updated 1350 GMT (2150 HKT)

Bounce Below transforms an abandoned slate mine into a surreal, springy world of fear and fun,
October 14, 2014 -- Updated 2316 GMT (0716 HKT)

With chopsticks or fingers? Wasabi or no? A double Michelin-starred Tokyo chef sets the record straight and shows us the sushi way.
October 13, 2014 -- Updated 2224 GMT (0624 HKT)

It may look like a gateway across time and space crafted with alien technology, but in reality it's a fruit and vegetable market.
October 13, 2014 -- Updated 0925 GMT (1725 HKT)

Based on the votes of over 330 industry experts, the 2014 winners include bars from 27 cities in 14 countries.
October 12, 2014 -- Updated 2231 GMT (0631 HKT)

Careening down an active volcano at 95 kph on a thin board? It happens only at Cerro Negro in Nicaragua.