U.S. vessel heads to break ice around Russian, Chinese ships off Antarctica
January 5, 2014 -- Updated 1659 GMT (0059 HKT)
STORY HIGHLIGHTS
NEW: The U.S. ship should take a week to reach Commonwealth Bay, Australia says
U.S. Coast Guard Cutter Polar Star is heading toward Antarctica
Its aim is to help free Russian and Chinese ships stuck in ice there
Governments of Australia, China and Russia asked for the help
(CNN) -- At the request of the Australian, Russian and Chinese governments, the U.S. Coast Guard is stepping up to help break up ice off Antarctica that has ensnared a pair of ships.
The Coast Guard Cutter Polar Star had been heading to that area anyway, having left its home port of Seattle early last month to eventually break through sea ice and refuel the U.S. Antarctic Program's McMurdo Station on Ross Island.
Now the icebreaker is retooling to help the Russian ship Akademik Shokalskiy and China's Xue Long due to "sufficient concern that the vessels may not be able to free themselves from the ice," the Coast Guard said Saturday in a statement.
The Polar Star, currently in Sydney, will take on supplies and head out Sunday on what should be a seven-day voyage to the ships in Commonwealth Bay, according to the Australian Maritime Safety Authority.
"We are always ready and duty-bound to render assistance in one of the most remote and harsh environments on the face of the globe," said Vice Adm. Paul F. Zukunft, the U.S. Coast Guard's Pacific commander.
Chinese ship in Antarctica rescue stuck in ice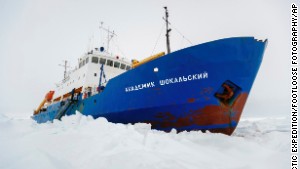 The Akademik Shokalskiy has been stranded since December 24, 2013.
The Australian agency formally requested the Americans help on Friday. The Coast Guard noted that the governments of Russia and China also asked for U.S. assistance.
Earlier this week, a helicopter ferried 52 passengers from the MV Akadmik Shokalskiy to the Australian icebreaker Aurora Australis.
The Akadmik Shokalskiy had been trapped in unusually deep ice since Christmas Eve with scientists, journalists, tourists and crew members on board.
Twenty-two Russian crew members are still on the Akademik Shokalskiy, waiting for either the ice to shift or for outside help.
Xue Long is a Chinese icebreaker that sent out the helicopter Thursday that airlifted several dozen passengers from the Akademik Shokalskiy to safety.
But after that happened, the Chinese vessel itself got stuck in the ice, according to the Australian Maritime Safety Authority.
The Xue Long's captain told AMSA that his ship is safe, has plenty of food and supplies and did not need immediate assistance.
The U.S. Coast Guard's "only active heavy polar icebreaker," the 399-foot long Polar Star recently completed a three-year, $90 million overhaul.
Capable of traveling at speeds of 18 knots (21 mph), the ship can continuously break through 6 feet of ice while traveling 3 knots. With its reinforced hull and special bow, the Polar Star can bust through as much as 21 feet of ice at a time.
After its new mission, the U.S. Coast Guard vessel is set to continue to its original mission in McMurdo Sound.
All 52 passengers rescued from ship trapped in Antarctic ice
CNN's Jethro Mullen and Susanna Capelouto contributed to this report.

Today's five most popular stories
Part of complete coverage on
October 29, 2014 -- Updated 1331 GMT (2131 HKT)

A terminally ill woman who plans to take her own life checks off the last item.
October 30, 2014 -- Updated 0115 GMT (0915 HKT)

Armed with Kalashnikovs and chanting for the dead comrades, women are among ISIS' most feared enemies. They are fighting for their families -- and now they are getting U.S. help.
October 28, 2014 -- Updated 1246 GMT (2046 HKT)

Lere Mgayiya put his best foot forward and set up a shoe-shine firm after his career plans fell flat.
October 30, 2014 -- Updated 0528 GMT (1328 HKT)

One Chinese drone manufacturer wants to take away the warmongering stigma of "drones."
October 30, 2014 -- Updated 0312 GMT (1112 HKT)

Sketcher Luis Simoes is traveling the world -- slowly. And he's packed his sketchbook.
October 28, 2014 -- Updated 2043 GMT (0443 HKT)

European states help North Korea's brutal treatment of its people by allowing luxury goods like cars and cognacs to evade sanctions, two experts say.
October 29, 2014 -- Updated 1520 GMT (2320 HKT)

Groping, lewd comments, and that's not the worst of it.
October 28, 2014 -- Updated 0133 GMT (0933 HKT)

British hostage John Cantlie appears from the battle city of Kobani.
October 28, 2014 -- Updated 1443 GMT (2243 HKT)

A captured fighter tells CNN's Ivan Watson: "They gave us drugs... that made you go to battle."
October 24, 2014 -- Updated 0345 GMT (1145 HKT)

Chinese leaders want less odd architecture built in the country.
October 30, 2014 -- Updated 1106 GMT (1906 HKT)

Each day, CNN brings you an image capturing a moment to remember, defining the present in our changing world.

Browse through images from CNN teams around the world that you don't always see on news reports.