STORY HIGHLIGHTS
NEW: Defense minister: Government forces retreat after ambush near Bor
Warring sides' negotiators are in Ethiopia for peace talks
Hundreds killed in three weeks of violence
"Negotiations have to be serious," U.S. Secretary of State Kerry says
(CNN) -- As warring sides prepared to hold their first face-to-face talks to end weeks of ethnic fighting in the world's newest country, clashes flared around a key town Sunday.
Nhial Majak Nhial, the mayor of Bor, told CNN that rebel troops had been driven away from his town, which has exchanged hands several times during three weeks of violence that has killed hundreds and forced about 200,000 people from their homes.
Defense Minister Kuol Manyang said government forces tried to take back the disputed town but were forced to retreat to a military base eight miles away after rebels ambushed them.
Brig. Gen. Abraham Jongroor was killed and several officers were wounded when rebels attacked, the defense minister said.
Helicopters airlifted dozens of injured government troops to a military hospital in Juba, about 125 miles (200 kilometers) away.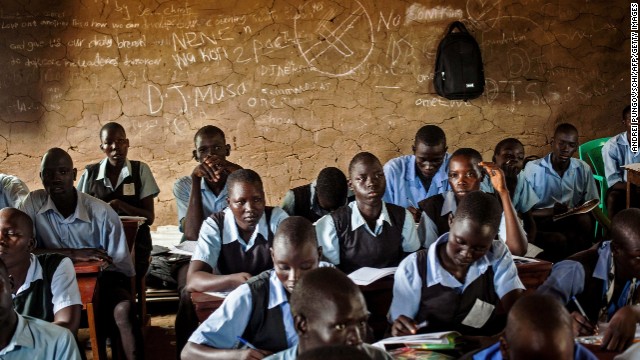 Students take notes during an English language class at the Juba Nabari Primary School in Juba, South Sudan, on Wednesday, April 9. Recent conflict in the country has made resources scarce; many civil servants, including teachers, have not received their pay for several months. South Sudan erupted in violence on December 15 when rebels loyal to ousted Vice President Riek Machar tried to stage a coup. Violence quickly spread, with reports of mass killings emerging nationwide.
Bags of food are dropped from a plane during a World Food Program operation Tuesday, April 1, in Nyal, South Sudan.
Worn-out shoes are seen in an internally displaced persons camp Thursday, March 27, in Juba.
Students play Tuesday, March 25, at the Dr. John Garang International School in Juba.
A man carries a bag on his shoulder at a camp in Malakal, South Sudan, on Wednesday, March 19.
A man recovers from serious injuries, which he sustained in clashes between government forces and rebels, at a Doctors Without Borders hospital in Malakal on Tuesday, March 18.
A South Sudanese man walks in a puddle Saturday, March 15, at a camp for internally displaced people.
Displaced children from South Sudan gather to play soccer at a camp in Khartoum, Sudan, on Wednesday, March 12.
A woman carrying empty cans for water passes an armored vehicle affiliated with the United Nations mission in Malakal on Monday, March 3.
An 8-year-old boy waits in a car during Petroleum Minister Stephen Dhieu Dau's visit to an oil production facility in Paloch, South Sudan, on Sunday, March 2. The boy's father, a member of the Sudan People's Liberation Army, said his son was dressed like a pilot because that's what he wants to be when he grows up.
Catholics pray for peace during a religious ceremony in Juba on Sunday, February 23.
People are silhouetted at dawn on Thursday, February 20, as they walk on the main road to Cueibet, South Sudan.
An inmate sits shackled to a tree Wednesday, February 19, in the courtyard of the central prison in Rumbek, South Sudan.
South Sudanese people from the Dinka ethnic group stand among cattle at a cattle camp in Yirol, South Sudan, on Wednesday, February 12.
A South Sudanese People's Liberation Army soldier patrols in Malakal on Tuesday, January 21.
A woman runs through the street in Malakal as gunshots ring out a few streets over on January 21.
A Sudan People's Liberation Army soldier sits in a helicopter flying over Western Equatoria State on Tuesday, January 14.
A United Nations peacekeeper gestures as South Sudanese students wait to walk back to a camp for internally displaced people after taking an English exam at a United Nations base in Juba on Monday, January 13.
Government soldiers prepare to deploy from Juba on January 13 as fighting continues to rage in South Sudan.
A young man balances a bed on his head as he walks through empty streets and destroyed buildings after government forces retook from rebel forces the provincial capital of Bentiu, in Unity State, South Sudan, on Sunday, January 12.
South Sudanese government forces riding on a vehicle through a still-smoldering town pass a boy after government forces retook the provincial capital of Bentiu on January 12.
A boy carries chickens off a boat arriving in the village of Minkammen in Awerial county, South Sudan, on Saturday, January 11.
A picture shows an aerial view of a camp of internally displaced people in Minkammen, on Friday, January 10.
Internally displaced children carry water in Minkammen on January 10.
A woman covers her face as a U.N. helicopter takes off from Minkammen, where people receive food aid and other items from a recent International Committee of the Red Cross on Wednesday, January 8.
A displaced south Sudanese sleeps in a makeshift shelter at a crowded encampment within the United Nations Mission in South Sudan on Saturday, January 4.
One of the few to have a mosquito net, a displaced family who fled the recent fighting between government and rebel forces in Bor by boat across the White Nile, sit under it in Awerial, South Sudan, on Thursday, January. 2.
A boy rests on the fender of a water truck Tuesday, December 31, at a United Nations compound on the outskirts of Juba, South Sudan. The compound has become home to thousands fleeing the recent fighting in South Sudan.
South Sudanese government soldiers man a tank near the airport in Malakal, South Sudan, on Monday, December 30.
Displaced women wait in line inside a U.N. camp in Malakal on December 30.
South Sudanese refugees carry relief supplies an a U.N. camp in Juba on Sunday, December 29.
Moveable stairs used for passengers to board aircraft are repurposed into makeshift shelters at a U.N. compound in Juba on December 29.
A child plays with a tire next to a large puddle of muddy water inside the U.N. compound in Juba on December 29.
A girl carries a bowl of water after filling it from a truck at the U.N. compound in Juba on December 29.
A man walks in a ward where most patients are soldiers with gunshot wounds inside the Juba Military Hospital in Juba on Saturday, December 28.
South Sudan Vice President James Wani Igga, center left, arrives to visit patients at the Juba Military Hospital on December 28.
A displaced boy carries a cardboard box inside a U.N. compound in Juba on Friday, December 27.
Displaced people bathe and wash clothes in a stream in a U.N. compound in Juba on December 27.
A woman carries items on her head through the U.N. compound in Juba on December 27.
One-month-old Nhial Hoan Malual receives treatment for dehydration and chest pains in a medical tent run by Doctors Without Borders at the U.N. compound in Juba on December 27.
South Korean soldiers provide water at a refugee camp in South Sudan on Thursday, December 26. Hundreds of South Korean soldiers are stationed in the town of Bor as part of United Nations peacekeeping forces.
A mother displaced by recent fighting in South Sudan rests on top of her belongings in a makeshift U.N. shelter on Monday, December 23.
Families seek refuge in U.N. camp warehouse on December 23.
People gather to receive emergency food rations from the World Food Programme at a makeshift camp on December 23.
The United Nations relocates noncritical staff from Juba to Entebbe, Uganda, on Sunday, December 22.
A South Sudanese girl puts her family's laundry out to dry on a barbed-wire fence at a makeshift U.N. camp in Juba on December 22.
The World Food Programme distributes food for displaced people at a U.N. compound in Bentiu, the capital of the oil-producing Unity state, on December 22.
South Sudanese women carry water at a U.N. camp in Juba on December 22.
People take refuge December 22 near a camp of Japan's Ground Self-Defense Force, which is part of the U.N. peacekeeping mission in Juba.
South Sudanese civilians take shelter at a U.N. mission on Tuesday, December 17.
South Sudanese civilians seek shade at the mission's base on December 17.
Tens of thousands of civilians have taken refuge in U.N. bases in South Sudan. These civilians were photographed at one of the bases December 17.
A young child takes shelter at a U.N. base on December 17.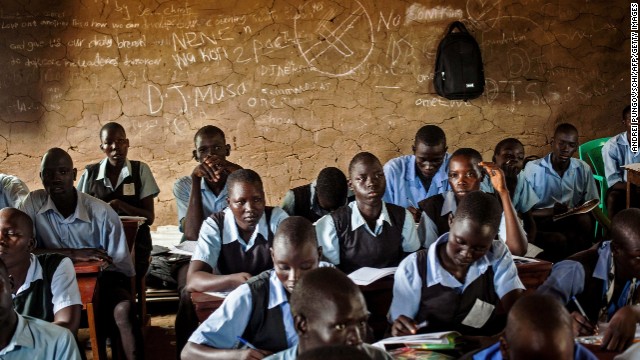 Escaping violence in South Sudan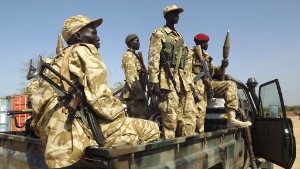 Violence continues as peace talks begin
Bor, capital of the oil-rich Jonglei state, has been the scene of some of the heaviest fighting during the violence, as military forces have battled the rebel fighters.
"Their technique of fighting is numbers -- they are using numbers against capable and well-trained government troops," Nhial said. "Many of their men, some even children, have died."
President Salva Kiir and the rebels' leader, former Vice President Riek Machar, have sent delegations to the Ethiopian capital, Addis Ababa, for talks on a possible ceasefire.
Face-to-face negotiations were scheduled to begin on Sunday but now are expected to start Monday morning, said Mahboub Maalim, executive secretary of the Intergovernmental Authority on Development, a regional group mediating the talks.
Mediators meet both sides
While neither Kiir nor Machar are in Addis Ababa, home of the African Union, group representatives have gathered and are talking amongst themselves on the sidelines, Maalim said.
"A lot of discussing and discussions going on for sure... we are ready to start face-to-face anytime, but we have to wait on the groups to be ready," he said.
The talks will focus on the cessation of hostilities and negative propaganda, the granting of access to monitors and to humanitarian aid workers, and the question of detainees, Maalim said on Saturday.
The proxy talks have been attended by special envoys to IGAD; the heads of negotiating teams of the two South Sudanese parties; Maalim; and the ministers of foreign affairs of Ethiopia and Kenya.
No breakthrough has come yet despite pressure on Kiir and Machar from African and Western powers to end the conflict. So far, the mediators met with representatives of both delegations to try to pin down the issues and set out a framework for the talks.
Speaking during a visit to Israel, U.S. Secretary of State John Kerry said the negotiations needed to be "serious."
"They cannot be a delay gimmick in order to continue the fighting and try to find advantage on the ground at the expense of the people of South Sudan," he said. "We will work to apply international pressure to any elements that attempt to use force to seize power. That is not acceptable."
Ethnic tensions
But as the two sides' teams negotiate, fighting has continued in their country.
So far the violence has claimed more than 1,000 lives and displaced about 200,000 others.
Humanitarian agencies have warned that the estimated 200,000 who have fled to makeshift camps are facing dire conditions, with many lacking clean water and sanitation in makeshift camps.
The fighting began in Juba on December 15 but quickly spread across the country, with reports of mass killings soon emerging.
Kiir, from the Dinka ethnic group, accused troops loyal to Machar, from the Nuer community, of trying to launch a coup. The two have long been political rivals, and Kiir dismissed Machar, along with the Cabinet, in July.
Although the conflict began as a political power struggle, it has taken on an ethnic dimension and includes evidence of ethnically targeted killings, according to the U.N. mission in South Sudan.
Some observers have said both sides may want to gain the upper hand militarily before beginning to discuss a possible cease-fire.
South Sudan is the world's youngest nation, having seceded from Sudan in 2011 after decades of war.
Editors' Note: This article has been edited to remove plagiarized content after CNN discovered multiple instances of plagiarism by Marie-Louise Gumuchian, a former CNN news editor.
Journalist Mading Ngor contributed to this report.