When Rodman blew up on CNN: 5 craziest moments
January 8, 2014 -- Updated 0259 GMT (1059 HKT)
STORY HIGHLIGHTS
Dennis Rodman becomes angry while being interviewed by CNN's Chris Cuomo
Rodman bristles when asked if it's appropriate for him to lead a visit to North Korea
The former NBA star tells Cuomo, "I don't give a rat's ass what the hell you think"
Rodman implies that an American imprisoned in North Korea did something wrong
(CNN) -- Basketball star Dennis Rodman seemed to get pretty upset Tuesday when asked whether he should be visiting North Korea with a group of former NBA players as part of his "basketball diplomacy" efforts.
In the exclusive interview with CNN's Chris Cuomo on "New Day," Rodman supported his controversial trip and called the country's leader, Kim Jong Un, a "friend" who he loves. In case you missed it, here are the top five most amazing moments from his interview with Cuomo:
When Rodman explained why he's visiting North Korea: "It's not a good idea -- the one thing that we're doing -- it's a great idea for the world, for the world. And people always come down on the things I do, and it's weird."
When Rodman compared his trip to the Olympics: "No one ever, ever asked anyone in the world why we have Olympics. And we have struggles around the world, in all the countries around the world. But when the Olympics come around there's no problems -- it's all about the game. People love to do one thing: sports."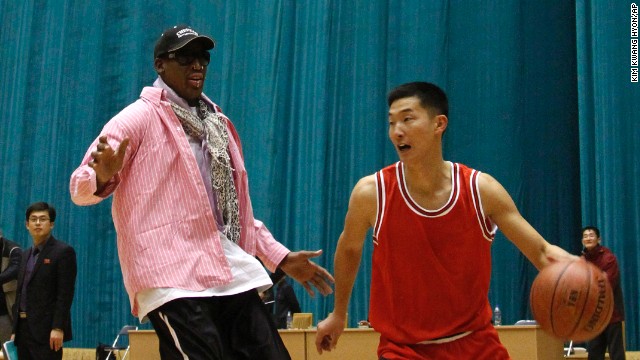 Former basketball star Dennis Rodman plays one-on-one with a North Korean player during a practice session in Pyongyang, North Korea, on December 20, 2013. Rodman and several other former NBA players have arrived in North Korea to take part in a basketball game on Wednesday, January 8, the birthday of North Korean leader Kim Jong Un.
Vin Baker shoots the basketball during a 1998 playoff game in Los Angeles. Baker is one of seven former NBA players taking part in the game in North Korea, according to Rodman's agent, Darren Prince. Baker was a four-time NBA All-Star who averaged 15 points a game during a 13-year career that ended in 2006.
Power forward Charles Smith, dribbling the ball in this photo, played nine NBA seasons after being drafted third overall by the Los Angeles Clippers in 1988. He averaged 14.4 points and 5.8 rebounds during his career.
Craig Hodges played in the NBA for 10 seasons and is most known for winning the league's Three-Point Shootout competition in 1990, 1991 and 1992.
Point guard Kenny Anderson was the second overall pick by the New Jersey Nets in 1991, and he would play on seven more teams before his 15-year career ended in 2005. Anderson, a former All-American at Georgia Tech, averaged 12.6 points and 6.1 assists during his NBA career.
Shooting guard Doug Christie played in the NBA for 15 seasons before retiring in 2007. He averaged 11.2 points per game during his career, and he made the NBA's All-Defensive Team on four occasions.
Clifford Robinson scored nearly 20,000 points during an NBA career that spanned 18 seasons. Robinson was the NBA's Sixth Man of the Year in 1993, when he played with the Portland Trail Blazers.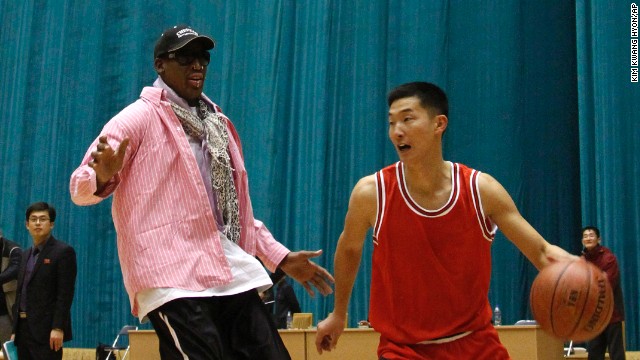 Photos: Former NBA stars in North Korea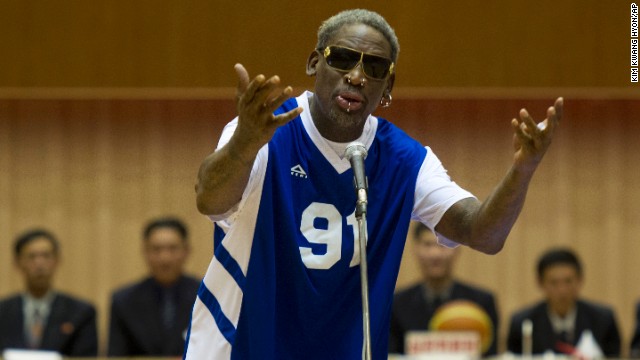 Dennis Rodman sings "Happy Birthday" to North Korean leader Kim Jong Un before an exhibition basketball game in Pyongyang, North Korea, on Wednesday, January 8. In his latest round of "basketball diplomacy," Rodman made his fourth visit to North Korea, one of the world's most totalitarian states, to participate in a basketball game between North Korea and a team of former NBA players.
Rodman bows to Kim, seated above in the stands, before the basketball game on January 8.
Rodman stands up after he and fellow former NBA players completed a television interview at a hotel in Pyongyang on Tuesday, January 7.
Son Kwang Ho, vice minister of North Korea's Sports Ministry, greets former NBA star Dennis Rodman at the airport in Pyongyang on Monday, January 6.
Rodman plays one-on-one with a North Korean player during a basketball practice session in Pyongyang on Friday, December 20, 2013. During the session, Rodman selected the members of the North Korean team who will play in Pyongyang against visiting NBA stars on January 8, the birthday of North Korean leader Kim Jong Un.
Rodman holds a cigar as he speaks to North Korean basketball players during a practice session in Pyongyang on December 20.
Rodman attracts notice as he enters the Koryo Hotel in Pyongyang on Thursday, December 19.
Rodman arrives at Beijing's airport before his flight to North Korea on December 19.
Rodman shows photos of himself with North Korean leader Kim Jong Un while talking to journalists at the Beijing airport on September 7 after his second trip to the reclusive, nuclear-armed nation. Rodman returned from the communist country announcing he will put together a "basketball diplomacy" event with players from North Korea. But he put a damper on any speculation he might have been trying to free imprisoned American Kenneth Bae.
Rodman shows a photo of himself with North Korean leader Kim Jong Un as he arrives at the Beijing airport on September 7. At a news conference Monday, September 9, he called Kim a "very good guy."
Rodman faces questions about detained American Bae at the Beijing airport on September 7. "It is not my job to talk about Kenneth Bae," he told reporters.
Rodman arrives at North Korea's Pyongyang airport on Tuesday, September 3. In a later interview with the British newspaper The Guardian, the ex-basketball star leaked the purported name of Kim's baby daughter.
Son Kwang Ho, vice chairman of North Korea's Olympic Committee, greets Rodman at the Pyongyang airport on September 3.
The retired NBA star faced criticism over his February visit to see the ruler of the repressive state. That trip came during a period of escalating tensions on the Korean Peninsula.
Airport staff take pictures of the former NBA star at a check-in counter at China's Beijing Capital International Airport on September 3 while he was heading to North Korea.
On an earlier visit, Rodman and Kim watch a basketball game together in this image released by HBO for an episode of the documentary series "Vice" which aired in June.
Rodman walks by the base of the Tower of the Juche Idea in Pyongyang in March 2013, in this image released by the Korean Central News Agency.
Rodman and Kim share a toast in North Korea in February.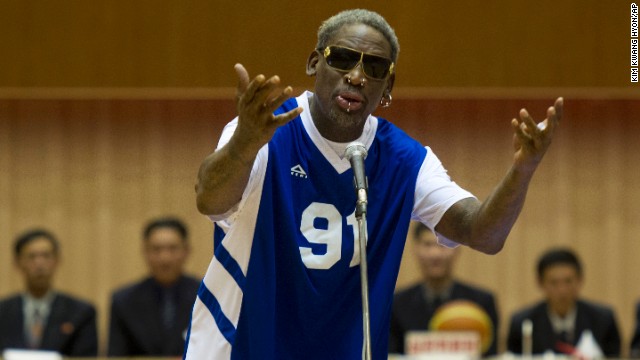 Photos: Dennis Rodman in N. Korea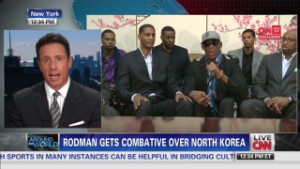 Cuomo: Rodman went "Clubber Lang" on me
When Rodman semed to imply that Kenneth Bae, an American citizen who has been sentenced to 15 years hard labor in North Korea, had done something wrong: "Kenneth Bae did one thing. If you understand what Kenneth Bae did -- do you understand what he did in this country?" (Cuomo asks Rodman to specify exactly what Bae did.) "You tell me, why is he held captive?" (The North Korean regime says Bae was found guilty of "hostile acts" and attempts to topple the government. His mother told CNN in October that Bae has a profound love for the country and its people, and any offense he caused was not intentional.)
When Rodman said he was ready to take abuse from Americans: "You're the guy behind the mic right now. We're the guys here doing one thing. We have to go back to America and take the abuse. Do you have to take the abuse that we're goning to take? Do you, sir? Are you going to take the abuse? We're going to get it."
When Rodman cut Cuomo off to tell him he doesn't 'give a rat's ass' what he thinks: "You know, you've got 10 guys here, 10 guys here, they've left their families, they've left their damn families, to help this country, in a sports venture. That's 10 guys, all these guys here, do anyone understand that?" (Cuomo tells Rodman he understands and thanks the group for the cultural exchange but Rodman cuts him off.) "I don't give a rat's ass what the hell you think. I'm saying to you, look at these guys here, look at them. ... They dared to do one thing, they came here."
Rodman's visit comes just weeks after North Korea announced it had executed Kim's once-powerful uncle. Rodman and the former NBA players who have joined him are playing a friendly match against North Korea's basketball team on Wednesday, when Kim is believed to turn 31.
Rodman struck up the unlikely relationship with Kim when he traveled to North Korea for the first time in February. He has called Kim a "very good guy" and "a friend for life" despite international condemnation of the country's human rights record.