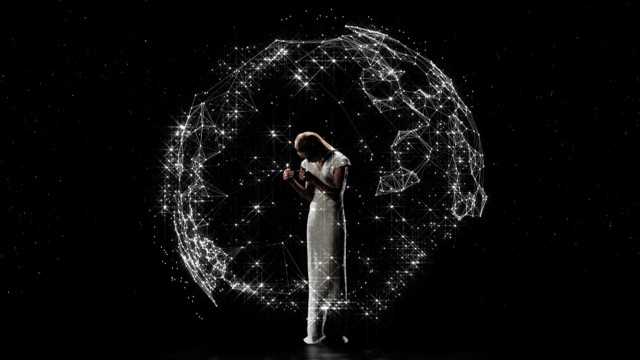 Hovering holograms!
Take a look at some of the incredible 3D creations made possible by Musion's
Eyeliner
projection system.
Tupac Shakur, creating a life-size hologram to duet with headliner Snoop Dogg at the 2012 Coachella music festival.
Musion shot into the public eye when the company "resurrected" rapper
Shakur, who was killed in 1996, performed in front of 75,000 fans, talking to the crowd and interacting with Snoop Dogg. But this was not the first time that Musion has created holographic live performances -- or raised the dead.
Gorillaz to life for a performance with Madonna during the 48th Annual Grammy Awards at the Staples Center in Los Angeles.
Back in February 2006, the company brought cartoon band
Frank Sinatra returned two years later, in 2008, to duet with Alicia Keys at the 50th Grammy awards.
King of swing
ABBA, which allowed fans to sing karaoke with their idols. The installation is now on permanent display at ABBA: The Museum, in Stockholm.
Musion went one further in May 2013, creating a ghostly reproduction of 70s disco favorites
Cisco, puts Musion technology to good use.
Outside the world of music, Musion has provided live holograms for wedding ceremonies, political broadcasts, sportswear manufacturers and fashion brands. Here John Chambers, CEO of communications giant
Lewis Hamilton to come face-to-face with ... himself, at the launch of sports brand Reebok's new clothing line in Amsterdam, Netherlands.
In 2008, Musion allowed Formula 1 driver
Prince Charles appeared at Abu Dhabi's World Future Energy Summit to tout the environmental benefits of digital communication, as a replacement for flying around the world. He claimed to have saved 15 tons of carbon waste by "beaming in" instead of flying, and departed with the words: "I am now going to vanish into thin air, leaving not a carbon footprint behind."
The same year,
Dita Von Teese become the subject of a holographic performance, as the centerpiece for the London Design Museum's showcase of shoe designer Christian Louboutin.
2012 saw burlesque artist
will.i.am has long been among the vocal fans of Musion and hologram technology, both on and off the stage. In 2010, he appeared in digital form with British pop singer Cheryl Cole, and later appeared live accompanied by holographic bandmates at France's NRJ Awards.
Black Eyed Peas singer
But his first holographic outing came in 2008, as he appeared during CNN's coverage of the U.S. presidential elections.
Uwe Maass, who developed a new version of the "Pepper's Ghost" technique made famous in Victorian theater and "haunted house" amusements. Maass's technique uses a nearly invisible reflective foil, rigged at a 45 degree angle to the stage, to bounce projected images off.
Eyeliner is the creation of
When the lights are dimmed, the result is a 2D image which takes on an eerie 3D appearance.
Digital Resurrection service specifically aiming to ensure that death is no longer the end for deceased icons. Jimi Hendrix, John Lennon, Bob Marley -- who will be the next star to perform live, after death?
Musion have big plans for future holo-stars, with a new
Musion: Meet the holograms
Musion: Meet the holograms
Musion: Meet the holograms
Musion: Meet the holograms
Musion: Meet the holograms
Musion: Meet the holograms
Musion: Meet the holograms
Musion: Meet the holograms
Musion: Meet the holograms
Musion: Meet the holograms
Musion: Meet the holograms
Musion: Meet the holograms
Musion: Meet the holograms
Musion: Meet the holograms
Musion: Meet the holograms