STORY HIGHLIGHTS
Dennis Rodman leads a "Happy Birthday" singalong with crowds at a Pyongyang stadium
His "basketball diplomacy" team loses to North Korean squad, state media reports
"It was, as you might imagine, a bizarre and unusual occasion," a tour leader says
Rodman angered many Tuesday by implying that a U.S. man held in North Korea is guilty
(CNN) -- Courting yet more controversy, Dennis Rodman on Wednesday led a singalong of "Happy Birthday" to the leader of North Korea, a man he calls a friend and a "very good guy," but considered by many a brutal dictator who recently lauded the execution of his own uncle.
Images released by The Associated Press also show Rodman appearing to bow to Kim Jong Un at Pyongyang Indoor Stadium, the site of a basketball exhibition Wednesday -- Kim's birthday -- between a North Korean team and Rodman's squad of former NBA players and others.
"It was, as you might imagine, a bizarre and unusual occasion that won't easily be forgotten," Simon Cokerell, general manager of Koryo Tours, said in a YouTube video posted after he accompanied tourists to watch the match.
Even before Wednesday's spectacle -- in which his team lost to a North Korean squad 47-39, according to North Korean state media -- Rodman's visit to North Korea had already generated enormous controversy.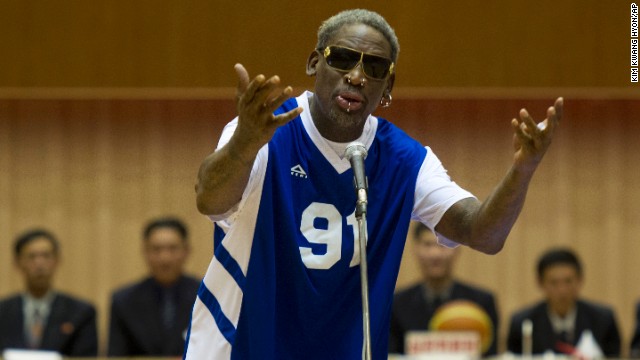 Dennis Rodman sings "Happy Birthday" to North Korean leader Kim Jong Un before an exhibition basketball game in Pyongyang, North Korea, on Wednesday, January 8. In his latest round of "basketball diplomacy," Rodman made his fourth visit to North Korea, one of the world's most totalitarian states, to participate in a basketball game between a team of North Koreans and a team of former NBA players.
Rodman bows to Kim, seated above in the stands, before the basketball game on January 8.
Former NBA star Doug Christie drives to the basket against North Korean players during the exhibition game.
Former NBA star Eric "Sleepy" Floyd, center, sits with fellow American basketball players.
Rodman and Jerry Dupree react to a play during the game.
North Koreans applaud at the start of the game.
Rodman, right, walks with Dupree, center, and Charles D. Smith during the exhibition game.
Rodman tips his hat as U.S. and North Korean basketball players applaud at the end of the game.
Christie is handed a trophy as North Korean players applaud at the end of the game.
U.S. and North Korean basketball players raise their hands to the crowd after the game.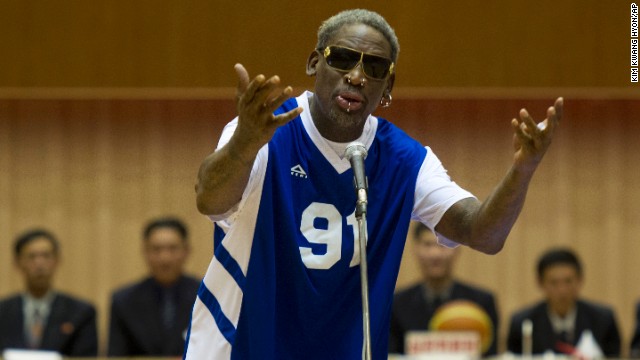 Rodman, ex-NBAers play North Korea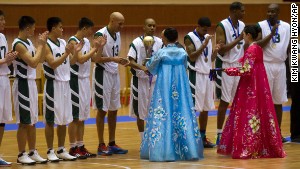 North Korean media: Rodman's team lost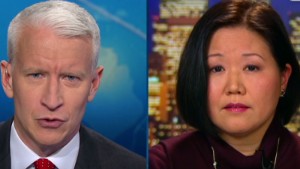 Kenneth Bae's sister 'shocked' by Rodman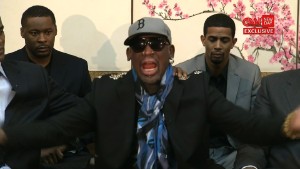 Rodman fiery on Kenneth Bae question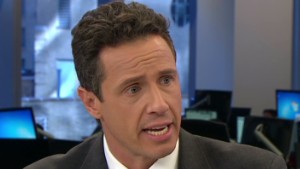 Cuomo: Rodman isn't on cultural exchange
The colorful former NBA star known as "The Worm" elicited widespread condemnation Tuesday when he suggested in an exclusive interview with Chris Cuomo of CNN's "New Day" that American Kenneth Bae had done something to deserve his 15-year sentence.
On Wednesday, Bae's family accused Rodman of "playing games" with Bae's life. Relatives and U.S. officials have insisted Bae committed no crime.
"There is no diplomacy, only games, and at my brother's expense," Bae's sister, Terri Chung, said Wednesday in a prepared statement.
Bae, described by family members as a devout Christian who ran a legal tour operation in North Korea, was sentenced to 15 years in prison in 2012 on charges that he planned an operation to topple North Korea's government through religious activities.
The regime also accused Bae of urging people to carry out "hostile acts" against the state.
The married father of three has suffered a series of health problems during his detention and has been transferred from a labor camp to a hospital.
Bae from North Korean prison: Please help me
Bae's relatives say Rodman, who once urged Kim in a tweet to "do me a solid and cut Kenneth Bae loose," could have helped put pressure on the North Korean government to release him.
Instead, she said he made the situation worse in his Tuesday CNN interview by intimating that Bae was guilty.
"Do you understand what he did in this country?" Rodman asked Cuomo. "No, no, no, you tell me, you tell me. Why is he held captive here in this country, why?"
Chung said Wednesday she was shocked by his statements.
"Dennis Rodman could do a lot of good by advocating for Kenneth to Kim Jong Un, but instead he has decided to hurl outrageous accusations at my brother, insinuating that Kenneth has done something sinister," Chung said.
'A lot of showboating'
Rodman's trip to North Korea is his fourth in the past year.
Wednesday's match took place at Pyongyang Indoor Stadium, according to Cokerell, whose company stages tours for Western visitors to North Korea.
Rodman, NBA old-timers arrive in North Korea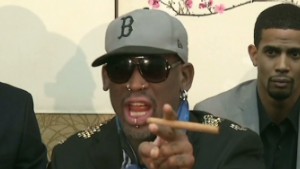 Rodman to CNN: I don't give a s***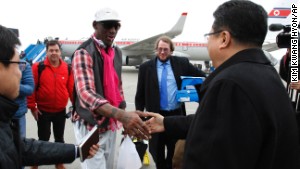 Rodman defiant in odd N. Korea defense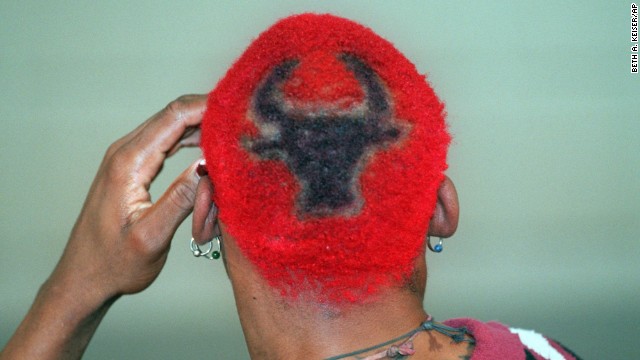 During his Hall of Fame basketball career, Dennis Rodman was known for his flashy looks on and off the court. Here, Rodman sports the logo of the Chicago Bulls, who he won the NBA title with in 1996, 1997 and 1998.
Rodman stretches before a game in Seattle in 1996.
Rodman signs his first autobiography, "Bad As I Wanna Be," in a Chicago bookstore in 1996.
Rodman dives for a loose ball during a game in 1997. Rodman is one of the NBA's all-time greatest rebounders, leading the league in that category from 1992 to 1998.
Rodman arrives at the Academy Awards ceremony in 1997.
Rodman appears on "The Tonight Show with Jay Leno" in 1998.
Rodman is hit with a trash can by Curt Hennig during a pro wrestling match in Sydney in 2000.
Rodman rocks gold pants in 2004.
Rodman took part in the 2006 Lingerie Bowl.
Rodman appears in costume for a book signing of his second autobiography, "I Should be Dead by Now," in 2005.
Rodman wears makeup similar to the rock band Kiss in 2006.
Rodman arrives at the Basketball Hall of Fame for his enshrinement in 2011.
Rodman wears face paint in 2011 while playing a basketball game with other NBA greats in Macau.
Rodman puckers his lips and holds the face of writer/director Alex Forstenhausler at the "So You Think You Can Roast?" event at the New York Friars Club in 2013.
Rodman attends the finale of the television show "All-Star Celebrity Apprentice" in 2013. Rodman has appeared on several reality TV shows, even winning "Celebrity Mole" in 2004.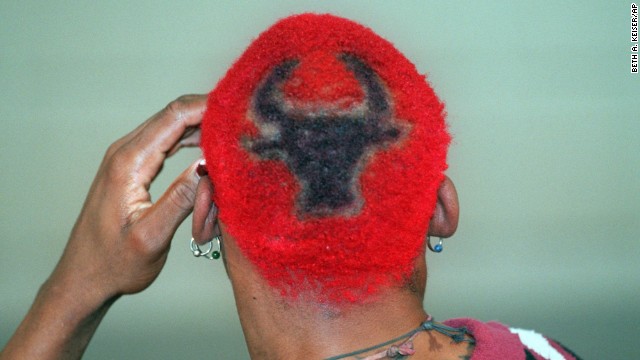 Dennis Rodman: Hoops, hair and tattoos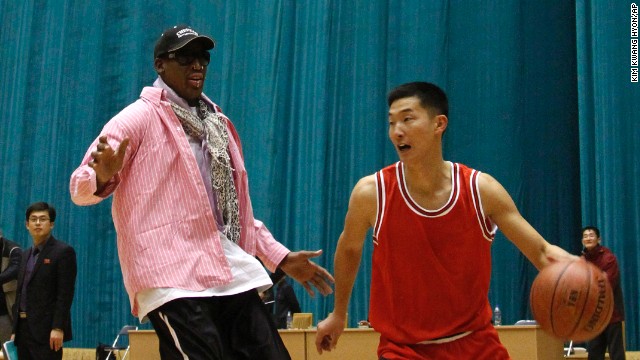 Former basketball star Dennis Rodman plays one-on-one with a North Korean player during a practice session in Pyongyang, North Korea, on December 20, 2013. Rodman and several other former NBA players have arrived in North Korea to take part in a basketball game on Wednesday, January 8, the birthday of North Korean leader Kim Jong Un.
Vin Baker shoots the basketball during a 1998 playoff game in Los Angeles. Baker is one of seven former NBA players taking part in the game in North Korea, according to Rodman's agent, Darren Prince. Baker was a four-time NBA All-Star who averaged 15 points a game during a 13-year career that ended in 2006.
Power forward Charles Smith, dribbling the ball in this photo, played nine NBA seasons after being drafted third overall by the Los Angeles Clippers in 1988. He averaged 14.4 points and 5.8 rebounds during his career.
Craig Hodges played in the NBA for 10 seasons and is most known for winning the league's Three-Point Shootout competition in 1990, 1991 and 1992.
Point guard Kenny Anderson was the second overall pick by the New Jersey Nets in 1991, and he would play on seven more teams before his 15-year career ended in 2005. Anderson, a former All-American at Georgia Tech, averaged 12.6 points and 6.1 assists during his NBA career.
Shooting guard Doug Christie played in the NBA for 15 seasons before retiring in 2007. He averaged 11.2 points per game during his career, and he made the NBA's All-Defensive Team on four occasions.
Clifford Robinson scored nearly 20,000 points during an NBA career that spanned 18 seasons. Robinson was the NBA's Sixth Man of the Year in 1993, when he played with the Portland Trail Blazers.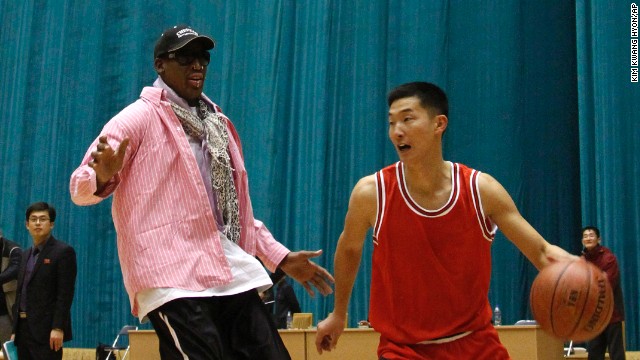 Photos: Former NBA stars in North Korea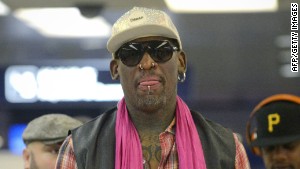 Rodman's North Korea basketball party
After Kim emerged to cheering crowds that for several minutes wished him long life -- ending only when the leader hushed them -- Rodman gave an impromptu speech, then he led the crowd in singing "Happy Birthday" to Kim.
Rodman's squad and a North Korean team played two games, Cokerell said. The first featured his team in a 20-minute match in a loss against the North Korean squad. The second game pitted squads with Western and North Korean players on each team, he said.
"That game was actually much better; there was a lot of showboating, showing off, alley-oops, slam-dunks and that sort of thing," he said.
Controversial friendship
Rodman struck up a friendship with Kim in February, when he first traveled to North Korea with a team of Harlem Globetrotters for an exhibition game. He has since described Kim as a "very good guy" and his friend.
"I love my friend," Rodman said Tuesday in a reference to Kim. "This is my friend."
Rodman has described his series of trips to North Korea as a "basketball diplomacy" project and defended the latest trip in his interview with Cuomo, saying it was a "great idea for the world."
Much of the rest of the world, however, has been less enthusiastic.
Western governments and human rights groups have accused North Korea of human rights abuses, including arbitrary detentions and operating a network of labor camps -- including one to which Bae was reportedly sentenced before his health deteriorated.
Kim is also believed to have led a purge that culminated in the execution of his uncle, who had been instrumental in leading the current leader to power after the death of his father.
U.S. officials have taken pains to note that Rodman is on a private visit. On Tuesday, Bill Richardson, a former U.S. ambassador to the United Nations, also criticized Rodman's comments.
Richardson, a former New Mexico governor who has visited North Korea multiple times, said Rodman "drank a little bit too much of the Kool-Aid from the North Koreans."
Charles D. Smith, a basketball player who accompanied Rodman on the trip, apologized for "the storm that has been created by our presence." But, he added, "We're not apologizing for doing what we do ... we're connecting people to basketball and people to people."
When celebrity meets brutality
NBA unimpressed
The NBA also has distanced itself from Rodman's trip.
"Dennis will be Dennis, but I think there is a lot at stake here in terms of a ... a very dangerous country," outgoing NBA Commissioner David Stern said Tuesday on "The Situation Room with Wolf Blitzer."
The NBA has had preliminary discussions with Pyongyang about a cultural exchange, Stern said. But he said he wouldn't send any players to North Korea without White House approval.
"Sports diplomacy is a wonderful thing," he said. "But they should be done in a far more dignified fashion than this particular trip is being carried out."
North Korea: Reality vs. the world according to Rodman
CNN's Paula Hancocks, Karl Penhaul, Connie Young, Azadeh Ansari, K.J. Kwon, Tom Watkins and Steve Almasy contributed to this report.