STORY HIGHLIGHTS
Franklin McCain, who died Thursday, was one of the "Greensboro Four"
In 1960, four black students defied segregation by sitting at a whites-only lunch counter
The act spawned sit-ins elsewhere and was hailed as a major desegregation effort
"We wanted to be included in the round table of humanity," said another of the four
(CNN) -- Five decades ago, Franklin McCain and three fellow African-American college students made history just by sitting down at a Woolworth's lunch counter in Greensboro, North Carolina, and waiting.
And waiting.
And waiting -- for service that never came that day at the whites-only counter.
The four came back the next day. And the next.
The "Greensboro Four," as they came to be known, drew national attention with their peaceful demonstration in the winter of 1960.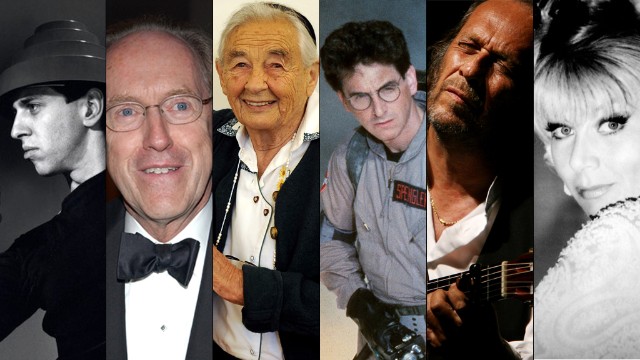 Click through to see people who passed away in 2014.
Actress Sheila MacRae, who portrayed Alice Kramden in a 1960s revival of "The Honeymooners" on "The Jackie Gleason Show," died on Thursday, March 6, according to her family. She was 92.
Spanish guitarist Paco de Lucia, seen here in 2006, died February 25 of an apparent heart attack. He was 66. De Lucia transformed the folk art of flamenco music into a more vibrant modern sound.
Actor, writer and director Harold Ramis, seen here on the far left with fellow "Ghostbusters" Dan Aykroyd and Bill Murray, died at his Chicago-area home on February 24. He was 69. Other popular Ramis films include "Stripes," "Groundhog Day" and "Analyze This."
Maria von Trapp, seen here posing with a photo of her family, was the last of the singing siblings immortalized in the movie "The Sound of Music." She died February 18 of natural causes at her Vermont home, according to her family. She was 99.
Journalist Garrick Utley has died at age 74 following a long battle with cancer, according to NBC. Utley worked for CNN after his 30-year career at NBC News.
Devo guitarist Bob Casale, known by fans as "Bob 2," died Monday, February 17, his brother and band mate announced. Casale was 61.
John Henson, son of Jim Henson, perhaps most notable for his portrayal of Sweetums, a large, gruff-looking, lovable character on "The Muppets," died after a "sudden, massive heart attack," his family's company said on February 15.
Veteran actor Ralph Waite died at 85 on Thursday, February 13, according to an accountant for the Waite family and a church where the actor was a regular member. Waite was best known for his role as John Walton Sr. on 'The Waltons."
Sid Caesar, whose clever, anarchic comedy on such programs as "Your Show of Shows" and "Caesar's Hour" helped define the 1950s "Golden Age of Television," died on February 12. He was 91.
Hollywood child star Shirley Temple, who became diplomat Shirley Temple Black, died February 10 at her Woodside, California, home. She was 85.
Joan Mondale, the wife of former Vice President Walter Mondale, died on February 3, according to a statement from the family's church.
Oscar-winning actor Philip Seymour Hoffman was found dead in his Manhattan apartment of an apparent drug overdose, law enforcement sources said February 2.
Maximilian Schell died on February 1 in a Austrian hospital with his wife by his side, his agent Patricia Baumbauer said. He was 83. Schell was nominated for an Oscar three times. He won in 1962 for "Judgment at Nuremberg."
Legendary folk singer Pete Seeger, known for classics such as "Where Have All the Flowers Gone" and "If I Had a Hammer (The Hammer Song)," died of natural causes in New York on January 27, his grandson told CNN. He was 94.
Ruth Robinson Duccini, who played one of the Munchkins in the 1939 classic "The Wizard of Oz," died on January 16. She was 95.
Former Playboy centerfold Cassandra Lynn Hensley was found dead at a friend's home in Los Angeles, the coroner there said on January 17. Hensley was 34. Her cause of death was not immediately known.
Hiroo Onoda, center, salutes after handing over his military sword on Lubang Island in the Philippines in March 1974. Onoda, a former intelligence officer in the Japanese army, had remained on the island for nearly 30 years, refusing to believe his country had surrendered in World War II. He died at a Tokyo hospital on January 16. He was 91.
Russell Johnson, center, stands with Alan Hale Jr., left, and Bob Denver in an episode of "Gilligan's Island" in 1966. Johnson, who played "the professor" Roy Hinkley in the hit television show, passed away January 16 at his home in Washington state, according to his agent, Mike Eisenstadt. Johnson was 89.
Ariel Sharon, whose half century as a military and political leader in Israel was marked with victories and controversies, died on January 11 after eight years in a coma, Israeli Army Radio reported. Sharon was 85.
Franklin McCain, seen center wearing glasses, one of the "Greensboro Four," who made history for their 1960 sit-in at a Greensboro Woolworth's lunch counter, died on January 10 after a brief illness, according to his alma mater, North Carolina A&T State University.
Larry Speakes, who served as President Ronald Reagan's press secretary, died January 10 at his home in Cleveland, Mississippi, following a lengthy illness, according to Bolivar County Coroner Nate Brown. He was 74.
Poet Amiri Baraka, who lost his post as New Jersey's poet laureate because of a controversial poem about the 9/11 terror attacks, died on January 9, his agent said. Baraka was 79.
Sir Run Run Shaw, the media tycoon who helped bring Chinese martial arts films to an international audience, died at his home in Hong Kong on January 7 at age 106, the television station he founded said.
Stage, TV and film actress Carmen Zapata, who founded the Bilingual Foundation of the Arts as a means of of introducing "the rich and eloquent history of the diverse Hispanic culture to English-speaking audiences," died on January 5 at her Los Angeles home. She was 86.
Portugal football legend Eusebio, who was top scorer at the 1966 World Cup, died from a heart attack on January 5 at age 71, said his former club, Benfica.
Alicia Rhett, who had been one of the oldest surviving cast members of the classic film "Gone With the Wind," died on January 3 in her longtime hometown of Charleston, South Carolina, a retirement community spokeswoman said. She was 98.
Singer Phil Everly, left -- one half of the groundbreaking, smooth-sounding, record-setting duo the Everly Brothers -- died on January 3, a hospital spokeswoman said. He was 74.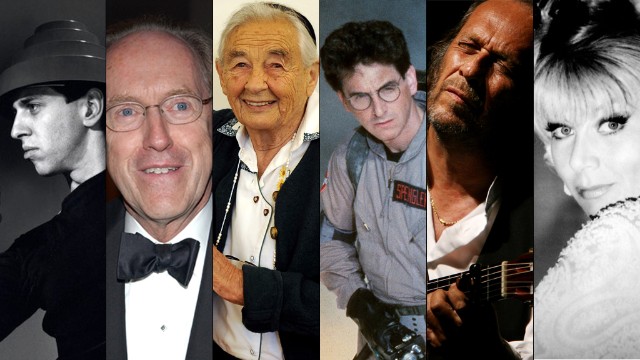 Photos: People we lost in 2014
Within three days of their first attempt to simply sit and eat, more than 300 students, including whites, were taking part in what was being called "a sit-in" in Greensboro.
Nearly six months later, with similar sit-ins happening at dozens of whites-only lunch counters in Southern cities, the counter where it all started served its first black customers.
McCain died Thursday after a brief illness, according to his alma mater, North Carolina A&T State University. He died in a hospital a few miles from the old Woolworth's location -- now the nonprofit International Civil Rights Center and Museum, which opened 50 years to the day McCain and his colleagues began their sit-in on February 1, 1960.
The museum posted on its site a tribute to McCain and the other three students for their "courageous act (that) marked a turning point in the struggle for equality that continues to this day."
McCain, 72, graduated from North Carolina A&T in 1964, and worked for a chemical company, the Celanese Corp., in Charlotte for almost 35 years, according to the Winston-Salem Journal.
He was a member of the North Carolina university system's board of governors and was active in civil rights throughout his life, according to North Carolina A&T.
"His contributions to this university, the city of Greensboro and the nation as a civil rights leader are without measure. His legacy will live on in the hearts and minds of Aggies and friends throughout the world," A&T Chancellor Harold L. Martin said in a statement posted on the university's website.
In 2010, McCain told CNN of his concern when an elderly white woman approached the lunch counter that day.
"I was thinking to myself, she must have knitting needles and scissors in that handbag of hers and they're about to go right through me," said McCain, a bespectacled freshman at the time.
Instead of pulling a knitting needle on the young men, the woman placed her hand on McCain's shoulder and smiled warmly.
"She says, 'Boys, I am so proud of you. I only regret that you didn't do this 10 years ago,'" McCain said.
"That was the greatest source of inspiration to me, probably for all my life, primarily because it came from a very unexpected person," he said. "You picture 1960 in the South in a little old white lady's space and you are acting out of place, and she compliments you."
Another member of the four, Joseph McNeil, also spoke with CNN on the 50th anniversary of the sit-in and said the planned action grew out of lifetimes of personal experiences with segregation.
"Unless we decided to do something about it and took some action, our children would have had to also challenge racial segregation," said McNeil, a retired major general in the Air Force Reserves. "Woolworth's was a national chain, and what we fundamentally wanted to do was to bring attention to the negative, and the evil of segregation."
In addition to McCain and McNeil, the Greensboro Four were Jibreel Khazan -- then known as Ezell A. Blair Jr. -- and David Richmond. Richmond died in 1990 at age 49, according to the Greensboro News & Record.
Speaking of McCain as news of his death spread, Khazan told the New & Record, "Frank would say we didn't want to set the world on fire, we just wanted to sit down and eat like everybody else. We wanted to be included in the round table of humanity."
CNN's Thom Patterson and Emanuella Grinberg contributed to this report.