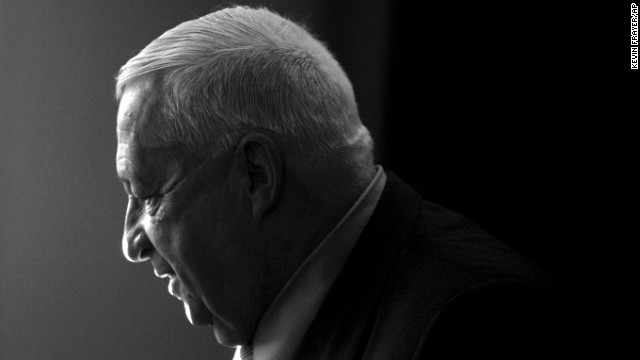 Former Israeli Prime Minister Ariel Sharon, a decorated warrior who also took steps for peace, died Saturday, January 11, after eight years in a coma. Sharon was 85. The former general had been hospitalized since suffering a stroke in January 2006. Here, he meets with Israeli journalists in Tel Aviv a month before the stroke.
Sharon, born on a farm outside of Tel Aviv, began working with the Haganah, a militant group advocating for Israel's independence, after graduating from high school in 1945. He's shown as a young commander in the Alexandroni Brigade of the fledgling Israeli army in 1948.
Ariel Sharon addresses troops of Unit 101 before their attack on Khan Yunis in what was formerly known as the Gaza Strip on August 30, 1955. Sharon had established the elite commando group two years before. The officer-turned-politician had a career marked with victories and controversies.
By February 1966, when this photo was taken, Sharon was an Israeli military hero. Sharon rose through the ranks of the Israel Defense Forces and was a major general during 1967's Six-Day War, which ended with Israel notably, if controversially, expanding its territory.
In June 1967, Sharon led his tank battalion to a crushing victory over the Egyptians in the Sinai during the Six-Day War. Here, he witnesses an aerial attack.
Former Prime Minister David Ben-Gurion is briefed in 1971 by Sharon in a trench near the Suez Canal in the Sinai.
Defense Minister Moshe Dayan (left) visits with a bandaged Sharon during the Yom Kippur War in October 1973 on the western bank of the Suez Canal in Egypt. Sharon said his greatest military success came during that war. He surrounded Egypt's Third Army and, defying orders, led 200 tanks and 5,000 men over the Suez Canal, a turning point.
Sharon transitioned into government, including stints as military adviser, agriculture minister and defense minister. Here, he and Prime Minister Menachem Begin attend a Knesset meeting in June 1977.
Sharon with his son, Gilad, and wife, Lily, during a stop in Egypt in 1979.
An official Israeli inquiry found Sharon indirectly responsible for the September 1982 killings of as many as 2,000 Palestinians at the Sabra and Shatila refugee camps outside of Beirut, Lebanon. The report -- which led to Sharon's prompt resignation -- determined the then-defense minister did nothing to stop Christian militiamen allied with Israel from entering the camps. Here, demonstrators are seen near Prime Minister Menachem Begin's home in Jerusalem, calling for the resignations of Begin and Sharon.
Israeli Defense Minister Ariel Sharon, in combat helmet and flak jacket, leads his troops toward a meeting with Christian forces in East Beirut in June 1982. Israel had invaded southern Lebanon in retaliation for an assassination attempt linked to the group Abu Nidal.
Sharon, no longer in the Israeli military, stands at the future site of a settlement in Gaza in February 1990.
Serving as foreign minister, Ariel Sharon talks with U.S. Secretary of State Madeleine Albright during the October 1998 Middle East peace summit in Maryland.
Sharon made a political comeback in the 1990s, eventually becoming leader of the Likud party in 2000. In February 2001, the prime minister-elect touches the ancient stones of the Western Wall as he prays at Judaism's holiest site in Jerusalem. He took office the following month.
The prime minister, at a March 2002 media briefing in Jerusalem, announces a widespread army operation against what he called Palestinian terrorism. He spoke out against Yasser Arafat, then a key Palestinian leader. Sharon said that Israel considered Arafat an enemy and that he would be completely isolated "at this stage.''
In June 2003, Sharon, right, met with Palestinian Authority leader Mahmoud Abbas, left, and U.S. President George W. Bush to discuss a Middle East "road map" for peace. After the meeting, Sharon expressed his "strong support" for a two-state solution to the Israeli-Palestinian conflict.
Sharon sits alone as he waits for other Knesset members to arrive for a vote on March 28, 2005. Sharon pushed for Israel's historic 2005 withdrawal from 25 settlements in the West Bank and Gaza, which was turned over to Palestinian rule for the first time in 38 years.
Immediately after he fell ill in early 2006, Sharon's prime minister power was transferred to Vice Premier Ehud Olmert. Sharon is shown only weeks before his devastating stroke.
The politician pays a visit to his Negev Desert farm in early 2006.
Acting Prime Minister Ehud Olmert looks toward the empty chair of Prime Minister Ariel Sharon as a note is passed to him during a special meeting of the cabinet in April 2006. Israel's Cabinet declared Sharon permanently incapacitated, a decision marking the official end of his five-year tenure. Sharon suffered his stroke in January 2006 and was in a coma.
Ariel Sharon: Israeli soldier, statesman
Ariel Sharon: Israeli soldier, statesman
Ariel Sharon: Israeli soldier, statesman
Ariel Sharon: Israeli soldier, statesman
Ariel Sharon: Israeli soldier, statesman
Ariel Sharon: Israeli soldier, statesman
Ariel Sharon: Israeli soldier, statesman
Ariel Sharon: Israeli soldier, statesman
Ariel Sharon: Israeli soldier, statesman
Ariel Sharon: Israeli soldier, statesman
Ariel Sharon: Israeli soldier, statesman
Ariel Sharon: Israeli soldier, statesman
Ariel Sharon: Israeli soldier, statesman
Ariel Sharon: Israeli soldier, statesman
Ariel Sharon: Israeli soldier, statesman
Ariel Sharon: Israeli soldier, statesman
Ariel Sharon: Israeli soldier, statesman
Ariel Sharon: Israeli soldier, statesman
Ariel Sharon: Israeli soldier, statesman
Ariel Sharon: Israeli soldier, statesman