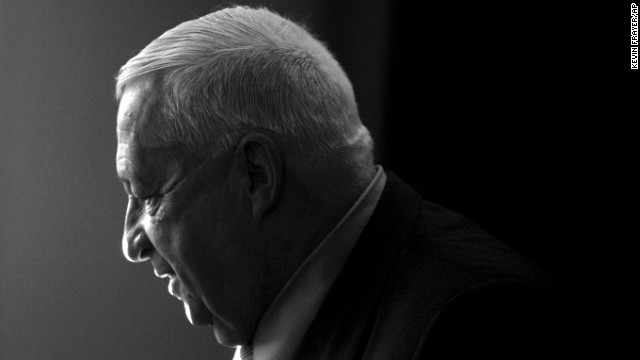 Former Israeli Prime Minister Ariel Sharon, a decorated warrior who also took steps for peace, died Saturday, January 11, after eight years in a coma. Sharon was 85. The former general had been hospitalized since suffering a stroke in January 2006. Here, he meets with Israeli journalists in Tel Aviv a month before the stroke.
Sharon, born on a farm outside of Tel Aviv, began working with the Haganah, a militant group advocating for Israel's independence, after graduating from high school in 1945. He's shown as a young commander in the Alexandroni Brigade of the fledgling Israeli army in 1948.
Ariel Sharon addresses troops of Unit 101 before their attack on Khan Yunis in what was formerly known as the Gaza Strip on August 30, 1955. Sharon had established the elite commando group two years before. The officer-turned-politician had a career marked with victories and controversies.
By February 1966, when this photo was taken, Sharon was an Israeli military hero. Sharon rose through the ranks of the Israel Defense Forces and was a major general during 1967's Six-Day War, which ended with Israel notably, if controversially, expanding its territory.
In June 1967, Sharon led his tank battalion to a crushing victory over the Egyptians in the Sinai during the Six-Day War. Here, he witnesses an aerial attack.
Former Prime Minister David Ben-Gurion is briefed in 1971 by Sharon in a trench near the Suez Canal in the Sinai.
Defense Minister Moshe Dayan (left) visits with a bandaged Sharon during the Yom Kippur War in October 1973 on the western bank of the Suez Canal in Egypt. Sharon said his greatest military success came during that war. He surrounded Egypt's Third Army and, defying orders, led 200 tanks and 5,000 men over the Suez Canal, a turning point.
Sharon transitioned into government, including stints as military adviser, agriculture minister and defense minister. Here, he and Prime Minister Menachem Begin attend a Knesset meeting in June 1977.
Sharon with his son, Gilad, and wife, Lily, during a stop in Egypt in 1979.
An official Israeli inquiry found Sharon indirectly responsible for the September 1982 killings of as many as 2,000 Palestinians at the Sabra and Shatila refugee camps outside of Beirut, Lebanon. The report -- which led to Sharon's prompt resignation -- determined the then-defense minister did nothing to stop Christian militiamen allied with Israel from entering the camps. Here, demonstrators are seen near Prime Minister Menachem Begin's home in Jerusalem, calling for the resignations of Begin and Sharon.
Israeli Defense Minister Ariel Sharon, in combat helmet and flak jacket, leads his troops toward a meeting with Christian forces in East Beirut in June 1982. Israel had invaded southern Lebanon in retaliation for an assassination attempt linked to the group Abu Nidal.
Sharon, no longer in the Israeli military, stands at the future site of a settlement in Gaza in February 1990.
Serving as foreign minister, Ariel Sharon talks with U.S. Secretary of State Madeleine Albright during the October 1998 Middle East peace summit in Maryland.
Sharon made a political comeback in the 1990s, eventually becoming leader of the Likud party in 2000. In February 2001, the prime minister-elect touches the ancient stones of the Western Wall as he prays at Judaism's holiest site in Jerusalem. He took office the following month.
The prime minister, at a March 2002 media briefing in Jerusalem, announces a widespread army operation against what he called Palestinian terrorism. He spoke out against Yasser Arafat, then a key Palestinian leader. Sharon said that Israel considered Arafat an enemy and that he would be completely isolated "at this stage.''
In June 2003, Sharon, right, met with Palestinian Authority leader Mahmoud Abbas, left, and U.S. President George W. Bush to discuss a Middle East "road map" for peace. After the meeting, Sharon expressed his "strong support" for a two-state solution to the Israeli-Palestinian conflict.
Sharon sits alone as he waits for other Knesset members to arrive for a vote on March 28, 2005. Sharon pushed for Israel's historic 2005 withdrawal from 25 settlements in the West Bank and Gaza, which was turned over to Palestinian rule for the first time in 38 years.
Immediately after he fell ill in early 2006, Sharon's prime minister power was transferred to Vice Premier Ehud Olmert. Sharon is shown only weeks before his devastating stroke.
The politician pays a visit to his Negev Desert farm in early 2006.
Acting Prime Minister Ehud Olmert looks toward the empty chair of Prime Minister Ariel Sharon as a note is passed to him during a special meeting of the cabinet in April 2006. Israel's Cabinet declared Sharon permanently incapacitated, a decision marking the official end of his five-year tenure. Sharon suffered his stroke in January 2006 and was in a coma.
Ariel Sharon: Israeli soldier, statesman
Ariel Sharon: Israeli soldier, statesman
Ariel Sharon: Israeli soldier, statesman
Ariel Sharon: Israeli soldier, statesman
Ariel Sharon: Israeli soldier, statesman
Ariel Sharon: Israeli soldier, statesman
Ariel Sharon: Israeli soldier, statesman
Ariel Sharon: Israeli soldier, statesman
Ariel Sharon: Israeli soldier, statesman
Ariel Sharon: Israeli soldier, statesman
Ariel Sharon: Israeli soldier, statesman
Ariel Sharon: Israeli soldier, statesman
Ariel Sharon: Israeli soldier, statesman
Ariel Sharon: Israeli soldier, statesman
Ariel Sharon: Israeli soldier, statesman
Ariel Sharon: Israeli soldier, statesman
Ariel Sharon: Israeli soldier, statesman
Ariel Sharon: Israeli soldier, statesman
Ariel Sharon: Israeli soldier, statesman
Ariel Sharon: Israeli soldier, statesman
STORY HIGHLIGHTS
NEW: Sharon's coffin will lie in state at the Knesset; his funeral will be Monday
Ariel Sharon had been in a coma for eight years
He is remembered for his controversial military and political career
Israeli officials praise him, while some in the Mideast criticize him
(CNN) -- In death as during his life, former Israeli Prime Minister Ariel Sharon elicits emotional reactions, both laudatory and critical.
His death on Saturday at age 85, after eight years in a coma, resurfaced old wounds, but also praise for his strength in leadership.
In those last years of his life, Sharon was in a state of minimal consciousness with minimal non-verbal communication, a hospital spokesman said.
Sharon, giant of modern Israel, dead at 85
The former leader had many ups and downs during his hospitalization, and on Saturday, "he departed peacefully with his loving family at his side," the spokesman said.
His coffin will be moved Sunday to the Knesset, Israel's parliament, where citizens can come to pay their respects through 6 p.m., the office of current Prime Minister Benjamin Netanyahu announced.
A state memorial ceremony -- to be attended by, among others, U.S. Vice President Joe Biden and former British leader Tony Blair -- will be held at the Knesset starting at 9:30 a.m. Monday. This will be followed by a funeral procession that includes a stop in Latrun for a special meeting of Israel Defense Forces staff and ends with a military funeral at Sharon's ranch, Shikmim.
In remarks on Saturday, Netanyahu remembered his predecessor as a warrior and a political leader.
"The State of Israel bows its head on the passing of former Prime Minister Ariel Sharon," Netanyahu said in a statement. "Ariel Sharon played a central role in the struggle for the security of the State of Israel over all its years."
The same decisions that made him a controversial figure during his lengthy tenure as a military man and politician were back on display in the initial reactions to his death.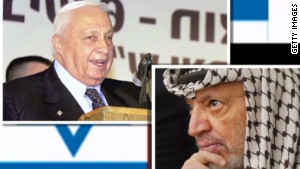 Sharon and Arafat: Enemies to the end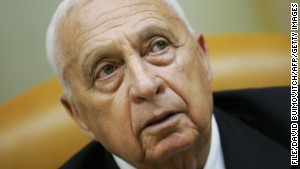 Ariel Sharon has died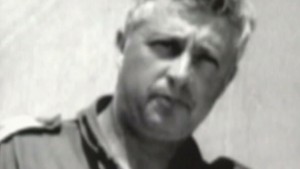 Ariel Sharon: The warrior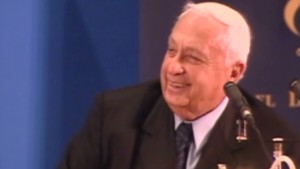 Ariel Sharon: The politician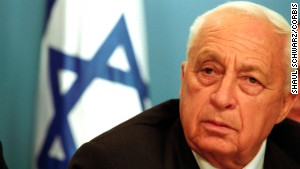 Ariel Sharon legacy linked to military
These moments include his role as defense minister during the 1982 war in Lebanon. During that conflict, he was held indirectly responsible by an Israeli inquiry in 1983 for the massacre of hundreds of Palestinians at the Sabra and Shatila refugee camps. He was forced to resign.
He also raised ire in the Arab world by encouraging Israelis to build settlements on occupied Palestinian land, but later did an about-face and pushed for the historic withdrawal from settlements in the West Bank and Gaza, which were turned over to Palestinian rule for the first time in nearly four decades.
READ MORE: Sharon's life on the front lines
President Shimon Peres made an address eulogizing his "dear friend Arik Sharon," calling him by his well-known nickname.
"He was an outstanding man and an exceptional commander who moved his people and loved them. And the people loved him," Peres said.
But Hamas, the Palestinian movement that runs Gaza, paints Sharon with a darker legacy.
"We deal with the death of Sharon as an end for the crimes he committed against the Palestinian people," said Israr Almodallal, spokesman for Hamas in Gaza. "The biggest crime was the Sabra and Shatila massacre in Lebanon, and we deal with Sharon as a criminal person.
"We will not forgive Sharon any way or another," he said.
At the Baddawi refugee camp in northern Lebanon, Sharon's death was marked with long bursts of shooting into the air, the Lebanese state-run NNA news agency said.
READ MORE: Five things to know about Sharon
President Barack Obama offered condolences to Sharon and the Israeli people, but his statement did not single out any milestones in the late prime minister's life for praise besides noting that Sharon dedicated his life to Israel.
"We continue to strive for lasting peace and security for the people of Israel, including through our commitment to the goal of two states living side-by-side in peace and security," Obama said.
Secretary of State John Kerry offered a nuanced statement: "During his years in politics, it is no secret that there were times the United States had differences with him. But whether you agreed or disagreed with his positions -- and Arik was always crystal clear about where he stood -- you admired the man who was determined to ensure the security and survival of the Jewish State."
To make Israel stronger, Sharon recognized that peace is necessary, Kerry said.
Vice President Joe Biden will lead the U.S. delegation to Sharon's memorial service, though details of the funeral have not been announced.
Israel's current defense minister, Moshe Ya'alon, in turn, praised Sharon's military career.
"Ariel Sharon was first and foremost an extraordinary military commander that turned the (Israel Defense Forces) into an army that confronts the enemy and quickly prevails," Ya'alon said in a statement. "He displayed his military leadership in the battlefield, both in battles against regular armies and in the fight against terrorism."
Sharon was involved in every Israeli war going back to 1948, and he was remembered as a fierce fighter. He believed strongly that in order for Israel to survive, a strong army was needed.
He had a reputation as a hawk, but he moved in a more moderate direction as prime minister.
The office of U.N. Secretary-General Ban Ki-moon, released a statement focusing on Sharon's shift toward negotiations with the Palestinians.
Sharon "will be remembered for his political courage and determination to carry through with the painful and historic decision to withdraw Israeli settlers and troops from the Gaza Strip. His successor faces the difficult challenge of realizing the aspirations of peace between the Israeli and Palestinian people," the statement said.
French President Francois Hollande offered his condolences, also emphasizing his actions at the end of his career.
"After a long military and political career, he made the choice to turn towards dialogue with the Palestinians," Hollande said in a statement.
The reaction from Russian President Vladimir Putin was less specific and, overall, laudatory for Sharon's contributions to Israel and toward fostering Israeli-Russian relations.
"The President of Russia highly praised Ariel Sharon's personal qualities, his activity to uphold the interests of Israel, noting the respect he enjoyed among his compatriots and internationally," the Kremlin said in a statement.
Critics continued to evoke the 1982 war in Lebanon.
"It's a shame that Sharon has gone to his grave without facing justice for his role in Sabra and Shatilla and other abuses," said Sarah Leah Whitson, Middle East director at Human Rights Watch. "His passing is another grim reminder that years of virtual impunity for rights abuses have done nothing to bring Israeli-Palestinian peace any closer."
Khaled Abu Al Noor, head of the Democratic Front, a Palestinian faction, described Sharon as "a murderer."
"He is responsible for the massacre of many Palestinian children, women and elderly. We call on the international community to try him under international law even after his death."
Sharon's son, Gilad, thanked the people who cared for his father in the hospital and those who prayed for him.
"He was the one who decided when he would go," Gilad said.
CNN's Michael Schwartz and Kareem Khadder in Jerusalem, CNN's Laura Smith-Spark in London, CNN's Samira Said, Joe Sterling, Radina Gigova and Brian Walker in Atlanta, and Journalist Raed Rafei in Beirut contributed to this report