STORY HIGHLIGHTS
NEW: Dennis Rodman arrives at Beijing airport after leaving North Korea
The basketball players weren't acting as political liaisons, Charles Smith tells CNN
In 30-minute interview he says he felt for Dennis Rodman, who put a lot of pressure on himself
Smith says he didn't know the date of the contest was the birthday of North Korea's leader
(CNN) -- Charles Smith insisted Sunday that the former NBA players who went to North Korea for a basketball diplomacy trip, led by Dennis Rodman, weren't paid by the repressive regime.
"Absolutely not. I think I am astute enough to understand the dynamics, especially collecting monetary dollars from North Korea. No, we did not get paid from North Korea at all," he told CNN in a lengthy exclusive interview on "New Day Sunday."
Smith, who retired from the NBA in 1997 after nine seasons, said an Irish online betting company and a documentary film crew paid expenses for the ex-players turned hoops ambassadors.
Last month the Irish company, Paddy Power, said it had removed its name from Rodman's project after the execution of Kim's uncle and top aide, Jang Song Thaek. But it said it would honor its "contractual commitments" to the team.
Speaking by satellite from Beijing, Smith said it wasn't about the money. He saw it as an opportunity to go to a reclusive country and exchange cultural information with other athletes and citizens. But he didn't see it as a birthday present for North Korean leader Kim Jong Un.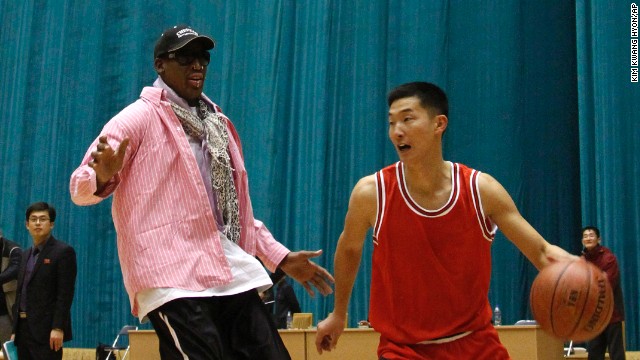 Former basketball star Dennis Rodman plays one-on-one with a North Korean player during a practice session in Pyongyang, North Korea, on December 20, 2013. Rodman and several other former NBA players have arrived in North Korea to take part in a basketball game on Wednesday, January 8, the birthday of North Korean leader Kim Jong Un.
Vin Baker shoots the basketball during a 1998 playoff game in Los Angeles. Baker is one of seven former NBA players taking part in the game in North Korea, according to Rodman's agent, Darren Prince. Baker was a four-time NBA All-Star who averaged 15 points a game during a 13-year career that ended in 2006.
Power forward Charles Smith, dribbling the ball in this photo, played nine NBA seasons after being drafted third overall by the Los Angeles Clippers in 1988. He averaged 14.4 points and 5.8 rebounds during his career.
Craig Hodges played in the NBA for 10 seasons and is most known for winning the league's Three-Point Shootout competition in 1990, 1991 and 1992.
Point guard Kenny Anderson was the second overall pick by the New Jersey Nets in 1991, and he would play on seven more teams before his 15-year career ended in 2005. Anderson, a former All-American at Georgia Tech, averaged 12.6 points and 6.1 assists during his NBA career.
Shooting guard Doug Christie played in the NBA for 15 seasons before retiring in 2007. He averaged 11.2 points per game during his career, and he made the NBA's All-Defensive Team on four occasions.
Clifford Robinson scored nearly 20,000 points during an NBA career that spanned 18 seasons. Robinson was the NBA's Sixth Man of the Year in 1993, when he played with the Portland Trail Blazers.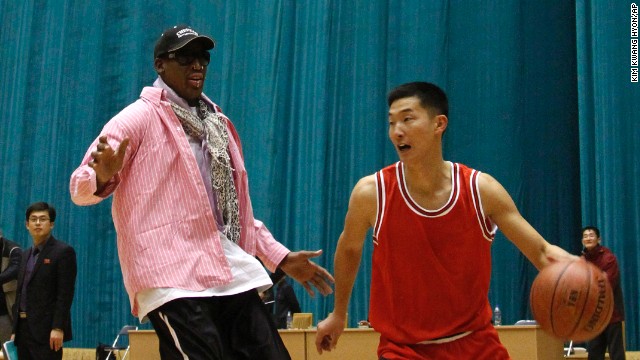 Photos: Former NBA stars in North Korea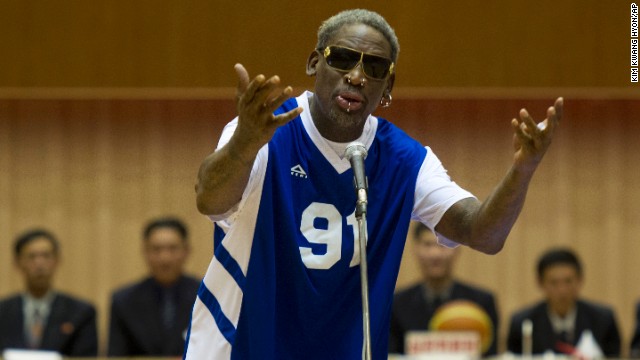 Dennis Rodman sings "Happy Birthday" to North Korean leader Kim Jong Un before an exhibition basketball game in Pyongyang, North Korea, on Wednesday, January 8. In his latest round of "basketball diplomacy," Rodman made his fourth visit to North Korea, one of the world's most totalitarian states, to participate in a basketball game between a team of North Koreans and a team of former NBA players.
Rodman bows to Kim, seated above in the stands, before the basketball game on January 8.
Former NBA star Doug Christie drives to the basket against North Korean players during the exhibition game.
Former NBA star Eric "Sleepy" Floyd, center, sits with fellow American basketball players.
Rodman and Jerry Dupree react to a play during the game.
North Koreans applaud at the start of the game.
Rodman, right, walks with Dupree, center, and Charles D. Smith during the exhibition game.
Rodman tips his hat as U.S. and North Korean basketball players applaud at the end of the game.
Christie is handed a trophy as North Korean players applaud at the end of the game.
U.S. and North Korean basketball players raise their hands to the crowd after the game.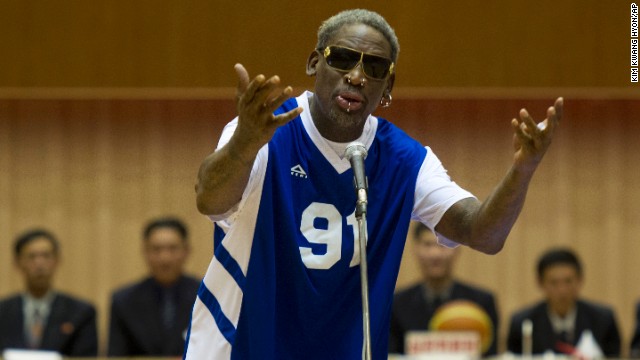 Rodman, ex-NBAers play North Korea
"That's the date that was set. I didn't know it was his birthday," he said in the half-hour interview. "And it didn't matter to me once I found out that it was his birthday."
Smith said he felt for Rodman, who asked for his help organizing the trip and who really seemed to want to pull off a big event.
"I saw the pressure mount. I saw him change, and it was very difficult keeping him and everyone together (once controversy began over traveling to North Korea)," he said.
Rodman arrived at Beijing airport on a flight from Pyongyang on Monday morning, the last of the team's players to leave North Korea.
The players' trip also met with criticism because North Korea still holds Kenneth Bae, a U.S. citizen who was arrested in November 2012, convicted last spring by Pyonyang of "hostile acts" intended to topple the government, and sentenced to 15 years in a labor camp. Some questioned whether the players would advocate for his release, but they didn't -- at least not publicly.
"We didn't go there for that. We went there to do what we normally do, and that's to be cross-cultural ambassadors and use the game of basketball as a bridge for exchange," he said.
Smith said the difference between this trip and other sports exchanges was that the players weren't sent as representatives of the United States.
"We're athletes doing it ourselves," he said.
When celebrity meets brutality
Smith said he has no regrets about going. He said he was able to meet some North Korean citizens and even came across one man who winced before shaking the hand of the first African-American he had ever met. Smith said the man told him they didn't have a very good view of African-Americans. The man rubbed his hand as if the color would come off, Smith said.
Rodman appears to bow, sings 'Happy Birthday' to North Korea's Kim
"Then the next day after we talked for a while, he came up to me and said he was sorry," Smith said.
The former NBA player, who now travels frequently as a basketball ambassador, said he didn't go to any areas where people are hungry.
Smith also swapped sports stories with North Korea's sports minister and basketball players from the national team. He thinks that will be a positive outcome from the trip.
"We accomplished a relationship on the sports side in North Korea," he said. "Where it goes from there, I do not know at this point in time. But we established a relationship. They've asked us to come back. Whether we go back or not, I'm not sure. I don't know. But there was a relationship established between a group of individuals in two different countries that don't communicate."
Rodman apologizes for North Korea outburst, says he'd been drinking