Wounded Syrians pour into Turkey after bombing
January 16, 2014 -- Updated 1408 GMT (2208 HKT)
STORY HIGHLIGHTS
"We don't even have enough ambulances," Turkish villager says
Heavy fighting between Syrian rebels, Islamic militants reported in several cities
An Islamist commander was reported killed in one of those clashes, rights group says
Istanbul, Turkey (CNN) -- Wounded Syrians streamed across the Turkish border seeking first aid Wednesday after a car bombing in a border town that's become a battleground in the fight between Syrian rebel factions.
The blast in the Syrian town of Jarablus shook windows about a kilometer away in the Turkish village of Karkamis, said Selami Yilmaz, a Karkamis resident.
"We don't even have enough ambulances to keep up with how many wounded are coming across," Yilmaz told CNN. He said he has lent his car to authorities to help get the wounded to hospitals.
The London-based Syrian Observatory for Human Rights said the car bomb exploded near a cultural center controlled by fighters from the Islamic State of Iraq and Syria. That al Qaeda-linked force has taken control of much of northern Syria amid that country's bloody civil war. The Syrian Observatory said heavy clashes were still going on in Jarablus.
Haunting images of Syria's abandoned homes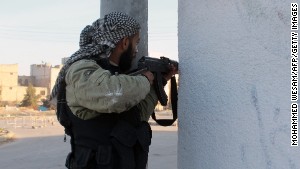 Syrian rebel factions continue infighting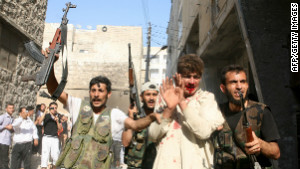 FSA: Negotiations are only propaganda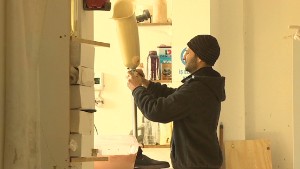 Making new limbs for Syrian war victims
ISIS, which has also taken control of parts of western Iraq, has attempted to impose strict Islamic law in towns where it holds sway. Rebel troops who had been battling forces loyal to Syrian President Bashar al-Assad launched an effort to push back the Islamists two weeks ago, but that offensive appears to have faltered after hundreds of deaths on both sides, observers report.
Yilmaz said the Free Syrian Army, the leading Western-backed rebel force, has been losing ground in Jarablus. Dozens of its fighters have fled amid intense fighting, while wounded FSA troops have been pouring across the border into Turkey for treatment.
Palestinian refugees starving to death in Syrian camp
Human rights groups reported 183 deaths across Syria on Tuesday alone, all but 40 of them combatants on one side or the other. Heavy fighting between ISIS and rebel factions was under way around Aleppo, Syria's largest city, as well as the ISIS-held city of Raqqa and the border town of Saraqeb, where a Belgian man who had become the regional ISIS "emir" was among the dead, the Syrian Observatory reported.
The group also said ISIS executed two civilians from a Kurdish village last week after they left their homes to buy bread in a nearby city. Their bodies were found with their hands tied behind their backs "and marks from torture evident on their bodies," the London-based organization reported.
CNN cannot independently verify daily death tolls, but the United Nations has said more than 100,000 people have been killed in Syria since the revolt against al-Assad began in 2011.
U.S. announces $380 million in humanitarian assistance for Syria
CNN's Raja Razek in Beirut contributed to this report.

Part of complete coverage on
Syrian crisis
March 4, 2014 -- Updated 1328 GMT (2128 HKT)

Syria has submitted a revised proposal "that aims to complete the removal of all chemicals" from the country before the end of April.
February 18, 2014 -- Updated 1032 GMT (1832 HKT)

CNN's Arwa Damon reports on ISIS defector who says destroying ISIS as critical as defeating regime.
February 18, 2014 -- Updated 0353 GMT (1153 HKT)

The U.S. wants a United Nations resolution that will, among other things, bring humanitarian aid for refugees in Syria.
February 17, 2014 -- Updated 1259 GMT (2059 HKT)

When the radical Islamist militia ISIS arrived in the Syrian town of Addana a year ago, many welcomed them. What followed changed their minds.
February 17, 2014 -- Updated 1449 GMT (2249 HKT)

CNN obtained video clips from Syrian activists documenting the atrocities committed by members of the Islamic State in Iraq and Syria, known as ISIS.
February 18, 2014 -- Updated 2017 GMT (0417 HKT)

On Crossfire, Danielle Pletka discusses what the U.S. needs to do to resolve the Syria crisis.
February 6, 2014 -- Updated 0101 GMT (0901 HKT)

Her almond-shaped brown eyes shine through her sunken face as a doctor lifts her sweater to reveal a tiny rib cage pushing against her skin.
February 4, 2014 -- Updated 1746 GMT (0146 HKT)

The Zaatari refugee camp in Jordan is home to around 100,000 Syrian refugees. CNN spent several days meeting the residents of the camp.
January 22, 2014 -- Updated 1959 GMT (0359 HKT)

Renowned war crimes prosecutors and forensic experts have found "direct evidence" of "torture and killing" by the Assad regime.

Traumatized children who have witnessed the horrors of war are being helped to read -- and rebuild a normal life. CNN's Becky Anderson reports.
January 23, 2014 -- Updated 1207 GMT (2007 HKT)

A battle zone tour organized by the Syrian government for CNN and several other media outlets Wednesday was more than bizarre.
January 22, 2014 -- Updated 1735 GMT (0135 HKT)

CNN's Atika Shubert meets with the family of a little girl who was wounded in Syria, now living in a refugee camp.
January 27, 2014 -- Updated 1456 GMT (2256 HKT)

110 year old, Jabari Alawali walked for over 10 hours to reach Jordan from Syria.
Today's five most popular stories