Peyton Manning-inspired Denver Broncos reach Super Bowl
January 20, 2014 -- Updated 1227 GMT (2027 HKT)
STORY HIGHLIGHTS
Denver Broncos beat New England Patriots 26-16 to reach Super Bowl XLVIII
Broncos quaterback Peyton Manning set to play in his third championship game
Denver will play the Seattle Seahawks at MetLife Stadium on February 2
(CNN) -- Peyton Manning will play in a third Super Bowl after guiding the Denver Broncos to a 26-16 win over Tom Brady and the New England Patriots in the AFC Championship game.
Super Bowl XLVIII in New Jersey will be the Broncos' first appearance in the NFL's championship game in 15 years. The Seattle Seahawks stand between Manning and the Vince Lombardi trophy.
Manning will be looking to win a second championship ring, having previously led the Indianapolis Colts to a title in 2006.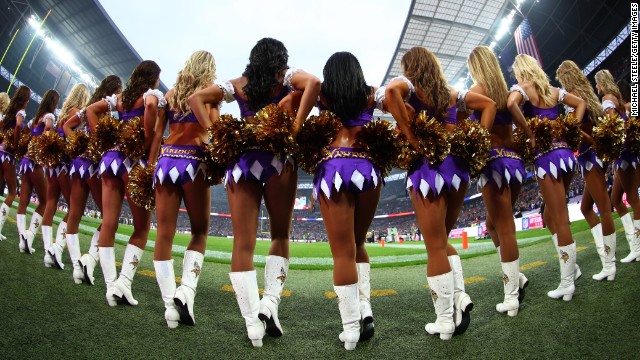 The Minnesota Vikings cheerleading squad, MVC for short, take to the field at London's Wembley Stadium. The Vikings played the Pittsburgh Steelers as part of the NFL's continuing International Series.
While the NFL muscle men go to war on the pitch, women wearing skimpy outfits and shaking brightly colored pom-poms strut their stuff with intricately choreographed dance routines.
Some question whether bumping, grinding, and shaking your backside should have a place in professional sport.
Kaylee Munson is a 25-year-old cheerleader in her fifth year as a member of the MVC. And when she's not working on her cheers, she's a school nurse.
Putting together a series of complicated dance moves is no mean feat given the footwear some cheerleaders wear.
Flexibility, grace, strength, timing and the ability to keep smiling: If you want to be a cheerleader you need to be good at multitasking.
Is it a bird or is a plane? No it is the Baltimore Ravens cheerleaders performing during the second half of the game against the Houston Texans.
As every cheerleader knows, it is important to accessorize. Where would any self-respecting cheerleader be without her pompoms?
Twenty-six of the 32 NFL teams, including the Arizona Cardinals, pictured here, have a cheerleading squad.
Here Chiefs cheerleader Susie rides Warpaint in between quarters as the Kansas City Chiefs take on the Dallas Cowboys at the Arrowhead Stadium.
If you have a bob haircut does that rule you out of being a cheerleader?
Cheerleading goes global. Here cheerleaders entertain the Selhurst Park crowd at the English Premier League match between Crystal Palace and Swansea City.
Over in Italy, Napoli's cheerleaders have had plenty to cheer about this season. Rafa Benitez's team have made a strong start in Serie A and are doing well in the Champions League.
The Dallas Cowboy cheerleaders have come a long way since the 1970s.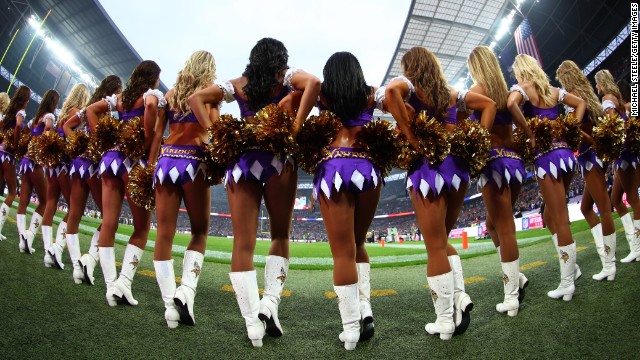 Cheerleaders: Entertainment or titillation?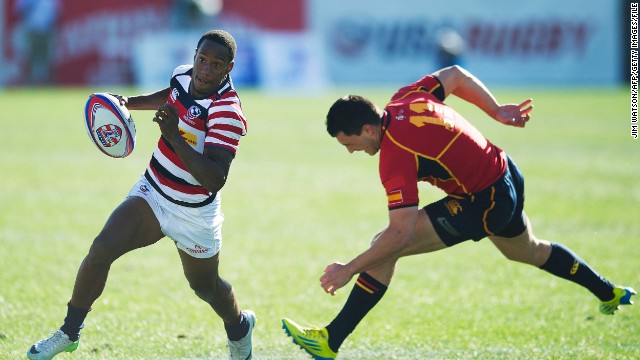 Former track athlete Carlin Isles has been given the opportunity to prove himself in the NFL by the Detroit Lions.
The 24-year-old has completed the 40-yard dash in under 4.3 seconds.
Seen here in action for San Francisco at the World Club Sevens in August 2013, Isles took up rugby the previous year.
The winger has become a key member of the U.S. international team -- here scoring a try against Kenya at the Gold Coast Sevens in Australia in October 2013.
With the Lions set to miss the NFL playoffs, Isles will be available for the next round of the Sevens World Series in Las Vegas from January 24-26.
Kenya-born Daniel Adongo made the switch from rugby to the NFL this year, joining Indianapolis Colts as an outside linebacker. He was promoted to the active roster in December.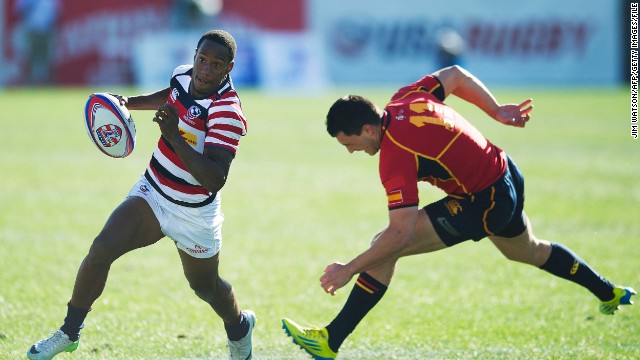 Rugby speedster gets NFL chance
"Well, it's an exciting feeling," said the 37-year-old veteran and four-time NFL MVP, who will be looking to lead the Broncos to a third Super Bowl title.
"You do take a moment to realize that we've done something special here and you certainly want to win one more.
"You have to take time to savor the moment. Being in my 16th season and going to my third Super Bowl I know how hard it is to get there. It is extremely difficult."
The Seahawks will meet the Broncos at MetLife Stadium on February 2 after coming from 10-0 down to beat the San Francisco 49ers 23-17 in the NFC Championship game Sunday.
"We knew we weren't in the lead but that didn't matter," said Seattle coach Pete Carroll. "They were going to go out and get it done no matter what it took."
While the Broncos look forward to a seventh Super Bowl appearance, the Seahawks' only previous appearance in the season finale came in 2005 -- a 25-10 loss to the Pittsburgh Steelers.
Read: Cheerleaders -- gratuitous or all-American fun?

Today's five most popular stories
Part of complete coverage on
U.S. Sport
February 25, 2014 -- Updated 1254 GMT (2054 HKT)

With a growing audience boosted by the drama of ice hockey on show in Sochi at the Winter Olympics, can the sport capitalize on its popularity?
February 24, 2014 -- Updated 1800 GMT (0200 HKT)

Jason Collins became the first openly gay man to play in the NBA, wearing a Brooklyn Nets uniform in a game against the Los Angeles Lakers.
February 26, 2014 -- Updated 1401 GMT (2201 HKT)

USA Today called Madison Rising's performance of the "Star Spangled Banner" prior to a NASCAR race "spectacularly awful."
February 21, 2014 -- Updated 1513 GMT (2313 HKT)

A great football team combines inherent violence with a certain order, always imposed by the coaches and team leaders.
February 9, 2014 -- Updated 1645 GMT (0045 HKT)

New York Yankees slugger Alex Rodriguez, who received a 162-game doping suspension, withdraws his subsequent lawsuits.

When the Super Bowl kicks off in New Jersey, photographer John Biever was there. Just as he was for all of the 47 other Super Bowls.
January 29, 2014 -- Updated 1504 GMT (2304 HKT)

A cricket club based in Compton has turned neighborhood boys into gentlemen on the pitch. CNN's Paul Vercammen reports.

Music is becoming an increasingly big part of sport, whether on TV or at the stadiums -- but what does it add, asks CNN's Don Riddell?
January 9, 2014 -- Updated 1450 GMT (2250 HKT)

What is life really like for a gay sports star after they come out? U.S. footballer Robbie Rogers tells all.
January 9, 2014 -- Updated 1326 GMT (2126 HKT)

Phoenix Mercury basketball star, Brittney Griner talks to CNN about navigating the pressures of high school as a lesbian.
January 12, 2014 -- Updated 1436 GMT (2236 HKT)

Dennis Rodman has defended his "basketball diplomacy" trip to North Korea. Kareem Abdul-Jabbar offers his take.
January 13, 2014 -- Updated 1816 GMT (0216 HKT)

Mike Tyson reveals the stories behind his staggering rise and fall - and just what he was thinking when he bit that ear.