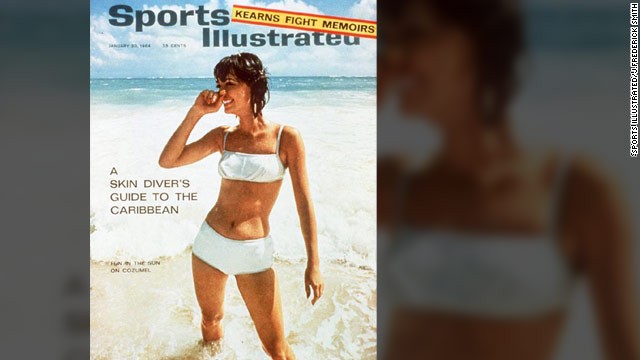 It is 50 years since Babette Beatty was the first model to grace the cover of Sports Illustrated's swimsuit issue, following a photo shoot in Mexico.
Now living in the mountains of Oregon, Beatty is a painter -- and her husband is a sculptor.
The 2012 and 2013 issues had the same cover model, American actress and model Kate Upton. The latter was partly shot in Antarctica.
No-one has graced the cover more times than Australian model Elle MacPherson, who made her first appearance in 1986 and her most recent 20 years later.
Sports Illustrated has used all manner of marketing ploys to sell the magazine, most notably last year with a 55,000-square-foot video screen on Caesar's Palace in Las Vegas.
In 2009, Israeli model Bar Refaeli's bikini-clad image was emblazoned on a Boeing 737, which flew between New York and Las Vegas.
Czech model Petra Nemcova was the cover star back in 2003. The following year she suffered serious injuries in the December tsunami in Thailand, which claimed the life of her fiance.
Argentina's 2002 and 2006 cover star Yamila Diaz-Rahi was first discovered as a model while holidaying in Uruguay.
The identity of the cover star is a closely-guarded secret and the magazine does the utmost to keep it secret until publication, as in the case of 2001's Mexican model Elsa Benitez.
The inside pages of the magazine have seen an increasing number of sporting appearances, among them Maria Sharapova, who according to Forbes is the world's highest-paid female athlete.
Singer Beyonce is another to have made it into the magazine, appearing on the cover of the 2007 issue in a yellow bikini. The magazine billed it as: "The dream girl as you've never seen her before."
Model Upton, who has twice graced the cover of the Sports Illustrated swimsuit issue, attended a Hollywood party earlier in January to celebrate the magazine's 50th anniversary.
Aerosmith's Steven Tyler was also at the party. He is pictured here with model Marisa Miller.
Another model at the party was Katherine Webb who appeared in the 2013 Sports Illustrated swimsuit issue.
Tyra Banks was the first African American woman on the cover of the swimsuit issue when she posed with Valeria Mazza in 1996.
Babette's beach
New life
American beauty
'The Body'
Stakes are high
Sky's the limit
Survivor
Sultry South American
Surprise!
There's something about Maria...
Dreamgirl
Hollywood party
Rock model
Sports Illustrated's swimsuit issue cover stars
Ground breaking
STORY HIGHLIGHTS
Babette Beatty was the first model on the cover of Sports Illustrated's swimsuit issue
The German had no idea how big the editions, which has turned 50, would become
Beatty landed back from Mexico trip on the day John F. Kennedy was shot dead
She now lives in the mountains in Oregon and spends her time painting
(CNN) -- Her paintings may sell for thousands of dollars, but she is best known for a modeling shot 50 years ago that helped launch a money-spinning business empire.
Now 72, but looking a decade younger, Babette Beatty was the first Sports Illustrated swimsuit issue cover star.
Discovered on a beach in Florida, these days she resides in a mountain town far from the glamor and glitz of the entertainment industry that has made household names of her successors.
It all started on a whim -- for her a chance of some Mexican sunshine; for Sports Illustrated a chance, for one week, to fill the void left by a lack of content in the winter months.
Today, the swimsuit issue, launched half a century ago on January 20, has outgrown the magazine that first spawned it.

Don't panic, swimsuit lovers. Stuffed penguin Hopper is only a cover model in a Sports Illustrated editor's personal pictures of Antarctica. Click on to see a few of the human stars of the show.
Sports Illustrated cover girl Kate Upton's photo shoot took place in 24-degree weather in Antarctica but the wind chill made it feel like minus 20 degrees.
While on location in Namibia, the models and crew stayed at an ecological resort where solar energy powered the lodge and tented camps at night.
It was warm and sunny during the day but temperatures dipped dramatically at night in the Namibian desert.
It took Sports Illustrated more than two years to negotiate visas to gain access to Dragon's Backbone Rice Terraces in China, an 800-year-old terraced rice paddy built into the mountains in Guangxi Province.
Model Alyssa Miller soaks up the sun on Whitehaven Beach, located on Whitsunday Island, one of the 74 Whitsunday islands in Australia.
Only a handful of the Whitsundays offer accommodation. There was no place to stay where the swimsuit photos were shot, so the crew stayed in nearby Hayman Island, another one of the Whitsunday islands.
Every day the tide changes and the sunsets are different on the Exuma Cays, part of the Bahamas.
Even the crew dressed up for the photo shoots of model Ariel Meredith and others in Seville, Spain. The elegant city just seemed to demand it of residents and visitors alike.
Easter Island is famous for its remote location, its many horses and the Moai statues dating back to the 9th century.
Model Kate Bock's shots on Easter Island, Chile, include the sacred Moai statues in the background.
Around the world in swimsuits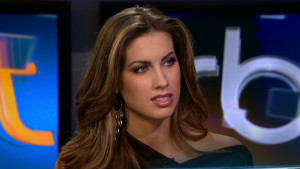 BCS beauty's sudden fame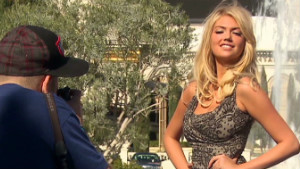 What Kate Upton packs for the road
The 2012 edition generated more than $40 million in advertising revenue, 7% of the weekly publication's total for the entire year, not to mention the millions it makes in sales to the public.
That issue had 34.5 million video views online, while a free mobile app had 500,000 downloads in the opening week alone.
So it's a very happy 50th birthday indeed for owner Time Inc.
The swimsuit issue is more than just scantily-clad women in bikinis gallivanting around the world's most picturesque beaches -- it's a business behemoth.
Supermodels such as Christine Brinkley, Elle Macpherson, Tyra Banks and Heidi Klum have featured on the cover, while sports stars including Maria Sharapova and Danica Patrick have featured along with pop star Beyonce Knowles.
But leading the way was an aspiring young German, then living in New York after spending several years in Brazil.
Known at the time as Babette March, she had featured on the Paris catwalks and been a regular on the pages of Vogue and Elle.
In November 1963 she received a call from J. Frederick Smith, a renowned glamor photographer with whom she had worked regularly.
"There were about five or six photographers who seemed to like me, and that's how things started for me really -- he was one of them," she told CNN.
"We did a lot of pictures together and he worked for Sports Illustrated on and off. He asked if I wanted to come on a trip to Mexico and I thought, 'Why not?' "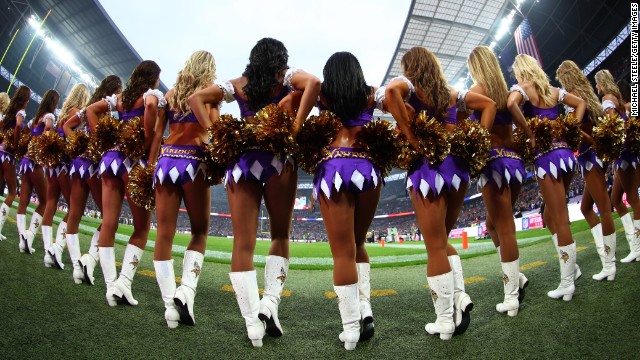 The Minnesota Vikings cheerleading squad, MVC for short, take to the field at London's Wembley Stadium. The Vikings played the Pittsburgh Steelers as part of the NFL's continuing International Series.
While the NFL muscle men go to war on the pitch, women wearing skimpy outfits and shaking brightly colored pom-poms strut their stuff with intricately choreographed dance routines.
Some question whether bumping, grinding, and shaking your backside should have a place in professional sport.
Kaylee Munson is a 25-year-old cheerleader in her fifth year as a member of the MVC. And when she's not working on her cheers, she's a school nurse.
Putting together a series of complicated dance moves is no mean feat given the footwear some cheerleaders wear.
Flexibility, grace, strength, timing and the ability to keep smiling: If you want to be a cheerleader you need to be good at multitasking.
Is it a bird or is a plane? No it is the Baltimore Ravens cheerleaders performing during the second half of the game against the Houston Texans.
As every cheerleader knows, it is important to accessorize. Where would any self-respecting cheerleader be without her pompoms?
Twenty-six of the 32 NFL teams, including the Arizona Cardinals, pictured here, have a cheerleading squad.
Here Chiefs cheerleader Susie rides Warpaint in between quarters as the Kansas City Chiefs take on the Dallas Cowboys at the Arrowhead Stadium.
If you have a bob haircut does that rule you out of being a cheerleader?
Cheerleading goes global. Here cheerleaders entertain the Selhurst Park crowd at the English Premier League match between Crystal Palace and Swansea City.
Over in Italy, Napoli's cheerleaders have had plenty to cheer about this season. Rafa Benitez's team have made a strong start in Serie A and are doing well in the Champions League.
The Dallas Cowboy cheerleaders have come a long way since the 1970s.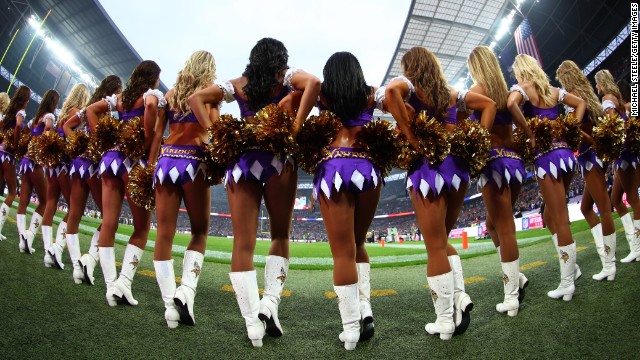 Cheerleaders: Entertainment or titillation?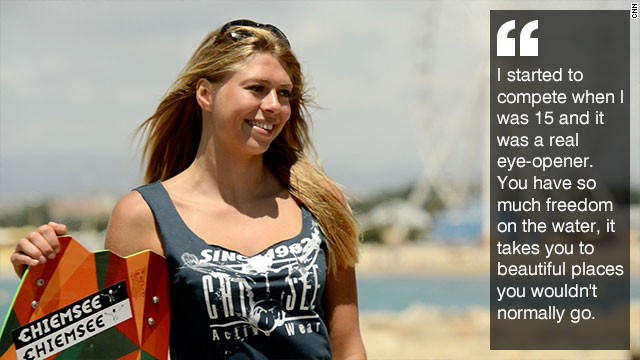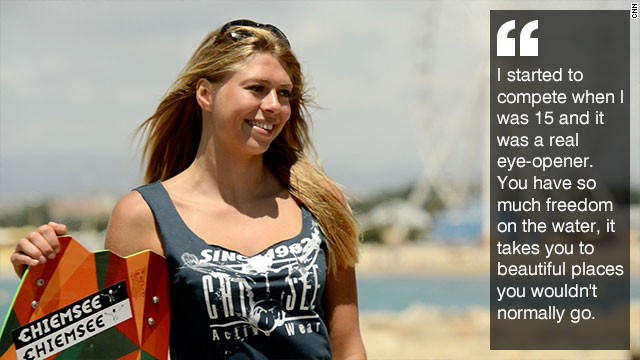 The Kite Runner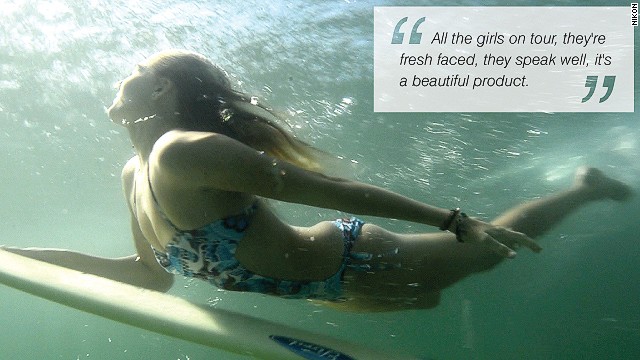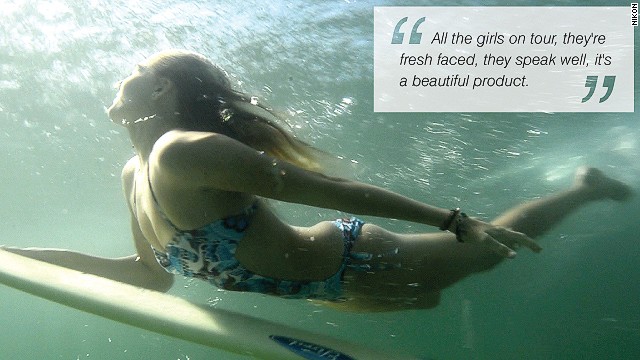 Surfing's golden girl
It wasn't the money -- as little as $50 a day for the 10-day shoot -- that persuaded her, rather the lure of a trip to the sun-drenched island resort of Cozumel.
"It was a great trip -- so much fun," she recalls. "There weren't any people there, not like now. You have to remember Cancun (on the mainland) didn't really exist then, the only people there were the Mexican Air Force. And they seemed to enjoy the shoot!
"There was nothing about it being a cover shoot, it was just a shoot, something fun and something different.
"Each day, we'd have breakfast and then the photographer would tell as where to go. He was just constantly snapping pictures. I was put in my bathing suit, and that was it."
When she and the rest of the team boarded the plane back to the United States, their high spirits were shattered soon after touching down in Dallas, Texas.
"When we landed, we were grounded and it was announced that President John F. Kennedy had been shot dead," Beatty says.
"The whole plan was just crushed. People were screaming and crying, it was awful. I'll never forget that. The dream trip had ended on such a terribly sad note."
Beatty quickly moved on to her next job -- she continued modeling until 1979 -- and gave very little thought to Sports Illustrated, as did they to her.
"That was the only time I ever worked for them," she says. "I never heard from them again.
"Of course I had no idea I'd be on the cover of the first issue (which was merely a short supplement to the magazine) and of course I had no idea it would become as big as it did."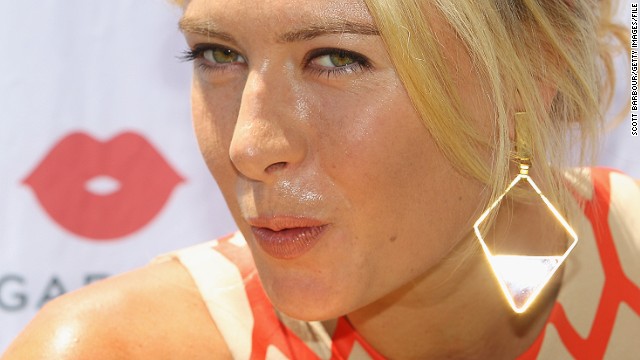 Maria Sharapova has capitalized on her on-court success by becoming one of tennis' most successful brands.
Her partnership with longtime agent Max Eisenbud has made her the highest-paid female athlete on the planet. They met 15 years ago when Sharapova was training at the IMG Academy in Florida. "There was so much going on and so many kids, so many parents to take care of, so it was actually fun to see him juggle all those different things and maintain a very clear vision of what he wanted to do," Sharapova recalls.
Pictured here during a shoot for CNN's tennis show Open Court, they are already plotting her future after tennis -- but she plans to play for several more years yet.
Sharapova with two of the most important men in her life -- hugging her father Yuri after winning her first grand slam title at Wimbledon as a 17-year-old in 2004, while Eisenbud looks on.
That success allowed Eisenbud to court major sponsors, and helped Sharapova launch her own perfume among other non-tennis sidelines.
Sharapova has long been associated with Nike, and signed a reported eight-year deal with the sportswear giant in 2010 that could be worth up to $70 million.
Part of that sum includes royalties from her fashion collection with Nike subsidiary Cole Haan. Sharapova is pictured here at a promotional event in Tokyo in 2009.
Sharapova's "Sugarpova" candy collection is her first independent venture. "Everyone loves a treat and everyone loves candy. When I was young and I would finish a practice, what would I ask for? I would ask for little lollipops," she told Open Court.
Her portfolio of endorsements keeps growing -- in April 2013 she was named as a brand ambassador for German car manufacturer Porsche. She has now won the tournament it sponsors two years in a row.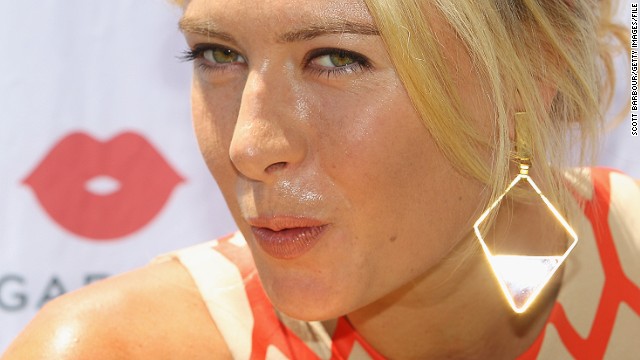 Brand Max: Maria Sharapova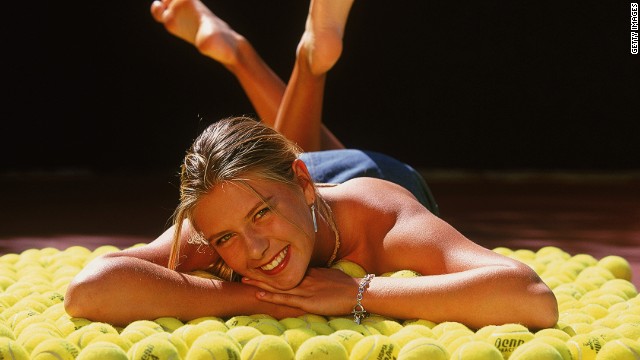 Maria Sharapova has come a long way since turning professional on her 14th birthday in April 2001, having played the game since she was four years old.
Sharapova's fame has brought endrosements that saw Forbes magazine rate her as the highest-paid female athlete in the world, with annual earnings of over $18 million. She has her own clothing line and is also working on a candy line called Sugarpova.
The one thing separating Sharapova from a career grand slam is the French Open title. She has twice made the semifinals, most recently in 2011, when she was beaten by eventual winner Li Na of China.
Despite never having won at Roland Garros, Sharapova is in good form in 2012, losing just once on clay this season. Most recently, she successfully defended her Italian Open title to offer hope she can finally win the French Open and complete a career slam.
Sharapova was spotted at an early age by former great Martina Navratilova and after moving to the United States she was enrolled into the famous Nick Bollettieri Tennis Academy in Florida at the age of nine.
The Russian became the third youngest female to win Wimbledon in 2004 aged just 17. She beat Serena Williams in the final to spark huge interest the papers labelled "Maria Mania."
Sharapova's second major success came at the U.S. Open in 2006 when she beat Justine Henin at Flushing Meadows. By this stage she had already become the first Russian woman ever to hold the world No. 1 ranking.
The 25-year-old made it a hat-trick of grand slam victories at the 2008 Australian Open and in some style. She didn't drop a set in the entire tournament on her way to defeating Serbia's Ana Ivanovic in the final.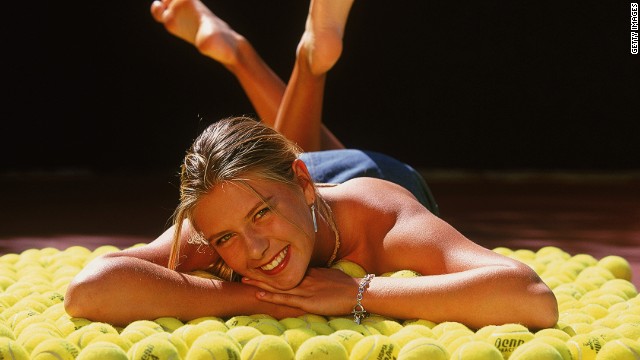 Maria Sharapova's French Open dream
But she made the cover: her head turned to the side, smiling cheekily in a white bikini as the Mexican waters lapped against her ankles.
Even now, people still send her copies of the magazine asking for an autograph.
"There are marriage proposals too," says the married Beatty, "and I'm 72, I tell you!"
It's perhaps apt that her modeling career should have begun with her wearing a white bikini.
As a 15-year-old, she went to the beach in Fort Lauderdale, where she lived with her family at the time, wearing a white, tassled outfit -- which proved to be too risque for the time.
"It was 1959 and I got asked to leave the beach because of what I was wearing," she says.
"But also on the beach was a photographer for Eastman Kodak, and he basically discovered me. My first job was outside a camera shop for $25. I still think I've got the check for it somewhere. I then started modeling properly in New York in 1961."
Beatty, and her husband Dale, live nowhere near the beach these days. They relocated from California to Halfway, a small town of 350 people in Oregon, where he works as a sculptor and she paints.
Art has been a big part of her life, from self-portraits to the nature landscapes and home interiors that hang from the walls of her home gallery -- which sell for $7,000 each.
And when not painting, she loves nothing more than hiking with her dogs in the surrounding, undulating terrain, where it's not uncommon to see coyote, deer, antelope and elk.
"Painting's always been a big part of my life and where I live is the perfect setting for inspiration," she says. "For me, personally I love the bright colors."
While in Oregon, she is known as Babette Beatty. To the rest of the world, she is the first cover star of one of the world's most celebrated magazines.
Read: Sports Illustrated - swimsuits on seven continents