'Sky Whale' design brings future of flying closer
January 22, 2014 -- Updated 0322 GMT (1122 HKT)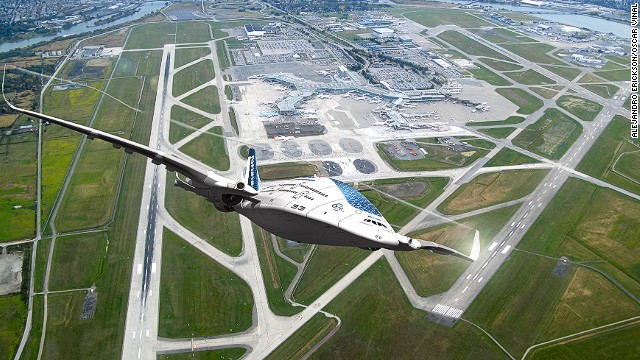 Spanish designer and aviation enthusiast Oscar Viñals has released a plane design that he says would revolutionize green air travel. Up to 755 passengers could be accommodated, across three decks, each for a different "class" of traveler.
The plane would be greener and more energy-efficient, says Viñals, able to make longer journeys without refueling thanks to a double fuselage and micro solar cells on the wings.
In Viñals' quest for efficiency, the aircraft would use four Harrier-style engines that can rotate up to 45 degrees to allow vertical take offs as well as landing on small runways.
The Sky Whale would use materials made of alloys, ceramics or fiber composites to reduce drag.
In an emergency, the wings would break into smaller pieces and separate from the fuselage, helping to reduce damage to the passenger sections.
The three-story aircraft has a greater wingspan and is higher than today's biggest carriers. Sky Whale would have a span of 88 meters in comparison to 80 meters on an Airbus A380-900, the largest commercial aircraft today.
Sky Whale will have "active wings" powered by a hybrid turbo-electric propulsion system, making it more energy-efficient than today's planes. Viñals also says the wings would have "self-healing skin," a technology still in the works.
The combination of the design elements reduces drag, fuel consumption and nitrogen oxide waste, making it the "greenest aircraft imaginable," says Viñals. Now he just needs someone to step up and build it.
Sky Whale: Future of flying?
Green flying machine
Up, up and away
Dressed for drag
Safer too
Bigger means better
Efficient healer
Will it ever get built?
STORY HIGHLIGHTS
Passengers will have virtual reality "windows" to view whatever they want
Rotatable engines will allow the Sky Whale to take off vertically
Viñals designed the aircraft to have self-repairing wings
(CNN) -- Give a designer and aviation geek some time and a pencil, and you might just get something great.
At the very least you'll get something spectacular.
Oscar Viñals, a Spanish designer and aviation enthusiast, has released details, and incredible pictures, of what he is calling the "greenest aircraft imaginable."
Inside the world's strangest-looking airplane
Equipped with self-repairing wings, large windows, a vertical takeoff ability and room for 755 passengers, the "AWWA Sky Whale" joins several other outlandish proposals for future aircraft that have cropped up in the last couple of years.
Airbus predicted we'd be flying in transparent planes by 2050, while pilotless planes and space flight have also been forecast .
Viñals' design uses hybrid engine technology and "active wings," among other things, to create a plane that, should it ever get built, will not only look great but will be one of the safest and most efficient planes in the sky.
The gallery above describes some of the features.
MORE: Another "Sky Whale" that turned heads

Today's five most popular stories
Part of complete coverage on
December 22, 2014 -- Updated 1134 GMT (1934 HKT)

It won't be a banner year for major announcements, but there are still aviation developments to keep an eye on.
December 22, 2014 -- Updated 0950 GMT (1750 HKT)

Could there be anything better than reclining on an airplane seat in the comfort of your own home?
December 9, 2014 -- Updated 2142 GMT (0542 HKT)

Construction begins on a new Singapore airport complex that could make delays and layovers a pleasure.
December 10, 2014 -- Updated 2009 GMT (0409 HKT)

Soarigami says its foldable plastic divider will increase in-flight harmony when it goes on sale in 2015.
December 3, 2014 -- Updated 1808 GMT (0208 HKT)

Pan Am Experience offers visitors a chance to experience flying on 60s-style Pan Am Boeing 747.
December 1, 2014 -- Updated 2217 GMT (0617 HKT)

Premium and budget carriers recognized by AirlineRatings.com annual excellence awards.
October 24, 2014 -- Updated 1432 GMT (2232 HKT)

It's crowded and outdated, but Berlin's hexagon-shaped Tegel air hub has won a place in the city's heart.
October 20, 2014 -- Updated 1607 GMT (0007 HKT)

Good news for air travelers passing through Manila: the city's international airport isn't quite as bad as it used to be.
October 7, 2014 -- Updated 1311 GMT (2111 HKT)

When it comes to air travel, courtesy and common sense are often the first two things to fly out the departure gates.
October 31, 2014 -- Updated 1738 GMT (0138 HKT)

This aging cargo work whale makes more than 60 flights each week, carrying parts for all of the Airbus programs.