'Sky Whale' design brings future of flying closer
January 22, 2014 -- Updated 0322 GMT (1122 HKT)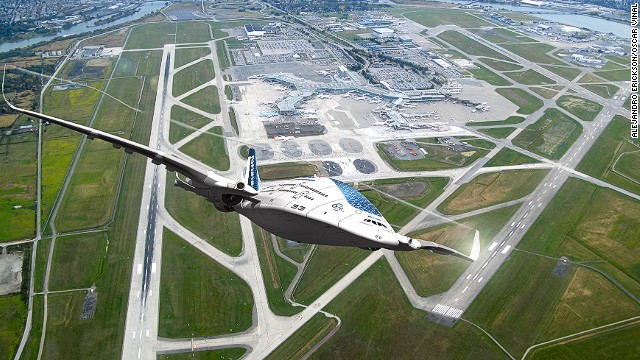 Spanish designer and aviation enthusiast Oscar Viñals has released a plane design that he says would revolutionize green air travel. Up to 755 passengers could be accommodated, across three decks, each for a different "class" of traveler.
The plane would be greener and more energy-efficient, says Viñals, able to make longer journeys without refueling thanks to a double fuselage and micro solar cells on the wings.
In Viñals' quest for efficiency, the aircraft would use four Harrier-style engines that can rotate up to 45 degrees to allow vertical take offs as well as landing on small runways.
The Sky Whale would use materials made of alloys, ceramics or fiber composites to reduce drag.
In an emergency, the wings would break into smaller pieces and separate from the fuselage, helping to reduce damage to the passenger sections.
The three-story aircraft has a greater wingspan and is higher than today's biggest carriers. Sky Whale would have a span of 88 meters in comparison to 80 meters on an Airbus A380-900, the largest commercial aircraft today.
Sky Whale will have "active wings" powered by a hybrid turbo-electric propulsion system, making it more energy-efficient than today's planes. Viñals also says the wings would have "self-healing skin," a technology still in the works.
The combination of the design elements reduces drag, fuel consumption and nitrogen oxide waste, making it the "greenest aircraft imaginable," says Viñals. Now he just needs someone to step up and build it.
Sky Whale: Future of flying?
Green flying machine
Up, up and away
Dressed for drag
Safer too
Bigger means better
Efficient healer
Will it ever get built?
STORY HIGHLIGHTS
Passengers will have virtual reality "windows" to view whatever they want
Rotatable engines will allow the Sky Whale to take off vertically
Viñals designed the aircraft to have self-repairing wings
(CNN) -- Give a designer and aviation geek some time and a pencil, and you might just get something great.
At the very least you'll get something spectacular.
Oscar Viñals, a Spanish designer and aviation enthusiast, has released details, and incredible pictures, of what he is calling the "greenest aircraft imaginable."
Inside the world's strangest-looking airplane
Equipped with self-repairing wings, large windows, a vertical takeoff ability and room for 755 passengers, the "AWWA Sky Whale" joins several other outlandish proposals for future aircraft that have cropped up in the last couple of years.
Airbus predicted we'd be flying in transparent planes by 2050, while pilotless planes and space flight have also been forecast .
Viñals' design uses hybrid engine technology and "active wings," among other things, to create a plane that, should it ever get built, will not only look great but will be one of the safest and most efficient planes in the sky.
The gallery above describes some of the features.
MORE: Another "Sky Whale" that turned heads

Part of complete coverage on
September 17, 2014 -- Updated 1117 GMT (1917 HKT)

This aging cargo work whale makes more than 60 flights each week, carrying parts for all of the Airbus programs.
September 17, 2014 -- Updated 1555 GMT (2355 HKT)

From a three-room apartment to a Michelin-starred meal, many airlines are offering services you won't even get in some top hotels.
September 16, 2014 -- Updated 1446 GMT (2246 HKT)

Airbus patent proposes using special headsets to control in-flight sights, sounds and smells.
September 12, 2014 -- Updated 0701 GMT (1501 HKT)

Bear on the tail and heart on the underside -- it's been a big week for makeovers in the world of aviation.
September 9, 2014 -- Updated 1305 GMT (2105 HKT)

The only two surviving pilots of the wartime China National Aviation Corp celebrate after an historic Douglas C-47 flight.
September 5, 2014 -- Updated 1236 GMT (2036 HKT)

Just because you can use your phone on the plane, it doesn't mean you have to.
September 6, 2014 -- Updated 0042 GMT (0842 HKT)

You've been up since 3 a.m.
August 19, 2014 -- Updated 1514 GMT (2314 HKT)

Airlines and airports are going high-tech to reduce your time in line.
August 26, 2014 -- Updated 0115 GMT (0915 HKT)

Ever wondered what it takes to get that movie to your inflight screen? This special report details who, what and how much it takes to bring you the best in IFE (we'll explain).
July 30, 2014 -- Updated 1835 GMT (0235 HKT)

Takeoff on one of Airbus' new A350WXB test planes is a strangely quiet experience.
August 12, 2014 -- Updated 0906 GMT (1706 HKT)

Cars, craft beer, yetis? Since when did in-flight purchases get so strange?
July 17, 2014 -- Updated 1426 GMT (2226 HKT)

CNN takes a look at the new car-plane hybrid that brings affordable recreational air travel to the masses.

Today's five most popular stories