STORY HIGHLIGHTS
Norway's Crown Prince Haakon: It is dangerous not to let youth help reshape the world
He says global youth networks are far ahead what established leaders had in their youth
Youth find it incredibly easy to operationalize dignity into practical action, he writes
Editor's note: His Royal Highness Crown Prince Haakon is the co-founder, of Global Dignity and a U.N. goodwill ambassador, focused on promoting millennium developmental goals. He is the heir to the Norwegian throne. The opinions in this piece are solely his.
Davos (CNN) -- Davos is a stimulating place to be, to discuss and to learn. Hopefully, by coming together, we will find ideas and solutions that will bring the world forward.
In my opinion, one of our challenges is that we are about to lose a whole generation of resources because of the growing unemployment of youth. It is dangerous not to let today's youth be a part of the reshaping of the world. In 2013, according to the World Bank, 73% of the labor force between the ages 15 and 24 was without work, but available for and seeking employment.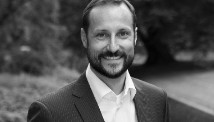 His Royal Highness Crown Prince Haakon
Many of the people I have admired over the last few years have been young people I have met in very different situations. They have become role models for leadership and high ethical standard.
Some fantastic young people I have met have shown leadership under such hard conditions that I can picture them taking a leading position within a wide range of fields.
I believe today's youth -- the ones you find at almost any school almost anywhere in the world -- are highly competent people with knowledge and experience that would be in the best interests of established leaders to utilize.
Youth today live in an extreme world regarding diversity, conflict, opportunities and technical means of connecting with others.
Norway's Crown Prince Haakon
Youth today live in an extreme world regarding diversity, conflict, opportunities and technical means of connecting with others. The global networks of youth are far ahead what established leaders of today had when they were young.
Since 2006 I have been visiting schools and talking to students all around the world together with my fellow Young Global Leaders John Hope Bryant and Pekka Himanen.
We have arranged so called Dignity Days -- which is the main activity of our organization Global Dignity. We have three goals: To spur a global conversation on dignity, to arrange Global Dignity Days at schools and promote dignity-based leadership.
This year, Dignity Day will be held for more than half of the Norwegian first year high school pupils -- and in around 50 countries world wide.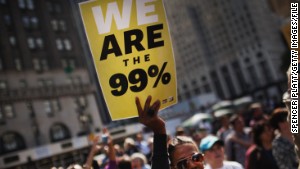 Rogoff: Inequality has been festering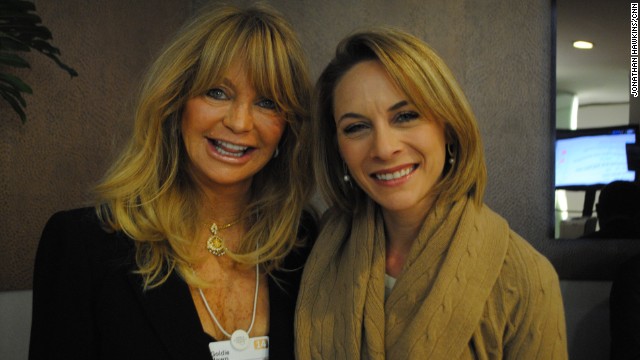 Nina dos Santos meets Goldie Hawn.
Richard Quest's selfie challenge continues. This time, it's Boris Johnson, the mayor of London.
Go behind the scenes of CNN Davos coverage. Here is Nina dos Santos getting ready to go on air at Davos.
Irene Chapple, CNN digital producer, is working on her story in CNN's makeshift Davos bureau.
Richard Quest meets Ban Ki Moon, the Secretary-General of the U.N.
Backstage at Fareed Zakaria's interview with the Iranian President Hassan Rouhani -- CNN's translator is hard at work.
CNN's Richard Quest is anchoring coverage out of Davos. He is fronting Quest Means Business at 1600ET from CNN's live position in the town's congress center.
The traditional World Economic Forum snowman stands guard outside CNN's live position.
CNN's Isa Soares is in Davos, filming Marketplace Europe. This week, she looks at the science of surveys. Why so many?
John Defterios putting the final touches to his Global Exchange show in CNN's makeshift Davos bureau.
The World Economic Forum is setting up in the Swiss town of Davos, ready to open for the onslaught of world leaders and power players on January 22.
TV crews working upstairs at the Davos media centre. Behind the scenes Eurovision's technical support team at the Davos media centre.
Richard Quest manages to snap a selfie with cardinal Turkson, as he brought a message from Pope to Davos.
There are many things to enjoy in Davos. Richard Quest managed to escape the forum, enjoying the fresh Swiss air.
CNNMoney business reporter Alanna Petroff hard at work in the CNN makeshift bureau.
Refreshments areas -- which one are you able to access depends strictly on the color of your pass.
A Tesla Model S demonstrator turns heads driving around Davos.
Richard Quest taking a quiet moment before going on air at Davos.
Nina dos Santos finding that space is at a premium in CNN's Davos workspace.
Quest talks to crew as he prepares for his first live broadcast from Davos, where the World Economic Forum is being held.
Nina Dos Santos poses for a photo with Nick Clegg, the UK deputy Prime Minister.
In Davos, to opportunities to meet the powerful and famous are endless. Here, CNN's Richard Quests takes a selfie with Queen Mathilde of Belgium.
CNN's Nina Dos Santos is getting ready for her live shot in Davos.
Richard Edelman chats to Richard Quest ahead of his interview on CNN's World Business Today at Davos."
Security is key in Davos, with more than 40 heads of state attending. Pictured here is a Swiss special police sniper on the roof of the Congress Center.
Team CNN is down to t-shirts in Davos on Wednesday, putting up makeshift sunshades in the mountains.
CNN is setting up in its workspace -- which is usually used as a spa. CNN is broadcasting from Davos between January 20 and January 25.
CNN live broadcast from Davos, where the World Economic Forum is being held.
CNN live broadcast from Davos, where the World Economic Forum is being held.
The traditional World Economic Forum snowman stands guard outside CNN's live position.
Flowers are prepared for display at the World Economic Forum in Davos, Switzerland, on January 19, 2014. The meeting of world leaders opens on January 22.
The World Economic Forum is held in the Davos Congress Centre every January. It costs around $20,000 to be accredited.
The World Economic Forum still being set up on Sunday, January 19,but by Monday January 20 security is tight and no-one can get in without badges.
Goldie Hawnis interviewed by CNN's Nina Dos Santos.
Working on a story at CNN's makeshift bureau.
Richard Quest outside CNN's live position in Davos.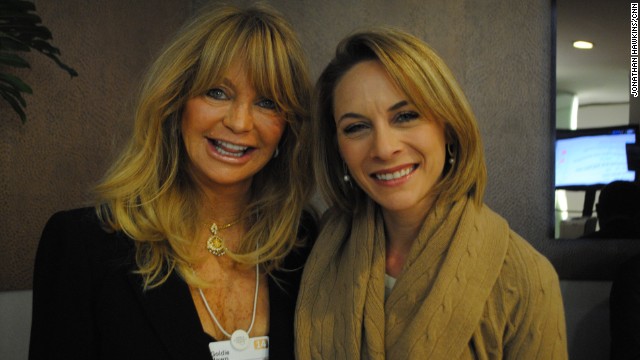 Davos: Behind the scenes
What strikes me during my very diverse meetings with youth around the world is how similarly they define dignity -- and how relevant it feels for most young people to discuss this issue as a core value of our time.
These are some of the dignity stories we have been told:
In Jordan, a girl stood up and told how annoyed she had been when she got a visually impaired teacher.
The girl was very ambitious, and thought she would get less quality training because of the teacher's disability.
When the teacher later became the first visually impaired person in Jordan to earn her PhD, the student completely shifted her perspective. She realized that she was proud that this had been her teacher and that she had learned something more important from her than from any of her other teachers.
In South Africa a girl told how, during the riots in 2009, her grandmother covered and hide some of the immigrants in her home, who were targets of the riots.
In Norway, a Muslim student told how her friend had started to walk to and from school together with a Jewish boy who was being bullied -- to support and protect him.
I particularly like this third story. It shows the genius of youth in beautiful simplicity. It hits the core of what the world's leaders have been struggling so hard over so many years to achieve. I believe youth is an important target group for positive change -- indeed the real driver of positive change.
Youth find it incredibly easy to grasp the idea of dignity -- and even better: how it can be operationalized into practical action. They are truly Champions of Global Dignity.
So what do we need to do to create positive change?
It is not enough to merely accept the inherent dignity of all human beings. Our actions must reflect the dignity of others. In my view dignity consists of two main parts: Firstly, inherent dignity and secondly, perceived dignity -- a sort of dignity capital. We all have the ability to increase other people's dignity capital -- and thus increase our own.
This is about doing all we can to become our best selves -- by making conscious decisions -- and making the best out of our resources. Take action, see potential, and give unemployed youth the opportunity to use their resources as a response to this both current and emerging challenge.
Gordon Brown: Without frontiers, young people mobilize for change Klaus Schwab: Business must help young people find jobs Opinion: Why Europe's unemployment ills need urgent economic medicine
The opinions expressed in this commentary are solely those of Crown Prince Haakon of Norway.