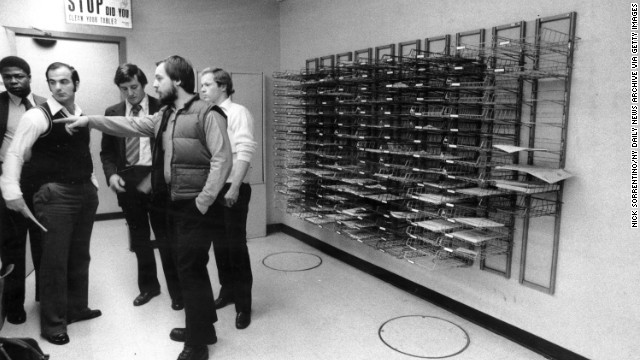 In 1978 gangster Jimmy "The Gent" Burke stole $8 million in cash and jewels from John F. Kennedy International Airport. It was considered the largest robbery in U.S. history at the time. Burke died in 1996 while serving 20 years to life in a New York prison when he fell ill with cancer. On January 23, five alleged mobsters were arrested on racketeering charges related to the 1978 heist.
held up a jewelry exhibition in the French resort city of Cannes,
stealing jewels worth an estimated $136 million (102 million euros). It took place a little before noon on July 28, 2013, at the Carlton Hotel. Here's a look at other major heists.
An armed robber
The FBI said
in March 2013 it believes it knows who stole the artwork but hadn't recovered the works. A security guard stands outside the museum's Dutch Room where the works were stolen.
In 1990, robbers posing as Boston police officers entered the Isabella Stewart Gardner Museum's security door, then handcuffed the guards on duty to pipes in the basement. The 13 pieces of stolen artwork, including works by Rembrandt and Vermeer, were valued at $500 million.
A gang of robbers posing as a landscape company dug a tunnel underneath Banco Central in Fortaleza, Brazil. On a Saturday in August 2005, they broke through concrete and steel into a vault and stole $69.8 million (164,755,150 Brazilian reais). A few involved have been caught, but it remains an open case.
stole $45 million from banks
globally by breaking into the banks' systems to drastically increase the amount available on the cards, and then used the information about the cards to withdraw money at banks around the world. Seven were charged and the group leader, Alberto Yusi Lajud-Peña, was killed in April 2013. Suspects Elvis Rafael Rodriguez, left, and Emir Yasser Yeje, pose with bundles of cash.
Cyber criminals from New York
Wearing suits and in professional disguise makeup, two men stole 43 items worth $65 million (40 million euros) in the middle of the day from Graff Jewelry Store in London in 2009. They threatened employees with handguns while collecting the merchandise, then drove off in a BMW. The two men were later arrested and jailed. Among the stolen items was this platinum diamond pendant hat.
Just hours before the United States began bombing Iraq in 2003, Saddam Hussein's family took $1 billion from the country's central bank. People who lived near the Central Bank told CNN that they saw three or four trucks backed up to the bank then and that people appeared to be loading money onto the trucks. Since he was acting as an absolute ruler at the time, he might not have been considered to be breaking any laws.
In 1983, six thieves broke into the Brink's-MAT warehouse at Heathrow Airport in London, thinking they would grab £3 million ($4.6 million) in cash. However, they found £28 million ($43 million) worth of gold ingots, diamonds and cash. The thieves tied up the three guards, doused them in gas and said they would light the guards on fire if they didn't give the pass codes to the vault. Just three out of 15 men involved in planning and executing the robbery were ever convicted.
Top heists around the world
Top heists around the world
Top heists around the world
Top heists around the world
Top heists around the world
Top heists around the world
Top heists around the world
Top heists around the world
STORY HIGHLIGHTS
NEW: Four of five defendants plead not guilty
Grand jury indictment charges murder, other crimes including 1978 Lufthansa heist
Five alleged mobsters were arrested Thursday
Among them is Vincent Asaro, reputed member of the Bonanno organized crime family
(CNN) -- They were "wiseguys" or "goodfellas," the federal government said Thursday of five reputed mobsters indicted in connection with a string of unsolved crimes, including the fabled 1978 Lufthansa heist at JFK International Airport.
In an indictment that reads like the script of "Goodfellas," alleged mob captain Vincent Asaro, 78, and other alleged members of the Bonanno organized crime family are accused of murder, racketeering, armed robbery, arson and extortion.
In the infamous Lufthansa robbery, a band of robbers stole about $5 million in cash and nearly $1 million in jewels from an airline cargo building in the largest cash robbery in the nation's history at the time.
The robbery was part of the story in Martin Scorsese's 1990 "Goodfellas" film about organized crime in New York. And Thursday's indictment opened with a primer on the hierarchical structure of the mob or "La Cosa Nostra" and one of its most notorious families, the Bonnanos, with explanations of the roles of its boss, "consigliere" or underboss, administrations, crews, captains, soldiers, associates and "goodfellas."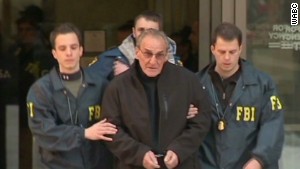 Arrest made in infamous Lufthansa heist
"As alleged, Vincent Asaro devoted his adult life to the Bonanno crime family, with a criminal career that spanned decades," Loretta Lynch, U.S. Attorney for the Eastern District of New York, said in a statement. "Far from a code of honor, theirs was a code of violence and brute force. Those suspected of cooperating with law enforcement paid with their lives."
She added, "Neither age nor time dimmed Asaro's ruthless ways, as he continued to order violence to carry out mob business in recent months."
Also charged in the indictment were fellow Bonanno family members or associates: Asaro's son, Jerome, Jack Bonventre, Thomas "Tommy D" Di Fiore and John "Bazoo" Ragano.
Four of the five defendants pleaded not guilty Thursday before U.S. Magistrate Marilyn Go, who said that no bail would be set now because of the violent nature of the charges.
Bonventre, who was not arraigned Thursday because his lawyer was unavailable, will be arraigned Friday. The defendant did not appear in court.
Vincent Asaro's lawyer, Gerald McMahon, arrived in the crowded courtroom with a large plastic bag filled with prescription drugs for his client, who, he said, had triple bypass surgery in March. The courtroom was filled with Asaro family members and federal agents.
"Vincent Asaro said that we are going to trial on this case -- there will be no plea," said McMahon, who joked that the indictment was giving Scorsese the basis for a sequel to "Goodfellas." "Short of a dismissal, there will be a trial.
McMahon said his client has high blood pressure in addition to the recent triple bypass.
"We're gonna try to put together a sufficient bail package so he can get bail," he said. "But he's not a very wealthy man, unfortunately ... My client isn't in the position to put $10 million on the government's table, either for bail or for some sort of a special deal."
Of his client's alleged involvement in the fabled heist, McMahon said: "Innocence. Pure, actual innocence. He didn't do it, had nothing to do with it. Pretty much all the people that did it got murdered ... So, the fact that my client didn't get murdered would suggest that he didn't have anything to do with it, so I'll start right there."
Vincent Asaro is the first accused mobster to face charges in the Lufthansa heist.
Ed McDonald, a former federal prosecutor who investigated the Lufthansa heist, told CNN that authorities were able to confirm at least eight killings reportedly connected to the robbery.
"You know at the time it was an extraordinarily big deal," said McDonald, who played himself in the film. "It was the largest robbery in the history of the United states. For whatever reason, the tabloids in New York took a fancy to this case. They were fascinated by it, and what was happening was that a lot of the people who were allegedly involved in the robbery in some form ... were turning up dead."
The only person convicted in connection with the JFK heist was Louis Werner, a Lufthansa cargo agent, McDonald said. Werner, who was arrested a few months after the robbery, was convicted of being the "inside man" who provided information that helped the robbers carry out the heist, McDonald said.
Other crimes described in the indictment also sound similar to events portrayed in the film -- a 1969 murder, burning a New York building and a racketeering operation that used threats of violence to extort money from victims.
"These 'goodfellas' thought they had a license to steal, a license to kill, and a license to do whatever they wanted," George Venizelos, assistant director-in-charge of the FBI's New York office. "However, today's arrests of the five members of the Bonanno crime family brings an end to their violent and ruthless ways."
CNN's Haley Draznin, Adam Reiss andJason Carroll contributed to this report