Mark Cavendish: Confessions of a speed freak
January 23, 2014 -- Updated 1026 GMT (1826 HKT)
STORY HIGHLIGHTS
Mark Cavendish is a record-breaking road race cyclist
The British sprinter says he always had to win at everything, even as a kid
Cavendish also trains his brain regularly with Sudoku puzzles
A photographic memory helps him remember "every pothole" in each circuit
Art of Movement is CNN's monthly show exploring the latest innovations in art, culture, science and technology.
(CNN) -- Mark Cavendish is a formidable sprint cyclist. Dubbed "the fastest man on two wheels," the British rider became the UCI Road Race World Champion in 2011 and has won a total of 25 Tour de France stages, including the Champs-Elysee stage four years in a row.
CNN caught up with him to discover what it takes to be one of the world's best sprinters. In his own words:
Be competitive. Like, really competitive
"Since I was a little kid, I was competitive with everything. It wasn't good enough just to be the best that I could be -- I had to be the best of everybody, whether it was a spelling test at school, or it was in P.E. (physical education) or a social club."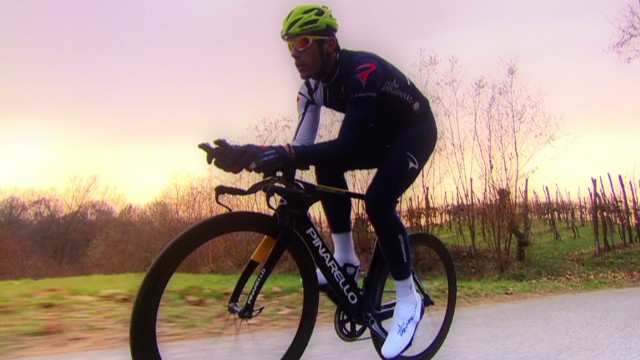 Bike of glory produces winners
Embrace your differences
"I'm different from a lot of bike riders, but that makes me good, because there's something different about the way I race and there is something different about my results.
It's just that I'm so much smaller, and so much more aerodynamic and much more efficient. My legs can go at maybe 15 revs per minute quicker than the other guys, who are big and have more muscle; for them, it's like winding up a toy and letting it go and gaining speed whereas ... I am small and aerodynamic and can get to my top speed quicker and hold it there.
I believe I am amongst the greatest sprinters in the history of cycling
Mark Cavendish
Watch this: Pinarello bikes built for glory
Train your brain
"I train my brain as much as I train my muscles. I am constantly on my iPad doing logic games, like Sudoku. It trains the part of your brain that helps you make decisions and look at the whole picture."
Trust your team
"In the chaos that is going on in a bunch sprint, the biggest drainer of energy comes from mental stress, and just having to concentrate and make decisions. For me, it's about keeping up my reserves until that final few hundred meters, so if there is someone there doing those things for me it really helps me store my energy."
Have a photographic memory
"I can do one lap of a circuit and know where all the potholes are. I know how sharp to do a corner and how fast to go around it. I can analyze so much more of what is going on around than I think a lot of my rivals can; I can analyze the people around me and where they are and really take it in and absorb it quick. I don't know why I do it, or how, I just know that I can."
Be inspired by nay-sayers
"When I was growing up, there was a lot to prove, and I had a lot of people pushing back. I get an extra drive off someone saying I can't do something, you know? I do enjoy proving people wrong. It's not the same anymore. I believe I am amongst the greatest sprinters in the history of cycling, so there is not much more to prove there."
Daisy Carrington contributed to this report.

Today's five most popular stories
Part of complete coverage on
December 23, 2014 -- Updated 1809 GMT (0209 HKT)

Ever since musician Eduardo Miranda met a patient with locked in syndrome 11 years ago, he has been on a mission to create a way for the paralyzed to make music.
August 25, 2014 -- Updated 1938 GMT (0338 HKT)

For thousands of years, man has looked to the stars in search of answers. Who are we? Why are we here? Are we alone?
November 16, 2014 -- Updated 1510 GMT (2310 HKT)

From the realms of science fiction to science fact, Rosetta mission's scientists succeeded in landing a washing machine-sized probe named Philae on a moving comet.
October 10, 2014 -- Updated 1700 GMT (0100 HKT)

Armed with the most advanced marine technology available, archaeologists have recovered new treasures from the ancient shipwreck.
December 17, 2014 -- Updated 1443 GMT (2243 HKT)

Meet KAO=S, a band of spellbinding musicians fusing Japanese cultural icons against a backdrop of rock and musical theater.
November 18, 2014 -- Updated 1134 GMT (1934 HKT)

Earthbound audience captivated as surreal Twitter conversation takes place 300M miles away.
December 5, 2014 -- Updated 1243 GMT (2043 HKT)

The slightest movement by this man's hand can change the behavior of at least 100 people.
November 11, 2014 -- Updated 1541 GMT (2341 HKT)

"A living painting is many things," says artist and designer Aerosyn-Lex Mestrovic. "It's a painting in process, it's a work of film, it's an actual tactile painting."
September 12, 2014 -- Updated 0938 GMT (1738 HKT)

For half a century, "Alvin" has quietly traveled through the seven seas, uncovering the ocean's mysteries.
August 25, 2014 -- Updated 1943 GMT (0343 HKT)

From Earth, the sun appears as a constant circle of light, but when viewed in space a brilliant display of motion is revealed.