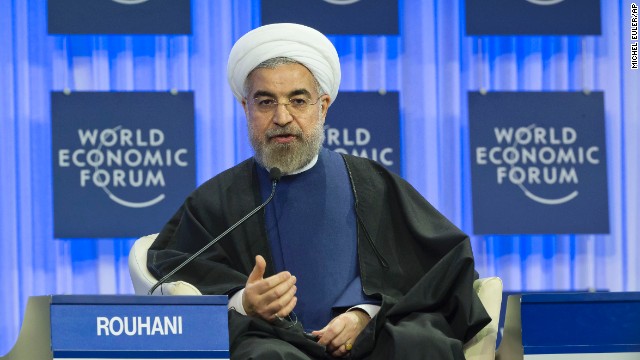 Iranian President Hassan Rouhani takes the stage on Thursday morning, declaring Iran will continue its nuclear program for peaceful purposes
Park Geun Hye, South Korea's president, speaks during the opening day of the World Economic Forum in Davos. She emphasized the region-wide benefits of Korean unification.
U.S. Secretary of State John Kerry arrives on Thursday, after attending Syria peace talks the day before.
Australian Prime Minister Tony Abbott speaks about the role of his country, which is the current head of G20.
WEF Executive Chairman Klaus Schwab shakes hands with Liberia's President Ellen Johnson-Sirleaf.
Ilham Aliyev, left, President of Azerbaijan, speaks next to Irakli Garibashvili, right, Prime Minister of Georgia, during a panel session on the second day of the meeting.
Prime Minister Binyamin Netanyahu addresses the forum on Thursday. His message: Investing in the Israeli economy is a way to facilitate peace in the region.
Goodluck Jonathan, Nigeria's president, participates in a panel on Africa's growth.
Swedish Prime Minister Fredrik Reinfeldt is among the leaders attending this year's conference.
Swiss President Didier Burkhalter delivers a speech during the opening session at the World Economic Forum in Davos on January 22, 2014. Banking world heavyweights debated whether the financial crisis had turned a real corner, or whether the demons of the past could fast return. AFP PHOTO/ERIC PIERMONT (Photo credit should read ERIC PIERMONT/AFP/Getty Images)
John Dramani Mahama, Ghana's president, pauses during a session on the opening day of the World Economic Forum (WEF) in Davos, Switzerland, on Wednesday, Jan. 22, 2014. World leaders, influential executives, bankers and policy makers attend the 44th annual meeting of the World Economic Forum in Davos, the five day event runs from Jan. 22-25. Photographer: Chris Ratcliffe/Bloomberg via Getty Images
British Prime Minister David Cameron is also attending the conference.
Japanese Prime Minister Shinzo Abe urged the world to restrain the "military expansion" in the region.
Former U.N. Secretary General Kofi Annan discusses migration and its benefits.
Egyptian interim Prime Minister Hazem el-Beblawi attends a panel session on the second day of the 44. annual meeting.
World leaders gather in Davos
World leaders gather in Davos
World leaders gather in Davos
World leaders gather in Davos
World leaders gather in Davos
World leaders gather in Davos
World leaders gather in Davos
World leaders gather in Davos
World leaders gather in Davos
World leaders gather in Davos
World leaders gather in Davos
World leaders gather in Davos
World leaders gather in Davos
Leaders in Davos
World leaders gather in Davos