Frankel legacy: the million dollar foal?
January 24, 2014 -- Updated 1120 GMT (1920 HKT)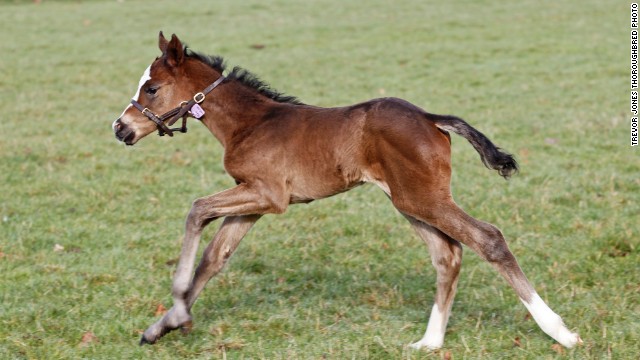 The first filly of legendary racehorse Frankel runs around his new surroundings in Newmarket, England, just days after his birth.
Described as as a "master of his profession" during his racing career by manager Teddy Grimthorpe, Frankel secured 14 wins from 14 race starts.
That 14th win came when Frankel powered home to take the Champion Stakes at Ascot in October 2012 before the colt was retired to stud.
Such was his success Frankel was even immortalized in paintings. Here racegoers look at a painting of racehorse Frankel at Ascot.
While painter Mick Kirkbride provided a more surrealist take with his artwork to highlight Frankel's uniqueness.
Jockey Tom Queally riding Frankel in a racecourse gallop before racing at Newmarket racecourse on September 29, 2012 in Newmarket, where his first filly was born.
Frankel is washed down after racing at Goodwood racecourse on August 01, 2012 . He has earned his owners up to $16m at stud.
Queen Elizabeth II presents Frankel's jockey Tom Queally with the Champion Stakes trophy after his victory at Ascot.
First glimpse of foal
Frankel's new life
Frankel's new life
Frankel's new life
Frankel's new life
Frankel's new life
Frankel's new life
Frankel's new life
STORY HIGHLIGHTS
Mare Song produces first filly to superstar stallion Frankel
Anticipated 130 foals will be born to Frankel in 2014
Song owned by Khalid Abdul Rahim of Bahrain
Follow us at @WorldSportCNN and like us on Facebook
(CNN) -- Rarely has an animal birth been more hotly anticipated but the equine answer to the Royal Baby has taken its first tentative steps at the home of racing, Newmarket in eastern England.
On Sunday, Song produced the first filly to the superstar stallion Frankel at the National Stud, and despite it being just a few days old, the expectation on it to succeed on the racecourse is already huge.
An anticipated 130 foals will be born to Frankel in 2014, none of which will race for two years but with the potential for some sporting sibling rivalry come 2016 at the earliest.
Song is owned by Khalid Abdul Rahim, of Bahrain, who paid $1.3 million for the mare when she was already in foal to Frankel.
Director of The National Stud Brian O'Rourke described the new offspring as "a very nice quality, athletic individual," adding that both "mare and foal are doing well."
There is even footage online of the foal taking some of its first steps in Newmarket. Mother and foal will stay together for at least five months.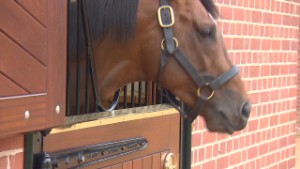 Frankel: Super freak to super stud?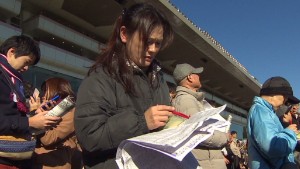 World's biggest horse racing fans?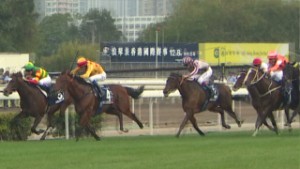 HK horse race with a $9 million prize
Frankel earned owner Prince Khalid Abdullah, a Saudi prince, more than $4m in prize money during an illustrious racing career, which included a record nine consecutive Group 1 wins and ended with victory in the Champion Stakes at Ascot in October last year.
However, Frankel, who went to work in his new role at stud in February last year, is now earning his owners infinitely more with a whopping fee of $160,000 for every mare sired and hence earnings of nearly four times his career winnings this year alone.
The offspring of 2001 Epsom Derby winner Galileo, Frankel boasts an impressive pedigree, but predicting how Frankel foals may fare is by no means an exact science.
Despite the sums paid for the mares and foals in question, she could well prove a flop.
Despite that there are high hopes for the filly and Frankel's first foal, a colt, born just a few days earlier at Coolmore Stud in Ireland to a mare called Chrysanthemum. That colt is valued at £6m and has been quoted as a 100-1 shot to win the 2017 Derby.
As for the filly foal in Newmarket, she remains unnamed with suggestions for a possible moniker to the offspring of Frankel and Song, currently including Sinatra or My Way.

April 4, 2014 -- Updated 1035 GMT (1835 HKT)

Amateur jockey Sam Waley-Cohen is perhaps best known for helping to resurrect Prince William's relationship with Kate Middleton.
March 28, 2014 -- Updated 1215 GMT (2015 HKT)

The $10 million Dubai World Cup takes place at the Meydan Racecourse, which is a suitable setting for the world's richest horse racing day.
March 28, 2014 -- Updated 1650 GMT (0050 HKT)

He's created some of the world's biggest shows, so it's only fitting Andrew Lloyd Webber will be in the limelight on Dubai's big-money day.
March 26, 2014 -- Updated 1011 GMT (1811 HKT)

The world's richest horse race is the highlight of Dubai's social calendar, attracting 60,000 fans from around the globe.
March 20, 2014 -- Updated 1203 GMT (2003 HKT)

Former champion jockey Richard Dunwoody has gone from riding winners to traveling the world in his second career as a photographer.
March 6, 2014 -- Updated 1356 GMT (2156 HKT)

Wonder horse Frankel has retired but his $200,000 offspring are already been tipped as future racing stars -- to the delight of his jockey.
March 4, 2014 -- Updated 1313 GMT (2113 HKT)

How do you replace the adrenaline rush of scoring one of the greatest goals in World Cup history when your football career ends?
February 27, 2014 -- Updated 1345 GMT (2145 HKT)

A Scottish artist has captured the pomp and pageantry of Royal Ascot in a collage that represents "what I love about being British."
February 26, 2014 -- Updated 1618 GMT (0018 HKT)

CNN's Francesca Cumani meets Faleh Bogunaim -- a Qatari rider who is making a name for himself.
February 25, 2014 -- Updated 1508 GMT (2308 HKT)

CNN's Francesca Cumani explores how Qatar's royal family has impacted the global horse racing scene.
February 13, 2014 -- Updated 1436 GMT (2236 HKT)

It's been a long time coming. A very long time. But S'manga Khumalo is proving that black jockeys can hold the whip hand in South Africa.
February 7, 2014 -- Updated 1603 GMT (0003 HKT)

It needed permission from the British monarch and may anger traditionalists, but one of racing's most regal occasions has crossed the rubicon.

Today's five most popular stories