Egypt's military OKs Abdel-Fattah El-Sisi for presidential run
January 28, 2014 -- Updated 1256 GMT (2056 HKT)
STORY HIGHLIGHTS
NEW: Military council says choice is El-Sisi's, but it highly encourages his candidacy
Field Marshal Abdel-Fattah El-Sisi is expected to announce soon whether he'll run
The army chief was defense minister when the military ousted President Morsy last year
Candidates can officially declare themselves next month
(CNN) -- Egypt's military leadership council on Monday gave Field Marshal Abdel-Fattah El-Sisi -- the army chief who helped oust the country's first democratically elected president -- its blessing to run for the presidency, the state-run Middle East News Agency reported.
El-Sisi has yet to announce whether he'll run, but the move by Egypt's Supreme Council of the Armed Forces essentially is an endorsement of him, said Ehab Badawy, a spokesman for Egyptian Interim President Adly Mansour.
The council added in a statement to state television Monday night that it would be up to El-Sisi to decide, but that it considers his candidacy "a mandate and an obligation."
Badawy said that El-Sisi, who was promoted from general to field marshal earlier Monday, would have to retire from the military before running for president. The interim government has not given a date for elections; candidates can officially declare themselves on February 18.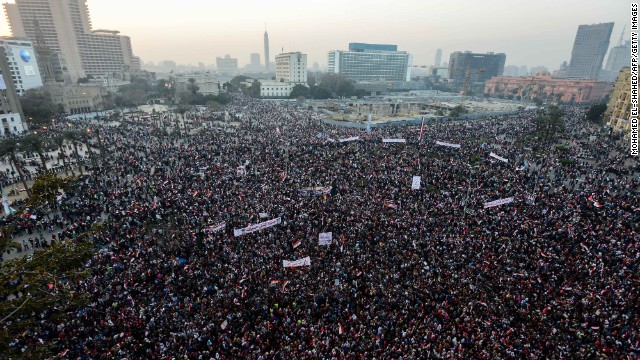 Thousands of Egyptians gather in Cairo's Tahrir Square during a rally marking the anniversary of the 2011 Arab Spring uprising on Saturday, January 25. A spate of deadly bombings put Egyptian police on edge as supporters and opponents of the military-installed government take part in rival rallies for the anniversary.
Supporters of Abdel-Fattah el-Sisi, Egypt's minister of defense, gather at Tahrir Square to mark the anniversary.
Egyptian traditional dancers perform at a pro-military rally in Tahrir Square.
A supporter of the Muslim Brotherhood flashes a four-fingered salute next to burning tires allegedly set ablaze by protesters during clashes with security forces.
A man waves an Egyptian flag during a rally.
Pro-military demonstrators wave national flags and hold pictures of Defense Minister Abdel-Fattah el-Sisi, who was a key figure in the ouster last summer of democratically elected President Mohamed Morsy, and who recently hinted at a run for the presidency himself.
Anti-military protesters shout slogans near the Ramses Square in downtown Cairo.
A man carries his son to escape clashes between police and anti-military protesters.
A boy is seen during a rally marking the anniversary.
Supporters of the Muslim Brotherhood clash with security forces in Cairo.
Egyptian anti-military protesters, mostly supporters of ousted Islamist President Mohammed Morsy, clash with security forces in downtown Cairo
Egyptians walk around an armored personnel carrier parked at a pro-military rally in Tahrir Square.
A Muslim Brotherhood supporter aims fireworks at pro-military demonstrators clashes in Cairo.
A supporter of the Egyptian military leadership flashes the victory sign during clashes with Muslim Brotherhood supporters.
Egyptian police fire tear gas to disperse hundreds of supporters of ousted President Mohammed Morsy.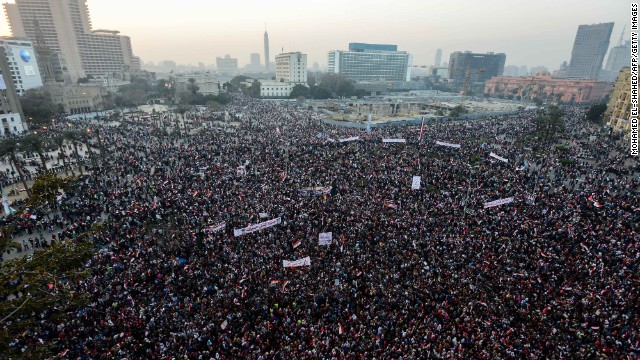 Photos: Egyptians mark anniversary of Arab Spring uprising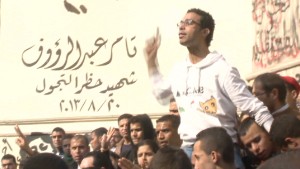 Clashes erupt at Egypt protests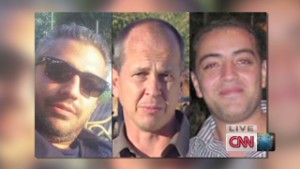 Al Jazeera jailed journalists
El-Sisi, who was defense minister when the military ousted President Mohamed Morsy in July, had said he would run for president if the Egyptian people wanted him to, state media reported recently.
The Arab world's most populous nation has seen months of political turmoil since the military deposed Morsy, of the Islamist Muslim Brotherhood movement, on July 3 after mass protests against his rule. Demonstrators accused him of pursuing an Islamist agenda and excluding other factions from the government.
An interim, military-backed government was installed in Morsy's place, but Morsy's supporters have held near-daily protests since his ouster, demanding that he be reinstated. The protests often have devolved into violence.
This month, Egyptians overwhelmingly approved a new constitution, with 98.1% in favor, the Electoral Commission said. But supporters of the Muslim Brotherhood, which the interim government banned late last year, boycotted the referendum in response to the crackdown against it.
Morsy was elected in 2012, a year after a popular uprising ousted longtime ruler Hosni Mubarak. Morsy's supporters say that he wasn't given a fair chance and that the military has returned to the authoritarian practices of Mubarak.
READ: Egypt to have presidential elections first
READ: Some Egyptian diplomats abducted in Libya reportedly released
CNN's Reza Sayah, Marie-Louise Gumuchian and Yousuf Basil contributed to this report.