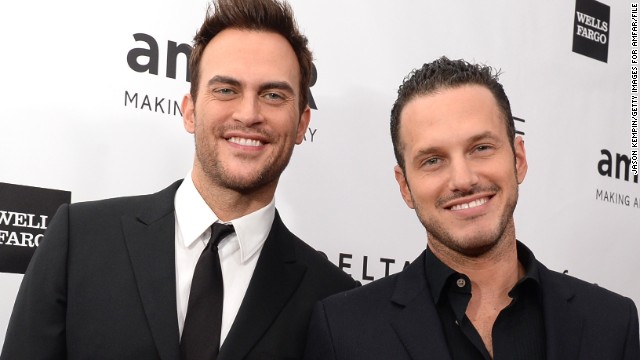 "Glee" star Cheyenne Jackson reportedly married actor Jason Landau on September 13, 2014.
According to People
the pair, who got engaged in January, had an outdoor interfaith ceremony at a friend's estate in Encino, California.
Sir Elton John and his partner David Furnish, who have two children together, are planning to marry in a quiet wedding sometime in 2015.
tweeted
"True love...so blessed. 'By the power invested in me by the state of California...' Thanks" along with a wedding picture of her and Wallem who is one of the creators of the Showtime original series "Nurse Jackie."
Melissa Etheridge and Linda Wallem married on May 31 at San Ysidro Ranch in Montecito, California. The singer
According to People magazine
they held the ceremony at the New York Public Library, and are the first same-sex couple to host a wedding at the historic landmark. The pair announced their engagement in April 2013.
Interior design guru Nate Berkus, left, and Jeremiah Brent tied the knot in New York City on May 3.
E! Online
, the couple had been dating for almost a year.
Jodie Foster is adept at keeping her private life low-key. The actress quietly wed her girlfriend, photographer Alexandra Hedison, in mid-April. According to
Vogue UK.
He didn't give details on the nuptials, except to acknowledge that they were held in the United States. The couple are already parents to a 1-year-old,
Alexander John Buckley Ford
.
Fashion designer Tom Ford, right, and his partner of 27 years, Richard Buckley, are now married, the former Gucci craftsman confirmed to
Musician Linda Perry, left, and actress Sara Gilbert married on March 30, Gilbert announced on her TV show "The Talk."
broke the news
that actress Lily Tomlin, right, rang in 2014 by marrying Jane Wagner, her partner of 42 years, on New Year's Eve.
Columnist Liz Smith
"Glee" star Dot-Marie Jones, right, wed longtime girlfriend Bridgett Casteen on December 21 at their home in Los Angeles.
According to People magazine
, the couple wed in an intimate ceremony in Los Angeles in December. Baxter, 66,
confirmed
rumors about her sexuality in 2009, plaintively telling the "Today" show, "Yes, I'm a lesbian."
Former "Family Ties" star Meredith Baxter, left, has reportedly tied the knot with girlfriend Nancy Locke.
According to People,
former "Grey's Anatomy" star T.R. Knight married Patrick Leahy, his boyfriend of three years, in October.
Instagram
in September with a shot of Turchin flashing the ring.
Lance Bass, right, popped the question to boyfriend Michael Turchin, and the couple announced their engagement on
Talk show host Ellen DeGeneres, left, and actress Portia de Rossi married in 2008. De Rossi was
star wrote
. In September,
E! reported
that the actress attended an event in Atlanta with rumored girlfriend AzMarie Livingston.
Raven-Symone tweeted in August that she was pleased with the recent rulings on same-sex marriage. "I can finally get married! Yay government! So proud of you," the former "Cosby Show"
tietheknot.org
, and then married in July 2013. Their foundation sells ties with the proceeds going to organizations that support same-sex marriage. The pair have been outspoken
about their advocacy.
Attorney Justin Mikita, left, and "Modern Family" star Jesse Tyler Ferguson announced their engagement in 2012 via their website
"How I Met Your Mother" star Neil Patrick Harris, left, and David Burtka announced their engagement in 2011. The couple are parents of twins, Gideon Scott and Harper Grace.
Country star Chely Wright, left, and Lauren Blitzer married in August 2011 and are the parents of identical twin sons, George Samuel and Everett Joseph.
"Sex and the City" star Cynthia Nixon, left, started dating activist Christine Marinoni in 2004. The couple got engaged in 2009 and married in 2012.
Several of George Takei's "Star Trek" co-stars attended the ceremony when he married longtime partner Brad Altman, right, in 2008.
Gay celebs and marriage
Gay celebs and marriage
Photos: Gay celebs and marriage
Gay celebs and marriage
Gay celebs and marriage
Gay celebs and marriage
Gay celebs and marriage
Gay celebs and marriage
Gay celebs and marriage
Gay celebs and marriage
Gay celebs and marriage
Gay celebs and marriage
Gay celebs and marriage
Gay celebs and marriage
Gay celebs and marriage
Gay celebs and marriage
Gay celebs and marriage
Gay celebs and marriage
Gay celebs and marriage
Gay celebs and marriage
STORY HIGHLIGHTS
Sally Kohn: What kind of families are portrayed in Disney movies are political choices
Kohn: "Frozen" may be the most forward-looking Disney film, but it still has a long way to go
She asks, why can't children's films actively reflect the diversity of families in America
Kohn: It's time that we have a Disney movie in which a princess marries a princess
Editor's note: Sally Kohn is a progressive activist, columnist and television commentator. Follow her on Twitter: @sallykohn.
(CNN) -- With my last CNN.com column, I managed to start a small kerfuffle among conservatives. I wrote about how pathetic it is that historically, most Oscar-winning directors and producers have been white men — and how this reflects implicit bias more broadly in Hollywood and our society in general.
Some people on Twitter criticized my argument. Among other things, they accused me of playing the race card -- echoing a very contorted line of conservative idea that liberals who call out racism in society are actually the racists.
And so I responded with a question: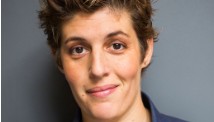 Sally Kohn
This was a question to conservatives about how they would otherwise explain the lack of black Oscar-winning and nominated directors and producers, if they don't attribute it to racism.
However, conservatives interpreted the question as though I was blaming them for implicit racial bias in Hollywood. For the record, I was not. What I was doing was accusing our dominant cultural institution in America of at the very least failing to challenge the implicit biases of society in general and at worst replicating them. In my original essay, I wrote:
"Does Hollywood exclude women and people of color in powerful director and producer roles more than other facets of American business and society? Probably not, but who cares? That doesn't make the critique any less worth leveling."
Which brings us to kerfuffle number two. Saturday evening, while watching the Disney animated film "Frozen" with my 5-year-old daughter, I tweeted:
Yet again, I got rapped for it. Reactions ranged from "children do not need to be indoctrinated into your pro-dyke anti-natural family propaganda" to "Kids movies should be off limits to far left ideology." Some even accused me of being a pedophile. Lovely Internet. And my tweet was reposted and condemned on several conservative websites, from Twitchy to Breitbart's Big Hollywood and more.
That's the context. And so, since conservatives are jonesing for a conversation about this, let's have at it!
Culture with a capital-C is political. The rise of Mackelmore or Jay Z is as much about talent as a calculation on the part of the record industry to factor in race. Women's necklines and hemlines are conscious decisions about gender and sexuality made by the fashion industry. And yes, Disney movies are political, too -- from the decision that all the female characters should have one-inch waistlines to the idea that princes are heroes and princesses need saving to the fact that all Disney princesses were white until Mulan, Jasmine and Tiana came along.
Choices about what families are portrayed or excluded in Disney movies, and children's movies in particular, are political. Laws prohibiting interracial marriage were struck down by the Supreme Court in 1967, but as far as I know, there has still not been a biracial or multiracial family at the center of a Disney film (though at least Sofia the First is potentially a teeny-weeny step in the right direction).
Despite the fact that one in four children in the United States today is being raised by a single parent, single moms in Disney movies are mostly portrayed as evil (think "Cinderella" and "Snow White"). At least single fathers get better treatment ("Pinocchio" and "Beauty and the Beast").
While it appears that there is a gay family depicted in Disney's latest film, "Frozen," and there are six other reasons why "Frozen" may be the most forward-looking Disney film yet, the film still continues a long and unbroken chain of hetero-normative children's movies.
HLN: Meet Disney's first same-sex couple!
Look, I'd be happy if we could get a brave, independent, non-offensively-skinny, non-obsessively-boy-crazy princess who isn't then Photoshopped for sex appeal. That would be nice for my daughter to see.
But of course I want to see children's films go a step further and actively reflect the full, positive diversity of families in America today -- including gay families like mine. After all, we're talking about Hollywood -- land of the gays and those who love them! Is this really too much to ask? Gay rights are sweeping the globe, supported morally and politically by an overwhelming majority of Americans.
The fact is mass culture is incredibly, frustratingly reactionary. It can seem that Miley Cyrus is twerking far before any of us are ready to see it, but the fact is that's just the corporate-backed culture industry picking up on underground trends in mass culture and amplifying them. Conversations about race and gender and sexuality in mainstream film often lag behind society as well.
There are times when film can propel society in the right direction, whether it's "In the Heat of the Night" or "Tootsie" or "Philadelphia" or any other number of groundbreaking films. We don't think of children's films as a space for social progress and yet that's exactly where our society's norms and ideals are most embedded -- how the next generation learns right and wrong and good and evil and inclusion and exclusion can start when people are young. Hollywood can do a better job of making inclusive kids' movies that reflect the wonderful diversity of 21st century America.
So yes, it's high time that we have a Disney movie in which a princess marries a princess. And a prince marries a prince. And a plumber marries a schoolteacher — for crying out loud, why must everyone be royal and rich?!
Follow us on Twitter @CNNOpinion.
Join us on Facebook/CNNOpinion.
The opinions expressed in this commentary are solely those of Sally Kohn.