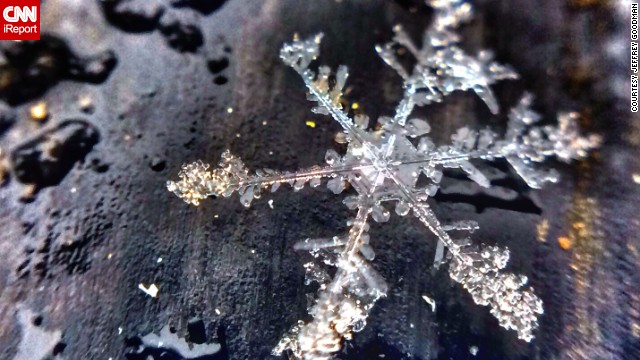 The cold snaps across the United States seem endless, but with each new snowfall, there's an opportunity to capture a new perspective on winter, just like what
Jeffrey Goodman
did when he photographed this snowflake outside his Mentor, Ohio, home.
The Ohio teacher enjoys taking photos of the wintry weather.
Throughout January, Goodman photographed snowflakes after snowstorms would come through his area.
Goodman used his iPhone 5s and a macrolens attachment to photograph these delicate snowflakes.
"It has been an extremely cold winter this year with many days being in the single digits or below zero temperature range," Goodman said.
"Most people grumble and complain about the cold and snow here in northeast Ohio," Goodman said.
"But I've discovered that if you take the time to look close enough, the designs and patterns in these snowflakes can warm hearts," he added.
"These were all taken in the last few weeks during the many snow storms that have blown through northeast Ohio this January," Goodman said.
One of Goodman's favorite parts about winter is having the chance to dive into some winter nature photography.
"It's been awe-inspiring to find such beauty in the tiny details that mother nature can produce in the midst of an arctic invasion," Goodman said.
Candice Trimble
spent one morning photographing snowflakes falling in her hometown of Front Royal, Virginia.
Nature photographer
"The flakes melt fast when they hit any warmth so I had to move quickly," she explained.
"I have exactly 45 inches of hair, so luckily I had enough to literally lay out in front of me to catch snowflakes," Trimble said.
" I love all of my snowflake pictures," she said.
It snowed about 10 inches in her hometown when Trimble took these photos.
Will Schweizsr
decided to test out his new camera by capturing macro shots of the snow that fell in Santa Fe, New Mexico. "I went outside, set my Washington Nationals hat on the edge of the porch and let the snowflakes fall onto it," he said.
14-year-old
"After about 45 minutes of trying to get the perfect snowflake, I went over my pictures," said Schweizsr. "Every so often I captured a great picture of a snowflake in perfect or almost perfect focus."
Charles Slyer
says he's always enjoyed reading the book "Snowflake Bentley," about a snowflake photographer, to his two daughters. "I would always tell them some day I will capture (an) image for them!" he said. And this winter, he did. These flakes landed on a pane of glass in his back yard.
Michael Charnick
has spent much of the past two months capturing snowflakes on the New York shores of Lake Ontario. It's part of a weather research project called
OWLeS
.
Graduate student
Charnick and his fellow scientists working on the project collect snowflakes on a felt plate "in order to characterize the crystals falling form the sky during (weather) balloon launches."
Charnick has a degree in meteorology and is now studying weather intelligence and risk management.
James Hill
has lived in Norfolk, Virginia, his whole life. Because the town is near a warm, freshwater body, he says that when it does snow, it's usually a slushy mess. But not this time! "I have never seen a perfect snowflake until now," he said.
Catching snowflakes in wintry weather
Catching snowflakes in wintry weather
Catching snowflakes in wintry weather
Catching snowflakes in wintry weather
Catching snowflakes in wintry weather
Catching snowflakes in wintry weather
Catching snowflakes in wintry weather
Catching snowflakes in wintry weather
Catching snowflakes in wintry weather
Catching snowflakes in wintry weather
Catching snowflakes in wintry weather
Catching snowflakes in wintry weather
Catching snowflakes in wintry weather
Catching snowflakes in wintry weather
Catching snowflakes in wintry weather
Catching snowflakes in wintry weather
Catching snowflakes in wintry weather
Catching snowflakes in wintry weather
Catching snowflakes in wintry weather
Catching snowflakes in wintry weather
Catching snowflakes in wintry weather
Catching snowflakes in wintry weather