STORY HIGHLIGHTS
Turn on that engine only periodically
Don't stray far from your vehicle; it's warmer inside
When you're moving, watch out for black ice
(CNN) -- Snow in the South is a delight -- but only when you're admiring it standing next to your cozy living room fireplace.
Not so much if you're one of the hundreds of motorists across the South stranded on the interstates or parked at gas stations, whiling away a bone-chilling night.
For you, here are some tips:
While you're stuck ...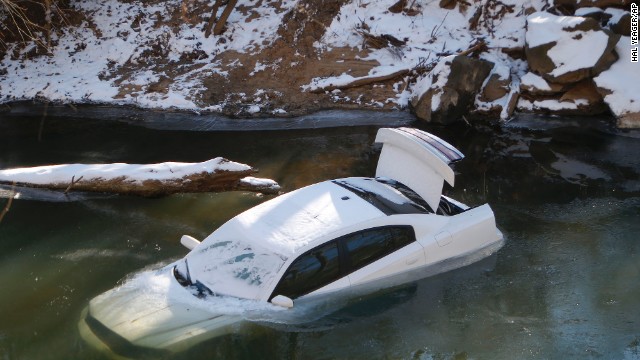 A car lies half submerged in the Cahaba River in Mountain Brook, Alabama, on Thursday, January 30. The driver was able to escape before the car slid into the river during a snow storm on Tuesday and was not injured. A wave of arctic air that started over the Midwest and Plains spread to the Southeast, bringing snow, freezing ice and sleet to a region that doesn't deal with such weather very often.
Ice forms swirls on the banks of the Cahaba River in Vestavia Hills, Alabama, on January 30.
Travelers wait out flight delays at Hartsfield-Jackson Atlanta International Airport on January 30.
Cars are left abandoned at the bottom of a hill in Birmingham, Alabama, on January 30.
Vehicles remain stranded along Interstate 20 in Leeds, Alabama, on Wednesday, January 29.
Abandoned cars are piled up on the median of an ice-covered road in Atlanta on January 29.
Police monitor a fire January 29 in a vehicle left overnight by a motorist who was stranded in Brookhaven, Georgia.
A lone car travels on Interstate 75/85 in downtown Atlanta on January 29, a day after the roadway was packed with vehicles.
Sue Morrison watches as Chris McAdams scrapes ice from her car on January 29 in Panama City Beach, Florida.
Kevin Moore hands out snacks and water to stranded motorists on Interstate 285 in Dunwoody, Georgia, on January 29.
Traffic is snarled along Interstate 285, north of metro Atlanta, on January 29.
A man stands on the frozen roadway January 29 as he waits for traffic to clear along Interstate 75 in Macon, Georgia.
Caution tape is wrapped around a car that crashed into a tree after the driver lost control in Snellville, Georgia, on January 29.
The ice-covered interstate highways running through Atlanta appear empty on January 29.
Icicles hang off a camellia bush in Savannah, Georgia's historic Forsyth Park after freezing rain hit the area on January 29.
Traffic moves past an ice-covered hill on Interstate 75 in Covington, Kentucky, on January 29.
A police officer talks with a crash victim who was involved in a five-car pileup in Sandy Springs, Georgia, early on January 29.
As dawn breaks on January 29, southbound traffic is at a standstill near downtown Atlanta.
Gavin Chambers plays an electronic game January 29 at Oak Mountain Intermediate School in Indian Springs, Alabama. The severe weather forced thousands of students to spend the night in various school buildings across the state.
Abandoned vehicles in Dunwoody, Georgia, line Interstate 285 early on January 29.
A DeKalb County school bus sits abandoned near Interstate 285 in Dunwoody on January 29.
People work to clear stranded vehicles on County Road 25 in Wilsonville, Alabama, on Tuesday, January 28.
Snow falls on cattle at Todd Galliher's farm in Harmony, North Carolina, on January 28.
Two women are stranded at Louis Armstrong New Orleans International Airport on January 28 after flights were canceled due to the weather.
Motorists jam Interstate 75/85 in Atlanta on January 28.
A semi slides off the road as the driver tries to avoid another wrecked truck as snow begins to accumulate on Interstate 65 in Clanton, Alabama, on January 28. Clanton lies between the capital, Montgomery, and the state's biggest city, Birmingham.
A man puts sand on the steps of his business in downtown Northport, Alabama, on January 28. Northport is near Tuscaloosa in the central-west part of the state.
Traffic travels along the highway near downtown Birmingham on January 28.
With temperatures around -10 degrees, commuters wait for a bus in Chicago on January 27.
The Duquesne Incline climbs Mount Washington across the frozen Ohio, Allegheny and Monongahela rivers in downtown Pittsburgh on January 28.
Steam rises from Lake Michigan in Chicago on Monday, January 27.
Workers dump sand across a bridge in Covington, Louisiana, on January 27.
A man jumps off a snow-covered sidewalk to cross a downtown Cleveland street January 27. A minor car accident is in the background.
Ice forms as waves crash along the Lake Michigan shore January 27 in Chicago.
A strong wind kicks up snow Sunday, January 26, in Vadnais Heights, Minnesota, creating drifts over roads and parking lots.
The Cincinnati neighborhood of Mount Adams is shown blanketed in snow on Saturday, January 25.
People walk in a snow squall January 25 in Trenton, New Jersey.
Cars sit in drifts and plowed snow on January 25 in Grand Rapids, Michigan.
A North Hudson County firefighter walks in front of an ice-covered vehicle near a building where a six-alarm fire was put out January 24 in Union City, New Jersey.
Kyle Malott scraps the ice off his girlfriend's car near Covington, Louisiana, on January 24.
Ben Eggart pushes Hannah Graham down a hill at Girard Park in Lafayette, Louisiana, on January 24.
Ice floats by the Chicago skyline on Lake Michigan on Thursday, January 23.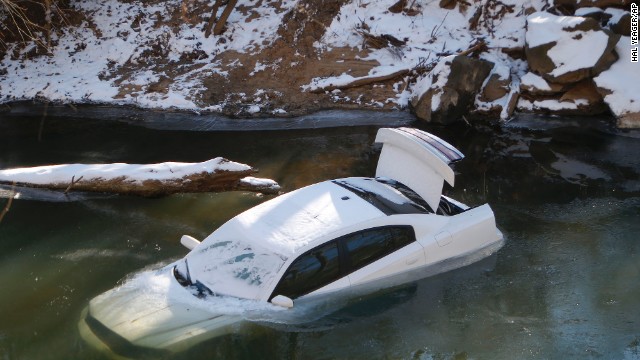 Photos: Freezing temperatures sweep U.S.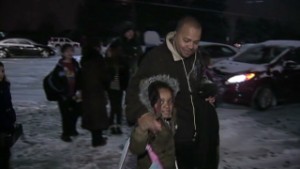 Students struck by weather finally home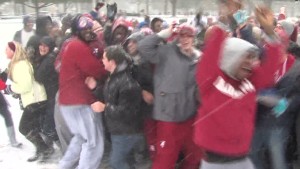 Students get snow day, start snow fight
Don't stray: Believe us, it's safer inside your car than it is for you to go exploring outside. For one thing, it's warmer. You'd be surprised how quickly hypothermia can set in. Unless of course, there's a gas station or some other building nearby where you can get warm and toasty.
Don't sleep: At least, not with the engine running. In fact ...
STRANDED: Southern snowstorm cripples Southeast
Turn off that engine: Even if you have a full tank of gas, it's best to just turn your engine on, say, once every 15-20 minutes -- enough to warm you up. Why? Because you have no idea how long you'll be stranded. And gas is your friend.
Beware of carbon monoxide: Every once in a while, hop out of the car and check your tailpipe. You want to make sure there's no snow clogging it up. Because if it is, guess where those carbon monoxide fumes flow? Yep, back toward you.
Stay warm: Wrap yourself in whatever you have handy. Your jacket. Or that ratty picnic blanket lying forgotten on the backseat floor. The key is to keep heat from leaving your body.
Stay connected: If you have a cell phone, now is not the time to play Angry Birds to while away the time. Save the charge. You'll probably need it.
Move it, move it: Clap your hands. Snap your fingers. Stretch those legs. Do the chicken dance. At least once every hour, it's good to move the different parts of your body. This helps keep the blood flowing and keeps you warm.
Drink up: Water, that is. It's good to stay hydrated. But don't eat snow. Your body will have to melt the ice first, and that requires heat. Heat you can't afford to waste.
When you're moving again ....
Ease up on that lead foot: It's better to be Mr. Late Arriver than the late Mr. Arriver. And use your low gear when driving on those treacherous roads.
Tap, tap, tap: To avoid spinning out of control, don't slam on the brakes. Tap on them instead.
Watch out: Black ice, especially on bridges and overpasses, can sneak up on you. Also look out for fallen trees, power lines and other obstacles.
Be nice: Don't block DOT trucks putting salt on the roads. In fact, don't pass them -- let them do their job so you can get where you need to go safely. And while you're at it, don't block intersections either. Does that really need saying?
Sing out loud: When you get home that is. You did it! You survived Snowmageddon!
Stranded drivers tell their stories