Report: Russia ID's 2 in connection with Volgograd bombing
January 30, 2014 -- Updated 1449 GMT (2249 HKT)
STORY HIGHLIGHTS
Police says alleged suicide bombers from Dagestan militant group -- state news agency
Two brothers, suspected accomplices, have been detained, report says
Russia has been trying to address security concerns before the Winter Olympics
Security fears have been heightened since Volgograd bombings last month
(CNN) -- Russian police have identified two people they believe are the suicide bombers responsible for deadly bombings in Volgograd and detained two suspected accomplices, anti-terrorism officials said Thursday, according to Russian state news agency Ria Novosti.
The National Anti-Terrorism Committee identified the suspected suicide bombers as Asker Samedov and Suleiman Magomedov. It said they belong to the Buinaksk militant group, based in the volatile southern Russian province of Dagestan, according to Ria Novosti.
The two accomplices who are detained are brothers, both from Dagestan, and they are held on suspicion of assisting the suicide bombers in traveling to Volgograd, it said.
The Volgograd twin bombings, which took place in December, killed 34 people and injured many others, heightening concerns about security in Russia before it hosts the Winter Olympics, which open in just over a week.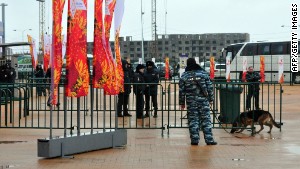 King: Odds for attack in Russia too high
Huge security operation
The Games are set to begin on February 7 in Sochi, and a huge security operation is under way around the Black Sea resort.
Russia is pouring resources into ensuring that the Olympic Games, seen as a flagship project of President Vladimir Putin, go off without problems.
A bitter battle for an independent Chechnya, lasting almost two decades, spawned an insurgency that has spilled into neighboring republics in the North Caucasus region, including Dagestan.
Chechen warlord Doku Umarov, leader of the Islamist group Caucasus Emirate, last summer called on his followers to do what they could to disrupt the Games. He has said they will be held on the graves of Muslim occupants of Sochi, who he says were driven out by Russian imperial forces in the 19th century.
Despite the shock waves from the Volgograd attack, International Olympic Committee President Thomas Bach said he was confident that Russia would keep the Winter Olympics safe.
READ: Sochi Winter Olympics: Video threat emerges amid security concerns
READ: Russia's Vladimir Putin visits victims of Volgograd blasts
READ: Bombings in Russia's Volgograd: What might be behind the attacks?

Today's five most popular stories
Part of complete coverage on
Security for Sochi Winter Games
February 6, 2014 -- Updated 1310 GMT (2110 HKT)

The U.S. advised airlines to be aware of explosive materials hidden in toothpaste tubes on flights to Russia.
February 5, 2014 -- Updated 0227 GMT (1027 HKT)

U.S. officials say they have 'specific' reasons to worry about security in Sochi.
January 25, 2014 -- Updated 1520 GMT (2320 HKT)

In their tall, fur hats and embellished traditional jackets, hundreds of Cossacks are patrolling the streets of Sochi, Russia.
January 27, 2014 -- Updated 2138 GMT (0538 HKT)

The Black Sea resort of Sochi, the site of the 2014 Winter Olympics, is in south-east Russia, an area that borders several volatile regions.
January 25, 2014 -- Updated 1520 GMT (2320 HKT)

In their tall, fur hats and embellished traditional jackets, hundreds of Cossacks are patrolling the streets of Sochi as the games approach.
January 25, 2014 -- Updated 0045 GMT (0845 HKT)

American athletes are being warned not to wear their Olympic uniforms outside of the upcoming Winter Games in Sochi.
January 23, 2014 -- Updated 0642 GMT (1442 HKT)

Tracey Madigan was looking forward to watching hockey at the Olympics with her three kids. Now, she's scrambling to cancel their plane tickets.
January 22, 2014 -- Updated 1844 GMT (0244 HKT)

Olympic officials discounted an e-mailed threat to the upcoming Winter Games, but the reported warning raised new concerns about security at the events.
January 21, 2014 -- Updated 1836 GMT (0236 HKT)

Wanted posters of a terrorism suspect on the loose, warships at the ready and a video threat from beyond the grave.
January 21, 2014 -- Updated 1849 GMT (0249 HKT)

Police killed a suspected militant leader in a shootout in Russia's restive republic of Dagestan amid increasing security concerns.
January 20, 2014 -- Updated 1036 GMT (1836 HKT)

The Winter Olympics is a matter of days away but whether you are using an abacus or calculator the numbers just don't add up.
January 21, 2014 -- Updated 0251 GMT (1051 HKT)

Erin Burnett talks to Fmr. CIA Counter-Terrorism officer Jeffrey Beatty about security concerns at Sochi.
January 17, 2014 -- Updated 1608 GMT (0008 HKT)

Russia's Vladimir Putin again sought to downplay fears that gay visitors will be discriminated against.