Jay Leno and the 'Tonight Show' hosts
January 31, 2014 -- Updated 2026 GMT (0426 HKT)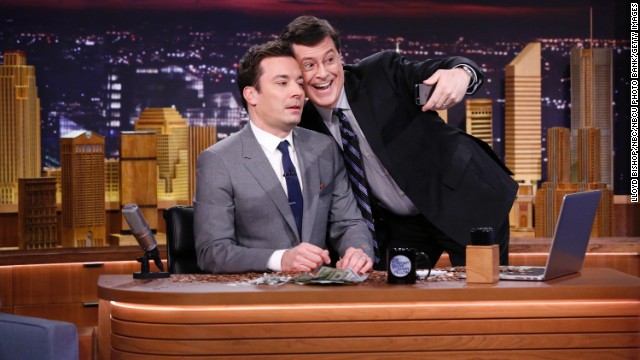 Jimmy Fallon's takeover of "The Tonight Show" has been inevitable,
show producer Lorne Michaels told GQ
. "He's the closest to (Johnny) Carson that I've seen of this generation," Michaels said. Stephen Colbert joins him to take a selfie on his debut Monday night. Fallon is the latest in a six-decade line of "Tonight" hosts.
Johnny Carson's 30 years as a host of "The Tonight Show" made him a talk show icon. Carson, who hosted from 1962 to 1992, set the standard for late night show formats and style. Here, Carson speaks to a guest in 1964.
Comedian and songwriter Steve Allen was the show's first host, from 1954 to 1957. His prolific career earned him two stars on the Hollywood Walk of Fame. Here, Allen poses for a promotional portrait in 1955.
Jack Paar's unpredictable and dramatic presence drew more than 7 million viewers every night between 1957 and 1962. The show was renamed "The Jack Paar Show" while he was host.
Jay Leno starred in "The Tonight Show with Jay Leno" from 1992 to 2009 and then moved to his own prime-time show, "The Jay Leno Show," on NBC. After a public controversy over scheduling changes while Conan O'Brien hosted the show in 2009, Leno returned to host "The Tonight Show" in 2010. Here, Leno jokes with Jerry Seinfeld in 1998.
Conan O'Brien hosted the show for seven months and left after NBC announced that it would be moving his show to after midnight and Leno's prime-time show to "The Tonight Show's" time slot. Here, O'Brien on his final show on January 22, 2010.
Leno returned in March 2010. Here, Leno chats with President Barack Obama in October 2012.
Leno hosted "The Tonight Show" for 22 years -- minus seven months in 2009-10 when Conan O'Brien had the chair. He had his final episode on February 6.
'Tonight Show' hosts
'Tonight Show' hosts
'Tonight Show' hosts
'Tonight Show' hosts
'Tonight Show' hosts
'Tonight Show' hosts
'Tonight Show' hosts
'Tonight Show' hosts