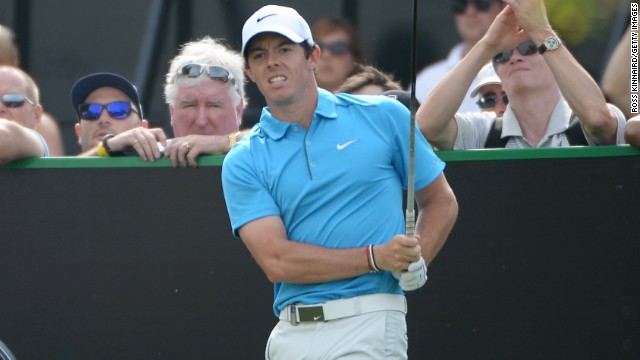 Rory McIlroy watches a tee shot during his third round at the Dubai Desert Classic at the Emirates Golf Club.
His fiancee, tennis player Caroline Wozniacki, looks on (right) as the Northern Irishman comes close to securing a $2.5 million prize for a hole-in-one at the 17th hole on the Majlis Course.
McIlroy, the 2009 Dubai winner, shakes hands with third-placed playing partner Brooks Koepka of the U.S.
Defending champion Stephen Gallacher was two shots clear of second-placed McIlroy going into Sunday's final round, after shooting nine-under-par 63.
World No. 1 Tiger Woods was 11 shots behind the 39-year-old Scot, in a tie for 37th.
McIlroy chases Dubai title
McIlroy chases Dubai title
McIlroy chases Dubai title
McIlroy chases Dubai title
McIlroy chases Dubai title
STORY HIGHLIGHTS
Rory McIlroy two shots off the lead at the Dubai Desert Classic after a 69 on Saturday
Former world No. 1 comes close to earning a $2.5 million prize for a hole-in-one
He is upstaged by defending champion Stephen Gallacher, who shoots third-round 63
Top-ranked Tiger Woods in a tie for 37th, 11 shots back after carding two-under-par 70
Follow us at @WorldSportCNN and like us on Facebook
(CNN) -- It could've paid for some wedding.
With fiancée Caroline Wozniacki watching, golf star Rory McIlroy thought they were in for an unexpected early gift in Dubai on Saturday.
Seeking the record $2.5 million on offer for a hole-in-one at the 325-yard par-four 17th hole, the former world No. 1 saw his drive roll agonizingly past the cup.
"I saw the pitch mark and it must have just run past the hole -- it could have paid for my wedding," joked the Northern Irishman, who proposed to his tennis star girlfriend in Sydney on New Year's Eve.
"It's a great shot to get it on that green and try to get it in the hole. I'll go for it again tomorrow and see what happens," he told reporters.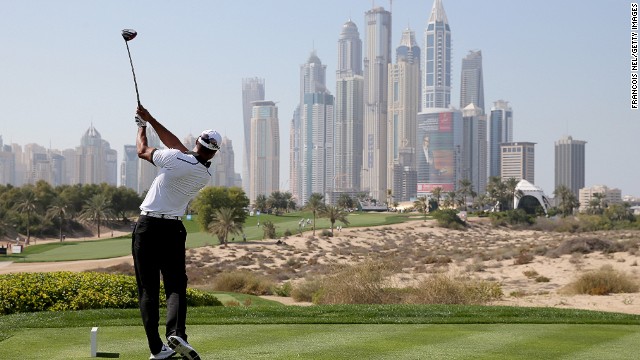 Tiger Woods tees off at the eighth as the Dubai Desert Classic celebrates its 25th year by inviting all former winners to compete in Tuesday's Champions Challenge -- a warm-up event to Thursday's main event.
When the Desert Classic started in 1989, Dubai was little more than a sleepy trading post in the United Arab Emirates -- in total contrast to the key role that a city awash with money and skyscrapers has today.
Other former winners include Ernie Els, Rory McIlroy, Colin Montgomerie and Spanish duo Jose Maria Olazabal and Miguel Angel Jimenez, with the champions posing with the distinct trophy alongside Mohamed Juma Buamaim, the vice-chairman and CEO of Golf In Dubai.
Only one former champion could not be present on Tuesday but the late Seve Ballesteros, who died in 2011, was represented by son Javier, 23, a keen amateur golfer currently studying for a law degree.
Stephen Gallacher of Scotland will bid to become the first man to successfully defend his title at the Desert Classic later this week.
Former world number one Fred Couples was in typically relaxed mood as he enjoyed his day in the sun, partnering both Woods and Gallacher in the final pairing.
Sweden's Henrik Stenson and Rafa Cabrera-Bello of Spain share the Champions Challenge trophy after both finished six under par in the warm-up to Thursday's main event.
Only one player has competed in every Desert Classic -- English golfer Barry Lane, who holds up the driver he used in the original tournament in 1989. Lane will compete this week in what he says will be his last outing at the event.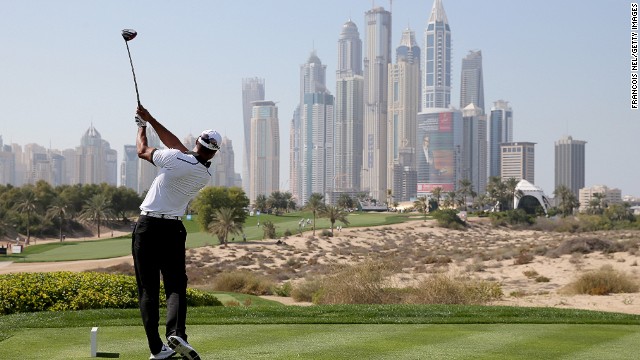 25 years of the Dubai Desert Classic golf tournament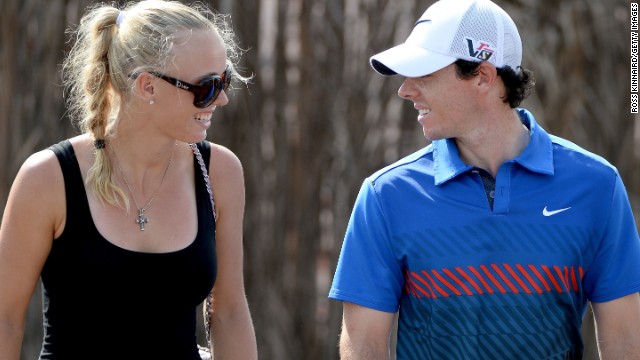 Despite rumors the pair had split, two-time major winner Rory McIlroy and former tennis World No. 1 Caroline Wozniacki were pictured together at the Dubai World Tour Championship. "It was nice," McIlroy was quoted as saying by The Guardian newspaper of Wozniacki's arrival. "She started her preseason a couple of days ago and was on court this morning at seven o'clock. It's good to have her here."
Despite Wozniacki's support, McIlroy had a frustrating day on the course, finishing on one-under-par and showing his disgust at some of his shots. Still after his round he said: "It's good that the game is back on track."
Wozniacki was all smiles as she followed McIlroy round the course. She is in Dubai beginning her preparations for the new tennis season. Her appearance confounded stories that the pair were no longer an item.
Dubai usually pulls out all the stops for the season-ending World Tour Championship and the Red Arrows staged a fly past before the action got underway at the Jumeirah course.
Henrik Stenson checks the wind during his opening round of four-under. He is the favorite to claim the Race to Dubai crown after a stellar season, which also saw him take the PGA Tour's FedEx Cup. If he were to win the European Tour's season finale he'd be the first golfer ever to do the double.
England's Ian Poulter is one player who could deny Stenson the title, and he is one shot behind the Swede after the opening day. If Poulter does win, Stenson will act as a drinks waiter on a night out for the pair thanks to a friendly bet they struck earlier in the year.
Another Englishman, Justin Rose, has an outside chance to topple Stenson but must finish fifth or higher to be in the running. Rose, the 2013 U.S. Open champion, finished day one in Dubai on two-under.
As ever, Dubai has laid on a few extra incentives for the golfers, who can win a BMW should they card a hole-in-one on the par three 17th. Stenson (pictured here) didn't manage it Thursday but as the order of merit leader he does get to stay in the top floor suite of the Atlantis hotel for the week, which normally retails for $35,000 (£22,000) per night.
Prior to the tournament a clutch of the world's top players were offered the chance to play some crazy golf, competing to see who could land their ball closest to a floating target in the ocean off the 22nd floor of the Atlantis hotel.
England's Lee Westwood won the contest, sending a seven iron four feet from the target 235 yards away. His prize was a five night stay at one of the hotel's underwater suites, complete with his own aquarium full of 65,000 fishy inhabitants.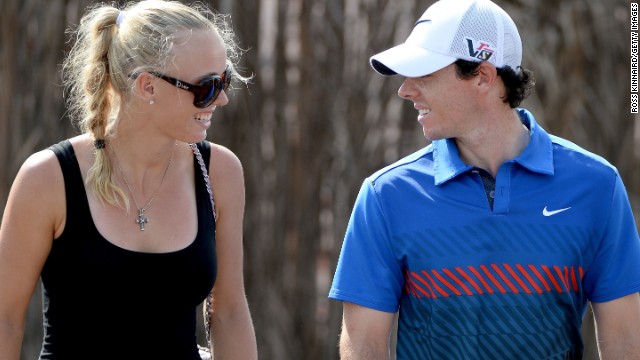 Sport's power couple back together?
But perhaps foremost in the 25-year-old's mind on Sunday will be winning his first European Tour title in 14 months as he seeks to regain the lead from defending Desert Classic champion Stephen Gallacher.
The Scot carded a sizzling nine-under-par 63 in Saturday's third round to claim a two-shot advantage over McIlroy, who shot 69.
The 39-year-old was 10 under for the last 10 holes as he fired eight birdies and an eagle in his bid to become the first player to retain the title on the tournament's 25th anniversary.
Read: Can happy McIlroy turn tables on Tiger?
"That's a great stretch of holes and hopefully he doesn't continue it tomorrow!" said 2009 winner McIlroy, who played with Gallacher in the opening two rounds -- also carding 63 on the opening day before a bout of food poisoning saw him struggle to 70 on Friday.
McIlroy was denied victory in Abu Dhabi last month after a two-shot penalty incurred in the third round following an incident flagged up by a playing partner's caddy.
His last victory on the European Tour came at the season-ending championship in Dubai in November 2012, when he clinched a money-list double by adding to his PGA Tour title.
"I got off to another shaky start," he said of Saturday's effort, in which he bogeyed the opening hole but rebounded with an eagle at the par-five third.
"The conditions were tricky out there, it was breezy. It was tough to get close to some of these pins."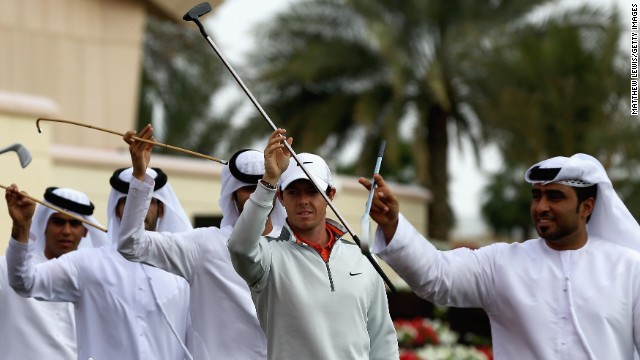 Rory McIlrory says he is feeling more relaxed ahead of the 2014 golf season and it shows as he joins in some local dancing ahead of the Abu Dhabi Golf Championship.
World No.5 Phil Mickelson puts on his dancing shoes as he appears on stage for a traditional Al Razfa performance with a golfing twist.
Dancing duo Mickelson and McIlroy are both going into the new golf season hoping to add a major title to their collection.
The Abu Dhabi Golf Championship attracts some of the world's best golfers as it offers a $2.7m prize pot.
Spain's world No.10 Sergio Garcia walks the undulating desert course under brilliant blue skies
Swede Henrik Stenson is the world No.3 and the top ranked player in the tournament as neither Tiger Woods nor Australian Adam Scott have made the trip to Abu Dhabi.
Welshman Jamie Donaldson is the defending champion in Abu Dhabi after overhauling Justin Rose's two-stroke lead in 2013.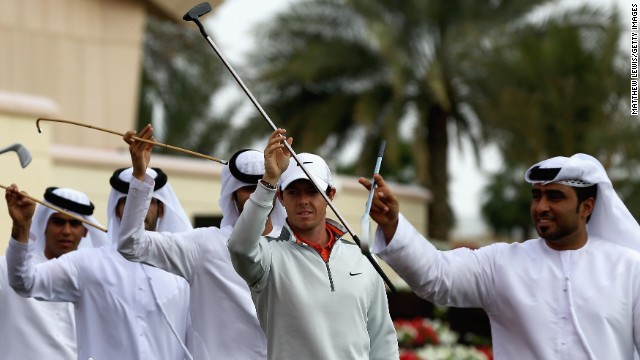 Golfers prepare for Abu Dhabi curtain raiser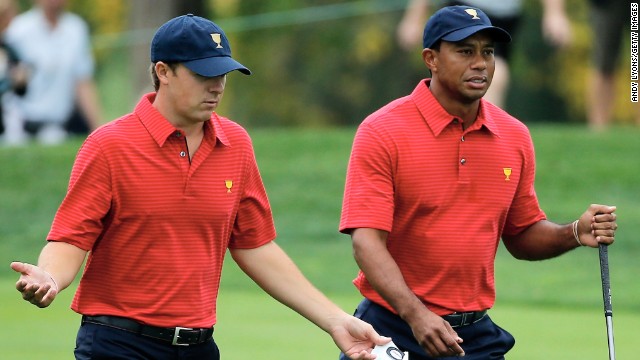 Jordan Spieth was mixing it in illustrious company when he gained a captain's pick for the 2013 Presidents Cup in his rookie season.
Spieth wasted little time in getting his hands on a trophy as a PGA Tour rookie, winning the John Deere Classic back in July.
Tiger Woods secured five victories on the PGA Tour last year to win back the top ranking in the world heading into 2014.
Woods has been spending his time off the course to support his girlfriend Lindsey Vonn, whose bid for Olympic gold at the 2014 Winter Games in Sochi has been ended by a knee injury.
Adam Scott acknowledges the galleries at the Tournament of Champions in Hawaii, which kicked off 2014 on the PGA Tour.
Bubba Watson helps Scott don the green jacket at the 2013 Masters after the Australian won his first major after a playoff with Angel Cabrera.
Rory McIlroy salvaged a disappointing 2013 with a superb victory in the Australian Open in Sydney in December.
Rory McIlroy and Caroline Wozniacki cemented their relationship by getting engaged on New Year's Eve and will hope it will signal a return to form on the sporting front in 2014.
Asia-Pacific Amateur winner Lee Chang-woo is headed for the 2014 Masters, with Japan's runner-up Hideki Matsuyama joining him in final qualifying for the British Open.
Lee battled to a three-shot win in the Asia-Pacific Amateur Championship against a high-quality field to serve notice of his promise.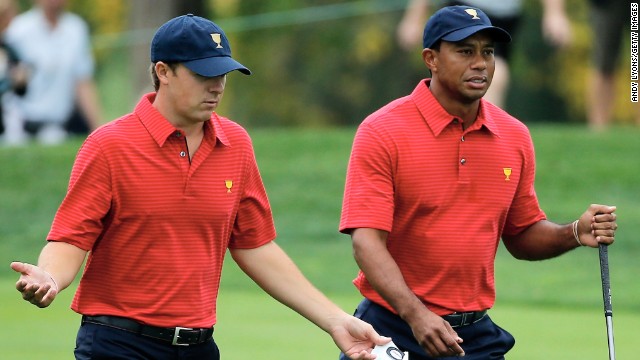 Five golfers to watch in 2014
Veteran Dane Thomas Bjorn, the 2001 champion, shot 65 to be tied for third with 23-year-old American Brooks Koepa, who signed for 70 -- both were four shots adrift of Gallacher.
World No. 1 Tiger Woods, the winner in 2006 and 2008, was 11 strokes off the pace in a tie for 37th after four-birdie 70 which left the American on five-under 211.
"I wasted a lot of opportunities out there," Woods told reporters. "I only hit a couple of bad shots, missed a ton of putts and just threw away a lot of shots."
Meanwhile, former Masters champion Bubba Watson shared the halfway lead at the PGA Tour's Phoenix Open.
Watson followed his opening 64 with a 66, but was caught at the top as Matt Jones carded a second successive 65.
British Open champion Phil Mickelson was eight shots off the pace after his 67 on Friday.
Read: McIlroy proposes to Wozniacki
Read: McIlroy and Mickelson fall short in Abu Dhabi