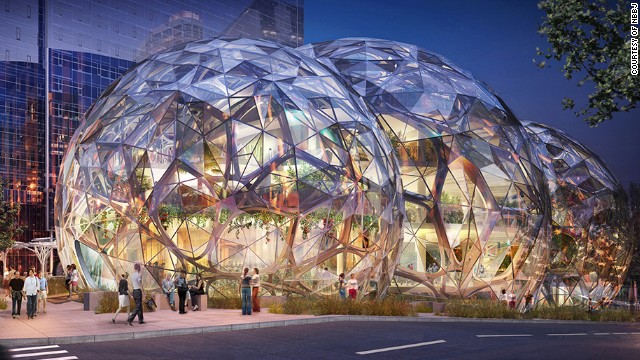 NBBJ
, the architecture firm behind Amazon's new Seattle offices, say their goal is to "build a neighborhood rather than a campus." Around 1800 employees will eventually work inside three glass orbs, each of which will boast hanging gardens and plenty of sunlight. The community-focused design also calls for a public dog park and retail space.
selgascano
work in this tubular capsule, located in the woods outside of Madrid. All that separates them from the forest is a curved window that is 20mm thick. "Rainy days are the best," says architect Paolo Tringali. "The sound of rain becomes a gentle backdrop, and the light under the clouds softens to something really special."
Employees at the Spanish architecture firm
Google's playful branding extends to its London headquarters, where designers created a cozy atmosphere that beckons employees to kick up their feet and relax. It's thought that inviting spaces, such as the so-called 'Granny Flat', above, will encourage innovation with its rocking chairs and floral print walls.
Designers didn't want any particular aesthetic to dominate the building, so interiors move from quirky and colorful to sleek and stylish. The modern library, for instance, offers a tranquil atmosphere dominated by a circular sofa.
Inside the bathrooms in Red Bull's Amsterdam offices, employees can see images of religious figures singing karaoke. The brand's youthful spirit also shines through in DJ booths, recording studios and crash rooms.
This digital advertising agency oozes Old World chic in order to contrast with its rivals, who tend to favor a sleek, steel aesthetic. The vintage leather sofa hints at the firm's focus on bespoke campaigns, while a digital fireplace adds a bit of whimsy.
For Facebook's HQ architects renovated an abandoned tech lab in the Stanford Research Park. The open floor plan is meant to invoke a shared living space. Work and play mingle at every turn, as seen with these DJ turntables, which are used during dance parties.
OneSize
, a motion graphics firm in Amsterdam, have created a series of contrasts within their 300 sq. m office. The exterior is essentially a sleek white box. Inside, however, a series of raw wooden ribs are used to create an open conference room. Enclosed wooden spaces are also available for more private employees.
The headquarters of dtac, one of Thailand's leading telecommunications companies, includes a running track that circles a concert space and an excercise room. The curving library, seen above, is a quiet space for contemplation and casual reading.
This 19th century interior smacks of a Gentleman's Club, but in reality it houses zbc Communication. The office and its six employees spread out over four former ballrooms. All desks are equipped with wheels so that the firm can host events or simply rearrange the seating plan.
Daum
relocated to an island off the coast of Korea. Its earth-toned office reflects the firm's stated commitment to building community through nature. The grounds include a communal garden and outdoor play space for the firm's day care center.
In 2012 Korean IT firm
Google's campus in Tel Aviv celebrates the local community with a series of themed rooms. Surfboarding culture is captured in a room filled with surfboards, while some of the corridors resemble the city's cobbled streets. The meeting area above is filled with orange trees, a symbol of the city.
Combiwerk Delft
offers employment opportunities to people who cannot find work because of physical and mental challenges. The office is divided into islands of color, which allow employees and visitors to choose workspaces that suit their mood. More than 250 second-hand chairs come in a variety of designs, helping break up the monotony of the typical office.
Mind Candy
, the entertainment company behind the wildly popular Moshi Monsters franchise, has stocked its London headquarters with bean bags, AstroTurf, and a tree house which can be used for meetings. Rather than taking the stairs employees can take this slide.
Monocle
, the global affairs and lifestyle magazine, was designed to keep employees in touch with nature. Architects converted a former car park into a lush outdoor dining area, and the offices boast a tree-lined terrace and large windows with views of Paddington Street Gardens.
The headquarters of
Atlassian, the Australian software company, honors the idea of transparency with its glass offices in San Francisco. The central plaza above is used for socializing. For more formal gatherings, employees head to meetings rooms that pop with brightly colored carpets and furniture.
Hurley
, the surf and skateboard clothing company, creates a laid-back and offbeat atmosphere at its California headquarters. Employees are encouraged to personalize their workspaces and to make the most of the building's music studio, break rooms, and social spaces. The colorful staff kitchen, above, is meant to nurture creativity and enliven the senses.
The derelict warehouses that comprise Urban Outfitters corporate campus dovetail nicely with the brand's kooky fashion sense. Indoor walkways are lined with ponds and flowers to offset the industrial feel, and brightly-patterned chairs pop amid the gritty surroundings.
Amazon headquarters, Seattle
selgascano, Madrid
Google headquarters, London
Google headquarters, London
Red Bull headquarters, Amsterdam
The Ubiquitous Manufacturing Company, Manchester
Facebook headquarters, Palo Alto
OneSize, Amsterdam
dtac house, Bangkok
zbc Communication, Vienna
Daum headquarters, Jeju Province, South Korea
Google Campus, Tel Aviv
Combiwerk Delft, Delft, Netherlands
Mind Candy, London
Monocle Midori House, London
Atlassian offices, San Francisco
Hurley headquarters, Costa Mesa, California
Urban Outfitters corporate campus, Philadelphia
STORY HIGHLIGHTS
Corporations believe that cozy offices boost productivity and creativity.
Studies show that adding plants to a windowless computer lab prompts quicker reaction times.
Greenery helps motivate employees and counter the stresses of working life.
(CNN) -- Ideas flow at Google's London headquarters and so does the whimsy.
The building resembles a townhouse where hipsters have run riot, albeit with the funding of a tech giant.
Rather than sitting in anonymous boardrooms, employees gather in quirky meeting rooms with upholstered walls that pop in cherry red and lime green.
Or they tap on their laptops in offbeat spaces like the "Velourmptious Snug" -- a room padded in green velour, and "Granny's Flat" -- a lounge space with mismatched lampshades, rocking chairs and floral print wallpaper.
"As we designed Google's SuperHQ we thought about family," says Lee Penson, the founder of the PENSON architecture and design firm. "This HQ is about humans and the building working around them, rather than the other way around."
Penson centered his vision on the twin notions that people like nice spaces and that people like to feel comfortable.
Read more: How Leonardo DiCaprio inspired a stunning bridge that doubles as a park
"Put these two basic human instincts into place at work and you pretty much have the entire foundation of a successful workplace that keeps people happy," he says.
It's hoped that their happiness will translate into innovation and creativity.
Rethinking the office
That simple psychology is fueling a design revolution in workplaces from San Francisco to Seoul.
Sleek and corporate may convey power and success, but too often those traits leave employees feeling disconnected from their working environments. Organic, playful, cozy—these are the new buzzwords in office architecture.
Sven Ehmann, the creative director of publisher Gestalten, highlights some of the firms driving the revolution in WorkScape: New Spaces for New Work.
Among the featured companies is Daum, a Korean IT firm that relocated its headquarters from the city to a tranquil island off the coast of South Korea, and Urban Outfitters, which refitted seven derelict warehouses with waterways and plants.
A space that is different to how offices are expected to be makes people behave and feel better.
Lee Penson
"They are about creating the right environment for better, more constructive and more innovative work," Ehmann says. "Ultimately the reason to invest is to make more money."
At Google, where employees need to keep their creativity on tap, Penson sought to break up the monotony of the modern office block, which can be stultifying and predictable.
The interiors inside Google change constantly. Besides funky meeting rooms there is a rustic cafeteria, a sleek modern library and a rooftop garden with "secret" meeting spaces.
"It's very much, 'John, I'll see you in the corner of the Secret Gardens in 5,' rather than, 'John meet me in Meeting Room 5,'" Penson says. "A space that is different to how offices are expected to be makes people behave and feel better."
Midori House, the London headquarters of global affairs and lifestyle magazine Monocle, embodies that principle.
Chic yet inviting, the emphasis is on quality of life. Johanna Gullichsen's homely fabrics bring a warmth to Artek's sleek office stools, and staff benefit from a tree-lined terrace and large windows.
Sophie Grove, a senior editor at the magazine, says there is a sense of order and calm in the space, and that its design influences office culture.
"What really makes it great are the implicit rules at Midori," she says. "You can't eat lunch at your desk, for instance, so you will never find yourself next to a scoffing colleague. People are considerate and the aesthetic is part of that."
Read more: Do these buildings turn you on? The strange psychology of curvy architecture
Back to nature
In December Amazon won approval for its new headquarters in Seattle. The building will consist of three glass orbs filled with hanging gardens, flowering shrubs, and trees that stretch from floor to ceiling.
The new building will serve as a monument to Amazon's ambitions and also advertise its green credentials. Yet it would be unfair to call the focus on greenery a mere marketing ploy.
On a more functional level the design will help bring out the best in the 1,800 employees who will call it home.
Around the world employers increasingly understand that greenery helps motivate employees and counter the stresses of working life.
Working under the trees helps you relax, even in stressful situations.
Paolo Tringali
"The days of sitting in cubicles without a window in sight are quickly becoming a thing of the past," says Sofia Borges, an editor of WorkScape. "This trend of incorporating elements of nature and the outdoors into the workplace holds especially true for companies that deal with design and creativity. Such businesses are realizing the economic potential derived from keeping employees stimulated."
In 2009 Spanish architecture firm selgascano opened their new offices in a forest outside of Madrid. They did not erect a structure, but instead inserted their structure—essentially a glass tube—into the forest floor.
The north-facing wall of the tube consists of a 2mm thick curved window.
"Working under the trees helps you relax, even in stressful situations," says Paolo Tringali, an Italian architect at the firm. "The most amazing thing is working eye-level with insects. Living alongside them you adapt to the flow and rhythm of the ever-changing nature."
Exposure to the elements has made Tringali more attuned to his surroundings. He now notices subtle changes in the environment, such as how sunlight softens when a certain type of cloud enters the atmosphere.
Studies suggest that exposure to plants can sharpen people's minds in other ways.
Virginia Lohr, a professor of horticulture at Washington State University, conducted the first study that links plants with human productivity.
She found that adding plants to a windowless computer lab was associated with quicker reaction times among participants completing a computer task.
Participants in labs with plant life also demonstrated lower levels of stress and reduced blood pressure, and reported feeling more attentive immediately following the task compared to people in an identical room with no plants.
In a separate study, Lohr found evidence that plants can boost a person's tolerance for pain.
Read more: How do you design a building when your client is God?
Participants in that study were significantly more likely to keep their hand submerged in ice water for at least five minutes when in the presence of plants, including a bamboo palm and a Chinese evergreen.
That research builds on pre-existing studies that have shown patients recovering from major surgery require less pain medication when their windows offer views of trees instead of concrete.
Lohr believes a combination of learned and innate responses help explain why plants soothe us in settings from the office to the classroom to the hospital.
For instance, it's known that plants can raise relative humidity to levels where people feel more comfortable, and at which people are less likely to develop respiratory ailments and colds.
Another explanation has to do with our long and enduring relationship with the outdoors.
"We have positive feelings when we experience non-threatening elements in nature, such as trees, flowers, and water, that would have been important for human survival many generations ago," she says. "I think the final answer remains an intriguing mystery."