STORY HIGHLIGHTS
NEW: Hoffman withdrew $1,200 from a supermarket ATM, law enforcement officials say
The actor was seen at a number of his regular haunts the day before his death
Some people say he seemed normal; others say he appeared to be high or "out of it"
He was found dead Sunday morning with a syringe in his arm, sources say
New York (CNN) -- The day before he was found dead in a Manhattan apartment, actor Philip Seymour Hoffman went to his favorite coffee shop for a four-shot espresso.
That night, he met two others for dinner at a West Village restaurant.
Nothing appeared out of the ordinary -- either that morning or that night.
But some of those who interacted with Hoffman during the day Saturday paint a different picture.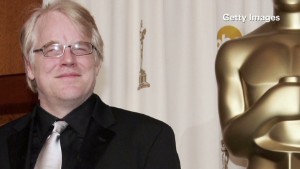 Remembering Philip Seymour Hoffman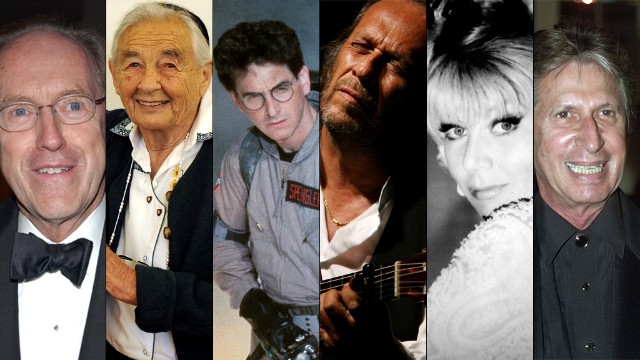 Click through to see people who passed away in 2014.
Comedian David Brenner is seen in April 2002 in New York City. A regular on Johnny Carson's "The Tonight Show," he died after a battle with cancer, a family spokesman said Saturday, March 15. He was 78.
Actress Sheila MacRae, who portrayed Alice Kramden in a 1960s revival of "The Honeymooners" on "The Jackie Gleason Show," died on Thursday, March 6, according to her family. She was 92.
Spanish guitarist Paco de Lucia, seen here in 2006, died February 25 of an apparent heart attack. He was 66. De Lucia transformed the folk art of flamenco music into a more vibrant modern sound.
Actor, writer and director Harold Ramis, seen here on the far left with fellow "Ghostbusters" Dan Aykroyd and Bill Murray, died at his Chicago-area home on February 24. He was 69. Other popular Ramis films include "Stripes," "Groundhog Day" and "Analyze This."
Maria von Trapp, seen here posing with a photo of her family, was the last of the singing siblings immortalized in the movie "The Sound of Music." She died February 18 of natural causes at her Vermont home, according to her family. She was 99.
Journalist Garrick Utley has died at age 74 following a long battle with cancer, according to NBC. Utley worked for CNN after his 30-year career at NBC News.
Devo guitarist Bob Casale, known by fans as "Bob 2," died Monday, February 17, his brother and band mate announced. Casale was 61.
John Henson, son of Jim Henson, perhaps most notable for his portrayal of Sweetums, a large, gruff-looking, lovable character on "The Muppets," died after a "sudden, massive heart attack," his family's company said on February 15.
Veteran actor Ralph Waite died at 85 on Thursday, February 13, according to an accountant for the Waite family and a church where the actor was a regular member. Waite was best known for his role as John Walton Sr. on 'The Waltons."
Sid Caesar, whose clever, anarchic comedy on such programs as "Your Show of Shows" and "Caesar's Hour" helped define the 1950s "Golden Age of Television," died on February 12. He was 91.
Hollywood child star Shirley Temple, who became diplomat Shirley Temple Black, died February 10 at her Woodside, California, home. She was 85.
Joan Mondale, the wife of former Vice President Walter Mondale, died on February 3, according to a statement from the family's church.
Oscar-winning actor Philip Seymour Hoffman was found dead in his Manhattan apartment of an apparent drug overdose, law enforcement sources said February 2.
Maximilian Schell died on February 1 in a Austrian hospital with his wife by his side, his agent Patricia Baumbauer said. He was 83. Schell was nominated for an Oscar three times. He won in 1962 for "Judgment at Nuremberg."
Legendary folk singer Pete Seeger, known for classics such as "Where Have All the Flowers Gone" and "If I Had a Hammer (The Hammer Song)," died of natural causes in New York on January 27, his grandson told CNN. He was 94.
Ruth Robinson Duccini, who played one of the Munchkins in the 1939 classic "The Wizard of Oz," died on January 16. She was 95.
Former Playboy centerfold Cassandra Lynn Hensley was found dead at a friend's home in Los Angeles, the coroner there said on January 17. Hensley was 34. Her cause of death was not immediately known.
Hiroo Onoda, center, salutes after handing over his military sword on Lubang Island in the Philippines in March 1974. Onoda, a former intelligence officer in the Japanese army, had remained on the island for nearly 30 years, refusing to believe his country had surrendered in World War II. He died at a Tokyo hospital on January 16. He was 91.
Russell Johnson, center, stands with Alan Hale Jr., left, and Bob Denver in an episode of "Gilligan's Island" in 1966. Johnson, who played "the professor" Roy Hinkley in the hit television show, passed away January 16 at his home in Washington state, according to his agent, Mike Eisenstadt. Johnson was 89.
Ariel Sharon, whose half century as a military and political leader in Israel was marked with victories and controversies, died on January 11 after eight years in a coma, Israeli Army Radio reported. Sharon was 85.
Franklin McCain, seen center wearing glasses, one of the "Greensboro Four," who made history for their 1960 sit-in at a Greensboro Woolworth's lunch counter, died on January 10 after a brief illness, according to his alma mater, North Carolina A&T State University.
Larry Speakes, who served as President Ronald Reagan's press secretary, died January 10 at his home in Cleveland, Mississippi, following a lengthy illness, according to Bolivar County Coroner Nate Brown. He was 74.
Poet Amiri Baraka, who lost his post as New Jersey's poet laureate because of a controversial poem about the 9/11 terror attacks, died on January 9, his agent said. Baraka was 79.
Sir Run Run Shaw, the media tycoon who helped bring Chinese martial arts films to an international audience, died at his home in Hong Kong on January 7 at age 106, the television station he founded said.
Stage, TV and film actress Carmen Zapata, who founded the Bilingual Foundation of the Arts as a means of of introducing "the rich and eloquent history of the diverse Hispanic culture to English-speaking audiences," died on January 5 at her Los Angeles home. She was 86.
Portugal football legend Eusebio, who was top scorer at the 1966 World Cup, died from a heart attack on January 5 at age 71, said his former club, Benfica.
Alicia Rhett, who had been one of the oldest surviving cast members of the classic film "Gone With the Wind," died on January 3 in her longtime hometown of Charleston, South Carolina, a retirement community spokeswoman said. She was 98.
Singer Phil Everly, left -- one half of the groundbreaking, smooth-sounding, record-setting duo the Everly Brothers -- died on January 3, a hospital spokeswoman said. He was 74.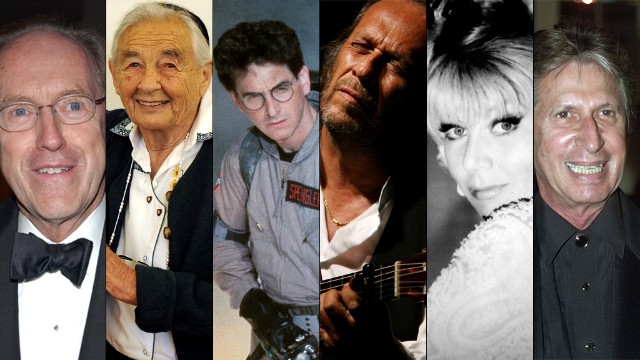 Photos: People we lost in 2014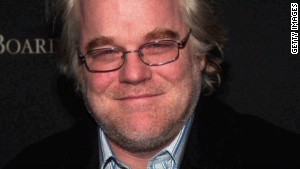 Philip Seymour Hoffman, in his own words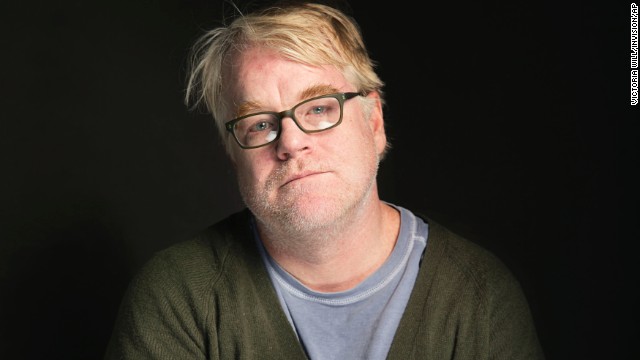 The death of Philip Seymour Hoffman and his problems with substance abuse are a reminder that such struggles are not unusual in the movie business. Here are some other stars who have struggled with similar issues ...
"Desperate Housewives" actor Shawn Pyfrom wrote about his own struggle with drugs following Hoffman's death. The young actor says in an online letter that he "wasted the time of valuable people, who worked so hard to pull my career to a higher place, by allowing my addictions to tug me out of their grip."
Justin Bieber was booked into a Miami jail after failing a sobriety test early Thursday, January 23. According to Miami Beach Police Chief Raymond Martinez, during his arrest, Bieber "made some statements that he had consumed some alcohol, and that he had been smoking marijuana and consumed some prescription medication," before getting behind the wheel of a yellow Lamborghini.
Country singer Trace Adkins suffered "a setback in his battle with alcoholism" and has entered a rehab facility for help, his representative told CNN on January 16.
In a December interview with "Access Hollywood," Demi Lovato went into detail about her dependence on drugs and alcohol. There was a time when Lovato "couldn't go 30 minutes to an hour without cocaine, and I would bring it on airplanes," she said. "I would smuggle it, basically, and just wait until everyone in first class would go to sleep, and I would do it right there." According to Lovato, her rock bottom came at 19, when she filled a soda bottle with vodka to drink at 9 a.m. "I had a moment where I was like, 'Oh, my God ... that is alcoholic behavior," she said.
Lady Gaga revealed on the Elvis Duran radio show in November 2013 that she's been quietly dealing with an addiction to marijuana. "I had to stop (smoking pot)," the Mother Monster said. "I was addicted to it. ... Although I think it's the best drug to choose from when you're playing around and experimenting, I just want young kids to know that you actually can become addicted to it, and it's ultimately ... a form of self-medication. I was smoking 15 to 20 marijuana cigarettes a day with no tobacco."
Elizabeth Vargas admitted having a problem with alcohol and entered a treatment program.
Jada Pinkett-Smith reflected on her Facebook page in September 2013 that addictions plagued her in her younger years. "I had many addictions, of several kinds, to deal with my life issues," she said.
Country star Tim McGraw said in an interview in 2013 that he replaced drinking whiskey with working out to clean his life up.
"Glee" star Cory Monteith was found dead at a hotel in Vancouver on July 13, 2013. Officials gave the cause as "mixed drug toxicity, involving intravenous heroin use combined with the ingestion of alcohol." Monteith had been public about his struggle with addiction and checked into a rehab facility in late March. He told Parade magazine that he started using drugs at 13 and had entered rehab by 19.
Matthew Perry has struggled with an addiction to prescription drugs and alcohol and landed on the cover of People magazine to discuss his road to sobriety. While he was on "Friends," he said, "it would seem like I had it all. It was actually a very lonely time for me, because I was suffering from alcoholism."
"Sex and the City" actress Kristin Davis told Health magazine in 2008 that unlike her cocktail-loving character Charlotte York, she is a recovering alcoholic. The 48-year-old admitted that she was drinking so much, she didn't think she'd live past 30.
Ben Affleck surprised friends when he checked into rehab for alcohol abuse in 2001, People magazine reported.
Jamie Lee Curtis has reportedly said she was once so addicted to prescription pain medicine that she stole some from a relative to help feed the addiction.
Jodie Sweetin, who played innocent Stephanie Tanner on "Full House," documented her drug problems in her memoir "unSweetined." A low point, she said, was using cocaine, meth and ecstasy while on tour to discuss her sobriety.
There have been questions as to whether Bob Dylan was telling the truth when he reportedly told a journalist in 1966 that he had kicked a $25-a-day heroin habit, but, according to Rolling Stone, he had a period during his 1966 tour where he used "huge amounts" of amphetamines.
In 2012, Black Eyed Peas singer Fergie told Oprah that her drug use proceeded from ecstasy to crystal meth. She became so paranoid she thought the FBI and SWAT teams were following her before she sought treatment.
She was known for her wholesome role as Laura Ingalls on the television series "Little House on the Prairie," but at her worst Melissa Gilbert was covering up feelings of sadness by drinking up to more than two bottles of wine a night, the actress told More magazine.
"Harry Potter" star Daniel Radcliffe told GQ magazine that he had his last drink in 2010. "There were a few years there when I was just so enamored with the idea of living some sort of famous person's lifestyle that really isn't suited to me."
Kristen Johnston talked about her addiction to drugs and alcohol in her 2012 memoir "Guts" and admitted she was depressed during her time on "3rd Rock From the Sun." "And you're not supposed to be," she said. "You can't tell anybody, 'I'm so bummed you gave me an Emmy.' You can't be sad when you're being celebrated. So it was a big conflict and there's no shrink that can understand it."
Samuel L. Jackson was reportedly able to portray crack addict Gator in "Jungle Fever" so authentically because of his own struggles with drugs and alcohol. He landed the breakout role two weeks after leaving rehab.
Actress Kelly Preston, right, has said she gave up drugs and alcohol to be a better mother to her kids and better wife to John Travolta. "I don't drink anymore. I don't smoke anymore. I don't do drugs anymore. All of those come with an 'anymore.' I used to do everything and a lot of everything," she said.
Jane Lynch wrote about her addictions to alcohol and cough syrup in her memoir "Happy Accidents." She told Access Hollywood in 2013 that she has been sober for 21 years.
Sir Elton John told USA Today that he swore off drugs and alcohol in 1990. He said, "If I ever find myself in a situation where there are drugs, I can smell the cocaine. I can feel it in the back of my throat, that horrible feeling of taking the first hit of cocaine. And I leave."
For those who may not remember because she has so completely turned herself around, Drew Barrymore entered rehab at the tender age of 13. Most fans were unaware that the then beloved child star partied so hard. She chronicled her early struggles in her memoir "Little Girl Lost."
It was years after Meredith Baxter portrayed one of America's favorite moms, Elyse Keaton on "Family Ties," that she revealed that she is a recovering alcoholic.
Backstreet Boys member A.J. McLean last checked into rehab in 2011. He had previously been treated for depression, anxiety and excessive alcohol consumption.
Country star and "American Idol" judge Keith Urban told Oprah in 2010 that his wife Nicole Kidman and several close friends staged an intervention to help him overcome his addiction to cocaine and alcohol.
In 2004, a then 19-year-old Kelly Osbourne reportedly entered rehab for an addiction to painkillers. "The amount of pills that was found in her bag was astounding," her father, Ozzy, said.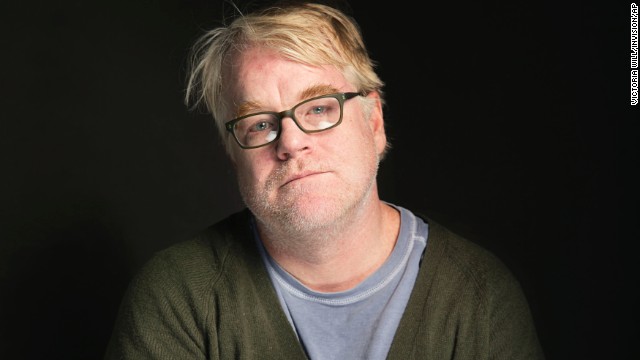 Celebrity substance abuse confessions
The mother of his children said he appeared high. A passerby who stopped to say hi to him said the actor appeared "out of it."
In New York's Greenwich Village neighborhood, where Hoffman lived, it was common to see him riding a bicycle and walking his children to the public school they attended.
Now, police are trying to piece together the actor's movements last weekend as they look for anyone who might be linked to the drugs that apparently killed him.
Here's a timeline of what has emerged about Hoffman's final hours before the discovery of his body Sunday.
Saturday morning -- Hoffman stops in at Chocolate Bar on 8th Avenue for his regular order: a four-shot espresso over ice with a splash of milk. He is alone and chats with members of staff. "He seemed perfectly fine," manager Jonathan Hanson tells CNN. "He seemed in good spirits. He was very happy."
Suspected heroin found in apartment
Around 1:30 p.m. -- Hoffman's assistant speaks to him on the phone. She also thought he seemed fine, she tells police. The assistant says she had visited him at his rented apartment Friday and noticed nothing out of the ordinary then, either.
2 p.m. -- The first hint that something is amiss. Mimi O'Donnell, Hoffman's ex-partner and mother of their three children, sees him near his apartment. She later tells authorities she thought he appeared to be high, law enforcement sources say.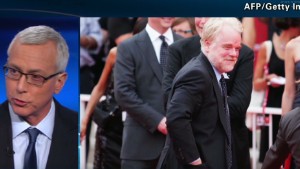 Philip Seymour Hoffman's addiction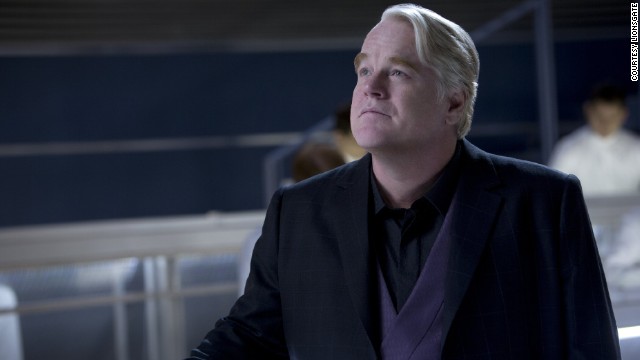 Philip Seymour Hoffman appears in 2013's "The Hunger Games: Catching Fire." Hoffman played the role of Plutarch, the head game maker in the film. He was expected to also appear in the following films of the very successful franchise. He was found dead in his Manhattan apartment Sunday of an apparent drug overdose. Click through for more highlights from his career:
Hoffman appears in 2012's "A Late Quartet." He reportedly learned how to play the violin during his role as a member of a string quartet. He told the Huffington Post that "I really got into the violin thing, because it's not acting, and I got off on that."
Hoffman appears with Joaquin Phoenix in "The Master" (2012). He received Oscar and Golden Globe nominations in the supporting actor category for his work in the film.
Hoffman plays manager Art Howe in the 2011 hit "Moneyball." The real Art Howe was reportedly not pleased with how he was portrayed in the film but told TMZ Sports he didn't blame Hoffman. "He was just playing the part he was given," Howe said.
Hoffman plays a DJ known as The Count in 2009's "Pirate Radio."
In 2008's "Doubt," Hoffman plays Father Brendan Flynn, a Catholic priest accused of having an inappropriate relationship with a male student. This was yet another film that got Hoffman supporting actor nominations for the Oscars and the Golden Globes.
Hoffman plays Owen Davian in 2006's "Mission: Impossible III." The actor told AOL at the time that while an action film was not usually his type of role, "it was just one of those things where all the ingredients seemed right."
Hoffman plays the title role in 2005's "Capote." He won the Oscar for best actor in a leading role for his performance as Truman Capote, who wrote "In Cold Blood." Hoffman also won a Golden Globe for the role.
Hoffman plays a phone sex-line supervisor and mattress store owner in 2002's "Punch-Drunk Love."
Hoffman plays Lester Bangs in 2000's "Almost Famous." He delivers one of the film's most memorable scenes when he advises Patrick Fugit's character, William Miller, that "the only true currency in this bankrupt world is what we share with someone else when we're uncool."
Hoffman appears with Rebecca Pidgeon in 2000's "State and Main." He plays a screenwriter suffering from writer's block.
Jude Law and Hoffman share a scene in 1999's "The Talented Mr. Ripley." Hoffman was hailed as a scene stealer in the psychological thriller set in Italy.
Hoffman in 1998's comedy-drama "Happiness."
Hoffman plays Brandt, Mr. Lebowski's personal assistant, in the 1998 cult comedy hit "The Big Lebowski."
Hoffman played the slightly creepy production assistant Scotty in 1997's "Boogie Nights," with Mark Wahlberg and John C. Reilly.
Hoffman plays George Willis Jr. in 1992's "Scent of a Woman." He is credited as Philip S. Hoffman in the movie.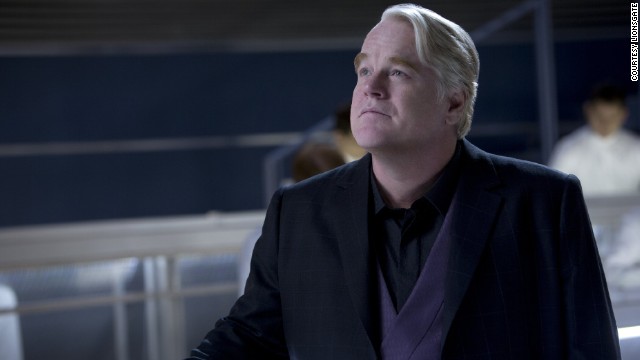 Philip Seymour Hoffman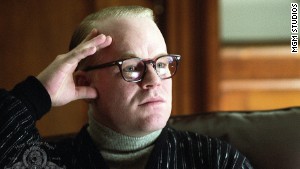 Banfield: Actor's dealer deserves prison
5 p.m. -- Hoffman is spotted walking along Greenwich Street by Paul Pabst, executive producer of the syndicated "Dan Patrick Show." Pabst is with his wife and his sister, who plucks up the courage to say hi to Hoffman. The actor -- bundled up in "a big, puffy coat" -- appears surprised a stranger recognized him, Pabst says on his show. But he still responds, giving Pabst's sister "a half high-five" before continuing on his way. Pabst says his sister remarks that Hoffman seemed "out of it."
Saturday evening -- Hoffman has dinner with two companions at Automatic Slims, a restaurant and bar in the West Village that he frequently visited. It is a short meal, at which Hoffman has a cheeseburger and drinks a cranberry and soda. A bartender at the restaurant, on Washington Street, tells CNN it appeared to be a business dinner.
Around 8 p.m. -- O'Donnell talks to Hoffman on the phone. He again seems to be high, she later tells authorities. After their conversation, no other contact with Hoffman has so far been confirmed.
Between 8 and 9 p.m. -- Hoffman withdraws a total of $1,200 from an automated teller machine in six transactions at a supermarket near his West Village home, two law enforcement sources say, citing bank records. A witness told investigators that he saw Hoffman withdrawing money around 8 p.m. at the supermarket while talking to two men who were wearing messenger bags, the officials said.
Sunday, 9 a.m. -- Hoffman fails to show up at O'Donnell's home in the West Village to pick up his three children. His no-show causes concern.
Hoffman interviewed in January
11 a.m. -- O'Donnell asks a Hoffman friend, playwright David Katz, to check on the actor. Katz and another person subsequently go to the fourth-floor apartment, where they find him dead, lying on the bathroom floor with a syringe in his left arm. He is wearing shorts and a T-shirt, his eyeglasses still resting on his head, according to law enforcement sources familiar with the inquiry.
Around 11:30 a.m. -- Police are called. They arrive at the apartment shortly afterward. O'Donnell is told what has happened. She quickly picks up their son from the playground and brings him home.
The aftermath -- Investigators discover close to 50 envelopes of what they believe is heroin in the apartment where Hoffman is found, the law enforcement sources say. They find used syringes, prescription drugs and empty bags that authorities suspect are used to hold heroin, the sources tell CNN.
After the discovery of Hoffman's body, word of his death spreads through the neighborhood. Friends bring flowers and cards in remembrance. The Oscar-winning actor was 46.
CNN's Shimon Prokupecz and Jason Carroll reported from New York, Jethro Mullen reported and wrote from Hong Kong. CNN's Steve Almasy contributed to this report.