Thought the Super Bowl was big? Try China's Lunar New Year TV gala
February 6, 2014 -- Updated 0206 GMT (1006 HKT)
STORY HIGHLIGHTS
More than 700 million watched China's Lunar New Year TV gala this year
Chinese social network QQ said users sent 32.7 million messages in one minute
There are nearly 600 million internet users in China today
Hong Kong (CNN) -- Thought the 111 million people tuning into the Super Bowl was a lot?
Try six times that.
More than 700 million watched China's five-hour long Lunar New Year TV gala this year, according to China's state television network.
The Lunar New Year also dwarfed the Super Bowl on social media.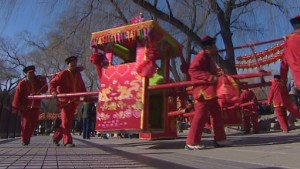 Spring Festival in full swing in China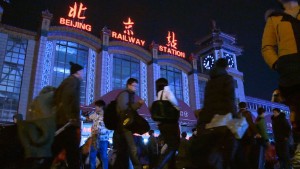 CNN tags along on a Lunar New Year trek
Although internet users set a new Twitter record with more than 381,605 tweets about the Super Bowl during one minute, it was nothing compared to Chinese internet users, who used the social network QQ to send 32.7 million messages in one minute during the Chinese holiday.
Another Chinese social media app, WeChat, said its users sent 10 million messages in one minute on Lunar New Year.
This year, WeChat introduced a popular new feature allowing its users to send traditional "lucky money" to each other online.
In recent years, Chinese social media use has seen a dramatic rise, as users take to the internet to talk about everything from celebrities to politics to their personal lives.
According to statistics from the official China Internet Network Information Center, there are nearly 600 million internet users in China today. The U.S. has 254 million, according to the Harvard Business Review.

Today's five most popular stories
Part of complete coverage on
Lunar New Year
February 4, 2014 -- Updated 1542 GMT (2342 HKT)

Stunning celebrations in China and beyond usher in the new year.
January 31, 2014 -- Updated 0416 GMT (1216 HKT)

750 million: Viewership of China Central Television's annual Spring Festival gala.That's about seven times the viewership of the Super Bowl.
January 30, 2014 -- Updated 0314 GMT (1114 HKT)

Millions of people and billions of journeys -- here are some of the stories that make up the world's largest human migration.
January 29, 2014 -- Updated 2312 GMT (0712 HKT)

CNN's Patricia Wu & Andrew Stevens take a look at some of the most popular and beloved traditions of the Lunar New Year.
February 6, 2014 -- Updated 0415 GMT (1215 HKT)

Beyond the well known traditions, the holiday is full of fun quirks and customs.
January 29, 2014 -- Updated 1120 GMT (1920 HKT)

The demons of folklore aren't the only evil spirits newbies to a Chinese New Year should be wary of.
January 31, 2014 -- Updated 0713 GMT (1513 HKT)

We ride with Zhou Xia and share her emotions as she makes her way home for the Chinese New Year.
January 30, 2014 -- Updated 0920 GMT (1720 HKT)

The traditional exchange of red packets of money is moving from the physical world into the digital space.
January 29, 2014 -- Updated 0117 GMT (0917 HKT)

The rise of the mainland Chinese tourist has travel operators and destinations scrambling to cash in.
January 30, 2014 -- Updated 0055 GMT (0855 HKT)

With a bit of technical ingenuity, web giant Baidu develops a moving map of Chinese travelers as they return home.
January 31, 2014 -- Updated 1102 GMT (1902 HKT)

A Hong Kong lion dance master explains the moves and meanings of the popular "drunken lion" dance.
January 30, 2014 -- Updated 0052 GMT (0852 HKT)

A spike in cases in China has experts worried infections will gather pace as the country celebrates the Lunar New Year.
January 30, 2014 -- Updated 0113 GMT (0913 HKT)

A Chinese mother, desperate for her son to come home for the upcoming Lunar New Year, has placed a full page ad in a newspaper in Australia, saying she won't pressure him to get married anymore.
January 15, 2014 -- Updated 0857 GMT (1657 HKT)

Chinese rock star, Cui Jian, has declined to appear on the state broadcaster's annual Lunar New Year television extravaganza, his manager told CNN Wednesday.