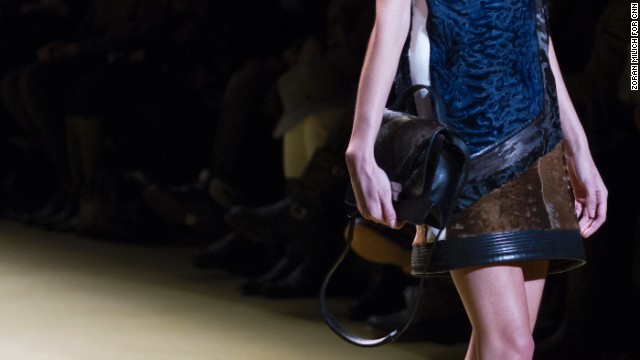 CNN Living will be on the scene (and backstage) as designers showcase their fall 2014 collections at New York Fashion Week from February 6-13. J. Mendel, under creative director Gilles Mendel, debuted his fall collection on the last day of Fashion Week.
This look from J. Mendel played with jewel tones and geometric blocking.
J. Mendel complemented this fall ensemble with a red, black and white color-blocked tote.
J. Mendel's collection was a colorful parade of furs.
J. Mendel used a boldly-dyed fur to accent a piece of color-blocked outerwear.
Hernan Lander, a New York-based Dominican designer, also showed his collection on the last day of Fashion Week, February 13.
Hernan Lander paired leather on leather to create edgy suiting for a model.
Hernan Lander also added some edge with a backless, full-length dress.
Designer Nanette Lepore kept to her bold color aesthetic during her fashion show on February 12.
Lepore paired socks with ankle-strap heels for a cozy fall look.
All of Lepore's looks were hand-crafted in New York.
Nanette Lepore kept maroon suiting feminine with a tiger print belt.
Nanette Lepore walks down the runway with her daughter, Violet, after showing her fall collection.
Malaysian-born designer Zang Toi showed his fall collection on February 12. He opened up the show with a series of tailored, gray plaid pieces.
Later in the show, he upped the flashy factor by incorporating Kelly green into gowns, bowties and even updos.
Zang Toi was one of many designers that played with a cape silhouette, as seen here, during this New York Fashion Week.
After the last outfit, Zang Toi took his turn down the runway with the green-haired model.
For a flashy finish, Zang Toi paired a sleek, black silk gown with a Kelly green-lined, full-length cape coat.
Ken Kaufman and Isaac Franco of KAUFMANFRANCO showed their sophisticated fall collection on February 12.
A model walked graced the runway in a little black dress with an edgy open back.
A bare-legged model rocked a cozy coat down the runway.
KAUFMANFRANCO debuted a metallic cocktail dress as part of their fall 2014 collection.
Interesting cutouts were featured throughout the label's fall collection.
The designers also played with metallic hues in their floor-length gowns.
Betsey Johnson, who is 71 years old, showed her "Betsey's Hot" collection on February 12. Fittingly, she came out with firefighters (and her granddaughters!) at the end of the show.
Her exuberant collection was based on the film "American Hustle" and popstar Rihanna.
Keeping with the red-hot theme, Betsey Johnson worked with bright hues throughout her fall collection.
Sexy silhouettes accented by fur, leopard print and sparkles ruled the runway.
No models were harmed in the making of this photograph! There was a tense moment when one model slipped on the Betsey Johnson runway. Luckily, she recovered her fall just in time.
Betsey Johnson played with texture by lining a black skirt with tulle and crocheting a red mesh top.
During the final walk, the models wore matching outfits and carried heart balloons. Betsey's show, season after season, has a party atmosphere.
Johnson Hartig, who designs under the Libertine name, debuted his fall collection on February 11. Models danced down the runway for the final walk.
Faux bobs and bright colors added to quirky-cool vibe.
Libertine used playful patterns all the way down to the tights.
Libertine's collection also included menswear. Many of the jackets were embellished with skull-and-crossbones patches.
Hartig painted a new image of the classic trench coat.
Painted details were also shown on a suit.
Socks were layered on top of tights for an extra layer of warmth -- and color! T-strap heels appeared in Libertine's show, and have been seen throughout many of the fall collections.
Badgley Mischka, the line by duo Mark Badgley and James Mischka, debuted their fall collection on February 11 at Lincoln Center.
Badgley Mischka's fall collection included both evening and everyday wear.
Leopard print was used in many pieces of Badgley Mischka's fall collection.
The Badgley Mischka show was not short on gold and sparkles.
A heavy fabric, floral brocade gown was one of Badgley Mischka's stand-out looks.
The Milly by Michelle Smith fall collection was inspired by "off-duty ballerinas."
Fringe detailing, which is a big trend for fall 2014, was on display at the Milly show on February 10.
The Milly collection also embodied plenty of shine.
The fall collection also juxtaposed daytime and nighttime looks for an easy transition from work day to date night.
Many of Michelle Smith's designs were clean and classic with an elongating silhouette.
Michelle Smith paired a fur sweater with a flowing, pleated skirt for one of her looks.
Designer Michelle Smith and her daughter came out to applause at the end of her fashion show on February 10.
Mathieu Mirano opened up his February 10 show with a structured leather trench coat.
Mathieu Mirano combined edgy, motorcycle-worthy pieces with feminine silhouettes.
Mirano played with leather in many of his fall pieces.
At just 22 years old, Mirano showcased his highly tailored pieces to the audience at Lincoln Center.
Clean and sharp lines dominated Mirano's collection.
Carolina Herrera played with chic, geometric prints during her show on February 10.
At 75 years old, Herrera was still able to breathe new life into her iconic brand. The show attracted notable figures from the fashion and film world, including Tina Fey, Dita Von Teese and Anna Wintour.
Karlie Kloss wore a fez down the runway for Carolina Herrera.
Herrera incorporated highly architectural elements into the typical gown, like this cape-like silhouette.
Herrera created a fall collection of abstract prints for women looking to make a statement.
Vivienne Tam showed her collection on February 9. Here, the designer is seen fine-tuning details before her big show.
The runway had a psychedelic backdrop at Vivienne Tam's show.
Many of Tam's pieces, like this printed maxi dress, had a 70's silhouette.
Vivienne Tam showcased her signature Eastern-inspired aesthetic with this intricately laced red dress.
Vivienne Tam paired many of her digital prints with patterned tights.
Among her prints inspired by cave murals in Dunhuang, China, Tam also played around with the fur accents for fall's chilly temperatures.
Custo Barcelona, a line by brothers Custo and David Dalmau, showed its fall collection on February 9.
Two-toned jackets and separates were a prominent theme in Custo Barcelona's show.
Many of Custo Barcelona's looks also played with patchwork.
Custo Barcelona is known for its graphic and colorful designs.
Hues of neon pink were incorporated into many of Custo Barcelona's looks, like this one.
A model wears the signature bandage dress during the Herve Leger by Max Azria show on February 8. All the models sported sleek ponytails with a streak of blue or coral.
Herve Leger updated the brand's signature bodycon dresses with cut-outs and corsets.
A model walks down the runway in a burst of orange at Herve Leger.
Monique Lhuillier went modern and romantic during her show on February 8. She is best known for her gowns that are synonymous with red carpet style.
Monique Lhuillier paired many of her looks with lace boots.
Lhuillier incorporated fuschia tones into many of her pieces.
Lhuillier said she researched Parisian couture techniques for this collection.
Models do a rehearsal walk before the Jill Stuart show on February 8.
A popular motif in Jill Stuart's collection was metallic polka dots (seen here on the dress and tights).
Many of Jill Stuart's dresses, like these two seen here, featured intricate beading.
Jill Stuart incorporated a few outerwear pieces into her collection, like this black wool coat.
Jill Stuart also showcased a play on the classic leather pencil skirt.
Jill Stuart's collection worked in a predominantly black-and-white palette with occasional maroon and dark blue pieces.
Nicole Miller showed her fall collection of whimsical yet modern designs on Friday, February 7.
On the runway, Nicole Miller mixed and matched plaid patterns with prints.
Rebecca Minkoff sends a model down the runway in a slew of navy tones and a belted fur stole.
Rebecca Minkoff is just as known for her apparel as her accessories. She debuted her fall collection on February 8 in front of celebrities like singer Carrie Underwood and actress Anna Kendrick.
Rebecca Minkoff played around with luxe sweatshirts during her February 8 fashion show.
Rebecca Minkoff paired tassled, two-tone leather booties with many of her looks.
Rebecca Minkoff showed off her line of everyday, seemingly effortless pieces on the second day of the biannual event.
Carmen Marc Valvo presented his collection of feminine pieces on the second day of the event.
Models make their final walk at Carmen Marc Valvo.
Daisy Fuentes and Neiman Marcus fashion director Ken Downing sit front row at Carmen Marc Valvo's show. Other celebrities in attendance were Katie Couric and Vanessa Williams.
Carmen Marc Valvo was inspired by "warrior women" as seen in this somewhat knightly piece.
However, Carmen Marc Valvo still stayed true to his glamorous roots as seen in this red-orange sheath dress.
This is only the second time Zimmermann (by Aussie sisters Nicky and Simone Zimmermann) has shown at New York Fashion Week, but statement pieces like this fluffy, powder blue number are quickly making them a mainstay.
Zimmermann referred to their collection as "cloud stompers."
Oversized coats were one of the many themes at Zimmermann's show on February 7.
Menswear-inspired shoes, like these at Zimmermann, have been popping up all over the runways this season.
Nautica shows its Black Sail collection for men on Friday, February 7. Luckily, it was warmer in Lincoln Center than it was outside in the frigid Northeastern temperatures.
A model walks down the runway in leather pants for Nautica.
Audience members in the front row look on as a model displays a look by Nautica.
Nautica is known for its men's sportswear, like these ski goggles.
Models at Nautica re-emerge on the runway to conclude the show.
A model walks the runway in warm wool layers for Nautica.
Marissa Webb, the former head designer for J. Crew, showed her own line on the first day of Mercedes-Benz Fashion Week.
The silhouette at Marissa Webb mostly paired layered, boxy tops with skinny pants.
Marissa Webb played on proportions and shapes as seen in this detailing.
Marissa Webb styled many coats with leather arm warmers to lengthen the sleeve.
Japanese-born designer Tadashi Shoji sent lace and embroidered gowns down the runway like this red, long-sleeved number on February 6, 2014.
Tadashi Shoji said his inspiration was the "beauty, romance, and mystery of the Alhambra Palace" in Granada, Spain.
Tadashi Shoji sends a laser-cut cape down the runway.
Instagram, and Twitter, and Facebook, oh my! The audience photographs the Richard Chai fashion show on February 6, 2014.
Leather jackets, trench coats and unisex pieces were mainstays during Richard Chai's runway show at Lincoln Center.