STORY HIGHLIGHTS
U.S., Russian ambassadors to U.N. exchange words over Pussy Riot, prison conditions
Three members of punk rock band Pussy Riot recently served Russian prison terms
A Russian athlete has an apparent Pussy Riot image on his snowboard, agency says
"Anything is possible," Winter Olympian says, adding, "I wasn't the designer"
(CNN) -- The U.S. and Russian ambassadors to the United Nations have exchanged a flurry of Twitter posts about the controversial punk rock band Pussy Riot.
Meanwhile, Russian media suggested a Russian athlete in the Sochi Games may have been sporting an image supporting Pussy Riot on his snowboard Thursday in what could be the Olympics' first protest.
In the diplomatic dispute, Samantha Power, the U.S. ambassador to the United Nations, apparently initiated the exchange with a Russian counterpart when she tweeted Wednesday about meeting formerly imprisoned band members Maria Alyokhina and Nadezhda Tolokonnikova, both of whom were released in December.
Power posted a photograph of herself with the two punk rockers, who "came by to discuss their time in jail," Power tweeted. She also stated: "Met some brave 'troublemakers' today."
.
Power subsequently tweeted: "I asked #PussyRiot if they were afraid of prison. Response: No. In prison we could see the terrible conditions. It's human rights fieldwork."
Then the Russian ambassador to the United Nations, Vitaly Churkin, told a U.N. press conference that Power should join the band and invite them to play at the National Cathedral in Washington.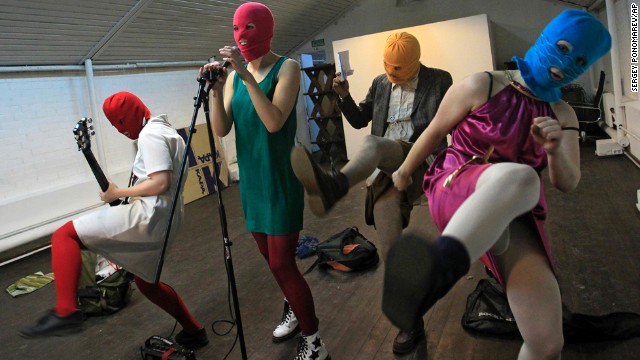 Members of the Russian punk band Pussy Riot rehearse in Moscow in February 2012. The feminist group has been highly critical of Russian President Vladimir Putin and his policies. A couple of its members were even found guilty of hooliganism and imprisoned for a 2012 "punk prayer" performance at a Russian Orthodox cathedral. They were freed from prison in December but said they will continue to be a "headache" for Putin's government.
Pop star Madonna, left, introduces Maria Alyokhina and Nadezhda Tolokonnikova, the two Pussy Riot members who were imprisoned, at an Amnesty International concert held Wednesday, February 5, in New York City.
After their release in December, Alyokhina, left, and Tolokonnikova speak with journalists at a hotel in Krasnoyarsk, Russia. Their release was approved when Russian lawmakers backed a sweeping amnesty law announced by Putin. The Russian government said the amnesty marked the anniversary of the adoption of Russia's post-Communist constitution in 1993. But Tolokonnikova said she felt that the amnesty was a publicity stunt to bolster the government's image before Russia hosts the Winter Olympics.
Putin delivers a speech December 19, 2013, during a news conference in Moscow. One reporter asked Putin if he felt that the sentence given to the Pussy Riot members had been too harsh. Putin replied that he was not sorry that the band's actions led to their incarceration, and he said the amnesty law passed on its own merits and was not a review of what the court ruled.
Tolokonnikova sits in a single confinement cell at her penal colony in Partza, Russia, in September. Russian prison authorities moved the jailed activist to the medical unit of her penal colony after her health worsened on the fifth day of a hunger strike. Tolokonnikova said she began her hunger strike to protest prisoners being forced to work excessive hours and being treated like "slaves." Prison authorities denied her allegations, accusing her of lying.
Alyokhina is escorted to a court hearing in Berezniki, Russia, in January 2013.
From left, Tolokonnikova, Alyokhina and Yekaterina Samutsevich sit inside a glass enclosure during a court hearing in Moscow in August 2012. Samutsevich, also a member of Pussy Riot, was eventually given a suspended sentence and freed by an appeals court.
Members of Pussy Riot perform during a Faith No More concert in Moscow in July 2012.
Pussy Riot members perform their "punk prayer" protest inside Moscow's Cathedral of Christ the Savior on February 21, 2012. The girls were marched out of the cathedral by guards.
Members of Pussy Riot sing a song in Moscow's Red Square in January 2012.
Pussy Riot members stage a performance near a detention center in Moscow to support detained opposition activists Ilya Yashin and Alexei Navalny in December 2011.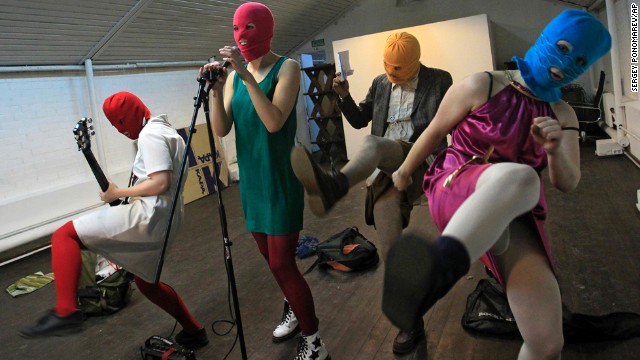 Pussy Riot: Rocking out against Putin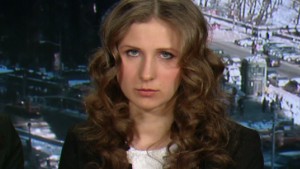 Pussy Riot: 'no reasons to be afraid'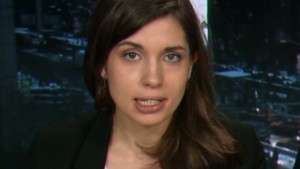 Pussy Riot: 'It is a system of slavery'
Power responded on Twitter: "Ambassador Churkin, I'd be honored to go on tour with #PussyRiot -- a group of girls who speak up & stand for human rights. Will you join us?"
Power also added: "I can't sing, but if #PussyRiot will have me, Amb Churkin, I say our 1st concert is for Russia's pol. prisoners. #LiveFromMatrosskayaTishina."
Matrosskaya Tishina is a notorious Moscow prison where opposition activists have been held.
Pussy Riot tells Christiane Amanpour: 'We are free people, and free people feel no fear."
A third member of Pussy Riot, Yekaterina Samutsevich, was released in 2012. The three members were sentenced to prison after performing a song critical of Russian President Vladimir Putin in one of the Russian Orthodox Church's most important cathedrals in February 2012. The performance was carried out in a flash-mob style.
Meanwhile, the Russian state-run media agency RIA Novosti reported Thursday that Russian athlete Alexei Sobolev sported an image on his snowboard resembling "a female figure in a balaclava wielding a knife."
That image purports to resemble members of Pussy Riot because the anti-Putin, all-female band perform while wearing balaclavas, the news agency reported.
The headline stated: "Sochi Snowboarder Coy on Possible Pussy Riot Protest."
When asked if the design was an homage to Pussy Riot, Sobolev responded: "Anything is possible." He added: "I wasn't the designer."
Sobolev, a slopestyle rider, was also the first Russian to compete in the Winter Olympics in Sochi, Russia, and finished 10th in a qualifying heat Thursday. The drawing on his snowboard was described as "what could be the first protest by an athlete" in the games, the Russian news agency said.
CNN's Brian Walker contributed to this report.