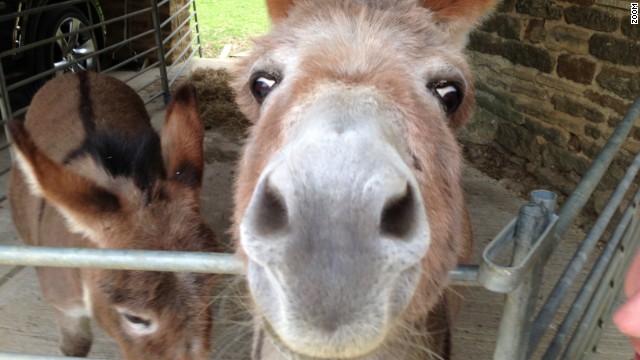 Stars of Formula One are raising money for Great Ormond Street Hospital Children's Charity by donating personal photographs which will be auctioned in central London Friday. "This is a photo of my two miniature donkeys," explains Red Bull boss Christian Horner. "Bobby is on the left and it's Betsy close up!"
Will this signed photo by Fernando Alonso be snapped up by a Ferrari fan? "I took this photo on the podium at the 2013 Italian Grand Prix," he says. "Stepping onto the Monza podium is always a special feeling."
"I enjoy the mountains very much," reveals Red Bull's four time world champion Sebastian Vettel. "They give me a lot of freedom. The 'Red Wall' in Austria's Vorarlberg is awesome. I went there with my family for my first ever skiing trip and just love to come back there."
Mercedes driver Lewis Hamilton choose a personal photo to donate to the charity auction."I stopped off in Rio before going to the race and visited the Christ the Redeemer statue," he explains. "These moments remind me how blessed I am to have the best job in the world."
How about this retro self portrait from Mercedes driver Nico Rosberg for your living room? The German race winner explains: "I'm at the wheel of the 1938 W 154 in Stuttgart."
Former F1 driver and British commentator Martin Brundle is putting a unique behind-the-scenes snap into Friday's auction: "This is Kimi Raikkonen's front Pirelli after he spun off in Suzuka."
"I took this picture during a tour through the Swiss Alps," said Sauber's Adrian Sutil. "It combines all of my passions: nature, cars, driving, Alps, Switzerland and home. It's here that I come to restore my energy levels."
"I took the photo in Singapore 2013," explains Toro Rosso boss Franz Tost. "This pit stop highlights key elements of the sport, namely speed, precision and teamwork."
"This is a shot I took while cycling in the French Alps during the F1 break," says retired Formula One driver Mark Webber, who is preparing to compete in endurance racing for Porsche in 2014.
Seven time world champion Michael Schumacher, who remains in a coma recovering from a serious head injury, donated this personal photograph before his ski accident at the end of December. "This one is a shot of Lake Geneva from out of a train," he commented.
Formula One behind the lens
Formula One behind the lens
Formula One behind the lens
Formula One behind the lens
Formula One behind the lens
Formula One behind the lens
Formula One behind the lens
Formula One behind the lens
Formula One behind the lens
Formula One behind the lens