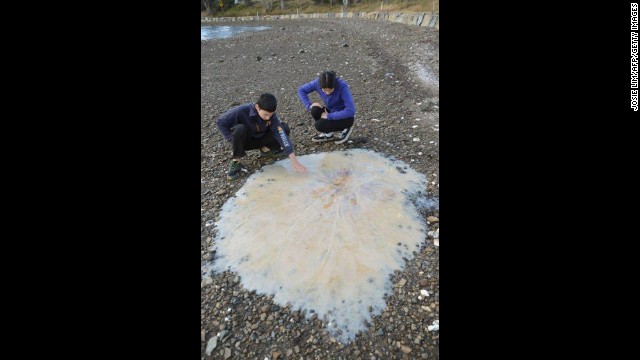 A 5-foot giant jellyfish recently washed up on a beach in Tasmania, an island off the southeast coast of Australia. Scientists are working to classify the new species. Click through the gallery to see more photos of jellyfish around the world.
A West Coast sea nettle swims in the Aquarium of the Pacific complex in Long Beach, California. Sea Nettles are most common during fall and winter months on California and Oregon shores, and may be found from Mexico to British Columbia. They're known for having a distinctive golden brown bell, up to 30 centimeters in diameter. Contact with the tentacles can produce a painful sting.
These psychedelic jellyfish are part of a display at Beijing's Blue Zoo Aquarium. "Jellyfish occur in all marine waters from pole to pole and at all depths," says Dr. Lisa-Ann Gershwin, author of "Stung! On Jellyfish Blooms and the Future of the Ocean." Life threatening varieties are found from about 40 degrees north to 40 degrees south latitude.
These moon jellyfish are illuminated by colored lights at the Beijing Aquarium, the largest in China. They also call these "common" jellyfish. They're found in all the world's oceans, making them a popular choice for aquariums.
A diver attaches a sensor to a large Nomura's jellyfish off the coast of Komatsu in Ishikawa prefecture, northern Japan. Large schools of these giant jellyfish, which have bodies ranging one to 1.5 meters in diameter, drift into Japanese waters in autumn and damage coastal fisheries.
say scientists
. Lion's manes have thick masses of dangling tentacles covered with stinging cells called nematocytes.
A lion's mane jellyfish swims near England's Farne Islands. This species is the largest of all jellyfish, and also one of the most dangerous,
National Geographic
, their venom is mild and doesn't pose a threat to human beings.
A Papuan -- or spotted -- jellyfish swims in a tank at the Sunshine Aquarium in Tokyo. According to
Though most of us try to avoid jellyfish in the ocean, few dispute how cool they look at in a well-lit tank. These Pacific Sea nettle jellyfish are part of a display at the Shark Reef Aquarium at the Las Vegas Mandalay Bay Resort and Casino.
Driven by overfishing and climate change, the dramatic proliferation of jellyfish in oceans around the world is a sign of ecosystems out of kilter, warn experts. Venomous mauve stingers (pictured), or Pelagia noctiluca, were found in high numbers along the coast of Catalonia and Valencia in summer 2013.
This northern sea nettle is part of the jellyfish exhibition added to the SeaLife aquarium in Timmendorfer, Germany, earlier this year. Northern sea nettles, or chrysaora melanaster, are commonly found in the waters of the North Pacific.
"Quite simply, most of us just don't like the thought of being stung by something slimy," says Dr. Gershwin. "There's the slime. There's the pain. So, more and more, places around the world that are suffering from jellyfish problems are developing prediction systems so that tourists can know when it is safe to swim."
Despite being smaller than a pinky nail, the irukandji packs a bigger punch than most species of jellyfish. "How toxic they are is just phenomenally frightening and equally fascinating," says jellyfish expert Dr. Gershwin. "Just the lightest brush -- you don't even feel it -- and then whammo, you're in more pain than you ever could have imagined, you are struggling to breathe, you can't move your limbs, you can't stop vomiting and your blood pressure just keeps going up and up."
A new species
West Coast sea nettle
Not their natural color
"Turn off the lights, and we'll glow."
"Am I getting hazard pay for this?"
Lion's mane
Papuan jellyfish
Pacific sea nettle
Summer invadors
Painful but pretty
Jellyfish and tourism
The Irukandji