STORY HIGHLIGHTS
Predators, parasites and parents who don't act like parents are culprits
Michael Lohan: "You can't socialize with your kids"
Managers, agents try to separate 18-year-old stars from their parents, mother says
"There is no one to say 'no' if your parent can't say 'no' to you," rehab doctor says
Los Angeles (CNN) -- Justin Bieber's recent arrests and alleged pot-smoking antics on an airplane raise the question: Who's in charge?
Can parents stand a chance of keeping their kid in line if he's a highly paid teen celebrity?
CNN interviewed two celebrity parents and two professionals who help young stars after they crash about why parenthood is perhaps the toughest role in Hollywood. They point to predators, parasites and parents who don't act like parents as culprits.
Parents can't be pals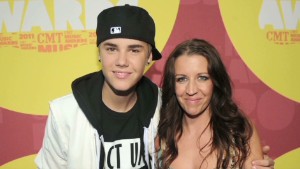 Mom: Bieber 'not just a story to me'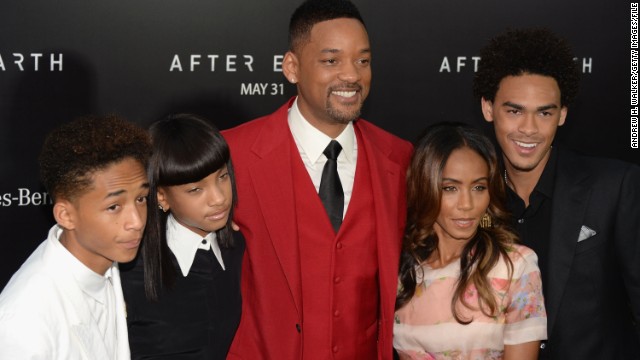 The Smiths -- from left, Jaden, Willow, Will, Jada Pinkett and Trey -- stay busy attending one another's movie premieres and listening parties. Jaden has rapped on songs with Justin Bieber and appeared in films such as "The Karate Kid," "The Pursuit of Happyness" and "After Earth" (the latter two with his dad). Willow made her acting debut in her dad's "I Am Legend" but has focused mostly on music. The siblings aren't the only children of stars who are doing well on their own:
It looks like David Beckham is raising some future soccer stars. His oldest son Brooklyn (far left), 15, is reportedly signing his first professional contract with an English soccer team, Arsenal. The budding athlete is pictured here with his dad and his two younger brothers, Romeo and Cruz, who also play soccer for Arsenal youth teams. It's clear David and Victoria Beckham have passed their star genes onto their kids.
The granddaughter of style icon Audrey Hepburn, Emma Ferrer is making a stylish entrance of her own. In the September issue of Harper's Bazaar, the 20-year-old aspiring artist is photographed by the 23-year-old grandson of photographer Richard Avedon.
Does this face look familiar? That's because it's Dylan Penn, the daughter of actors Sean Penn and Robin Wright. Thanks to those stunning genes, Dylan has a side gig as a model -- as seen here in GQ -- but she dreams of going into the movie business as a screenwriter.
We'd recognize that squint anywhere! Yes, Scott Eastwood -- actor, surfer, traveler and now model -- is one of Clint Eastwood's kids. Although Scott, seen here at the 2009 premiere of his dad's movie "Invictus," hasn't been hiding out, a feature in Town & Country magazine put him in a whole new light ...
... and it's not hard to see why.
Nearly everyone has heard 2013's song of the summer -- Robin Thicke's "Blurred Lines" -- but you may not realize the R&B singer's dad, Alan Thicke, played Jason Seaver on the popular ABC sitcom "Growing Pains," which ran from 1985 to 1992. Now the son is just as well-known as his dad.
Miley Cyrus wasn't even born when her dad, Billy Ray Cyrus, soared to No. 1 on the country charts with the single "Achy Breaky Heart." Fourteen years later, Miley's dad would join her on the Disney Channel's "Hannah Montana," the series that made her famous. By the time the show ended in 2011, Miley had starred in several movies and scored some hit songs of her own.
You might think that Rashida Jones would have found it difficult to step out from the shadow of her dad, Quincy Jones, the legendary music producer behind such acts as Ray Charles and Michael Jackson. But the actress has charted her own course, starring in TV series such as "Boston Public" and "Parks and Recreation" in addition to the movies "I Love You, Man" and "The Social Network." Maybe she got the acting bug from her mom, Peggy Lipton, of "The Mod Squad" and "Twin Peaks" fame.
"I'm Spartacus!" So proclaimed Kirk Douglas as the title character of the famous 1960 Stanley Kubrick epic. Douglas, one of the biggest stars of Hollywood's golden age, would have been a lot for any kid to look up to. Nevertheless, son Michael has become as much of an icon as his old man, with more than four decades in show business.
Kate Hudson has a knack for comedy in movies such as "How to Lose a Guy in 10 Days" and TV shows such as "Glee." You could say it runs in the family: Her mom, Goldie Hawn, won an Oscar for her first major movie role, the 1969 comedy "Cactus Flower."
Legendary actor Henry Fonda, center, produced a famous family. His children, Peter and Jane, both went on to notable film careers of their own, as did his granddaughter Bridget.
Angelina Jolie and her father, Jon Voight, reportedly have a contentious relationship, but they have one thing in common: The camera loves them. Jolie was born six years after her father's career took off with 1969's "Midnight Cowboy," and her first credited role came in her dad's 1982 movie, "Lookin' to Get Out." Soon Jolie had an Oscar, for 1999's "Girl, Interrupted," to go along with her dad's from 1978's "Coming Home."
Prolific actor Lloyd Bridges seemed to pass on the acting bug to his son Jeff early on. Dad starred in movies such as 1952's "High Noon" and TV series such as "Sea Hunt," a popular show that young Jeff got his start on in the late '50s. By 1971, Jeff established himself as a breakout star with an acclaimed role in "The Last Picture Show." Lloyd's son Beau also has had a successful career in movies and TV.
There's no question that stage and screen star Martin Sheen, right, has seen his sons become just as famous as himself. Older son Emilio Estevez, left, chose to use his father's birth name, following dad into acting in the early '80s. He was soon an established member of the "Brat Pack" with roles in 1983's "The Outsiders" and 1985's "The Breakfast Club." Emilio's brother Charlie (born Carlos Estevez) wasn't far behind, carving out roles in '80s films "Wall Street" and "Major League" before moving on to TV success with "Two and a Half Men."
Kiefer Sutherland got his acting start alongside his dad, Donald Sutherland. The elder Sutherland was already established with roles in 1967's "The Dirty Dozen" and 1970's "M.A.S.H." by the time his son joined him for the 1983 dramedy "Max Dugan Returns." Kiefer went on to star in the movies "Stand by Me" and "The Lost Boys" and later the TV series "24."
Gwyneth Paltrow's parents, actress Blythe Danner, left, and TV director/producer Bruce Paltrow, at first encouraged her to focus on school even though she showed an early affinity for the spotlight. The story goes that Gwyneth joined her Tony-winning mom on stage as a toddler in 1974 and recited Blythe's lines. When she began landing roles in movies such as 1991's "Hook," it was clear Gwyneth was destined for film sets. An Oscar for 1998's "Shakespeare in Love" wasn't far behind.
The Barrymore family is known for actors, including 38-year-old Drew. Her grandfather John Barrymore and her great-aunt and great-uncle, Ethel Barrymore and Lionel Barrymore, were all legends. Drew's father, John Drew Barrymore, right, was also in the family business but had a spottier history of roles. Drew got her start early, appearing in a Puppy Chow commercial as an infant and stealing scenes in 1982's "E.T." by age 7. After a rough adolescence, she put her career back on track as an A-list star.
Jennifer Aniston's dad, John Aniston, is most famous for his decades-long stint on daytime soap "Days of Our Lives." Jennifer also found the small screen crucial to her success: The actress became a household name as Rachel Green on the sitcom "Friends."
Country star Hank Williams Jr. inherited his dad's name, trade and fame. The senior Hank Williams was a legend in the annals of country music as the singer-songwriter behind such tunes as "Your Cheatin' Heart," "I'm so Lonesome I Could Cry" and "Hey, Good Lookin'." The elder Williams' work left its mark on his son. The latter has established himself as a well-known musician with his own spin on country fused with Southern rock and blues.
Robert Downey Jr. has had some tough times, but he likely has made his father, Robert Downey Sr., proud. The elder Downey has worn many hats throughout his career, ranging from actor to writer to director, including the 1969 film "Putney Swope." Robert Jr. honed his acting chops early on and is now the highest-paid actor in Hollywood.
Rob Reiner was born to Emmy-winning actor, comedian, writer and producer Carl Reiner, best known as creator of the 1960s classic sitcom "The Dick Van Dyke Show." Rob, too, has been a successful actor ("All in the Family") as well as the director of beloved movies such as "The Princess Bride" and "When Harry Met Sally."
Mariska Hargitay is the daughter of '50s sex symbol Jayne Mansfield, but she took a different path to stardom. While her mother was famous for her blond hair, curves and wardrobe malfunctions, Hargitay opted to be brunette and shy away from nude scenes. Eventually she landed the starring role of Detective Olivia Benson on "Law & Order: Special Victims Unit," winning Emmy and Golden Globe awards for her work.
Born into the spotlight, Liza Minnelli followed in the footsteps of her mother, the legendary singer-actress Judy Garland, winning a Tony and landing an Oscar nod before the age of 25. The daughter of "The Wizard of Oz" star and famed movie musical director Vincente Minnelli has had an illustrious career of her own, with an Oscar for "Cabaret" (1972) and TV appearances on "Arrested Development."
Isabella Rossellini, daughter of the three-time Oscar winner Ingrid Bergman and Italian director Roberto Rossellini, has made a career for herself in film and fashion. Isabella got her start in acting in her mom's 1976 film, "A Matter of Time," and by the mid-'80s was appearing in movies such as "White Nights" and "Blue Velvet." These days, she's watching daughter Elettra Wiedemann rise in the modeling industry.
Stefan Gordy is better known to the public as Redfoo of the party-rocking group LMFAO, but around Hollywood, he's likely best known as the son of the legendary Berry Gordy. The Motown Records founder ushered in a sound in the '60s that's far different from what his son is doing today, but both men have had a major impact on music industry trends.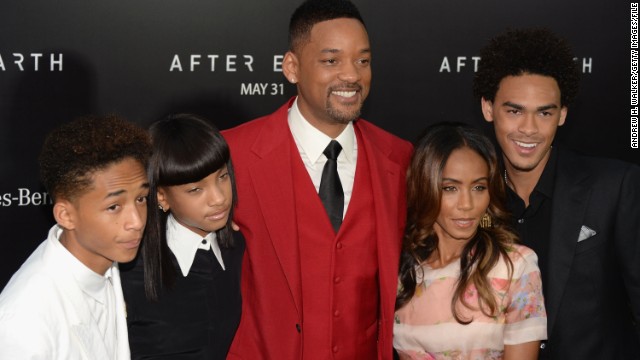 The star gene: Next-generation celebrity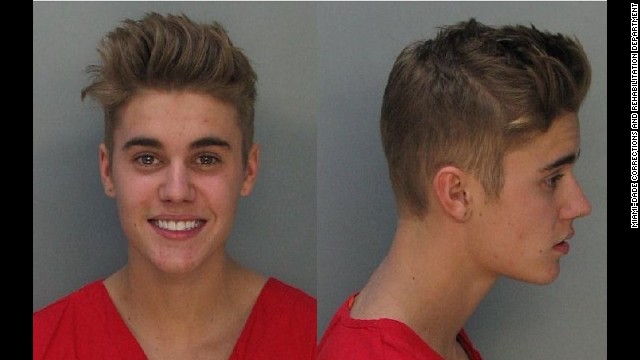 Trouble seems to pursue pop star Justin Bieber. In January, he was charged with driving under the influence in Miami, a case he settled in August by pleading guilty to careless driving and resisting arrest. And he is on probation for a vandalism conviction that resulted from egging a neighbor's home. Click through to see more of Bieber's troubles in the last couple of years.
In early September, Bieber was charged with assault and dangerous driving in Canada after his ATV collided with a minivan, allegedly inciting an altercation. He was released on a "promise to appear" at a September 29 hearing.
Bieber's summer months were anything but relaxing. In June, the pop star was plagued by the emergence of videos of himself as a young teen using racially offensive language. Then, in July, his neighbors complained to police that his house parties were inordinately noisy. And to round out his summer, a rumor went viral in August that Bieber had gotten into an alleged altercation with actor Orlando Bloom.
If there was a bright spot in the summer of 2014, it came in June when Bieber was cleared in an attempted robbery case. A woman had accused the singer in May of trying to steal her cellphone, but the Los Angeles city attorney decided there wasn't enough evidence to prosecute the singer.
In April, Bieber's antics prompted an online petition to have him deported from the country. The petition was hosted on the White House's website and received more than 273,000 signatures. Video of Bieber being a hostile witness during a deposition the month before likely didn't help sway the petitioners' perception of him as "dangerous and reckless."
U.S. Customs and Border Protection officers searched Bieber's private airplane -- thought to be the one pictured -- January 31 at Teterboro Airport in New Jersey. Officers said they detected an odor of what seemed like marijuana after the plane landed, law enforcement sources told CNN. Drug-sniffing dogs were used to search the plane, according to one of the sources, but no sign of drugs were detected and no illegal substances were found. The investigation was closed in July.
Bieber turned himself in at a Toronto police station on January 29, facing an assault charge stemming from an encounter with a limousine driver in December. But the charge was dropped in September after prosecutors decided there was "no reasonable prospect" of convicting Bieber of striking his limo driver on the back of his head, said Brendan Crawley, a spokesman for the Ontario attorney general's office.
On January 23, Bieber was arrested on suspicion of DUI and drag racing, according to police in Miami Beach, Florida. Bieber, seen here with model Chantel Jeffries the night before his arrest, eventually pleaded guilty of careless driving and resisting arrest. He also made a $50,000 donation to a youth charity as part of the plea deal.
On January 14, authorities swarmed Bieber's mansion in Calabasas, California, in connection with an investigation into a report of an egg-throwing incident at a neighbor's house. As part of a plea deal, Bieber was sentenced to two years' probation. He was also ordered to complete 12 weekly anger management sessions, work five days of community labor and pay $80,900 in restitution to his former neighbor.
Right before 2014 kicked off, Bieber threatened to retire after a spate of bad publicity, including being accused of everything from speeding to spitting. The news made Beliebers very sad.
While on tour in early November, Bieber yet again made headlines, this time with some sex-related scandal. The New York Post's Page Six alleged that Bieber had been spotted exiting a brothel while in Brazil. Then, a YouTube video sparked gossip that he'd done something less than innocent with the young woman featured in the clip. Bieber's camp has had no response on the chatter.
Was he saving his energy for his fans, or just courting more controversy? In October, the day after a concert in Beijing, Bieber was snapped letting his bodyguards carry him up the stairs at the Great Wall of China.
A leaked video in July 2013 seemed to show Bieber relieving himself in a janitor's mop bucket and then spraying a photo of Bill Clinton with what appeared to be a cleaner fluid while saying, "F*** Bill Clinton." Bieber later apologized to the former president, but personalities like Anthony Bourdain and Mario Batali had a field day.
In June 2013, another chapter was added to Bieber's history book of driving drama. The singer was reportedly involved in a Los Angeles accident involving a pedestrian.
As Bieber accepted the Milestone Award at the Billboard Music Awards in May 2013, "very loud boos" competed with "very loud cheers," the magazine reported.
Earlier in May 2013, a fan rushed Bieber on stage and attempted to grab him during a concert in the United Arab Emirates. Also that month, a safe in a stadium in Johannesburg, South Africa, was raided after a Bieber performance.
In April 2013, Bieber visited the Anne Frank House in Amsterdam -- and was promptly criticized for saying that he hoped the teen, who died in a Nazi concentration camp in 1945, would have been a "Belieber." Visitors to the Anne Frank Facebook page had plenty to say. "Glad he went, but, the last sentence is VERY self serving. he missed the lessons of Anne totally," wrote one observer.
Bieber lost his pet monkey, Mally, when the capuchin was taken by custom officials in Germany at the end of March 2013. Mally is shown here in the quarantine station at the Munich-Riem animal shelter in Munich.
Unfortunately for Bieber, his 19th birthday in March 2013 was kind of a downer. After being snubbed by the Grammys, Bieber headed for London to celebrate his big day. But it ended up being what he tweeted was his "worst birthday." Not only was he ragged on by actress Olivia Wilde for going shirtless in the city, he also had a bit of beef with a "weak a** club."
Bieber ticked off his fans in March 2013 after he showed up a reported two hours late to a concert at London's O2 Arena. He disputed that in a tweet, however, saying he was only 40 minutes behind schedule.
Bieber later wound up sick in a London hospital. Being a lusted-after star, it's not surprising that he tried to show how "well" he felt by posting a shirtless photo of himself online.
Bieber and photographers, we've learned by now, don't mix. As he exited the hospital at the end of his turbulent week, the singer got into a shouting match with a paparazzo in London, telling the photographer that he'd "f*** him up."
After he was ragged on by Wilde for going topless in London, Bieber strolled through a Polish airport terminal sans shirt on March 25, 2013.
At the end of January 2013, a Twitpic appearing to show the singer touching a female fan's chest went viral. Both the "Belieber" and Bieber's rep denied he was touching her breast.
In January 2013, Bieber was photographed holding what TMZ identified as marijuana. He poked fun of the incident when he hosted "Saturday Night Live" in February. "I also heard he got busted for smoking weed and he's really sorry about it and that people make mistakes and that he's never going to do it again," Bieber said while playing a character during a skit with Vanessa Bayer.
On New Year's Day in 2013, a photographer was killed crossing the street after taking pictures of Bieber's Ferrari. Bieber, who wasn't present at the scene, said in a statement: "While I was not present nor directly involved with this tragic accident, my thoughts and prayers are with the family of the victim."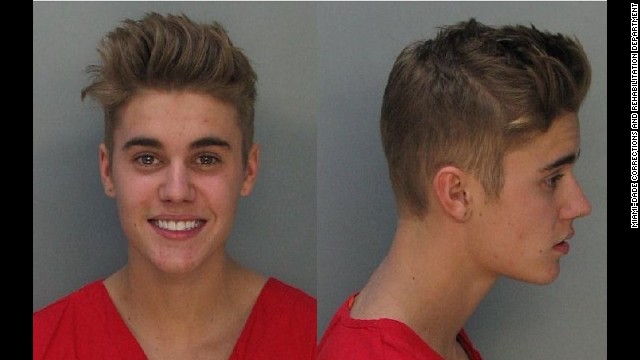 Justin Bieber's troubled timeline
Justin Bieber and his dad seem to be best buddies. They even have matching tattoos. Jeremy Bieber, 38, was with his son during several of the incidents that have brought him legal trouble in the past weeks.
Father and son were partying together in Miami Beach, Florida, before the younger Bieber, 19, was arrested on a drunken driving charge. The elder Bieber was with his son the night he allegedly assaulted a Toronto limousine driver. A U.S. Customs report said Jeremy and Justin Bieber were both flying on a chartered jet when the pilots had to put on oxygen masks after marijuana smoke filled the cabin.
"You have the parents acting as a child with them," said Dr. Damon Raskin, a former child actor who helps celebrities detox in rehab. "This enables their addictions and contributes to their spiral downward, as with Justin Bieber and Lindsay Lohan."
Lindsay Lohan's father, who runs an addiction treatment facility in Florida, said he would never party with his daughter. Michael Lohan has been publicly critical of his ex-wife for doing that. "You can't socialize with your kids," Michael Lohan said. "You can't attend events and party with them."
Lohan missed out on some of his daughter's childhood when he served prison time in connection with a Wall Street insider trading investigation. He also had his own substance abuse issues, which were addressed in rehab.
The parent of another successful young actress -- who at age 20 has never been in trouble -- replied "Oh, hell no!" when asked if she would ever party with her daughter. "You can't party with your kid," she said. "You have to keep your position as a parent." She asked to remain anonymous so as not to embarrass her daughter.
Richard Taite is the founder and CEO of Cliffside Malibu, the rehab facility where Lindsay Lohan was treated last year. He cites a "truism that never changes."
"When parents raise their children with a healthy boundary and recognize that they are not to be this child's friend, but to be their parent, what happens is, these children grow up to be well-adjusted," Taite said. "We look at them as stars, but the reality is they are still children, and children crave boundaries. If you're going to be their friend primarily, and you just happen to be a parent, then don't be shocked when your children grow up with social adjustment issues."
Unnatural role reversal
Parents of a young star often leave their own jobs to travel with their children as they make movies or perform on concert tours. "The parent can no longer work because they run around with them, and sometimes the kids realize that and it's unnatural," the previously quoted mother said. "They let the kid turn wild because they feel guilty, because they are not working."
A mother is needed to do things the manager or agent won't do, such as helping them study scripts and run lines with them between scenes, she said. "No agent does that."
But even if parents keep their own careers, their child's income can far exceed their own. This role reversal can leave a parent powerless to enforce rules.
"It's hard for the parent to have control when the kid knows they're making more money than them," she said. "If he wants to go to a party, he's going to use that."
This mother shared the story of another parent who put her foot down when her 16-year-old actress daughter refused to clean up her bedroom. The teen suggested the maid could do it. The mom called the producer of her hit TV series and told him the actress would not be showing that day until she cleaned her room. The producer agreed to shoot around the young actress that day. The daughter cleaned the room after that, she said.
It's a move many parents are afraid of making, out of fear it could cost their child work in the future. "Parents afraid to upset the system," the mother said.
No one to say 'No'
"These kids need structure," Raskin said. "They need boundaries. They need to be told 'no'. Sometimes the parents are missing, emotionally abandoning them, being too involved in their own lives. There is no one to say 'no' if your parent can't say 'no' to you."
Justin Bieber needs "someone who is willing to piss him off," the actress's mother said. "A good parent has to do that." It's something she does regularly with her daughter, even though she's now legally an adult. "It's no secret -- we battle," she said.
Michael Lohan said it is "important to steer them into the right direction" about who they should associate with, but it is "hard to control that." It's the "parasites that come around them" at night that cause problems, he said. Another problem is that the bodyguards -- who are suppose to protect them -- party with them and help to cover it up, Lohan said.
Momagers and predators
When a performer turns 18 in California, he or she is handed the checkbook to the trust fund where 15% of their earnings have been deposited under the state's "Coogan Act." The law was written to protect them from the fate of Jackie Coogan, who made a fortune as a child actor in silent films, but his parents spent the money before he became an adult.
These 18-year-olds are also given the freedom make their own business decisions. It's almost a ritual for managers, agents, lawyers and publicists to approach them with the advice that they ditch their parents as advisers, the actress's mother said.
"When they are almost 18, they have secret lunches and they tell your kids 'You need to leave your parents,'" she said. "The parents have no power then." Her own daughter only told her a year later that her manager "took her to lunch and said she needed to get away from mom," she said.
"The agents turned because I was putting pressure on them, because they didn't have a plan for her at 17 and 18," the mother said. "When you make them do their job, then you become the enemy."
Michael Lohan told a similar story about his daughter when she was almost 18 and making the movie "Confessions of a Teenage Drama Queen."
Justin's mom: 'He's just Justin to me'
Justin Bieber's mother Pattie Mallette told CNN's Anderson Cooper in a 2012 interview that she "didn't want him even to know it was an option" to be in the entertainment industry. However, it was his mother who first put his videos on YouTube, which led to his discovery by manager Scooter Braun. She moved with him from Canada to Atlanta where Braun launched Bieber's remarkable career.
"Parenting him is, I think, like anybody parenting a child," Mallette told HLN a year ago. "We just have a different set of circumstances. It doesn't affect me at all. His lifestyle has different circumstances that we have to work around, but he's just Justin to me."
Mallette told USAToday that she's always been protective of her son. "You hear all the horror stories about kids and teenagers in this industry, and I didn't want to throw my son to the wolves. I've done my best to protect him and surround him with good people."
Michelle Obama: 'I'd pull him close'
First lady Michelle Obama, mother of two girls, was asked by Univision Radio host Enrique Santos on Friday what she would do if Justin Bieber was her son.
"I'd pull him close," Obama said. "I don't know if it would be advice as much as action. I would be very present in his life right now and I would be probably with him a good chunk of the time, just there to talk, to figure out what's going on in his head, to figure out who's in his life and who's not."
Her daughters "just want me near, they want that advice from a parent," she said. "They want to see you on a daily basis."
Taite's suggestion for Justin Bieber does not involve his parents. He should have a talk with the Justin Bieber of 15 years from now.
"What he has to do is have a moment of truth and sit down and recognize that his 35-year-old self would be bitch-slapping him right now," the rehab owner said.
Bieber also should find "the best, top notch therapist he humanely, possibly can in the industry, who is desensitized to who he is," Taite said.