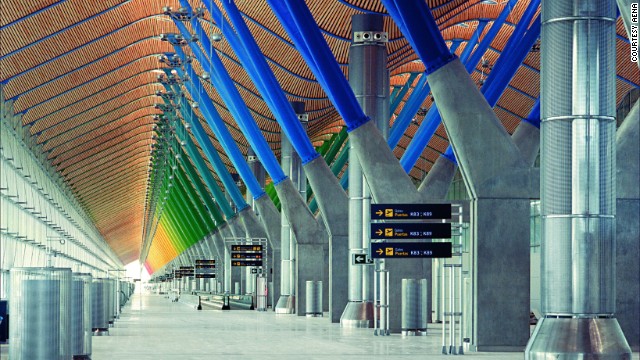 Architect Richard Rogers brought beautiful changing colors to Madrid-Barajas Airport in Spain. The main terminal's departures area is shown here.
Light comes through large skylights into the circulation systems at Madrid-Barajas Airport's check-in and departures area.
Foster + Partners won the competition to design the Beijing airport's international terminal, completed in time for the 2008 Olympics in Beijing.
Sir Norman Foster "is more successful than anyone else at designing airports in a new way that works," says Paul Goldberger.
Architect Renzo Piano won an architecture competition in 1988 to design an airport on a man-made Japanese island near Osaka that didn't yet exist. (It does now.)
Passengers wait in the terminal building at Kansai International Airport, completed in 1994.
Skidmore, Owings & Merrill married the nomadic tradition of desert tents with enormous modern architecture at King Abdulaziz International Airport's Hajj Terminal in Jeddah.
The roof design of King Abdulaziz airport's Hajj Terminal is reminiscent of the traditional desert tents once used to shelter pilgrims as they made their holy journeys across the desert.
Fentress Architects' design of Raleigh-Durham International Airport's Terminal 2 welcomes travelers coming to North Carolina.
Goldebrger likes Fentress Architects' use of wooden trusses, glass and natural light in their design of the Raleigh-Durham airport's Terminal 2.
Architect Rafael Vinoly's swooping design of the Aeropuerto de Carrasco in Montevideo, Uruguay, looks "wonderful in photographs," says Goldberger, who wants to go enjoy this design in person.
Vinoly's design of the Montevideo, Uruguary, airport "looks like something inspired by Eero Saarinen's design" of the former TWA terminal at Kennedy airport in New York, says Goldberger.
Designed by Eero Saarinen and opened in 1962, the former TWA terminal at John F. Kennedy International Airport is still considered an architectural marvel. Yet it wasn't designed to handle larger aircraft or higher volumes of passengers.
The former TWA terminal remains a beautiful and inspiring building.
Paul Goldberger flies out of JFK quite a bit and doesn't like it much. But he says the Matteo Pericoli mural at the American Airlines terminal is "one of my favorite things at any airport."
Madrid-Barajas Airport
Madrid-Barajas Airport
Beijing Capital International
Beijing Capital International
Kansai International
Kansai International
King Abdulaziz International
King Abdulaziz International
Raleigh-Durham International
Raleigh-Durham International
Aeropuerto de Carrasco
Aeropuerto de Carrasco
TWA terminal at JFK International
TWA terminal at JFK International
Matteo Pericoli mural at JFK
STORY HIGHLIGHTS
Vice President Biden compared LaGuardia Airport to being in a Third World country
Authors: U.S. has let its airports fall far behind the curve internationally
They say politicians need to make improving LaGuardia and others a priority
Authors: LaGuardia needs new terminals, better transportation and more amenities
Editor's note: Joseph Sitt is founder and chairman of the Global Gateway Alliance, a coalition of business, labor and advocacy groups seeking to modernize New York area airports. Stephen Sigmund is the executive director of the Global Gateway Alliance.
(CNN) -- Vice President Joe Biden was right to call attention to New York's LaGuardia Airport. From the dilapidated state of LaGuardia's Central Terminal Building to the minimal public transport links and outdated air traffic control system, the metro area's airports are in desperate need of modernization.
But now it's time for Biden and other leaders to put their money where their rhetoric is. The Federal Government and local politicians must step up and take sustained action.
And the goal should be to fix the problem, not point fingers. Despite its outdated condition, LaGuardia serves 25 million passengers a year. As the closest airport to Manhattan, it is coveted by airlines.
Moreover, New York City's three major airports serve more than 110 million people a year, account for 500,000 jobs and contribute $63 billion to our regional economy, according to a November 2013 study from Global Gateway Alliance and Partnership for New York City. And they are the largest global gateway to the world for international travelers, with U.S. Customs data showing that John F. Kennedy International Airport handles the most international visitors and Newark International Airport the fifth most. As such, the airports serve as a symbol for the entire United States.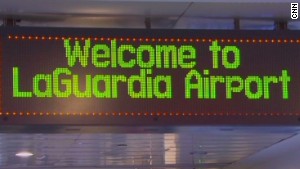 Most agree LaGuardia needs upgrade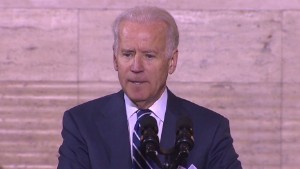 Biden slams New York airport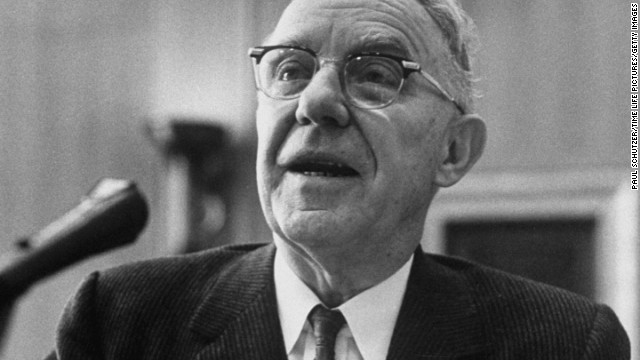 William B. Hartsfield, who served six terms as mayor of Atlanta from 1937 to 1962, was instrumental in developing the city's airport: first by helping to select the landing field and, later, leading the way for a new terminal. The Atlanta airport is now the busiest airport in the world.
One of Hartsfield's mayoral successors, Mayor Maynard Jackson, built on Hartsfield's legacy with an even bigger $500 million terminal that opened in 1980. The new international terminal is named solely after Jackson.
A World War II hero, Edward "Butch" O'Hare received the U.S. Medal of Honor in 1942 for his exploits as a naval pilot. He died a year later when his plane was shot down by Japanese bombers. At the suggestion of Chicago Tribune Publisher Robert McCormick, what was then called Orchard Depot Airport (hence O'Hare's airport code, ORD) was named after O'Hare in 1949.
Pat McCarran was a U.S. senator from Nevada from 1933 to 1954. The politician was a sponsor of the Civil Aeronautics Act (1938) and Federal Airport Act (1945). He was also a staunch anti-Communist and sponsored tough anti-immigration laws. The airport was named for him in 1948.
New Orleans' international airport was originally named Moisant, after an aviator who died in 1910. (The airport's code, MSY, is derived from Moisant Stock Yards, from when the area was an agricultural center.) In 2001, the city decided to honor one of its most famous natives, Louis Armstrong (1901-71), the great trumpeter who rose to fame in the city's clubs and helped shape jazz and popular music.
Gen. William "Billy" Mitchell, a Milwaukee native, was instrumental in establishing the Army air division during World War I and remained a staunch advocate of aviation after the war ended, to the point of being court-martialed for his criticism of his superiors. Milwaukee named its airport after him in 1941, five years after his death.
Civil rights leader and pastor Fred Shuttlesworth was one of the founders of the Southern Christian Leadership Conference with the Rev. Martin Luther King Jr. and several others. The Birmingham, Alabama, airport was named for him in 2008, three years before he died.
Albert Lambert was a noted aviator, businessman and golfer: He participated in both the 1900 and 1904 Olympics, which featured the sport. (He trained in airplanes with Orville Wright.) In 1925, he purchased the land on which the airport stands and constructed its first buildings. The city bought it from him in 1928.
"Silicon Valley's Airport" added the name of Norman Mineta, a Cabinet official in the Clinton and George W. Bush administrations, in 2001. Mineta, a San Jose native, was mayor of the city from 1971 to 1975 and served 20 years in the House of Representatives.
Houston's oldest airport, now the secondary counterpart to George H.W. Bush International, was named for William P. Hobby, a former Texas governor, in 1967. At one time, it had been called Howard R. Hughes Airport after the famous billionaire and aviator but for the most part was known as Houston Municipal Airport.
Lt. Gen. Edward Lawrence Logan was a veteran of the Spanish-American War and World War I. He later was a judge, a state representative, a state senator, president of the National Guard Association and head of the state American Legion. Boston's airport, once known as Jeffery Field, was named for Logan in 1943.
The Texas airport is named after Amarillo-born Rick Husband, one of the NASA astronauts who lost his life in the 2003 Columbia space shuttle tragedy.
Ben Elbert Douglas was mayor of Charlotte from 1935 to 1941. In Charlotte, he may be just as well known as the founder of Douglas Furs, one of the city's leading furriers. Charlotte's airport was named for him in 1954 and renamed Charlotte Douglas in 1982.
Washington's more suburban airport is named for John Foster Dulles, Dwight Eisenhower's secretary of state. The much-traveled Dulles, who died in 1959, was widely admired in the nation's capital. When the airport opened in in 1962, it was named for him, though there was some mild griping from locals -- and more came when a suggestion was floated to rename the airport after Eisenhower in the early '90s.
The "Little Flower," Fiorello LaGuardia, is considered the best mayor in New York's history, having overseen the city from 1934 to 1945. The airport that bears his name was once an amusement park and then a private airfield. New York City took it over in 1937, expanded it and named it New York Municipal Airport-LaGuardia Field in 1939. It became LaGuardia Airport in 1952.
No, Love Field isn't named for the warm fuzzies you get when you fly. It's actually named in honor of 1st Lt. Moss L. Love, who died in an air crash in 1913 in San Diego. The Army gave his name to its Dallas-area air base in 1917. Love Field became a civilian airport when the city bought it in 1927. The first flights took off in 1929. Though the much-larger Dallas-Fort Worth International serves the majority of local flights, Dallas Love Field is still the headquarters for Southwest Airlines.
Bradley has its roots as a U.S. Army airfield acquired in 1941. The army named it Bradley Field after Lt. Eugene M. Bradley, an Oklahoma native who died in a crash at the base on August 21, 1941. The Army turned the base over for civilian use in 1947, and the name remained.
William R. Hopkins, right, was Cleveland, Ohio's city manager in the 1920s. In 1925, at a time when commercial aviation was almost unknown in the United States, he proposed building an airport 10 miles south of the lakefront Ohio city. Twenty-seven years later, the airport was named for him on his 82nd birthday. Hopkins died in 1961.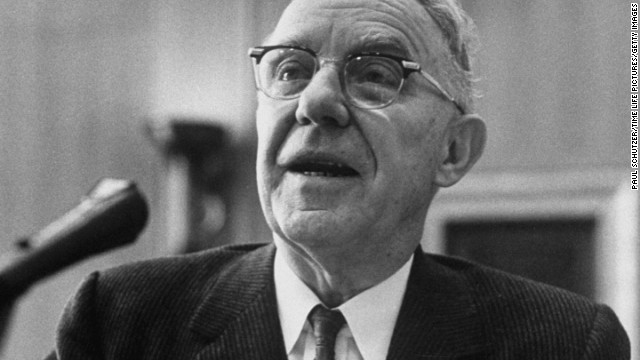 Whom are those airports named after?
Airports are responsible for the first and last impressions visitors have, and in New York, some 54 million tourists visited last year. They are fundamentally vital to our economy, tourism industry and our global reputation.
As the vice president pointed out, New York's airports are a symbol of underinvestment in infrastructure throughout the country. When the Beatles landed in New York 50 years ago last week, our airports were a symbol of the modern, efficient and forward-looking transportation infrastructure in the United States. Now, they are the embodiment of our falling behind the rest of the world.
Cities all over the world have recognized the significance of their airports and have invested in state-of-the-art technology and infrastructure. Our own Global Gateway Alliance survey showed that airports from Singapore to Paris are providing innovative amenities such as 40 foot slides, ice skating rinks and on airport baby strollers to ensure that passengers have the best possible experience.
The same survey showed LaGuardia and New York area airports at the bottom of the list of passenger amenities.
The bottom line is we to have to invest in our airports to avoid losing out to national and international competitors and to provide a better quality of life for those millions of passengers.
At LaGuardia, here's how:
-- 21st century terminals: LaGuardia's Central Terminal Building, built in 1964, is a prime example of an outdated terminal desperately in need of redevelopment, which is why it's so important for the Port Authority to deliver on the promise of a modern, efficient and innovative terminal. There are also significant space constraints with only two short runways and limited parking, which are challenges that need to be addressed.
-- Better passenger amenities: Frequently voted the worst airport in the U.S. by passengers, LaGuardia is definitely not known for its amenities. All of the New York area airports would benefit from providing what are now basic services, such as free Wi-Fi, which would help business travelers, and leave visitors with a better impression of their time in New York.
-- Improved transportation links: Public transportation access to all of New York's airports is behind other world class cities, which have one seat train rides directly from the city center to the airport. Options for getting to LaGuardia via public transportation are very limited, but a Bus Rapid Transit system, with dedicated lanes and just a few stops to the airport, would help remedy that. This service would remove the threat of traffic delays normally associated with buses and provide a convenient and reliable direct ride to the airport. Reviving long dormant plans for a direct subway extension to LaGuardia are also worth exploring.
-- Bring NextGen to New York first: LaGuardia, along with JFK and Newark, is the most delayed airport traffic control system in the country. Every day, our airspace contributes to one half to three quarters of all delays around the country. The solution is NextGen, the new satellite-based air traffic control system. Replacing the old 1960s radar technology means fewer delays on the ground and in the air. But the FAA has to step up and make it happen in New York. Right now, the federal government is years behind in developing NextGen, and the FAA wants to roll it out in smaller markets first, despite the tremendous impact the New York airspace has on national delays.
It's past time to stop ignoring our airports and to move them to the front of the priorities line. That's how LaGuardia will go from Third World to world class.
Follow @CNNOpinion on Twitter.
Join us at Facebook/CNNOpinion.
The opinions expressed are solely those of the authors.