Vietnam's first McDonald's opens in Ho Chi Minh City
February 10, 2014 -- Updated 1101 GMT (1901 HKT)
STORY HIGHLIGHTS
Vietnam's first McDonald's restaurant opened in Ho Chi Minh City on February 8
Restaurant opened by business man Nguyen Bao Hoang, who once worked in a U.S. McDonald's
Vietnam already home to American fast food chains like Subway, Burger King, KFC
(CNN) -- The wait is over for Ho Chi Minh City residents and travelers in need of a Chicken McNugget fix.
Vietnam's first McDonald's restaurant officially opened for business this weekend.
Located in District 1 of Ho Chi Minh City (HCMC), Vietnam's commercial center, the McDonald's branch has a 24-hour drive-through service and will feature the usual menu classics, plus some items to cater to local tastes (McPork, anyone?), according to Vietnamese media.
The chain joins other Western fast food chains already present in the country such as Subway, Burger King and KFC, catering to an increasingly brand conscious local middle class.
Menu items at the McDonald's are priced at an average VND40,000-VND60,000 ($1.90-2.84).
MORE: Golden chains: 20 best franchises for travelers
With the addition of Vietnam, McDonald's now operates in 119 countries.
Last year, McDonald's announced that Nguyen Bao Hoang -- or Henry Nguyen as he's known in the West -- would be the developmental licensee for Vietnam to build the brand.
A businessman and son-in-law of Prime Minister Nguyen Tan Dun, Nguyen has experience in the trenches of the famed fast food chain.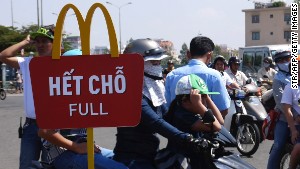 Hundreds came out on February 8 to be among the first to try Vietnam's first McDonald's restaurant.
"I have been a big fan of McDonald's my whole life and have had so many wonderful experiences there, including one of my first jobs when I was a teenager," Nguyen said in a statement released by McDonald's announcing the deal.
"I have dreamed of one day opening a McDonald's restaurant in my native country ever since my return to Vietnam more than a decade ago."
MORE: Burgers challenge baguettes in French fast food stakes
Second branch to come
Although Nguyen has not unveiled detailed expansion plans, a second branch is soon to follow in HCMC (referred to as "Saigon" until 1975), reports Voice of Vietnam.
Global reaction to the opening is predictable, with media skeptical over whether Vietnamese will be keen to replace culinary classics like pho and banh mi with Big Macs and Fillet-O-Fish.
Though many on social media have lamented the introduction to Vietnam of a brand that many in the West equate with unhealthy lifestyles, the country already has its fair share of fast food chains.
These include Burger King, Subway, Domino's Pizza, Starbucks, Dairy Queen and KFC.
MORE: Starbucks boldly debuts in coffee-mad Vietnam

Today's five most popular stories
Part of complete coverage on
November 24, 2014 -- Updated 0118 GMT (0918 HKT)

These quirky and beautiful subway stops make standing cheek-to-cheek with 45 strangers almost seem fun.
November 21, 2014 -- Updated 1314 GMT (2114 HKT)

Luxury vintage Land Rover tours explore Bedouin backwaters without bashing up precious dunes.
November 20, 2014 -- Updated 0250 GMT (1050 HKT)

Cities around the world have closed the brew gap, but the Oregon city's innovative scene continues to lead the beer parade.
November 19, 2014 -- Updated 2249 GMT (0649 HKT)

From gourmet hotdogs to Sevillian tapas, the food served in these London restaurants is worth lining up for.
November 20, 2014 -- Updated 1545 GMT (2345 HKT)

Plans are underway to build the world's tallest -- and quite possibly most terrifying -- roller coaster at an Orlando, Florida, theme park due to open in 2017.
November 18, 2014 -- Updated 1932 GMT (0332 HKT)

The 7th Annual Cruise Critic Editors' Picks Awards highlight the top cruise lines for North American travelers in 18 categories.
November 19, 2014 -- Updated 0206 GMT (1006 HKT)

Joining the ranks of pilgrims tackling Adam's Peak rewards with a spiritual awakening, or at least a stunning sunrise.
November 18, 2014 -- Updated 1313 GMT (2113 HKT)

Beautifully designed travel document reveals image of Northern Lights when placed under UV light.
November 18, 2014 -- Updated 0525 GMT (1325 HKT)

New concept offering luxury rooms in ancient dwellings helps spare beautiful villages from falling into ruin.
November 21, 2014 -- Updated 2247 GMT (0647 HKT)

Are you the butcher or the cattle? Tainted meat-obsessed fans are following the tracks of their favorite "Walking Dead" survivors.
November 17, 2014 -- Updated 0521 GMT (1321 HKT)

People never cease to find amazing ways to make water more incredible than it already is. Here are some powerful examples