STORY HIGHLIGHTS
Shirley Temple was arguably the most famous child star in Hollywood history
She died of natural causes at her California home surrounded by family and caregivers
She was a major box-office star during the Great Depression
She retired from acting in 1950 and later became a U.S. diplomat
(CNN) -- Shirley Temple Black, who rose to fame as arguably the most popular child star in Hollywood history, died late Monday night, her publicist said.
She was 85.
Temple Black, who also enjoyed a long career as a diplomat, died of natural causes at her Woodside, California, home. She was surrounded by family and caregivers, a statement from Cheryl Kagan said.
She began acting at age 3 and became a massive box-office draw before turning 10, commanding a then-unheard of salary of $50,000 per movie.
Her first film of notice was in 1932 when she played in "War Babies," part of the "Baby Burlesks" series of short films.
Appreciation: Shirley Temple, the model child star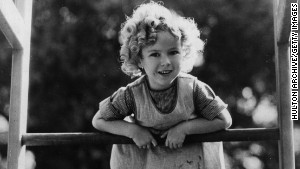 Shirley Temple Black dies at 85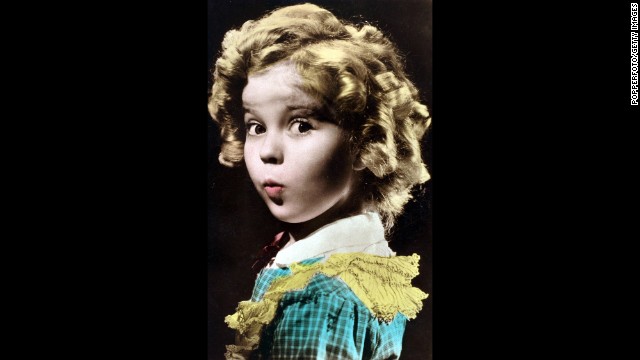 Hollywood child star Shirley Temple, who became diplomat Shirley Temple Black, died late February 10 of natural causes in her Woodside, California, home. She was 85. Above, Temple poses for a photograph in the 1930s.
Temple poses for a promotional photograph for one of the "Baby Burlesks" series of short films, circa 1932.
Billy "Bojangles" Robinson and Shirley Temple dance together on set in 1935.
Temple arrives at the 20th Century Fox studio lot to celebrate her eighth birthday in 1936.
Jean Hersholt performs with Temple in "Heidi" in 1937.
FBI director J. Edgar Hoover gives Temple a tour of the Department of Justice in 1938.
Temple and Dickie Moore act in a scene from the film "Miss Annie Rooney" in 1942.
Temple and John Agar walk down a staircase after their wedding in 1945. The couple divorced in 1950.
Temple and her second husband, Charles Black, arrive at the premiere of "Roman Holiday" in 1953.
Temple Black sits with her daughter Lori Black at their home in 1957.
Temple Black sits at a United Nations session in 1969. She served as a delegate for the United States.
Temple Black is sworn in as new chief of protocol beside President Gerald R. Ford in the Cabinet Room of the White House in 1976.
Temple Black signs copies of her book "Child Star" in 1988.
Temple Black stands by the river in Prague, Czechoslovakia, in 1990. She served as ambassador to Czechoslovakia from 1989 to 1992.
President Bill Clinton greets Temple Black during a reception prior to the 1998 Kennedy Center Honors.
Temple Black accepts the Screen Actors Guild Life Achievement Award onstage during the awards show in 2006.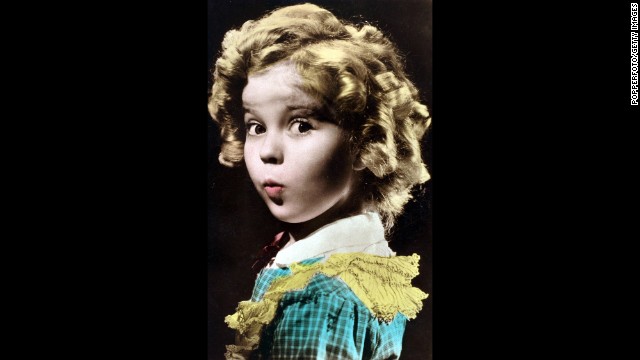 Shirley Temple Black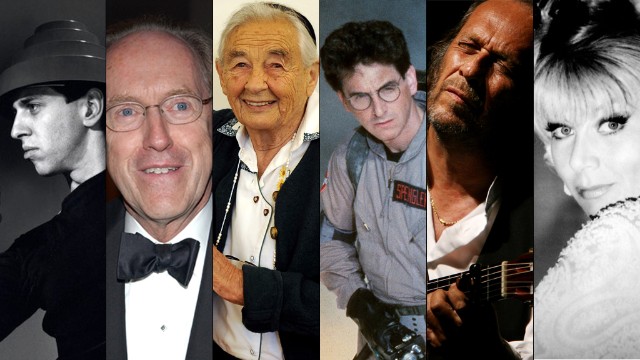 Click through to see people who passed away in 2014.
Actress Sheila MacRae, who portrayed Alice Kramden in a 1960s revival of "The Honeymooners" on "The Jackie Gleason Show," died on Thursday, March 6, according to her family. She was 92.
Spanish guitarist Paco de Lucia, seen here in 2006, died February 25 of an apparent heart attack. He was 66. De Lucia transformed the folk art of flamenco music into a more vibrant modern sound.
Actor, writer and director Harold Ramis, seen here on the far left with fellow "Ghostbusters" Dan Aykroyd and Bill Murray, died at his Chicago-area home on February 24. He was 69. Other popular Ramis films include "Stripes," "Groundhog Day" and "Analyze This."
Maria von Trapp, seen here posing with a photo of her family, was the last of the singing siblings immortalized in the movie "The Sound of Music." She died February 18 of natural causes at her Vermont home, according to her family. She was 99.
Journalist Garrick Utley has died at age 74 following a long battle with cancer, according to NBC. Utley worked for CNN after his 30-year career at NBC News.
Devo guitarist Bob Casale, known by fans as "Bob 2," died Monday, February 17, his brother and band mate announced. Casale was 61.
John Henson, son of Jim Henson, perhaps most notable for his portrayal of Sweetums, a large, gruff-looking, lovable character on "The Muppets," died after a "sudden, massive heart attack," his family's company said on February 15.
Veteran actor Ralph Waite died at 85 on Thursday, February 13, according to an accountant for the Waite family and a church where the actor was a regular member. Waite was best known for his role as John Walton Sr. on 'The Waltons."
Sid Caesar, whose clever, anarchic comedy on such programs as "Your Show of Shows" and "Caesar's Hour" helped define the 1950s "Golden Age of Television," died on February 12. He was 91.
Hollywood child star Shirley Temple, who became diplomat Shirley Temple Black, died February 10 at her Woodside, California, home. She was 85.
Joan Mondale, the wife of former Vice President Walter Mondale, died on February 3, according to a statement from the family's church.
Oscar-winning actor Philip Seymour Hoffman was found dead in his Manhattan apartment of an apparent drug overdose, law enforcement sources said February 2.
Maximilian Schell died on February 1 in a Austrian hospital with his wife by his side, his agent Patricia Baumbauer said. He was 83. Schell was nominated for an Oscar three times. He won in 1962 for "Judgment at Nuremberg."
Legendary folk singer Pete Seeger, known for classics such as "Where Have All the Flowers Gone" and "If I Had a Hammer (The Hammer Song)," died of natural causes in New York on January 27, his grandson told CNN. He was 94.
Ruth Robinson Duccini, who played one of the Munchkins in the 1939 classic "The Wizard of Oz," died on January 16. She was 95.
Former Playboy centerfold Cassandra Lynn Hensley was found dead at a friend's home in Los Angeles, the coroner there said on January 17. Hensley was 34. Her cause of death was not immediately known.
Hiroo Onoda, center, salutes after handing over his military sword on Lubang Island in the Philippines in March 1974. Onoda, a former intelligence officer in the Japanese army, had remained on the island for nearly 30 years, refusing to believe his country had surrendered in World War II. He died at a Tokyo hospital on January 16. He was 91.
Russell Johnson, center, stands with Alan Hale Jr., left, and Bob Denver in an episode of "Gilligan's Island" in 1966. Johnson, who played "the professor" Roy Hinkley in the hit television show, passed away January 16 at his home in Washington state, according to his agent, Mike Eisenstadt. Johnson was 89.
Ariel Sharon, whose half century as a military and political leader in Israel was marked with victories and controversies, died on January 11 after eight years in a coma, Israeli Army Radio reported. Sharon was 85.
Franklin McCain, seen center wearing glasses, one of the "Greensboro Four," who made history for their 1960 sit-in at a Greensboro Woolworth's lunch counter, died on January 10 after a brief illness, according to his alma mater, North Carolina A&T State University.
Larry Speakes, who served as President Ronald Reagan's press secretary, died January 10 at his home in Cleveland, Mississippi, following a lengthy illness, according to Bolivar County Coroner Nate Brown. He was 74.
Poet Amiri Baraka, who lost his post as New Jersey's poet laureate because of a controversial poem about the 9/11 terror attacks, died on January 9, his agent said. Baraka was 79.
Sir Run Run Shaw, the media tycoon who helped bring Chinese martial arts films to an international audience, died at his home in Hong Kong on January 7 at age 106, the television station he founded said.
Stage, TV and film actress Carmen Zapata, who founded the Bilingual Foundation of the Arts as a means of of introducing "the rich and eloquent history of the diverse Hispanic culture to English-speaking audiences," died on January 5 at her Los Angeles home. She was 86.
Portugal football legend Eusebio, who was top scorer at the 1966 World Cup, died from a heart attack on January 5 at age 71, said his former club, Benfica.
Alicia Rhett, who had been one of the oldest surviving cast members of the classic film "Gone With the Wind," died on January 3 in her longtime hometown of Charleston, South Carolina, a retirement community spokeswoman said. She was 98.
Singer Phil Everly, left -- one half of the groundbreaking, smooth-sounding, record-setting duo the Everly Brothers -- died on January 3, a hospital spokeswoman said. He was 74.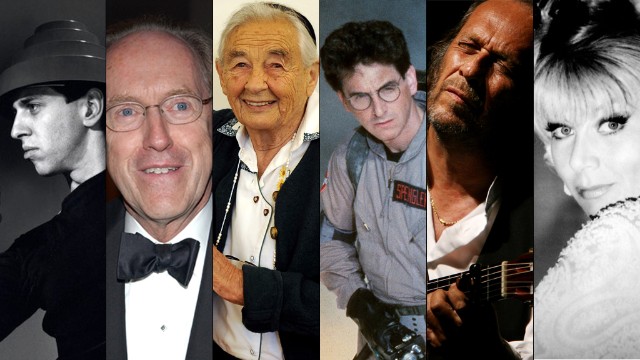 Photos: People we lost in 2014
For about 18 years, she sang, tap-danced and acted her way into the hearts of millions. Her corkscrew curls were popular with little girls from the 1930s through the 1970s.
Early years
Her star shone brightest as a toddler, and 20th Century Fox cranked out a series of feature films with the adorable, talented little girl. Her hits included "Little Miss Marker" (1934), "Curly Top" (1935) and "The Littlest Rebel" (1935).
At the box office, she beat out the great adult stars of her day, such as Clark Gable and Bing Crosby. Her popularity spawned a large array of merchandizing items, such as dolls, hats and dresses.
She was the top box-office star four years in a row, from 1935 to 1938. Her career was at its peak as the country was suffering the effects of the Great Depression, and her films offered uplifting moments.
But as she got older, the pace of movies slowed, and by 1939, her popularity was fading. She and 20th Century Fox terminated her contract early in 1940, just before she reached her teenage years.
Share your memories of Shirley Temple Black
U.S. diplomat
She retired from filmmaking at 22 and married Charles Black, changing her last name from Temple to Temple Black.
But she did not fade from the public eye.
She embarked on a new career as a foreign diplomat: She served in the U.S. delegation to the United Nations from 1969 to 1974 was U.S. ambassador to Ghana from 1974 to 1976, and U.S. ambassador to Czechoslovakia from 1989 to 1992.
Former U.S. President George H.W. Bush, who appointed her to the Czechoslovakia post, said Tuesday that he and his wife "mourn the loss of an American icon."
"She captured the affections of millions around the world by her endearing performances on the silver screen as a young girl, but I also admired Shirley for her selfless service to our country later in her life," Bush said in a statement released by his spokesman. "In both roles, she truly lifted people up and earned not only a place in our hearts -- but also our enduring respect.
"Barbara and I send our condolences to Shirley's family and countless fans around the world."
A statement from Temple Black's family members said they "salute her for a life of remarkable achievements as an actor, as a diplomat, and most importantly as our beloved mother, grandmother, great-grandmother, and adored wife of fifty-five years of the late and much missed Charles Alden Black."
Enduring icon
She remained a cultural icon for decades after stepping down from the silver screen.
In 1958, she made a comeback as an entertainer, this time on television, in an hourlong show, "Shirley Temple's Storybook."
She later received two lifetime achievement awards for her performing career.
In 1972, Temple Black successfully battled breast cancer.
Funeral arrangements are pending. A remembrance guest book will be set up online at shirleytemple.com.
CNN's Jo Shelley contributed to this report.