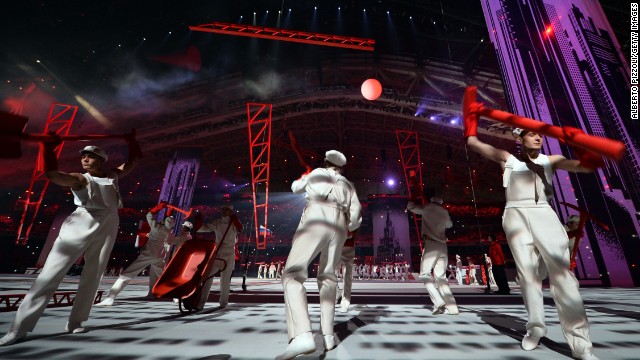 The construction of Russia's industrial past was a major theme at the Winter Games' opening ceremony but what will the infrastructure and environmental legacy be for Sochi once the Olympic jamboree leaves town?
Sochi has been the focus of a reported $51 billion of investment in the run-up to the Winter Games, with money pouring into stadium construction and infrastructure projects.
The spectacular Iceberg Skating Palace is playing host to figure-skating and short-track skating events during the Games. The nearby Fisht Stadium which will host the opening and closing ceremonies, meanwhile, will be transformed to host football matches at the 2018 World Cup once the Games are over.
There are now three high end ski-resorts in the mountains surrounding Sochi which will form part of the Winter Games legacy. Sochi, which has a subtropical climate, has traditionally been the hub of the "Russian Riviera" and not winter sports.
The Adler Railway Station in Sochi, Russia, another of the key legacy projects of the games. Sochi International Airport was also renovated and new roads have also been built.
"I think after the Olympics it will be good because we will have good hotels, roads, a nice airport," says French restaurant entrepreneur Bastien Simonneau.
Simonneau runs a French seafood restaurant in the city with his chef father Martial (pictured) along with a bakery and a catering venture.
James Larkin, who established a spa resort in the Krasnaya Polyana mountain range above Sochi, told CNN he had moved to Moscow in the last year because of the disruption caused by the Olympics building work.
According to some residents, however, the construction work for the 2014 Games has spoiled the surrounding countryside. Here, people work on their vegetable gardens near the construction site of the Olympic facilities in the Imeretinskaya Valley.
But Russian officials hope the development of Sochi will help promote the economic and business environment of the city and act as an inspiration for other areas of Russia.
Another major project that has yet to be finished is the city's Formula One track. Sochi is scheduled to host its first F1 race in October 2014.
Rebuilding Sochi
Rebuilding Sochi
Rebuilding Sochi
Rebuilding Sochi
Rebuilding Sochi
Rebuilding Sochi
Rebuilding Sochi
Rebuilding Sochi
Rebuilding Sochi
Rebuilding Sochi
Rebuilding Sochi
STORY HIGHLIGHTS
Russia's first Winter Olympics has brought both opportunities and disruption
Spa owner says extensive construction work has made his business "very difficult"
An American has found a niche facilitating needs of officials, sponsors and broadcasters
French father-and-son restaurant team waiting until after Olympics to see benefits
Follow us at @WorldSportCNN and like us on Facebook
(CNN) -- It has been dubbed Russia's Las Vegas. A place where Vladimir Putin's government rolled the dice in a grand project to help the world rethink the way it does business.
More than $50 billion has been spent in reshaping Sochi for the Winter Olympics, in the process bringing traffic gridlock, a decline in tourism and environmental destruction.
If it's been tough for the locals, it has arguably been just as hard for the ex-pats who came to the Black Sea resort looking for a new life and are left wondering just what the legacy of this month's Games holds for them.
One British businessman, who came to Russia in 1996, believes a huge opportunity has been missed by the authorities.
"What the Russians don't understand is the price of what they have. The natural resources here, the forests, the rivers -- there's so much untouched nature here it's just incredible," says James Larkin.
"You can walk in the mountains for several days and you won't see any houses, any roads, there's no way to get there except for walking. There's not really many places in the world left for that. That is a huge tourist attraction in itself."
Larkin started a "banya" spa retreat in the Krasnaya Polyana mountain region above the coastal city, but has spent the last year working in Moscow due to the chaos brought about by Sochi's reconstruction.
"The last few years it's been pretty bad, they've been digging up the roads, lots of traffic jams. The locals, who are tourists who'd come from Sochi, they've stopped coming completely.
"The prices have shot up ... economically it's made the whole thing very difficult."
For American businessman Bruce Talley, however, the influx of the thousands of people needed to turn Sochi into an Olympic venue has been a massive boon.
Talley, who worked in investment banking before spotting opportunities for property investment in Russia, has found a niche helping Olympic officials, broadcasters and sponsors to navigate Russian bureaucracy.
"It's amazing. I lived in California for a long time and I watched the growth and development there, and of course southern California is a much bigger area ... In a concentrated region like this, I've never witnessed anything like the changes here," he told CNN.
"There have been a lot of people who have relocated here working for various bodies. We've done relocation for some of those companies, helping them find apartments all the way up to providing services, financial management and contracts."
In between these two perspectives lies Bastien Simonneau, who with his chef father runs a French seafood restaurant overlooking the harbor, a bakery and a catering business.
"I think after the Olympics it will be good because we will have good hotels, roads, a nice airport -- it will be very quick for people to come from Moscow to enjoy the snow," the 31-year-old told CNN.
"Right now, of course, you don't get tourists."
That was late last year, when Sochi's workforce was still battling towards its deadline of being ready for the February 7 opening ceremony.
Since then, security has been stepped up even further after several terrorist alerts, resulting in a clampdown on traffic into the city.
Sochi, which has a subtropical climate, has traditionally been the hub of the "Russian Riviera" -- a narrow 2 km belt of coast that stretches 145 km.
It's a popular summer retreat for Russians, but there is some doubt as to how many foreign tourists will make the long trip for the Olympics despite the much-improved air and rail links.
"Before we were thinking yes, but right now we don't know," Simonneau says.
Sochi 2014 environment strategy

• More than 2,000 plants on endangered species list replanted on Psekhako Ridge

• 10,000 trees replanted during construction of the Sanki Sliding Center

• In Coastal Olympic Village, more than 240,000m² planted with 3,500 trees

• Before start of Games, 168,000 trees and shrubs planted in city's green spaces

• Olympic constructors committed to restore Mzymta river channel by end of 2013

• 450 animals relocated from construction area for Olympic Park to protected areas

• 400+ animals relocated at "Laura" Cross-country Ski & Biathlon Center
"The authorities, their priority is terrorists, to control everybody, so I don't know if we are going to have a lot of foreigners. You need to have documents for everything. We have a lot of questions about how it will work, but they don't answer us."
But there is no doubting the tourism potential of the massively-revamped Krasnaya Polyana mountain cluster, which Simonneau recalls had just one ski lift ("I think they bought it secondhand from Yugoslavia") at the time of his first visit several months after Sochi was awarded the Games back in 2007.
"I really enjoyed the quality of snow but it took 40-45 minutes to get to the top of the mountain," he says. "They only had one road. There was nothing in Krasnaya, a small village and nothing much, only Russian tourists."
Now there are three high-end resorts, much to the delight of Russia's ski-loving president Vladimir Putin, who has taken a hands-on approach in ensuring his grand project goes to plan.
However, locals in Akshtyr village outside Sochi have complained about the effects all the building has had on their environment.
Alexander Koropov told CNN a train line built 20 yards from his fruit farm has left the produce rotting on the vine due to pollution at the construction sites.
"Every 10 minutes, he says, the high-speed train whizzes past his house, and it drives him crazy," reports CNN's Ivan Watson, who says other residents told him the government had failed to fulfill promises to provide centralized plumbing and heating.
"Alexander says this was a beautiful place before the Olympics. You can't imagine how many trees were destroyed here to build this."
Sochi's organizers, however, say they have undertaken extensive replanting programs to replace hundreds of thousands of trees in affected areas in the city and surrounding regions. Areas for endangered plant and animal species have been created, according to the Sochi 2014 Environmental Strategy .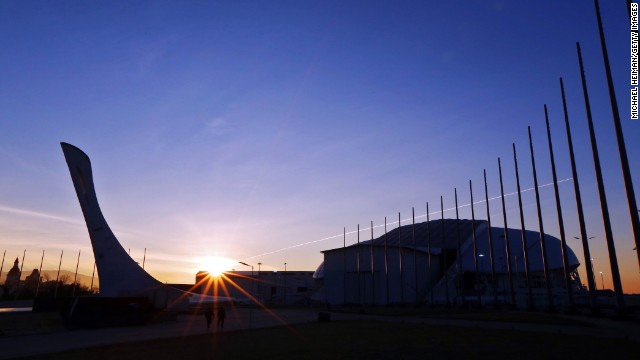 The sun rises over Sochi's Olympic Park on January 10, 2014. The 2014 Winter Olympics will run February 7 - 23 in Sochi, Russia. Six thousand athletes from 85 countries are scheduled to attend the 22nd Winter Olympics. Here's a look at the estimated $50 billion transformation of Sochi for the Games.
Soaring snowcapped peaks, some topping 10,000 feet, tower over the Black Sea resort city of Sochi on January 22, 2007. These are Russia's first Olympic Games, although the former Soviet Union hosted the 1980 Summer Olympic Games in Moscow.
The city of Sochi, which is also a fishing town, was among three finalists bidding for the Olympics. Salzburg, Austria, and Pyeongchang, South Korea, also competed.
In the Imeretinskay Valley, a woman plays with a dog in February 2007, near an advertisement for the Olympic Park soon to be built in the area. Organizers of the Sochi Olympics say they want these Games to be the greenest, most environmentally aware games ever staged.
Construction vehicles travel along the Imeretinskaya Valley, the site of Olympic facilities for the 2014 Winter Olympics in Sochi, in April 2009. Ice events will be held in a "cluster" near the Black Sea in the Imeretinskaya Valley. The second "cluster" will be for skiing and sliding events and will be held in the Krasnaya Polyana Mountains.
People work on their vegetable gardens near the construction site of the Olympic facilities in the Imeretinskaya Valley in April 2009.
This September 2010 photo shows ski facilities under construction in Krasnaya Polyana near Sochi.
The Grand Ice Palace, intended for ice hockey, is under construction here in October 2010.
A construction worker walks on the top of the building site of the Bolshoi Ice Palace in Sochi in June 2010.
Pictured here from the Krasnaya Polyana ski resort is the combined motor and rail road that runs between Olympic sites.
Central stadium is under construction in Sochi's Olympic Park in December 2011.
Sochi's new Adler Arena for speed skating is pictured in November 2012.
Sochi's new Adler Arena for speed skating is pictured in November 2012.
Construction continues on Sochi's "Iceberg" Skating Palace in February 2012.
The Iceberg figure-skating and short-track venue is pictured in September 2013.
The "coastal cluster" venues for the 2014 Winter Olympic Games are pictured in January 2014 in Sochi.
The Olympic rings for the 2014 Winter Olympics are installed in Sochi on September 25, 2012.
About 37,000 security officers will be deployed for the Sochi Games. Police officers walk in front of the main press center at the Olympic Park in Sochi on January 7, 2014.
The Olympic rings light up the sky outside Sochi International Airport. An estimated 3 billion people are expected to watch the Olympics on television.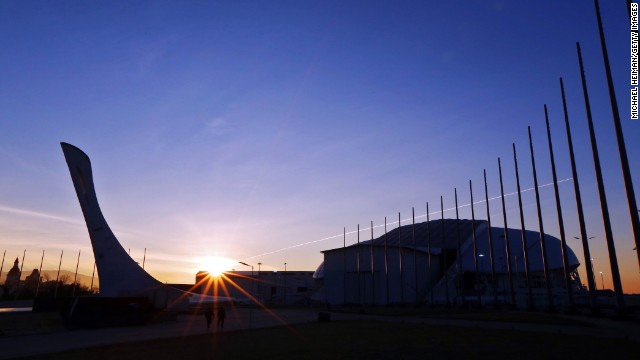 Sochi transformed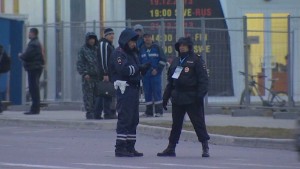 U.S. has contingency plans for Sochi
The Mzymta river basin is also being restored, with millions of fish released into the waters, and Sochi's aim is a "Zero Waste" Games that have "minimal impact on the climate" in terms of greenhouse gas emissions, said the official policy statement.
Larkin, though, despairs at the impact of development on what was previously a relatively unspoiled mountain region.
"Most of the Russians, especially the politicians, don't get it. For a bad copy of what you've got in Switzerland, made in a couple of years, you're not going to impress people," he says.
President Putin's plan to enhance Russia's reputation as a major international player may have sacrificed some of the sprawling country's natural beauty but, some say, it is revitalizing a region that had fallen into neglect following the Soviet era.
"The Olympic torch is going to burn where I used to live," says Rima Seferyan, one of thousands of Sochi residents who had to relocate. "I'm very happy with my new house."
Bruce Talley -- the American fixer -- is excited about the business opportunities that lie ahead for the city, which will host Russia's first Formula One race in October and will provide one of the venues for soccer's 2018 World Cup.
"Sochi is kind of being reborn," says the 54-year-old, who publishes what he says is the only English-language information source in the city.
"They will be having lots of events for a long time here.
"We had the economic forum going on, one of the few largest business forums in Russia -- there's one in St. Petersburg and one in Sochi each year. Tens of thousands of people come here to make contacts."
Russia, as Bastien Simonneau also acknowledges, is not an easy place to do business. Through his ventures, the restaurant owner says they have been helped by its people's love of French culture.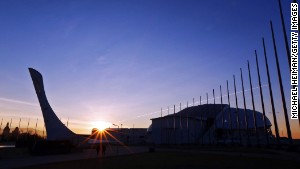 Athlete: 'We don't know what to expect'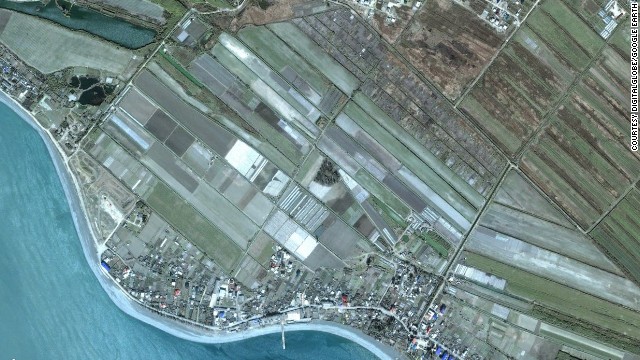 The satellite image company DigitalGlobe and Google Earth have provided a look at the transformation of the location of the Winter Games in Sochi, Russia. Look at how the area, known as the "Coastal Cluster" has been transformed for the games. Here you can see the area where the Olympic Village will be built as it it appeared in April 2005.
Sochi as it appeared in September 2007.
In March 2010, the initial ground work for the future Olympic Village and venues can be seen.
By September 2011, construction was well underway.
In this photo from March 2013, the buildings that will become Olympic venues can be clearly seen.
From the top center, going clockwise: the large rectangular building is the Adler Arena Skating Center, the smaller squarish building is a training rink for figure skating, then the Iceberg Skating Palace, the round dome near the bottom center is the Fisht Olympic Stadium, and the smaller white-topped building is the Bolshoy Ice Dome.
A wider view of the area is seen on January 2.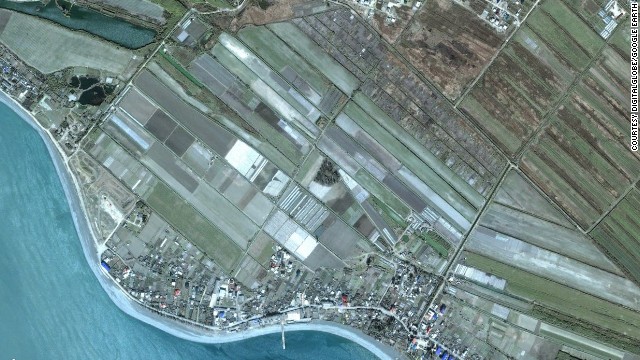 Photos: Building Sochi's Olympic village
"The biggest challenge is to find someone you trust. The second thing is to find and train the staff," he says, adding that most of his workers come from other parts of the country.
Spa owner Larkin says it might be even harder now for foreigners to set up business in Sochi.
"It's a question of the initial cost of it -- the price of land and construction materials has gone through the roof, it's more expensive than in Moscow," says the 58-year-old.
"The second problem is finding people. They have made all the foreigners move out, mainly people from countries like Tajikistan who've been doing work there.
"They've had to leave so it's more expensive to find people who can sink piles or lay bricks or things like that. Then you have all the other problems of getting your suppliers."
Despite the difficulties the Olympics have brought him, Larkin hopes international visitors will come to Sochi and experience life in Russia -- though they may have to escape the confines of the Olympic area to do so.
"I'm English but Russia is my home, I'm very fond of this country and the people here. They've got a lot of good things to offer," he says.
"The people are nice -- they're a bit harsh at first, a bit hostile but, inside, most of the Russians have a very warm heart and are quick to make friends with you.
"I've had situations where you've had a small car crash with somebody, they're shouting, swearing and getting angry -- after about 10 minutes they're inviting you home for dinner."