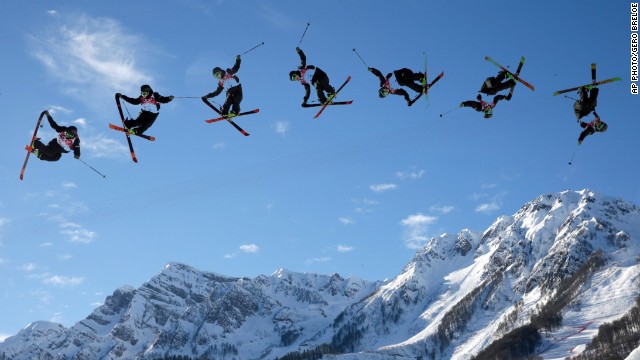 Sochi's slopestyle competition, with both ski and snowboard versions, has brought a whole new dimension to the Winter Games.
The U.S. cruised through the skiing competition, claiming all three medals -- just the third American clean sweep of an event in the history of the Winter Games.
Joss Christensen won gold -- his first success in a major competition before, having qualified for the Olympics just two weeks ago.
Fans on the ground celebrated the U.S. medal sweep in style. Or freestyle?
The winners did not hide their emotions. It was a historic moment -- the U.S. has previously only won all three medals in the 2002 men's halfpipe snowboard competition and the 1956 men's individual figure skating singles.
The sun, the snow, the tricks: Oystein Braaten of Norway flies high in the slopestyle competition.
American snowboarders Kaitlyn Farrington and Hannah Teter, along with Australia's Torah Bright, smile as they wait for the final results in their halfpipe competition.
Swedish slopestyle skier Henrik Harlaut is proud of his look, consisting of very low-hanging pants and visible underwear.
The 22-year-old revealed more of that underwear as he crashed during the competition.
Rather than rivalries, the competitors prefer support and friendship. Here snowboarding legend Shaun White, who surprisingly ended up without a medal in the men's halfpipe, congratulates gold medalist Iouri Podladtchikov.
Podladtchikov, born in Russia but competing for Switzerland, shares his happiness up close with a TV camera.
The cool image of snowboarding is reinforced by big screens showing the competitors posing for cameras. Here, Taku Hiraoka of Japan competes during the halfpipe event.
Meet the new-school Olympians
Meet the new-school Olympians
Meet the new-school Olympians
Meet the new-school Olympians
Meet the new-school Olympians
Meet the new-school Olympians
Meet the new-school Olympians
Meet the new-school Olympians
Meet the new-school Olympians
Meet the new-school Olympians
Meet the new-school Olympians
Meet the new-school Olympians
STORY HIGHLIGHTS
Eight of the 12 new events at the Sochi Olympics have their origins in extreme sports
Incredible tricks, style and a relaxed atmosphere are a big part of these competitions
But the seriousness of the Games seems a culture shock to these new Olympians
Follow us at @WorldSportCNN and like us on Facebook
(CNN) -- Welcome to the new cool. The dreadlocks. The headphones. The beats. The fist-bumping.
Forget pumped up, chiseled athletes focused on nothing more than winning.
If snowboarders were the Olympics' introduction to a younger, hipper, "slacker" generation of competitors, the next wave of adrenaline junkies has taken it back to the new old school.
"It's like playing," Jamie Anderson said after winning gold in inaugural women's slopestyle snowboarding event in Sochi.
"We're pretty much snowboarding on a playground up there."
Slopestyle, which also has a ski discipline, is one of 12 new categories at 2014 Winter Games -- eight of which have their origins in extreme sports.
It's part of the International Olympic Committee's bid to attract younger audiences, a mission shared by its broadcast and advertising partners.
Short-track speed skating was added in 1992, and snowboarding came six years later.
But forget the idea of 10,000 hours of repetitive practice -- as Anderson says, these new sports are all about playing.
All playgrounds have their own vocabulary, and expressions like "stoked," "corked" and "stalefish" are rapidly becoming part of the sporting lexicon.
As is the idea of fun, which the winner of the men's slopestyle skiing event, Anderson's fellow American Joss Christensen, was keen to reference.
"I didn't try to put any more pressure on myself, I just tried to ski a normal contest and just do my best and have fun with it. I thought it worked out," said the 22-year-old in trademark understatement.
His comments underplayed the reality that the U.S. team annihilated the competition, claiming all three men's medals to end Canada's monopoly of freestyle golds at these Games.
Christensen had never won a major competition, and only qualified for the Olympics two weeks ago.
"I am shocked," he conceded. "I am stoked to be up here with my friends. America, we did it."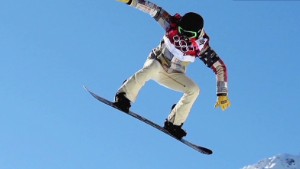 The dangers of slopestyle snowboarding
With Gus Kenworthy and Nick Goepper winning silver and bronze, it was a historic moment -- the U.S. had previously achieved such a clean sweep of medals on just two occasions: the 2002 men's halfpipe snowboard competition, and the 1956 men's individual figure skating singles.
But there was a serious undertone for Christensen, who has been mourning the loss of his father last year.
"I hope I made my father proud," he said.
"Through all the injuries I've had, he's always supported me and never said stop. I hope he's looking down and smiling. Did it for him."
As part of the slopestyle "playground" there is a "kiss and cry" area, where the competitors wait to see their results.
Not that there was any signs of tears at the Rosa Khutor Extreme Park on Thursday. All the competitors look relaxed as if they were hanging out with their friends on the slopes of their backyard ski resort -- which is not so far-fetched, given they train together and meet at events several times a month.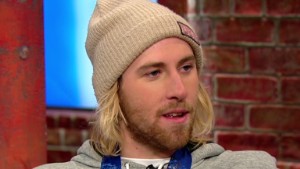 Kotsenburg: 'I was having fun with it'
The glory and seriousness of the Olympics seems something of a culture shock to these new Olympians. Their main event, the X Games, is all about showing off new tricks in fairly relaxed, showbiz atmosphere.
And it's not just spectators and television viewers who have been impressed by their performances.
"It looks very spectacular," IOC president Thomas Bach told reporters after Christensen's win. "I just met the three medalists and they are cool guys."
"They found it (the competition) cool and now they wait for the party. When you win you have the party."
Perhaps the Winter Olympics' new breed is best encapsulated by Henrik Harlaut. The 22-year-old Swede might not have made it up on the podium, but he definitely garnered plenty of attention with his very, very low-cut pants -- which, by the end of his run, revealed much of his colorful underwear.
Along with the incredible tricks, style is a big part of these competitions.
"I don't think skiing with my ski pants so low is an issue," Harlaut insisted.
"I have been skiing like this for 10 years now. It is my style and has been for a while. I feel really comfortable."
Not everyone has been impressed by the tricks and a more relaxed of sporting competition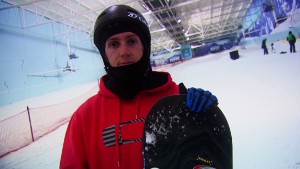 Olympic hopefuls show off their skills
"I think the president of the IOC should be Johnny Knoxville, because basically, this stuff is just 'Jackass' stuff that they invented and called Olympic sports," commentator Bob Costas said on NBC said before the Games began, referring to the comedic daredevil who was known for crashing into things.
That's not a view shared by the U.S. Olympic Committee, which has specifically targeted invested in these new sports, primarily because they deliver medals for America.
"We've been able to really customize and drill down where we can have the greatest impact," Alan Ashley, the USOC's chief of sport performance, told the Washington Post.
"I'd like to try to get as many athletes as possible opportunities to become Olympians, then become successful Olympians as well."
So behind the cool exterior, there is some bottom-line accounting going on.