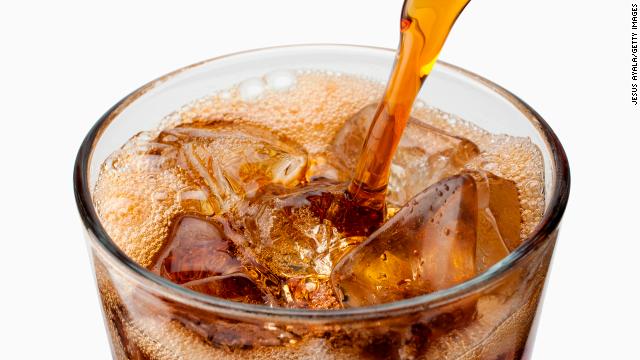 When taken at face value, diet soda seems like a health-conscious choice. It saves you the 140-plus calories you'd find in a sugary soft drink while still satisfying your urge for something sweet with artificial sweeteners like aspartame, saccharin, and sucralose. But there's more to this chemical cocktail than meets the eye.
Health.com: The 25 best diet tricks of all time
Artificial sweeteners
have more intense flavor than real sugar, so over time products like diet soda dull our senses to naturally sweet foods like fruit, says Brooke Alpert, author of "The Sugar Detox." Even more troubling, these sugar stand-ins have been shown to have the same effect on your body as sugar. "Artificial sweeteners trigger insulin, which sends your body into fat storage mode and leads to weight gain," Alpert says.
Health.com: 5 steps to quitting artificial sweeteners
lose weight
. Researchers from the University of Texas found that over the course of about a decade, diet soda drinkers had a 70% greater increase in waist circumference compared with non-drinkers. And get this: participants who slurped down two or more sodas a day experienced a 500% greater increase.
Health.com: 27 Mistakes Healthy People Make
Diet soda is calorie-free, but it won't necessarily help you
Drinking one diet soda a day was associated with a 36% increased risk of metabolic syndrome and diabetes in a University of Minnesota study. Metabolic syndrome describes a cluster of conditions (including high blood pressure, elevated glucose levels, raised cholesterol, and large waist circumference) that put people at high risk for
Early studies
on
aspartame
and anecdotal evidence suggests that this artificial sweetener may trigger headaches in some people. "I have several clients who used to suffer from
migraines
and pinpointed their cause to diet soda," Bjork says.
Health.com: Headache-proof your diet
low-calorie cocktail
mixer has the dangerous effect of getting you drunk faster than sugar-sweetened beverages, according to research from Northern Kentucky University. The study revealed that participants who consumed cocktails mixed with diet drinks had a higher breath alcohol concentration than those who drank alcohol blended with sugared beverages. The researchers believe this is because our bloodstream is able to absorb artificial sweetener more quickly than sugar.
Health.com: 6 ways to enjoy cocktails guilt-free
Using diet soda as a
depression
than those who steered clear of sugary drinks. The correlation held true for both regular and diet drinks, but researchers were sure to note that the risk appeared to be greater for those who primarily drank diet sodas and fruit punches. Although this type of study can't prove cause and effect, its findings are worth considering.
Health.com: The 10 most depressing states in the U.S.
A recent study presented at a the American Academy of Neurology meeting found that over the course of 10 years, people who drank more than four cups or cans of soda a day were 30% more likely to develop
osteoporosis
than men, and Tufts University researchers found that drinking soda, including diet soda, compounds the problem. They discovered that female cola drinkers had nearly 4% lower bone mineral density in their hips than women who didn't drink soda. The research even controlled for the participants' calcium and vitamin D intake. Additionally, a 2006 study published in the American Journal of Clinical Nutrition found that cola intake (all kinds, not just diet) was associated with low bone-mineral density in women.
Health.com: 11 foods for healthy bones
Women over 60 are already at a greater risk for
stroke
,
heart attack
, or vascular death, according to researchers from the University of Miami and Columbia University. Their study found that diet soda devotees were 43% more likely to have experienced a vascular event than those who drank none. Regular soda drinkers did not appear to have an increased risk of vascular events. Researchers say more studies need to be conducted before definitive conclusions can be made about diet soda's effects on health.
This article originally appeared on Health.com.
Just one diet soft drink a day could boost your risk of having a vascular event such as
10 reasons to give up diet soda
It confuses your body
It could lead to weight gain, not weight loss
It may increase your risk of type 2 diabetes
It has no nutritional value
Its sweetener is linked to headaches
It'll ruin your smile over time
It makes drinking more dangerous
It's associated with depression
It may be bad for your bones
It may hurt your heart
STORY HIGHLIGHTS
Mike Wilber decided that he was going to give up soda to become healthier
His acid reflux and energy swings have disappeared since making the switch to water
Follow Mike's journey training for a triathlon on Twitter @TriHardMike
Editor's note: Mike Wilber is one of six CNN viewers selected to be a part of the Fit Nation Triathlon Challenge program. Follow the "Sassy Six" on Twitter and Facebook as they train to race the Nautica Malibu Triathlon with Dr. Sanjay Gupta on September 14.
(CNN) -- I was introduced to pop -- soda for you Southerners -- at a young age.
My parents used it as a treat, like birthday cake. As I got older, I remember having pop around the house all the time.
As a kid, my drink of choice was Mountain Dew. I loved the taste of an ice cold Dew on a hot summer day. A lot of my favorite memories are associated with its sweet taste.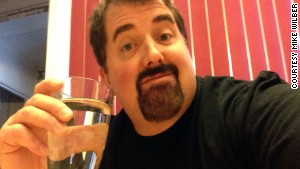 Fit Nation team member Mike Wilber gave up pop as part of his journey in training for his first triathlon.
As I matured, my taste changed to Diet Pepsi and, more recently, Diet Coke. I enjoyed starting my day with a Diet Coke before the first period class arrived. It was part of my relaxation routine -- a comfort drink, so to speak. The taste, the sound, the "fizz." I would tell people, "I need my caffeine."
10 reasons to give up diet soda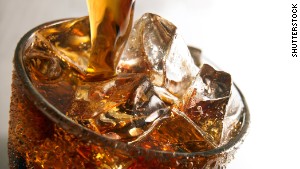 Are diet sodas dangerous to your health?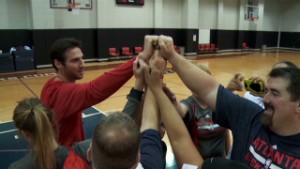 Fit Nation team works out with Hawks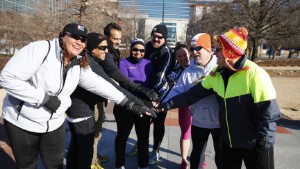 Fit Nation team starts journey to tri
I was aware of all the health problems that have been linked to drinking pop. It never stopped me. The empty calories, the dangers of sugar and artificial sweeteners couldn't sway me. I had to have it.
After my first dose in the morning, I crashed a few hours later. I experienced huge energy swings throughout the day. I had acid reflux disease. But those couldn't be because of what I drank, could it?
This habit had a trickle-down effect to my children. I had it in the house at all times. My girlfriend kept it in her house as well. But it wasn't a habit I wanted my two teenage girls starting up. I wanted to be a better role model. My words don't hold much value if I am drinking what I tell them that they cannot, I thought.
Then, on December 30, that all changed. After I was selected to be part of the CNN Fit Nation team, I decided to take a look at all aspects of my life. What can I do to make myself healthier? I asked myself.
How the 'Sassy Six' came to be
That day, I decided to do the unthinkable: I quit drinking pop.
Don't assume this has been easy for me. I struggle with the thought of it. I miss it and can still taste it six weeks later. Giving up pop has been one of the most difficult things I have done, and yet it's also one of the healthiest.
Although I miss every aspect of drinking a Diet Coke every day, I know my body feels better. I feel less dependent on this comfort food. If I'm having a bad day, I don't have to run upstairs and grab a Diet Coke. I definitely have more energy, and my body doesn't ache.
I have not had an issue with acid reflux since I quit. Is that a coincidence? I think not.
Now I have to retrain my brain. Water has become my drink of choice. I know ... water is boring. But I have come to appreciate how good an ice cold glass of water actually tastes.
The desire to change myself into a healthier version became more important than the desire to drink pop. It took me a while to realize that I needed to make that change. I wish I had listened to my body sooner!
I challenge you to do the same. Will you give up pop with me? Or make another small change in order to be healthier? Tell me your plan in the comments below, and share your success with me on Twitter @TriHardMike.
Sugary drinks linked to 180,000 deaths worldwide
Why you should celebrate small victories