Holiday dilemma: Celebrate Lantern Festival or Valentine's Day?
February 20, 2014 -- Updated 0243 GMT (1043 HKT)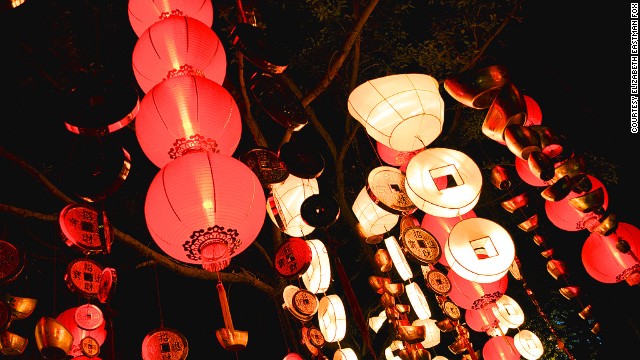 Chinese revelers end their 15-day Lunar New Year celebrations with Lantern Festival, or Yuanxiao Festival. This year's Lantern Festival falls on February 14.
The Lantern Festival celebrates the first full moon of the Lunar New Year.
In Shanghai, the most popular Lantern Festival takes place at Yuyuan, where crowds rub shoulders to see thousands of decorative lanterns.
Lunar New Year celebrations begin with blazing fireworks and overeating, and end with the same activities. Traditionally, families gather to eat tangyuan (glutinous rice balls stuffed with sweet or savory fillings in soup) and admire lanterns.
Locals stock up on lanterns at the market at Confucius Temple in Nanjing before the big day.
In ancient days, single women were allowed to leave home only during the Lantern Festival -- this is when they finally had chance to meet their lovers. Hence, in addition to a family celebration, Lantern Festival is also known as the Chinese Valentine's Day.
With the Lantern Festival and Western Valentine's Day overlapping this year, a heated debate has arisen in China over whether to celebrate the day with parents or with lovers.
Last year's Lantern Festival in the Splendid China Folk Village in Shenzhen was typically bright.
Lantern Festival 2014
First full moon
Yuyuan, Shanghai
Fireworks and tangyuan
Confucius Temple, Nanjing
Chinese Valentine's Day
Lantern Festival vs. Valentine's Day
Splendid China Folk Village, Shenzhen
STORY HIGHLIGHTS
China's Lantern Festival takes place on the last day of Lunar New Year celebrations
This year's festival falls on Valentine's Day
Chinese celebrate the first full moon by eating rice dumplings with meat fillings
(CNN) -- After millions of firecrackers lit and millions of gallons of baijiu (rice wine) gulped, revelers around China conclude the country's 15-day Lunar New Year celebrations with the colorful Lantern Festival, or Yuanxiao Festival.
On the 15th day of the first month of the new lunar year, Chinese celebrate the year's first full moon by eating hearty tangyuan (rice dumplings with sweet or meat fillings) with family and solving riddles written on cards hanging from lanterns.
The word "tangyuan" sounds similar to the Chinese word for "reunion" in both Mandarin and Cantonese, and signifies bonds between family members.
But there's a problem with this year's festival.
This year the Lantern Festival falls on February 14 -- Valentine's Day -- leading to widespread debate among Chinese netizens: Should you share tangyuan with family or chocolate with a lover?
MORE: 7 ways to celebrate Lunar New Year
According to ChinaNews.com, a recent survey indicates that 43.7% of respondents are choosing to celebrate Valentine's Day with a mate, while only 25.3% plan to spend Lantern Festival with their parents.
Although Lantern Festival is an important family festival, it's also known as one of China's two Valentine's Days (the other is on the seventh day on the seventh month of the lunar year).
In ancient times, unmarried girls were allowed to leave home only during Lantern Festival's celebration.
Hence, the day has traditionally been a popular one for loverbirds to meet.
Owing to the rare "dual holiday," in Hong Kong this year, twice as many couples are getting married on Valentine's Day as they did last year.
A total of 493 pairs of couples got married on Valentine's Day this year -- only 187 pairs got hitched on February 14, 2013.
The Lantern Festival is celebrated outside of China, in countries including Malaysia and Vietnam.
READ: 'Evil spirits': The truth about Chinese New Year

Today's five most popular stories
Part of complete coverage on
October 20, 2014 -- Updated 1808 GMT (0208 HKT)

The guidebook asked staff, contributors and authors for well-known and lesser-known recommendations.
October 20, 2014 -- Updated 1607 GMT (0007 HKT)

An airport in Asia has stolen the crown from Manila's Ninoy Aquino, voted 'world's worst' three years in a row.
October 21, 2014 -- Updated 1620 GMT (0020 HKT)

It's time for a beef break, veal vacation, hog holiday or sinew sabbatical in a T-bone a-fide U.S. meatopolis.
October 20, 2014 -- Updated 1319 GMT (2119 HKT)

With so many awesome new attractions on the way, the next few years are going to be a roller coaster ride.
October 17, 2014 -- Updated 0107 GMT (0907 HKT)

Scientists are busy surveying Southeast Asia's Coral Triangle, home to 75 percent of all known coral species.
October 16, 2014 -- Updated 1350 GMT (2150 HKT)

Bounce Below transforms an abandoned slate mine into a surreal, springy world of fear and fun,
October 14, 2014 -- Updated 2316 GMT (0716 HKT)

With chopsticks or fingers? Wasabi or no? A double Michelin-starred Tokyo chef sets the record straight and shows us the sushi way.
October 13, 2014 -- Updated 2224 GMT (0624 HKT)

It may look like a gateway across time and space crafted with alien technology, but in reality it's a fruit and vegetable market.
October 13, 2014 -- Updated 0925 GMT (1725 HKT)

Based on the votes of over 330 industry experts, the 2014 winners include bars from 27 cities in 14 countries.
October 12, 2014 -- Updated 2231 GMT (0631 HKT)

Careening down an active volcano at 95 kph on a thin board? It happens only at Cerro Negro in Nicaragua.