STORY HIGHLIGHTS
Jyllands Park Zoo says there's no plan to kill one of its male giraffes, named Marius
There is no plan to send a female giraffe to the zoo for a breeding plan, the zoo says
A petition set up to save the Jyllands Park Zoo giraffe has more than 10,000 signatures
Last weekend Copenhagen Zoo killed a giraffe, also named Marius, to prevent in-breeding
(CNN) -- The decision by Copenhagen Zoo in Denmark to kill one of its giraffes last weekend sparked anguish. The news four days later that a second Danish zoo might follow suit prompted howls of outrage.
But Jyllands Park Zoo has now said that those fears are groundless. In a statement on its official Facebook page, under the heading "Problem solved," it said the giraffe's future was assured.
The zoo said Thursday it might also have to "euthanize" one of its male giraffes -- which coincidentally shares the name Marius with the giraffe that was killed -- if a female was brought in to breed.
But it now says the European Association of Zoos and Aquaria -- a body governing 345 institutions -- has no plans to send a female "any time soon."
As a result, the zoo said, it would "of course keep both our giraffes, as we have stated all along. There is no plan, and there has never been a plan to neither move or euthanize any of our giraffes."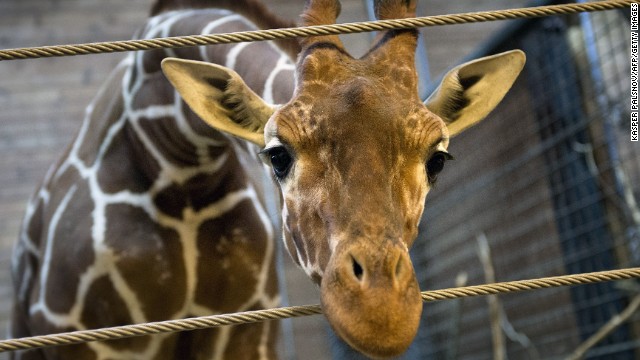 A Danish zoo has euthanized a healthy male giraffe, named Marius, saying it had a duty to avoid inbreeding. This photo of the giraffe was taken on February 7. The 18-month-old giraffe was put down with a bolt gun on Sunday, February 9, according to a zoo spokesman.
Protestors demonstrate outside the Copenhagen Zoo against the killing of the giraffe on February 9.
After an autopsy the giraffe was dismembered in front of a zoo audience that included children, and fed to the zoo's lions.
Visitors to the zoo watch as the giraffe is autopsied and butchered.
A zoo vet carries out an autopsy on the giraffe.
The giraffe was killed using a bolt gun, not a lethal injection, so that the meat would not be contaminated and could be used to feed the lions and other carnivores.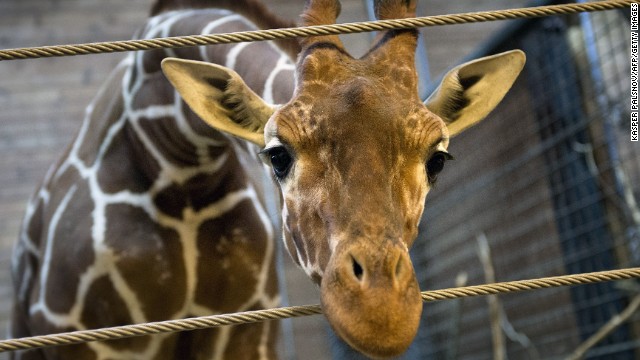 Photos: Danish zoo kills healthy giraffe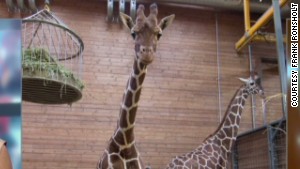 Hanna: No excuse for euthanization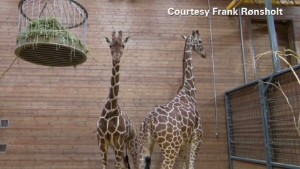 Defending the decision to kill a giraffe
Jyllands Park Zoo said reporting of the threat to its Marius had been based on a "hypothetical situation" which "now seems to be eliminated."
The suggestion that a second Marius might be euthanized prompted a slew of angry comments on the zoo's Facebook page.
A petition on the website Change.org garnered more than 10,000 signatures.
"We are begging Jylland's Park Zoo to please begin a new trend by showing that there is a more compassionate alternative to surplus animals or animals deemed not fit to breed within your zoo," its author said.
"Allow Marius, the giraffe within your care, to live out his days at a sanctuary or wildlife park. Please, do not kill another animal when there are so many other options."
Dead giraffe fed to lions
The decision by Copenhagen Zoo to shoot its male giraffe named Marius to prevent inbreeding sparked wide fury.
Staff at the zoo received death threats as debate raged online over the killing, which took place despite another petition signed by thousands of animal lovers.
Bengt Holst, scientific director at the Copenhagen Zoo, told CNN the decision was made for the greater good of the giraffe population.
"Our giraffes are part of an international breeding program, which has a purpose of ensuring a sound and healthy population of giraffes," he said.
Copenhagen Zoo's Marius was shot by a veterinarian as he leaned down to munch on rye bread, a favorite snack. After a necropsy, the giraffe was dismembered in front of an audience that included children and fed to the zoo's lions, tigers and leopards.
READ: Opinion: Why arguments for killing of giraffe don't stand up to scrutiny
READ: Opinion: Why zoo was right to cull giraffe
READ: Zoo: Conservation isn't always clean
CNN's Bharati Naik and Zahra Ullah contributed to this report.