Search continues for seven divers lost in Bali
February 17, 2014 -- Updated 0417 GMT (1217 HKT)
STORY HIGHLIGHTS
Seven divers, all Japanese women, failed to surface after a Feb 14 dive near Bali, Indonesia
Dive and rescue efforts were affected by heavy rain
80 people involved in search, which will continue till Friday
Owner of dive company said he doesn't know what happened
(CNN) -- The owner of the dive company on the Indonesian island of Bali helping to search for seven missing divers has said he has "no clue what happened."
The owner of Yellow Scuba, who gave his name as Putu, spoke to CNN three days after five tourists and two dive instructors, all Japanese women, failed to return to the surface after a dive near the islands of Nusa Lembongan and Nusa Penida, southeast of Bali on Friday.
The seven women ranged in age from 27 to 59.
"When the divers plunged into the water, the weather was still good," according to local news reports (login required) quoting the ship's captain.
"But about 15 minutes later, it was cloudy. I tried to find them but my efforts produced no results," the captain said in a written statement to police.
Yellow Scuba said the captain isn't employed by the company, but hired their boat.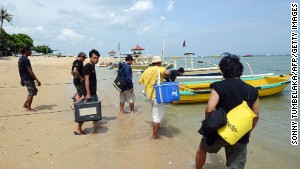 Around 80 volunteers and official personnel have been involved in the search for the divers.
Yellow Scuba has "stopped all dives for now," Putu said.
"We are still looking," said Putu. "It was their third dive, they went underwater, it was very clear when they were going down. I just get information from the captain, and don't know what happened."
Nyoman Sidakarya, who heads the task force searching for the women, said about 80 people were involved in the search, which will continue until the seventh day after the incident, according to procedure.
The search may be extended "considering the costs and benefits."
The area in which the women were diving is a noted beauty spot, "but it's also very dangerous," said Bali Governor I Made Mangku Pastika, citing "unpredictable natural aspects."
Heavy rains occurred during the dive that saw the divers go missing, and also on Saturday, hampering rescue efforts.
The period from October to April is monsoon season in Bali, which sees strong winds and bursts of heavy rain.
Kathy Quiano also contributed to this story.

Part of complete coverage on
September 23, 2014 -- Updated 1007 GMT (1807 HKT)

Which cities provide the most memorable party times? A self-proclaimed "nightlife connoisseur" names his top 10.
September 22, 2014 -- Updated 0344 GMT (1144 HKT)

Whether you're looking for a post-meeting pint or a wild night out, creativity is on the menu at these hot Hong Kong venues.
September 23, 2014 -- Updated 1028 GMT (1828 HKT)

Artists and migrants are moving out as a once-crumbling neighborhood goes upscale.
September 20, 2014 -- Updated 0502 GMT (1302 HKT)

They irrigate our farms, are an important means of transport and a source of eco-friendly power.
September 19, 2014 -- Updated 0828 GMT (1628 HKT)

Open House festivals allow snooping in homes and landmarks normally closed to public
September 19, 2014 -- Updated 0422 GMT (1222 HKT)

Ancient competitions held and yurt town set up to rejuvenate nomadic cultures.
September 19, 2014 -- Updated 0102 GMT (0902 HKT)
Playful sea lions, fearless boobies and the only ocean-going lizards in the world -- these islands offer amazing experiences for naturalists and tourists alike.
September 18, 2014 -- Updated 1200 GMT (2000 HKT)

A foreign language can be the best aphrodisiac, so we traveled the world in search of the hottest accents.
September 23, 2014 -- Updated 0657 GMT (1457 HKT)

Hidden from the rest of the world for decades, Myanmar's Lethwei boxing is experiencing a revival globally.
September 17, 2014 -- Updated 1117 GMT (1917 HKT)

This aging cargo work whale makes more than 60 flights each week, carrying parts for all of the Airbus programs.
September 15, 2014 -- Updated 0026 GMT (0826 HKT)

Former brothels, public toilets and war bunkers now provide eccentric watering holes for those willing to drink deep.
September 12, 2014 -- Updated 0338 GMT (1138 HKT)

Whether filled with electric blue sulfur flames or hissing lava, these mega mountains offer incredible vistas.

Today's five most popular stories