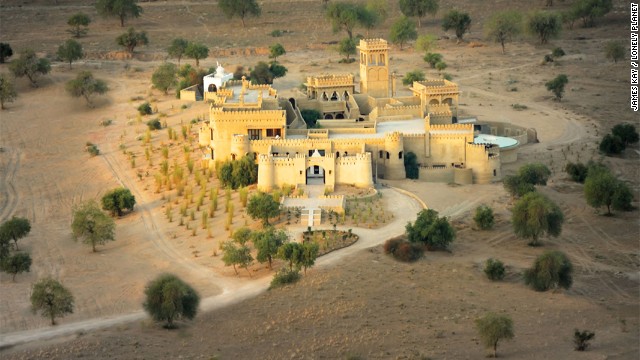 Lonely Planet picked 10 hotels as its "most extraordinary places to stay" as part of its inaugural world's best hotels list. It took 150 artisans and laborers two years to build Mihir Garh, which has just nine luxurious suites in India's Thar Desert.
Planet Baobab is named after the baobab trees stretching over the hotel's thatched huts in Gweta, Botswana.
Visitors don't just book a room at Bologna's Prendiparte B&B; they get the entire tower. Stay in the three-floor suite and explore nine more levels, including a 17th-century prison.
Take a camel ride or book a Bedouin feast on the sands when you stay at Qasr Al Sarab.
After a long day's hike near Peppers Cradle Mountain Lodge, enjoy spotting Australia's wildlife from your private hot tub.
Climb rope staircases or steel bridges to access the swinging handmade orb where your bed is located at Free Spirit Spheres. Other facilities, such as a kitchen and showers, are located below on ground level.
Carved into the hillside, Taskonak Hotel in Cappadocia, Turkey, is part of a region so unusual that it's a UNESCO World Heritage listing. Five of the 10 rooms are cave suites.
Located within South Africa's iSimangaliso Wetland Park, the environmentally friendly Thonga Beach Lodge is focused on luxury. Take your pick of spa treatments, fine dining or action-packed outdoor activities.
A historic 1869 landmark, the two-room Saugerties Lighthouse B&B is an excellent base from which to explore New York's Hudson Valley.
To reach the Gibbon Experience Treehouse -- built on the trunks of strangler fig trees -- you have to hike through tiger country and travel along zip lines.
Mihir Garh, Rajasthan, India
Planet Baobab, Gweta, Botswana
Prendiparte B&B, Bologna, Italy
Qasr Al Sarab, United Arab Emirates
Peppers Cradle Mountain Lodge, Australia
Free Spirit Spheres, British Columbia, Canada
Taskonak Hotel, Goreme, Cappadocia, Turkey
Thonga Beach Lodge, South Africa
Saugerties Lighthouse, New York
The Gibbon Experience Treehouse, Laos
STORY HIGHLIGHTS
Lonely Planet's 'most extraordinary' hotel can be found in India's Thar Desert
Zipline into a Laos tree house for a unique stay
A 17th century prison is now an Italian inn
A New York lighthouse also made the 'extraordinary' list
(CNN) -- They're not always the most popular or conventional hotels. And that's exactly what Lonely Planet is going for with its inaugural picks for the world's best accommodations.
The travel publisher's panel of experts chose their top 10 in each of three categories: "most extraordinary places to stay," "best-value accommodations" and "top eco retreats" for its list of top hotels. Some are unique, out-of-the-way spots while others are more well-known.
Picks run the gamut from trendy hostels to luxury eco-lodges. Check out Lonely Planet's recommendations in the "extraordinary" category above and see whether you agree.
"This collection is one-of-a-kind, carefully curated by the most well-traveled people on Earth," said Tom Hall, LonelyPlanet.com editorial director, in a press statement. "Our authors provide their honest opinion and never take freebies in exchange for positive coverage, so you can trust our reviews."
Lonely Planet is far from the only travel outfit ranking its favorite lodgings. Best is all in the eye of the beholder. To expand your quest for the best, check out TripAdvisor users' picks, Fodor's best hotels of 2013 or the world's best airport hotels. Cap off a stay with a meal at one of the world's best hotel restaurants.
Lonely Planet's top hotels:
Most extraordinary hotels around the world
1. Mihir Garh, Rajasthan, India
2. Planet Baobab, Gweta, Botswana
3. Prendiparte B&B, Bologna, Italy
4. Qasr Al Sarab, UAE
5. Peppers Cradle Mountain Lodge, TAS, Australia
6. Free Spirit Spheres, British Columbia, Canada
7. Taskonak Hotel, Goreme, Cappadocia, Turkey
8. Thonga Beach Lodge, iSimangaliso Wetland Park, South Africa
9. Saugerties Lighthouse, New York, USA
10. The Gibbon Experience Treehouse, Bokeo Reserve, Laos
Best value hotels around the world
1. The Backpack, Cape Town, South Africa
2. Sydney Harbour YHA, Australia
3. Inkosana Lodge, Champagne Valley, Drakensberg, South Africa
4. Plovdiv Guesthouse, Plovdiv, Bulgaria
5. Hotel Gruner Baum, Glorenza, Sudtirol, Italy
6. Oztel, Rio de Janeiro, Brazil
7. Fauzi Azar Inn, Nazareth, Israel
8. We Hostel Design, Sao Paulo, Brazil
9. Hotel Hotel Hostel, Seattle, USA
10. On the Corner, Kolomyya, Ukraine
Top eco resorts
1. Lapa Rios Eco Lodge, Peninsula de Osa, Costa Rica
2. Bulungula Backpackers, South Africa
3. Chole Mjini, Chole Island, Mafia Archipelago, Tanzania
4. Machu Picchu Pueblo Hotel, Aguas Calientes, Peru
5. EcoLodge Chepu Adventures, Chiloe, Chile
6. Maison Anglaise, Taroudant, Morocco
7. Earthship Rentals, Taos, New Mexico, USA
8. Dana Guest House, Jordan
9. Nuli Sapi, Papua New Guinea
10. Baikaler Eco-Hostel, Listvyanka, Russia