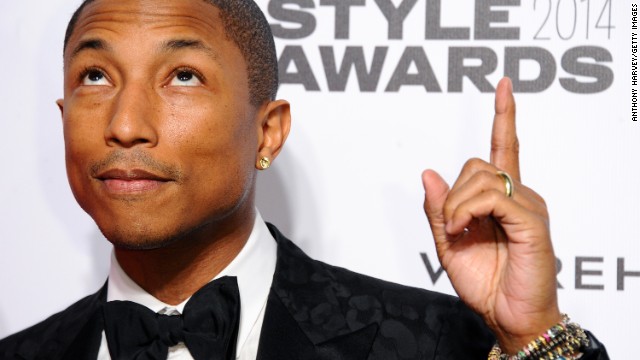 Pharrell Williams' impeccable style and boyish good looks -- as seen here at the 2014 Elle Style Awards in February -- have convinced the Internet that he's secretly a vampire. He's not, obviously, but we understand why many can't believe that this 40-year-old superstar looks so young. Take a look back at Pharrell through the years and see if you can spot any aging:
Here's Pharrell on the right with his band N.E.R.D. in August 2002. The producer/singer/songwriter's hats have gotten bigger, but his face has stayed the same.
We know it's hard to tell, but Pharrell Williams, left, and rapper Bow Wow, center, actually aren't the same age. When this photo was taken in August 2003, Williams was 30 and Bow Wow was 16. (That's Williams' musical partner in crime, Chad Hugo of their production group The Neptunes, on the right.)
By 2004, Pharrell had been outed as the music industry's go-to guy for a chart-topping hit. But even with the increased visibility and work, do you see a stress wrinkle on this guy's face? Because we don't.
Maybe part of what makes Pharrell look forever young is his youthful approach to fashion, although we can't recommend you try this look at home.
We'd have a glow, too, if we hung out with Mariah Carey, as Pharrell did in Paris in March 2006. The pair were shooting scenes for a music video to go with their single, "Say Somethin.'"
With a nickname like Skateboard P, we know that Pharrell isn't averse to letting some physical activity put the blush in his cheeks.
Seen here with T.I. in 2008, we bet you can't guess how old either of these music stars are. (Give up? T.I. was 28 while Pharrell was 35.)
If we didn't know better, we'd think Pharrell was stuck in some sort of "Benjamin Button"-like aging process, wherein he was born looking 22 and then never ages at all.
In 2010, Pharrell tried to trick us into thinking he was aging with a mustache and a fake gold tooth, but we can see under the mask, P.
Pharrell insists that the secret to his dermatological success is simply washing his face, but we wonder if having an impressive hat repertoire has something to do with it.
From what we know of maintaining good health (and skin), you have to find time to relax, which Pharrell appears to do here at a press conference in Hong Kong in April 2012.
We'll bet you five bucks Jay Z was asking Pharrell about his skincare when they met up at the Barclays Center in September 2012.
Pharrell celebrated his 40th birthday in April 2013, but we wouldn't believe it if he didn't say so himself.
Then again, maybe Pharrell's passion for what he does helps him look so refreshed. He was clearly thrilled to take the stage with Nile Rodgers, left, and Stevie Wonder at the 2014 Grammys.
Pharrell hasn't aged in 12 years
2002
2003
2004
2005
2006
2007
2008
2009
2010
2011
2012
2012
2013
2014