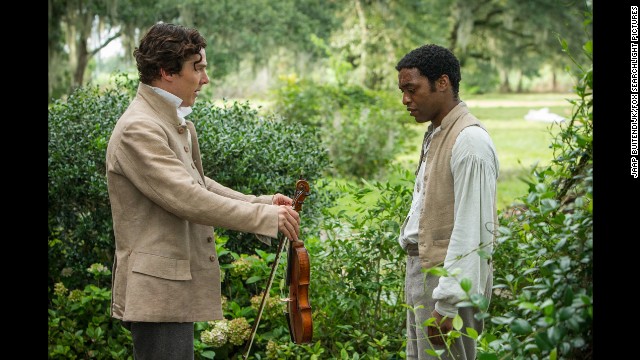 Benedict Cumberbatch, left, and Chiwetel Ejiofor appear in "12 Years a Slave," which won the Oscar for best picture in 2013. For more than 80 years, the Academy of Motion Picture Arts and Sciences has been designating one film the best motion picture of the year. Some of the winners have become classics, while others have been forgotten by all but trivia diehards.
The first Academy Awards were given out at a dinner on May 16, 1929. The best picture winner was 1927's "Wings," a film about World War I pilots starring Clara Bow, right, Charles "Buddy" Rogers, left, Richard Arlen and Gary Cooper. Even today, the silent film's aerial sequences stand out as some of the most exciting ever filmed. Another film, "Sunrise," was given an Oscar as most "unique and artistic production," an honor that was eliminated the next year. The academy didn't begin using a calendar year for awards until movies made in 1934 (with ceremonies held in 1935).
The musical "The Broadway Melody" was the first sound film to win best picture. The film stars Charles King, Anita Page and Bessie Love.
"All Quiet on the Western Front," best picture of 1929-30, was the film adaptation of Erich Maria Remarque's classic novel. The film stars Lewis Wolheim and Lew Ayres and was directed by Lewis Milestone.
"Cimarron," based on the Edna Ferber novel, is best remembered for its portrayal of the 1889 Oklahoma Land Rush, which literally featured a cast of thousands. Richard Dix and Irene Dunne star in the film.
The all-star cast of "Grand Hotel," including Greta Garbo and John Barrymore (pictured), portrayed characters in a mix of plot lines at a Berlin hotel. The film won just the one Oscar, but has been immortalized for one of Garbo's lines of dialogue: "I want to be alone."
"Cavalcade," based on a Noel Coward play, won the 1932-33 prize for best picture. The film follows a London family from 1899 to 1933 and stars, left to right, Una O'Connor, Diana Wynyard and Clive Brook.
"It Happened One Night" was one of the great underdog winners. Its studio, Columbia, wasn't considered one of the majors at the time, and neither Clark Gable nor Claudette Colbert, its stars, were excited about the project. But it became the first film to sweep the five major categories of picture, actor, actress, director and screenplay. To this day, only two other films -- "One Flew Over the Cuckoo's Nest" (1975) and "The Silence of the Lambs" (1991) -- have pulled off the same trick.
Clark Gable was in the best picture winner the next year as well, playing Fletcher Christian in the 1935 version of "Mutiny on the Bounty." Charles Laughton plays Captain Bligh.
Luise Rainer stars in "The Great Ziegfeld." She picked up an Oscar for best actress, though William Powell, who played the title figure, came up empty (although he was nominated for another movie, "My Man Godfrey").
"The Life of Emile Zola" won three Oscars, including best picture. The film is a biography of the famed French author. Star Paul Muni was nominated for best actor but lost to Spencer Tracy ("Captains Courageous").
"You Can't Take It With You" is one of the rare comedies to win best picture. The film, based on the George Kaufman and Moss Hart play, stars James Stewart, Jean Arthur and Lionel Barrymore. It also won a best director Oscar for Frank Capra, Capra's third in five years.
Still considered one of the great Hollywood epics, 1939's "Gone With the Wind" won 10 Oscars, including best picture and best actress for star Vivien Leigh, right. Though Clark Gable was nominated for best actor, he lost to Robert Donat ("Goodbye, Mr. Chips") in one of the great Oscar upsets.
Joan Fontaine
in a tale of a shy young woman living in the shadow of her husband's first wife. "Rebecca" was not only Hitchcock's first American film, but also his only one to win a best picture Oscar.
After "Gone With the Wind," producer David O. Selznick scored again with another adaptation of a best-seller, Daphne du Maurier's "Rebecca." He brought Alfred Hitchcock from Britain to direct Laurence Olivier and
The movie many critics regard as the greatest American film
didn't win the best picture Oscar for 1941. Orson Welles' "Citizen Kane" lost to a film directed by another classic director, John Ford, who helped re-create a Welsh mining village in California for "How Green Was My Valley." Roddy McDowall, left, and Walter Pidgeon starred.
Hollywood's war effort went full throttle with William Wyler's "Mrs. Miniver" starring Walter Pidgeon and Greer Garson as a heroic couple whose family endures German air raids during the Battle of Britain. Garson also won the best actress award and received much flak for a lengthy acceptance speech that became the stuff of Hollywood legend.
We'll always have Bogart and Bergman, aka Rick and Ilsa, in Michael Curtiz's "Casablanca." Nobody at Warner Bros. expected this movie, based on an unproduced play, "Everybody Comes to Rick's," to be a classic when it came out, but the
Hollywood's favorite crooner became its favorite priest. Bing Crosby, left, won the best actor award as Father Chuck O'Malley in "Going My Way." He encountered resistance from a crusty old priest (Barry Fitzgerald) when he tried to help an impoverished church parish.
With World War II coming to an end, Hollywood turned to dark subject matter, such as alcoholism in Billy Wilder's "The Lost Weekend." Star Ray Milland, left, won the best actor award as a writer on a binge. Howard Da Silva was the bartender.
Veterans Fredric March, pictured, Dana Andrews and Harold Russell returned home to adjust to life in post-war America in this William Wyler classic. Myrna Loy, Teresa Wright and Cathy O'Donnell were the women in their lives who also found the world much more complicated with the war's end. Russell, a real vet, lost both hands in World War II.
Elia Kazan's "Gentleman's Agreement" continued Hollywood's exploration of more serious subject matter, this time anti-Semitism. Gregory Peck, right, plays a reporter who goes undercover posing as a Jew, making his girlfriend (Dorothy McGuire) face uncomfortable truths about her upper class WASP life. A young Dean Stockwell played Peck's son.
A British film took home the best picture Oscar when Laurence Olivier directed himself in an Oscar-winning role as Shakespeare's famous Danish prince who cannot make up his mind. Olivier trimmed the play's text and chose to do Hamlet's famous soliloquy ("To be, or not to be, that is the question") as a voice-over. Jean Simmons was Ophelia.
Unlike the 2006 remake with Sean Penn, this adaptation of Robert Penn Warren's Pulitzer Prize-winning novel was a critical and box-office success. Star Broderick Crawford also won the best actor award for his role as Willie Stark, a cynical politician who rises to become governor. Any resemblance to Louisiana's Huey Long was mere coincidence.
Director Joseph L. Mankiewicz's screenplay about an aging actress (Bette Davis, right) battling a scheming newcomer (Anne Baxter) remains one of the most quotable movies ever almost 65 years after its release. "All About Eve" held the record for a movie with the most Oscar nominations (14) until "Titanic" tied it in 1997. A young Marilyn Monroe, center, also attracted attention in an early role. As Margo Channing (Davis' character) would say, "Fasten your seat belts, it's going to be bumpy night!"
This MGM musical with Gene Kelly as an aspiring artist who falls for Leslie Caron in the City of Light faced stiff competition at the Oscars. But "An American in Paris" scored a major upset when it beat dramatic heavyweights "A Place in the Sun" and "A Streetcar Named Desire" for best picture.
Hollywood's greatest movie musical
, wasn't even nominated that year.
Producer-director Cecil B. DeMille had been making epics since the silents, but none had won best picture until "The Greatest Show on Earth," a 1952 circus spectacular with Betty Hutton, pictured, and Charlton Heston. Many critics and fans dismiss the movie as one of the worst best picture Oscar winners. "Singin' in the Rain," considered
Facing the strict movie censorship of the 1950s, director Fred Zinnemann's version of "From Here to Eternity" considerably toned down James Jones' tough and profane novel about military life in Hawaii on the eve of the Pearl Harbor attack. But Burt Lancaster and Deborah Kerr's sexy tryst on the beach made waves among moviegoers.
Marlon Brando, right, went up against corrupt union boss Lee J. Cobb in Elia Kazan's "On the Waterfront." In one of moviedom's most famous scenes that inspired countless future actors, Brando confronts his brother, a union lawyer played by Rod Steiger, in the back seat of a car: "I coulda been a contender. I coulda been somebody, instead of a bum, which is what I am."
Hollywood studios saw television as the enemy in the 1950s as Americans stayed home in droves to watch series such as "I Love Lucy." But live TV plays soon were providing material for movies, including 1955's best picture winner, "Marty." Ernest Borgnine won stardom and the best actor award as a lonely butcher in the Paddy Chayefsky drama.
Responding to the competition from TV, the movies turned increasingly to epics in the 1950s such as producer Mike Todd's "Around the World in 80 Days." The picture was based on Jules Verne's novel and starred Shirley MacLaine, David Niven and Cantinflas as well as dozens of other celebrities in cameo roles, such as Noel Coward, Marlene Dietrich, Red Skelton and Frank Sinatra.
Director David Lean proved filmmakers could make intelligent epics such as "The Bridge on the River Kwai." Already a star in British films, Alec Guinness won international fame and a best actor Oscar as a British colonel held prisoner with his men in a Japanese camp during World War II.
For one of its last great musicals, MGM turned to Alan Jay Lerner and Frederick Loewe after their success with "My Fair Lady" to create a musical based on Colette's "Gigi." The Vincente Minnelli film with Louis Jourdan, center, and Leslie Caron, right, won every Oscar it was nominated for (nine), including best picture and director. Legendary French star Maurice Chevalier had a memorable song with "Thank Heaven for Little Girls."
Biblical epics were all the rage in the 1950s, and none more so than William Wyler's "Ben-Hur." The movie won a then-record 11 Academy Awards, including best picture, director (Wyler) and actor (Charlton Heston, right). The chariot scene undoubtedly helped ensure
Long before "Mad Men," Billy Wilder's "The Apartment" skewered corporate life of the early 1960s. Up-and-comer Jack Lemmon stays busy loaning his apartment key to company men who need a place to cheat on their wives. He falls for Shirley MacLaine, center, who is having an affair with one of the bosses ("My Three Sons' " Fred MacMurray in an unsympathetic role).
"West Side Story" used the streets of New York as backdrops for this musical version of "Romeo and Juliet." The Jets and Sharks replaced the Montagues and Capulets as rival gangs ready to rumble, leading to tragedy for young lovers Tony (Richard Beymer) and Maria (Natalie Wood). The film took home 10 Oscars, including best supporting actor (George Chakiris), supporting actress (Rita Moreno) and direction (Robert Wise and Jerome Robbins, the first time the award was shared).
epic of all epics
with "Lawrence of Arabia."
Peter O'Toole
, left, with Omar Sharif, became a superstar with his portrayal of T.E. Lawrence, the legendary British officer who helped lead the Arab revolt against the Ottoman Empire in World War I. The movie won seven Oscars, including for Lean's direction.
David Lean created the
Albert Finney tackled the amorous title role in "Tom Jones," a British comedy based on Henry Fielding's novel about a foundling raised by a wealthy landowner. Diane Cilento, right, was one of his conquests. Tony Richardson also won the Oscar for his direction of the film.
Julie Andrews' fans were upset when the original Broadway star of "My Fair Lady" wasn't chosen for the film of the Lerner-Loewe musical. Audrey Hepburn may not have been convincing as a guttersnipe in the opening scenes of George Cukor's best picture winner, but no one could deny she was ravishing in Cecil Beaton's costumes once Eliza Doolittle had been transformed into a swan.
recent live broadcast of the Richard Rodgers and Oscar Hammerstein musical
on NBC with Carrie Underwood. For many movie fans, Julie Andrews remains the one and only Maria, governess to the von Trapp children in Austria on the eve of World War II. Marni Nixon, who dubbed the singing voices of Natalie Wood in "West Side Story," Deborah Kerr in "The King and I" and Audrey Hepburn in "My Fair Lady," had her first on-screen role as a nun. Not only did "The Sound of Music" win best picture, it was also for a time the biggest moneymaker ever.
Forget the
Paul Scofield re-created his stage role as Sir Thomas More in Fred Zinnemann's film version of the Robert Bolt drama "A Man for All Seasons." The film portrayed More as a man of conscience who refused to recognize King Henry VIII as head of the Church of England because of his denial of the Pope's authority. Scofield and director Zinnemann both won Oscars for their work. Susannah York, right, co-starred.
Youth-oriented movies began taking over Hollywood by 1967, the year of "Bonnie and Clyde" and "The Graduate." But the best picture winner went to Norman Jewison's "In the Heat of the Night," an old-fashioned crime drama in which an African-American detective (Sidney Poitier, left) goes South to solve a murder, working with a reluctant redneck sheriff (Rod Steiger). Poitier played the role of Virgil Tibbs in two sequels, and the movie later spawned a hit TV series with Carroll O'Connor.
This best picture winner was a musical adaptation of Charles Dickens' "Oliver Twist" with Mark Lester as an orphan who teams up with other young pickpockets led by an old criminal. Carol Reed also took home the Oscar for best director. Two of 1968's best-remembered movies, Stanley Kubrick's "2001: A Space Odyssey" and Roman Polanski's "Rosemary's Baby," weren't even nominated for best picture.
John Schlesinger's "Midnight Cowboy" was the first best picture Oscar winner to be rated X, reflecting the easing of censorship in the late '60s. The movie established Jon Voight, right, as a star for his portrayal of a dumb, naive Texan who fancies himself a gigolo to rich women in New York but ends up a hustler. Fresh from "The Graduate," co-star Dustin Hoffman as con man Ratso Rizzo proved he was one of the top actors of his generation.
George C. Scott made Oscar history when he became the first actor to refuse the award. Scott played the title role in this biography of volatile World War II Gen. George S. Patton Jr. The film, directed by Franklin J. Schaffner, reportedly was one of President Richard Nixon's favorite films.
Gene Hackman as Detective "Popeye" Doyle goes after hit man Marcel Bozzuffi in William Friedkin's "The French Connection." This best picture winner about New York cops trying to stop a huge heroin shipment from France features one of the movies' most memorable chase scenes.
Teaming up again after "Butch Cassidy and the Sundance Kid" (1969), Paul Newman and Robert Redford in best picture winner "The Sting" helped make the buddy film one of the key movie genres of the '70s. The two played con men in 1930s Chicago in the George Roy Hill movie, which featured the music of ragtime composer Scott Joplin.
Al Pacino returned as Michael Corleone in "The Godfather: Part II," which became the first sequel to win the best picture Oscar. Francis Ford Coppola received the best director award this time, and newcomer Robert De Niro won the best supporting actor Oscar playing Vito Corleone as a young man. Coppola's "The Godfather: Part III," released in 1990, did not repeat the success of the first two films.
"One Flew Over the Cuckoo's Nest" captured all four top Academy Awards, a feat that had not been accomplished in more than 40 years (not since "It Happened One Night.") Besides best picture, the movie took home Oscars for best director (Milos Forman), actor (Jack Nicholson) and actress (Louise Fletcher). It won a fifth for best adapted screenplay. In this film of Ken Kesey's novel, Nicholson, second from left, struck a chord with audiences as McMurphy, a rebellious inmate in a mental institution who faces off against the ultimate authority figure, Nurse Ratched (Fletcher).
Sylvester Stallone, left, as struggling boxer Rocky Balboa, gets his shot at the championship against Carl Weathers as Apollo Creed in this best picture winner. Like its hero, "Rocky" was an underdog, a low-budget film written by Stallone, then an unknown actor, that became one of the decade's biggest sleeper hits. Stallone would go on to make five sequels.
Moviegoers fell in love with Diane Keaton in her Oscar-winning role as the ditsy, insecure heroine of Woody Allen's autobiographical "Annie Hall." Her thrift-store fashions and offbeat sayings ("La-di-da, la-di-da") became hallmarks of the late '70s. Allen won Oscars for best director and original screenplay (with Marshall Brickman) for the film.
Hollywood began to explore the Vietnam War in the late '70s. Michael Cimino's "The Deer Hunter" examined the effects on steelworkers, from left, John Cazale, Chuck Aspegren, Robert De Niro, John Savage and Christopher Walken. Cimino and Walken also won Oscars for best director and best supporting actor, respectively.
Dustin Hoffman played a bewildered dad who had paid little attention to family life until his wife leaves him and he has to raise their son (Justin Henry, right) alone in "Kramer vs. Kramer." A bitter custody battle ensues once the wife (played by Meryl Streep) decides she wants her son back. Both Hoffman (best actor) and Streep (best supporting actress) won Oscars for their roles, and Robert Benton took home direction and writing honors for the film.
Timothy Hutton, right, played a suicidal young man struggling to cope with the death of his brother in "Ordinary People," the first film directed by actor Robert Redford. Donald Sutherland, left, was his helpless father, and Mary Tyler Moore surprised audiences with her portrayal as Hutton's icy, controlling mother.
In another Oscar sleeper, "Chariots of Fire," a small British film about two English runners competing in the 1924 Olympics, beat Warren Beatty's epic film "Reds" for best picture. "Chariots" won four Oscars, including one for its stirring score by Vangelis. The theme music also hit No. 1 on the pop charts. Beatty wasn't entirely shut out: He picked up the Oscar for best director.
Director Richard Attenborough's epic, three-hour film about the life of Mohandas K. "Mahatma" Gandhi won eight Oscars. Ben Kingsley, here with Candice Bergen, played the inspiring leader who used nonviolent tactics to help establish the modern country of India. Among the films it beat for best picture: "E.T. The Extra-Terrestrial" and "Tootsie."
Debra Winger, Shirley MacLaine and Jack Nicholson starred in James L. Brooks' adaptation of Larry McMurtry's novel about an up-and-down mother-daughter relationship. Brooks produced, directed and wrote the film and won Oscars for all three (best picture goes to the producer); to this day, he's the only person to pull off the trick solo.
Another epic, "Amadeus" was based on Peter Shaffer's award-winning play about composer Wolfgang Amadeus Mozart (Tom Hulce) and his rival, Antonio Salieri. The film won eight Oscars, including awards for director Milos Forman -- his second, after "One Flew Over the Cuckoo's Nest" -- and star F. Murray Abraham, who played Salieri.
Isak Dinesen's autobiographical book was turned into a movie that won seven Oscars. Meryl Streep stars as the independent-minded Danish author who spent part of her married life in British East Africa, later Kenya. She falls for a big-game hunter, played by Robert Redford, while her fragile marriage falls apart.
"Platoon" made headlines in 1986 for its blunt and unsparing look at the U.S. experience in Vietnam. It follows a small group of men, including leaders Willem Dafoe, pictured, and Tom Berenger, who play on the loyalties of raw recruit Charlie Sheen. The film made director and writer Oliver Stone, himself a Vietnam veteran, a household name. "Platoon" won four Oscars, including best picture and best director.
Director Bernardo Bertolucci's film about the life of Chinese emperor Puyi won nine Oscars -- quite an achievement, considering it was nominated for zero awards in the acting categories. Besides best picture, it also won best director, best adapted screenplay and best cinematography, among others.
Though "Rain Man" is ostensibly about the relationship between Dustin Hoffman's autistic Raymond Babbitt and his brother, Charlie (Tom Cruise), it's probably best remembered for Hoffman's performance as a savant who can do complicated calculations in his head, count cards in Las Vegas and never miss an episode of Judge Joseph Wapner's "People's Court." The film won four Oscars, including a best actor award for Hoffman and a best director trophy for Barry Levinson.
Stage actress Jessica Tandy finally became a movie star at age 80 as an Atlanta Jewish matriarch who develops a close relationship with her driver, Hoke, played by Morgan Freeman, in Bruce Beresford's film of Alfred Uhry's Pulitzer Prize-winning play. "Driving Miss Daisy" didn't compete for best picture against some of the year's most acclaimed movies -- "Sex, Lies, and Videotape," "Do the Right Thing" and "Drugstore Cowboy" weren't nominated for the top award.
In what was essentially a two-horse race, Kevin Costner's three-hour "Dances With Wolves" faced off against one of Martin Scorsese's best, "Goodfellas." "Dances With Wolves," about a Civil War soldier who falls in with a Lakota tribe in the American West, was the decisive winner, earning best picture, best director for Costner and best adapted screenplay for Michael Blake, three of its seven Oscars. "Goodfellas" won just one: Joe Pesci's best supporting actor trophy.
It's rare that a film released early in the year manages to even get nominated for best picture, not to mention winning the award, but "Lambs" -- based on the Thomas Harris novel about a serial killer helping an FBI agent to catch another killer -- took home best picture, best actor (Anthony Hopkins, who plays Hannibal Lecter), best actress (Jodie Foster), best director (Jonathan Demme) and best adapted screenplay. Hopkins' performance had relatively little screen time -- less than 20 minutes -- but was so commanding he can be credited for the continuing fascination with Lecter, who now headlines an NBC series.
"It's a hell of a thing, killing a man," says Clint Eastwood's gunfighter, William Munny, in "Unforgiven" -- and, indeed, the Western can be seen as one of Eastwood's many meditations on the impact of violence in society. The actor and director plays Munny, a retired outlaw who is drawn back into his old role to avenge himself on a brutal sheriff (Gene Hackman). "Unforgiven" was just the third Western to win best picture, after "Cimarron" (1931) and "Dances With Wolves" (1990).
By 1993, Steven Spielberg was already known as one of the great directors in Hollywood history, but an Oscar had eluded him. That changed with "Schindler's List," a gripping story about a German industrialist who saved more than 1,000 Jews during the Holocaust. The film earned honors for picture, director, adapted screenplay and cinematography.
Tom Hanks plays a Southern bumpkin who always seems to be in proximity to great events, whether they be the Vietnam War, U.S.-Chinese ping-pong diplomacy or the writing of "Imagine." Though some critics hooted, the film was a popular success and also won Oscars for Hanks, director Robert Zemeckis and adapted screenplay -- six in all.
Mel Gibson directed and starred in the story of Scottish warrior William Wallace, who led the Scottish army against English invaders led by King Edward I. The film won five Oscars, including best picture and best director, and has led to countless sports teams yelling "Freedom!" as they go up against opponents.
Some found it lyrical. Others, such as an episode of "Seinfeld," mocked it as boring. Either way, "The English Patient," with Ralph Fiennes and Kristin Scott Thomas, was a huge hit with audiences and critics -- and with the academy, which bestowed nine Oscars on the film about a burned British soldier and a loving nurse. Among the winners: director Anthony Minghella and supporting actress Juliette Binoche.
In the months leading up to its release, "Titanic" was rumored to be as big a disaster as the ship on which its story was based. But director James Cameron had the last laugh: When the final results were tallied, "Titanic," with Leonardo DiCaprio and Kate Winslet, had become the biggest box-office hit of all time (since surpassed by another Cameron film, "Avatar") and winner of 11 Oscars -- the most of any film since 1959's "Ben-Hur." Cameron took home a trophy for best director, too.
Was the film really that good or had Harvey Weinstein, its co-producer and head of studio Miramax, done an exceptionally good job at lobbying? Either way, there were gasps when best picture went to "Shakespeare" and not to favorite "Saving Private Ryan." Still, "Shakespeare" had plenty going for it, including an Oscar-winning best actress performance by Gwyneth Paltrow (here with Joseph Fiennes) and a clever script by Marc Norman and Tom Stoppard. It won seven Oscars total.
Kevin Spacey stars as a frustrated middle manager who develops a crush on one of his daughter's friends (Mena Suvari) in "American Beauty." Besides the big prize, the film won best director for Sam Mendes and best actor for Spacey as part of its five Oscars. Also immortalized: a plastic bag blowing in the breeze.
Russell Crowe stars as Maximus in "Gladiator," the hugely successful Ridley Scott film about a warrior in ancient Rome. The film took home five Oscars, including best actor for Crowe.
"A Beautiful Mind," the story of troubled mathematician John Nash (Russell Crowe) and his battle with mental illness, won four Oscars.
For years, musicals had had a rough time at the Oscars -- indeed, they'd had a rough time in Hollywood, period -- until 2002's "Chicago" won best picture. The movie, which stars Renee Zellweger as a wily murderess in 1920s Chicago, won six Oscars.
The final film in Peter Jackson's "The Lord of the Rings" trilogy, "The Return of the King," swept all 11 categories in which it was nominated -- including best picture. From left, Elijah Wood, Andy Serkis and Sean Astin play three of J.R.R. Tolkien's characters: Frodo Baggins, Gollum and Samwise Gamgee.
"Million Dollar Baby" is about an old trainer (Clint Eastwood, left, with Morgan Freeman and Hilary Swank) who takes on a female boxer, with unforeseen consequences. The film won four Oscars, including a directing prize for Eastwood, best actress for Swank and best supporting actor for Freeman.
Few best pictures have been as polarizing as "Crash," about the criss-crossing lives of several Los Angeles residents. The film touches on issues of race and justice and stars -- among many others -- Thandie Newton and Matt Dillon.
Director Martin Scorsese's films were often well-reviewed but couldn't win the big prize, until "The Departed," about a Boston gangster and some corrupt cops. The film stars Leonardo DiCaprio, left, Ray Winstone, and Jack Nicholson, right.
The Coen brothers' grim "No Country for Old Men," about a Texas drug deal gone wrong, won four Oscars. Javier Bardem received a best supporting actor award for his portrayal of the brutal enforcer Anton Chigurh, who carries around a lethal bolt gun and doesn't hesitate to use it.
Another little movie that paid off big, "Slumdog Millionaire" was slated to go straight to video until its American distributor found a partner. The sleeper film, about a poor Indian man (Dev Patel, left) whose success on "Who Wants to Be a Millionaire" is questioned by a suspicious detective, won eight Oscars.
In a David-vs.-Goliath scenario, "Avatar," James Cameron's big-budget box office king, was pitted against "The Hurt Locker," a low-budget film about a bomb disposal unit in the Iraq War. "The Hurt Locker" won six Oscars, including best picture and best director (Kathryn Bigelow, one of Cameron's ex-wives).
"The King's Speech," about England's King George VI and how he overcame his stutter, won four Oscars, including a best actor trophy for star Colin Firth.
Jean Dujardin and Bérénice Bejo star in "The Artist," the first (mostly) silent film to win best picture since 1927's "Wings." The film, about the fall and rise of a silent film star, won five Oscars.
"Argo," based on a 1980 operation to free some of the American hostages during the Iran hostage crisis, won three Oscars: best picture, best adapted screenplay and best film editing. Ben Affleck, right, directed and starred.
A history of Oscar-winning best pictures
'Wings' (1927)
'The Broadway Melody' (1929)
'All Quiet on the Western Front' (1930)
'Cimarron' (1931)
'Grand Hotel' (1932)
'Cavalcade' (1933)
'It Happened One Night' (1934)
'Mutiny on the Bounty' (1935)
'The Great Ziegfeld' (1936)
'The Life of Emile Zola' (1937)
'You Can't Take It With You' (1938)
'Gone With the Wind' (1939)
'Rebecca' (1940)
'How Green Was My Valley' (1941)
'Mrs. Miniver' (1942)
'Casablanca' (1943)
'Going My Way' (1944)
'The Lost Weekend' (1945)
'The Best Years of Our Lives' (1946)
'Gentleman's Agreement' (1947)
'Hamlet' (1948)
'All the King's Men' (1949)
'All About Eve' (1950)
'An American in Paris' (1951)
'The Greatest Show on Earth' (1952)
'From Here to Eternity' (1953)
'On the Waterfront' (1954)
'Marty' (1955)
'Around the World in 80 Days' (1956)
'The Bridge on the River Kwai' (1957)
'Gigi' (1958)
'Ben-Hur' (1959)
'The Apartment' (1960)
'West Side Story' (1961)
'Lawrence of Arabia' (1962)
'Tom Jones' (1963)
'My Fair Lady' (1964)
'The Sound of Music' (1965)
'A Man for All Seasons' (1966)
'In the Heat of the Night' (1967)
'Oliver!' (1968)
'Midnight Cowboy' (1969)
'Patton' (1970)
'The French Connection' (1971)
'The Godfather' (1972)
'The Sting' (1973)
'The Godfather: Part II' (1974)
'One Flew Over the Cuckoo's Nest' (1975)
'Rocky' (1976)
'Annie Hall' (1977)
'The Deer Hunter' (1978)
'Kramer vs. Kramer' (1979)
'Ordinary People' (1980)
'Chariots of Fire' (1981)
'Gandhi' (1982)
'Terms of Endearment' (1983)
'Amadeus' (1984)
'Out of Africa' (1985)
'Platoon' (1986)
'The Last Emperor' (1987)
'Rain Man' (1988)
'Driving Miss Daisy' (1989)
'Dances With Wolves' (1990)
'The Silence of the Lambs' (1991)
'Unforgiven' (1992)
'Schindler's List' (1993)
'Forrest Gump' (1994)
'Braveheart' (1995)
'The English Patient' (1996)
'Titanic' (1997)
'Shakespeare in Love' (1998)
'American Beauty' (1999)
'Gladiator' (2000)
'A Beautiful Mind' (2001)
'Chicago' (2002)
'Lord of the Rings: The Return of the King' (2003)
'Million Dollar Baby' (2004)
'Crash' (2005)
'The Departed' (2006)
'No Country for Old Men' (2007)
'Slumdog Millionaire' (2008)
'The Hurt Locker' (2009)
'The King's Speech' (2010)
'The Artist' (2011)
'Argo' (2012)