STORY HIGHLIGHTS
Canada comeback caps another gold medal run in women's ice hockey
Three days remain but you can't blame Ukrainian athletes for wanting to leave now
French medal count lifted by ski cross sweep
Canada and curling were a perfect combination thanks to Jennifer Jones
(CNN) -- Controversy in figure skating? What took so long? And Canada and the United States play to a familiar result on the hockey rink, while a Canadian faced long odds in the ski cross final four.
Cue the conspiracists
Figure skating, like beauty, is in the eyes of the beholder.
And to some the decision of the judges at Thursday's women's free program was downright ugly.
As was the subsequent reaction on social media.
It didn't help that one of the judges had in the past been suspended for a year for trying to fix an event at the Winter Olympics 16 years ago (apparently they don't have a Commissioner Kenesaw Mountain Landis in figure skating).
Or that another is married to the head of the Russian figure skating federation, which is cheering for the first Russian woman to win a gold medal in individual competition after she was awarded the highest score of her life.
It was too much for defending Olympic champion Yuna Kim to overcome.
Not everyone thinks the judging was crooked. Even though gold medalist Adelina Sotnikova had one notable mistake, she did have the more technical program. And that's where she won; her technical score was 75.54; Kim's was 69.69.
Chris Chase of USA Today wrote: "It's debatable, but not a robbery. Sotnikova skated well enough to win gold. She had a carefully constructed program with seven triples, five of which were in a combo. Kim had six and three, respectively. Thus, Sotnikova was going in with a higher total and made more margin for error, which she took advantage of with a minor hop after one exchange."
Sotnikova said she knew she had skated well.
"When I had performed all the elements I knew I would be on the podium but not which medal. When I saw I had won on the technical elements I didn't believe my eyes," she said.
There might be more of an argument that Sotnikova's short program score of 74.64 was a real gift.
We'd like more of that
Here's an idea for the women's hockey tournament. Just make it Canada vs. the United States in a best four out of seven games format.
Especially if the games will be as well-played and exciting and heart-pounding and heartbreaking and magnificent and frustrating and enthralling and agonizing and stirring and mind-blowing as the one played Thursday.
Depending on whose side you were on, you'll always remember this one as either a great display of Canadian spirit or the one the United States let get away. And really, the 3-2 Canada victory in overtime was both.
Canada didn't score for the first 56:34 of the gold medal game then found net three times in 11-plus minutes. Of the women's four Olympic gold medals in the sport, this is the one that will be most cherished.
If Marie-Philip Poulin -- who tied the score then won the game -- buys another drink ever again in her homeland, we will be surprised. By the way, she also scored Canada's two goals in the 2010 gold medal game.
"I didn't see anything. I got an opportunity, I tried to shoot and it went in. I couldn't believe it. It's the best feeling ever," she said of Thursday's winner.
Canada's grande dame of the rink, Hayley Wickenheiser, added a fourth gold to her collection. She said the team played a lengthy schedule of games to prepare for this one contest.
"It's just resilience. We are a very battle-hardened team," Wickenheiser said. "We paid the price to win and it came through today."
Victory seemed mere inches away for the United States. They were soooo close. If a puck in the last minutes bounces in off the post instead of away from goal, then it would have been an American celebration.
"It's the worst feeling in the world, but maybe it wasn't meant to be," said U.S. forward Kelli Stack. "We worked so hard and got so close."
And Friday, same two countries, same sport, different gender.
Bubka's heartbreak
Usually the headline of this piece touts "Favorite moments." That is not the case today.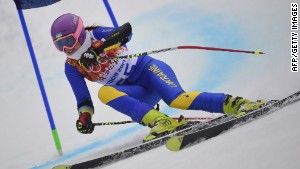 Ukrainian athlete withdraws from Olympics
We feel agony for Sergey Bubka, one of the greatest track stars of all-time and more importantly the head of Ukraine's Olympic Committee.
While he is in Sochi, his country is on fire. Surely, he must want to leave right now and head home. Still he and most of his team stays. He believes Ukraine can be brought together by success in Sochi and through "sporting and Olympic values."
Alpine skier Bogdana Matsotska and her coach and father, Oleh Matsotskyy, withdrew from the Games. Matsotska plans to return to Kiev, where scores of people have died in clashes between protesters and government forces.
Bubka told CNN's Amanda Davies exclusively: "I couldn't believe that has happened in my country. Ukraine is so nice and the country is beautiful. We are kind, we are friendly.
"In this moment, I cannot believe it. We cannot go against each other. We need to understand each other."
Bubka met with his country's 43 athletes and the team held a minute's silence instead of wearing black armbands following discussions between Ukrainian Olympic officials and the IOC.
Ukraine has won just one bronze medal at these Games, but Bubka, who won gold in the pole vault at the 1988 Summer Games, has put his hopes in the women's biathlon team, which has a great chance of a medal in Friday's 4x6 km relay.
"We need this," he said. "We need this and we pray for that. "
Un, deux, trois
"It sucks."
That was Brady Leman's response when asked what it felt like to come in fourth in the final of the men's ski cross.
The odds were kind of against the Canadian in the final. His other three competitors were all from France.
Teammates don't work together necessarily but they do know how each other ski and adjust their lines accordingly, he said.
Gold medalist Jean-Frederic Chapuis said there was no plot against the Canadian.
"We didn't have a strategy," Chapuis told reporters. "There are three places for the podium, there is one loser place. We are friends off the slopes, but on the slopes we are enemies, so I tried to make my best."
Chapuis, the 2013 world champion, was coy about what has been behind his success on the ski cross course.
"I'm not going to tell you my secret, it's a secret," he said, with a chuckle.
France has won 14 medals, its biggest haul ever at the Winter Olympics.
Perfect ending
Curling has been a medal sport at five Olympics. In that time the Canadian women have been on every podium, but it had been since the first tournament in 1998 that they had won the whole thing. Not even in Vancouver.
And they had never gone through 11 games without losing.
With longtime national standout but first-time Olympian Jennifer Jones as skip, the Canadian women took down Sweden 6-3 Thursday to finish with gold medals and an unbeaten record.
"I feel like we achieved this moment for so many people in our lives, all of our friends and our families and Canada," she said. "That is priceless. There's no greater feeling in the world than that."