STORY HIGHLIGHTS
Sergey Bubka tells CNN he wants the violence in Ukraine to stop
Former Olympic champion wants government and protesters to "start dialogue again"
CNN told at least 100 people have died and 500 injured since Thursday morning
Two members of Ukraine Winter Olympics team withdraw from Sochi Games
Follow us at @WorldSportCNN and like us on Facebook
(CNN) -- The violence and bloodshed on the streets of Kiev has left Ukraine on the "brink of catastrophe," according to one of the nation's most famous sons.
Sergey Bubka, a man known across the world for his record-breaking exploits as a pole vault champion, has been left shellshocked by the scenes in his home country.
From Sochi, where he is trying to salvage the spirit of Ukraine's athletes at the Winter Olympics, Bubka has watched on in horror as anti-government protestors clash with police.
"I couldn't believe that has happened in my country," the 50-year-old, who is head of Ukraine's Olympic Committee, told CNN in Sochi Thursday.
"Ukraine is so nice and the country is beautiful. We are kind, we are friendly and have shown outstanding hospitality in many events.
"In this moment, I cannot believe it. We cannot go against each other. We need to understand each other.
"We must listen. We must go back to dialogue, save the peace, save our Ukraine and save our nation. "
Read: What's behind Ukraine's political crisis?
A fragile truce crumbled Thursday as gunfire erupted at Independence Square, where the anti-government protests have been taking place.
The head of the protesters' medical service told CNN that at least 100 people have died and 500 were injured.
The Ukrainian government has not released an updated figure, but the interior ministry said earlier that one police officer was among the dead.
"The reaction is really shocking," added Bubka. "It's difficult to say something because we love our country and our people.
"We saw some moves to take the situation in a better direction but then suddenly the real violence started.
"We're really sad at what has happened and our team has expressed condolences to the victims who died. We want both parties to settle down and stop this.
"We have to try to start the dialogue again because we would love to see peace."
Read: Ukraine protests turn violent
The pictures being broadcast across the world have led to shock and condemnation with Bubka and the nation's athletes struggling to come to terms with the events.
Also a member of the International Olympic Committee (IOC), Bubka held a meeting with his country's 43 athletes in Sochi.
The team held a minute's silence instead of wearing black armbands following discussions between the team and the IOC.
However, two members of the team withdrew Thursday in a show of solidarity with the protesters in Kiev.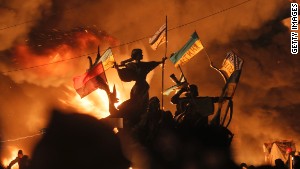 New violence in Ukraine, 20 dead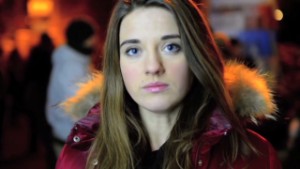 'I am a Ukrainian'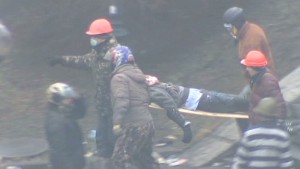 Gunfire heard in Kiev, protesters fall
Alpine skier Bogdana Matsotska and her father and coach, Oleh Matsotskyy, made a joint announcement on Facebook.
"As members of Ukraine's national Olympic team, we are extremely indignant at latest actions by President of Ukraine Viktor Yanukovych, who has drenched Ukrainians' last hopes in blood instead of resolving the conflict with Maidan (anti-government protesters) through negotiations, which we had hoped he would when we left for Sochi," they said.
"This was the violation of the old principle of the Games -- the Olympic Truce. In solidarity with fighters on the Maidan barricades and as a protest against lawless actions made towards protesters, the lack of responsibility from the side of the president and his lackey government, we refuse further performance at the 2014 Sochi Olympic Games."
Read: Bubka says Olympics can save a generation
Bubka, who spoke with both athlete and coach before their decision was announced, admits that "it is not an easy time to compete."
But he is adamant that Ukraine can be brought together by success in Sochi and through "sporting and Olympic values."
Bubka, who won gold at the 1988 Summer Games, has put his hopes in the women's biathlon team which has a great chance of a medal in Friday's 4x6 km relay.
"We need this," he said. "We need this and we pray for that.
"We discuss with them to give them confidence and eliminate pressure from sport and situation at home.
"We tell them we love them and believe in them. 'Do what you do every time. It's your time and it's your day. We need this.'
"We want to show to everyone that Ukraine exists and is united through sport and Olympics."
Earlier this month Olympic champion Renaud Lavillenie broke Bubka's 21-year-old pole vault world record with a 6.16-meter leap in the Ukrainian's home city of Donetsk.