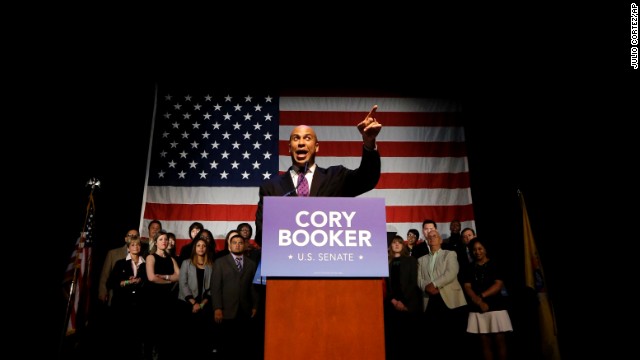 Cory Booker talks to supporters at a victory party in Newark, New Jersey, after winning a special election for the U.S. Senate seat vacated by the late Frank Lautenberg. Booker, the two-term Democratic mayor of Newark, was
sworn into the Senate
on Thursday, October 31, and he will serve out the final 14 and a half months of Lautenberg's term.
Booker speaks in Newark after winning the special election October 16. The 44-year-old is considered by many to be a rising star in the Democratic Party.
Booker campaigns in downtown Newark on October 15.
Booker talks to reporters near his tour bus while visiting supporters at a Newark senior center on October 15.
Booker greets a man while campaigning in downtown Newark on October 15.
New Jersey Gov. Chris Christie joins Booker in Newark on September 25.
Booker greets people in Hoboken, New Jersey, after winning the Democratic primary on August 14.
Booker says hello to supporters August 13 in Newark.
Booker and television personality A.J. Calloway walk the streets of Newark during a taping of "Extra" on January 15.
Booker speaks during the first day of the Democratic National Convention in September 2012.
Booker is interviewed by late-night television host Jay Leno in June 2012.
Booker's bandaged right hand holds a children's fire safety video that was given to him by a well-wisher in April 2012. Booker made national headlines then for rescuing a next-door neighbor from a fire.
Booker digs out Newark resident Jasmine Ingram's vehicle in January 2011. "It was very nice. I didn't expect it, so it was shocking," said Ingram, who was one of four people to have their vehicles dug out by the mayor and a group of residents.
Booker and first lady Michelle Obama sit with children at the Maple Avenue School in Newark in November 2010.
Booker laughs as Mark Zuckerberg, founder and CEO of Facebook, talks about his donation of $100 million to help Newark public schools during a news conference in September 2010.
Booker gestures as he ends his State of the City speech with a Maya Angelou poem in February 2009.
Booker helps cut the ribbon at the opening of affordable housing in Newark in December 2009. The housing was funded through Jon Bon Jovi's JBJ Soul Foundation. The musician is second from left.
Booker and musician/actress Queen Latifah attend the Atlantic League All-Star Game at Newark's Riverfront Stadium in June 2009.
Booker walks with then-Sen. Barack Obama after Booker endorsed Obama at a news conference in Teterboro, New Jersey, in May 2007.
Booker walks on the newly refurbished City Hall dome in Newark in November 2006.
Booker takes the mayoral oath of office from retired New Jersey Supreme Court Justice James H. Coleman, left, in July 2006.
Booker greets a Newark resident at a public housing complex while campaigning for mayoral votes in March 2006.
Booker reaches out to supporters in January 2002 as he declares his candidacy for mayor in Newark. He lost that election to incumbent Sharpe James.
Cory Booker, mayor to senator
Cory Booker, mayor to senator
Cory Booker, mayor to senator
Cory Booker, mayor to senator
Cory Booker, mayor to senator
Cory Booker, mayor to senator
Cory Booker, mayor to senator
Cory Booker, mayor to senator
Cory Booker, mayor to senator
Cory Booker, mayor to senator
Cory Booker, mayor to senator
Cory Booker, mayor to senator
Cory Booker, mayor to senator
Cory Booker, mayor to senator
Cory Booker, mayor to senator
Cory Booker, mayor to senator
Cory Booker, mayor to senator
Cory Booker, mayor to senator
Cory Booker, mayor to senator
Cory Booker, mayor to senator
Cory Booker, mayor to senator
Cory Booker, mayor to senator
Cory Booker, mayor to senator